Phylogenetic Signal of Indels and the Neoavian Radiation
1
Department of Biology, New Mexico State University, Las Cruces, NM 88003, USA
2
Department of Biology, University of Florida, Gainesville, FL 32607, USA
3
Electrical and Computer Engineering, University of California, San Diego, CA 92093, USA
*
Authors to whom correspondence should be addressed.
Received: 3 June 2019 / Revised: 3 July 2019 / Accepted: 4 July 2019 / Published: 6 July 2019
Abstract
The early radiation of Neoaves has been hypothesized to be an intractable "hard polytomy". We explore the fundamental properties of insertion/deletion alleles (indels), an under-utilized form of genomic data with the potential to help solve this. We scored >5 million indels from >7000 pan-genomic intronic and ultraconserved element (UCE) loci in 48 representatives of all neoavian orders. We found that intronic and UCE indels exhibited less homoplasy than nucleotide (nt) data. Gene trees estimated using indel data were less resolved than those estimated using nt data. Nevertheless, Accurate Species TRee Algorithm (ASTRAL) species trees estimated using indels were generally similar to nt-based ASTRAL trees, albeit with lower support. However, the power of indel gene trees became clear when we combined them with nt gene trees, including a striking result for UCEs. The individual UCE indel and nt ASTRAL trees were incongruent with each other and with the intron ASTRAL trees; however, the combined indel+nt ASTRAL tree was much more congruent with the intronic trees. Finally, combining indel and nt data for both introns and UCEs provided sufficient power to reduce the scope of the polytomy that was previously proposed for several supraordinal lineages of Neoaves.
View Full-Text
►

▼

Figures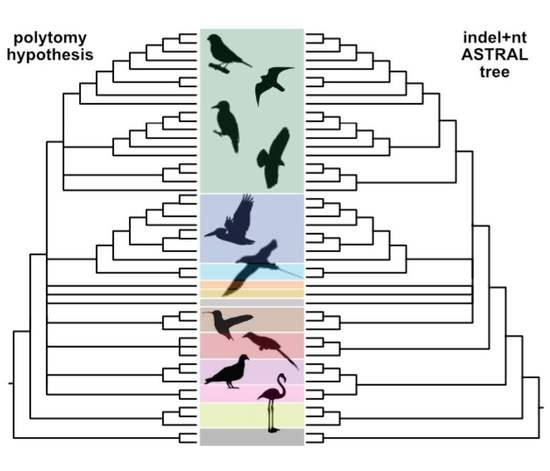 Graphical abstract
This is an open access article distributed under the
Creative Commons Attribution License
which permits unrestricted use, distribution, and reproduction in any medium, provided the original work is properly cited (CC BY 4.0).

Share & Cite This Article
MDPI and ACS Style
Houde, P.; Braun, E.L.; Narula, N.; Minjares, U.; Mirarab, S. Phylogenetic Signal of Indels and the Neoavian Radiation. Diversity 2019, 11, 108.
Note that from the first issue of 2016, MDPI journals use article numbers instead of page numbers. See further details here.
Related Articles
Comments
[Return to top]