Open Access This article is
freely available
re-usable
Communication
First Record of Amphioxus
Branchiostoma californiense
(Amphioxiformes: Branchiostomatidae) Adjacent to a Shallow Submarine Hydrothermal System at Banderas Bay (Mexico)
1
Department of Exact Sciences, Centro Universitario de la Costa, Universidad de Guadalajara, Puerto Vallarta, Jalisco 48280, Mexico
2
Department of Biological Sciences, Centro Universitario de la Costa, Universidad de Guadalajara, Puerto Vallarta, Jalisco 48280, Mexico
3
Faculty of High Studies Iztacala, National Autonomous University of Mexico, Tlalnepantla, Estado de México 54090, Mexico
*
Author to whom correspondence should be addressed.
Received: 18 October 2019 / Accepted: 23 November 2019 / Published: 28 November 2019
Abstract
:
Shallow submarine hydrothermal vent systems assume differentiated environmental conditions. Some specimens of
Branchiostoma californiense
were found in the sediments of the influence area of the shallow hydrothermal venting in Punta Mita. This is the only lancelet species registered for the Mexican Pacific. The meristic and morphometric characteristics of the organisms first collected in unconsolidated sediments of this shallow system were reviewed, in order to determine the species. We confirm that it is the same species. This represents the first record of it for both the Banderas bay and in the influence area of a shallow hydrothermal system.
Keywords:
Cephalochordata; lancelet; hydrothermal system; record; shallow vent; Banderas Bay
1. Introduction
The aim of this research was to determine and describe the species of cephalochordates found in the sediments of the SSHSPM.
2. Materials and Methods
On 23 November 2017, 400 m away from the coast, in front of the beaches of Punta Pantoque in Banderas Bay, Nayarit, Mexico, dive three of the SisVoc–CUC1 expedition took place at active hydrothermal venting, coordinates: 20°44'54.9'' N, 105°28'38.4'' W, at a water depth of 10 m, within the SSHSPM (
Figure 1
). The SSHSPM covers an area of 300 m
2
at a depth of 10 m [
18
], and have an influence area of approximately 1 km
2
[
14
].
Based on temperature and the hydrothermal vent position (considered the center), the study area was divided into three zones for sampling: vent zone (VZ) (0–0.4 m); middle zone (MZ) (0.4–3 m); and external zone (EZ) (3–6 m) (
Table 1
). Three cores of marine sediments were collected in each zone (
n
= 9) by scuba diving, using PVC plastic cores of 10 cm long × 11 cm diameter. The cores were inserted at 5 cm of depth into sediment at random points in each zone. Subsequently, the sediment cores were stored in a cooler and taken to the laboratory, where they were then filtered using a 1 mm mesh sieve. Specimens were preserved in 96° alcohol, and then deposited in the first benthic invertebrate collection associated with SSHSPM, at the Centro de Sismología y Volcanología de Occidente of Centro Universitario de la Costa, Universidad de Guadalajara, in Puerto Vallarta, Mexico.
The sediment temperature was recorded at 0, 3, and 5 cm depth in each of the three zones (see
Figure 2
) using a Taylor™ analog soil thermometer, 6099N model, 1" diameter hood, 6" stem and temperature ranging from −10 to 110 °C. Meanwhile, a YSI™ Professional 1030 multiparameter probe (Pro1030) with a 20 m cable, was used to determine the pH, salinity, and water temperature at the sea bottom. Sediment temperature and three parameters with three replicas in each zone (see
Figure 2
,
Table 2
). For the identification of collected cephalochordates, we used the descriptions of Kirkaldy [
2
], Hubbs [
19
], Poss and Boschung [
3
], Del Moral-Flores, et al. [
1
] and Galván-Villa, et al. [
7
]. The species were observed using an Optika
®
50 × stereoscopic microscope (Via Rigla, Bergamo, Italy). The specimens were stained with methylene, to highlight their physical features in the photographs, and they were measured with a STEREN
®
digital Vernier caliper her-411.
3. Results
In the marine sediments of the SSHSPM, eight cephalochordates were found. None was found in VZ, but three were found in MZ and five in EZ (
Table 1
).
5. Conclusions
According to the diagnosis and their morphology, we conclude that the lancelets found in this research belong to the
B. californiense
species. This is the first record of this species being reported in the sediments in the influence area of a shallow submarine hydrothermal system (MZ and EZ). The conditions in VZ exclude the lancelets in this zone. Greater monitoring in SSHSPM, both in VZ and in its surroundings, is necessary to reaffirm this finding.
Author Contributions
Conceptualization, M.C.R.-U. and R.M.C.-D.; methodology, M.C.R.-U and R.M.C.-D.; validation, L.F.D.M.-F.; formal analysis, M.C.R.-U.; investigation, M.C.R.-U and R.M.C.-D.; writing—original draft preparation, M.C.R.-U, R.M.C.-D. and M.L.B.-O.; writing—review and editing, M.L.B.-O., M.C.R.-U and R.M.C.-D.
Funding
This research was funded by Centro Mexicano de Innovación en Energía-Geotérmica (CeMIE-Geo), P24, Passive and magnetoteluric seismic exploration in the geothermal fields of La Caldera of La Primavera and Ceboruco Volcano, SENER-CONACyT 201301-207032.
Acknowledgments
We thank Natalia Balzaretti Merino for the coordination of diving activities, her collaboration in specimen collecting, and the photograph of active hydrothermal venting in
Figure 1
. Additionally, we thank the geophysical graduate students of the Centro de Sismología y Volcanología de Occidente for their support of this project, and particularly to the responsible of this research center, Francisco Javier Núñez Cornú.
Conflicts of Interest
The authors declare no conflict of interest. The funders had no role in the design of the study; in the collection, analyses, or interpretation of data; in the writing of the manuscript, or in the decision to publish the results.
Figure 1. Study area: (a) location of the shallow submarine hydrothermal system of Punta Mita—the little black square indicates the study area; (b) photograph of three active hydrothermal vents.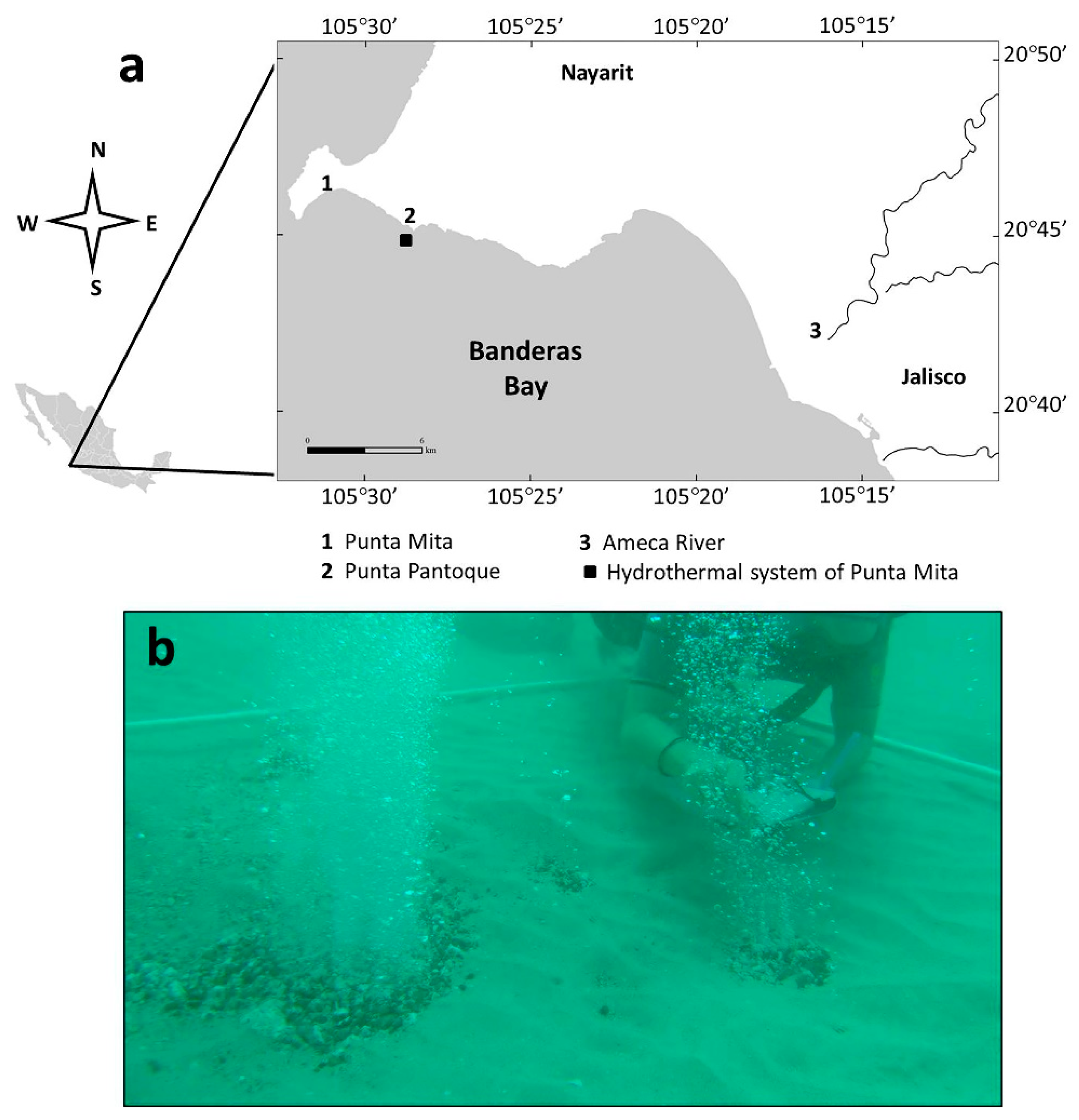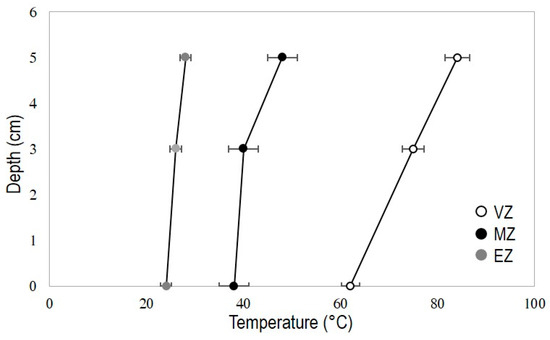 Figure 2. Sediment temperature at 0, 3, and 5 cm depth. VZ = vent zone, MZ = middle zone, and EZ = external zone.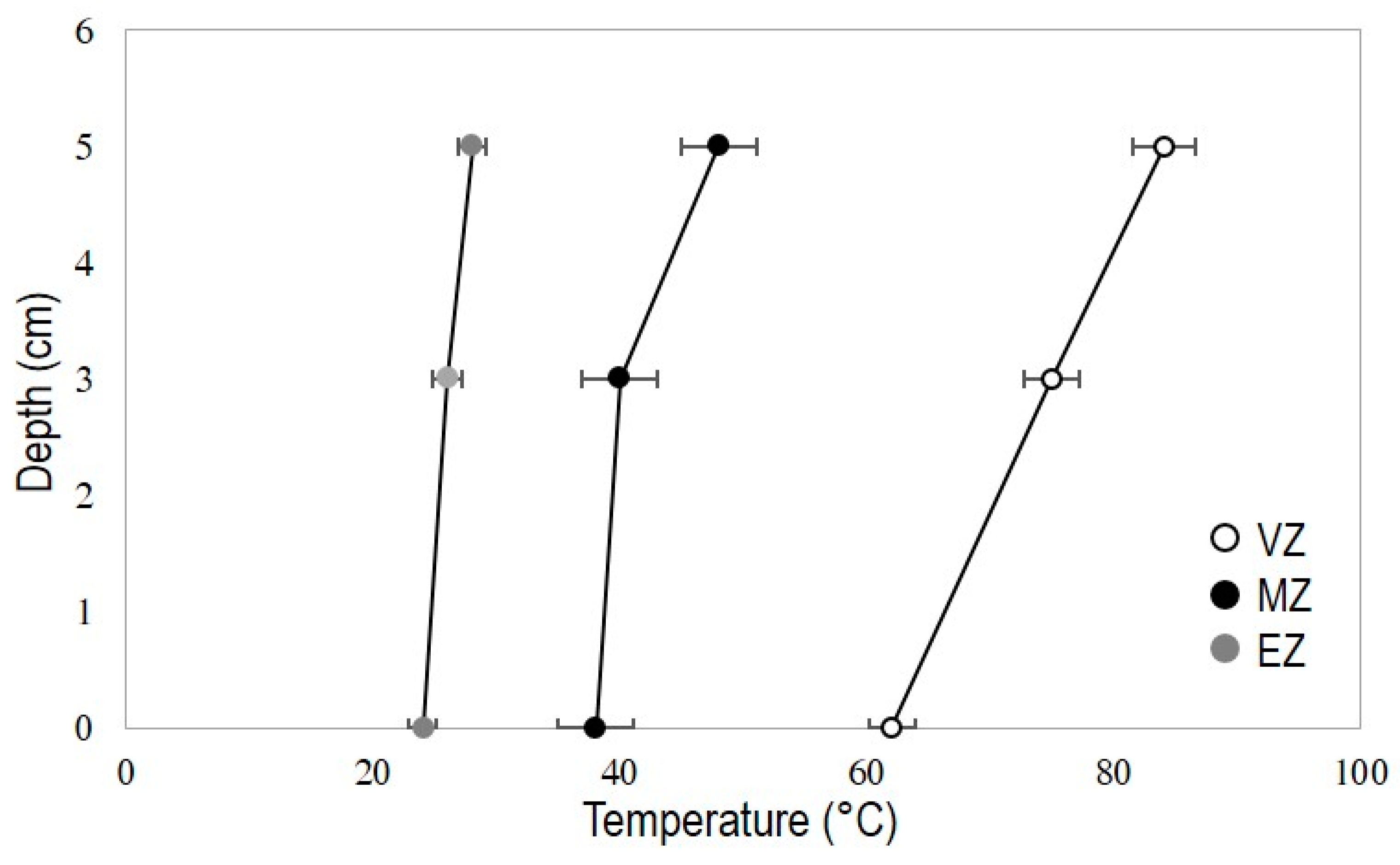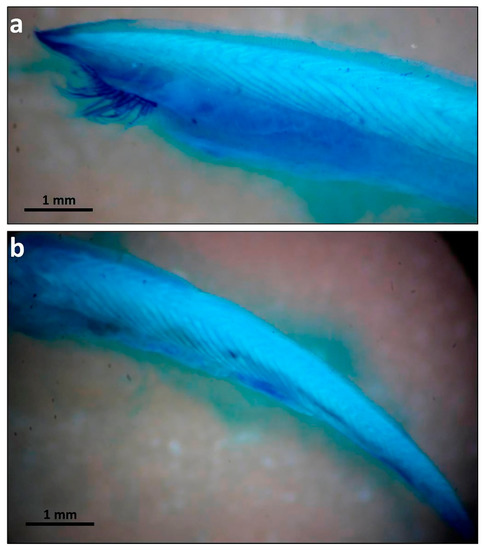 Figure 3.
Side view of
Branchiostoma californiense
collected specimen: (
a
) anterior region; (
b
) posterior region. Its blue color is due to staining with methylene.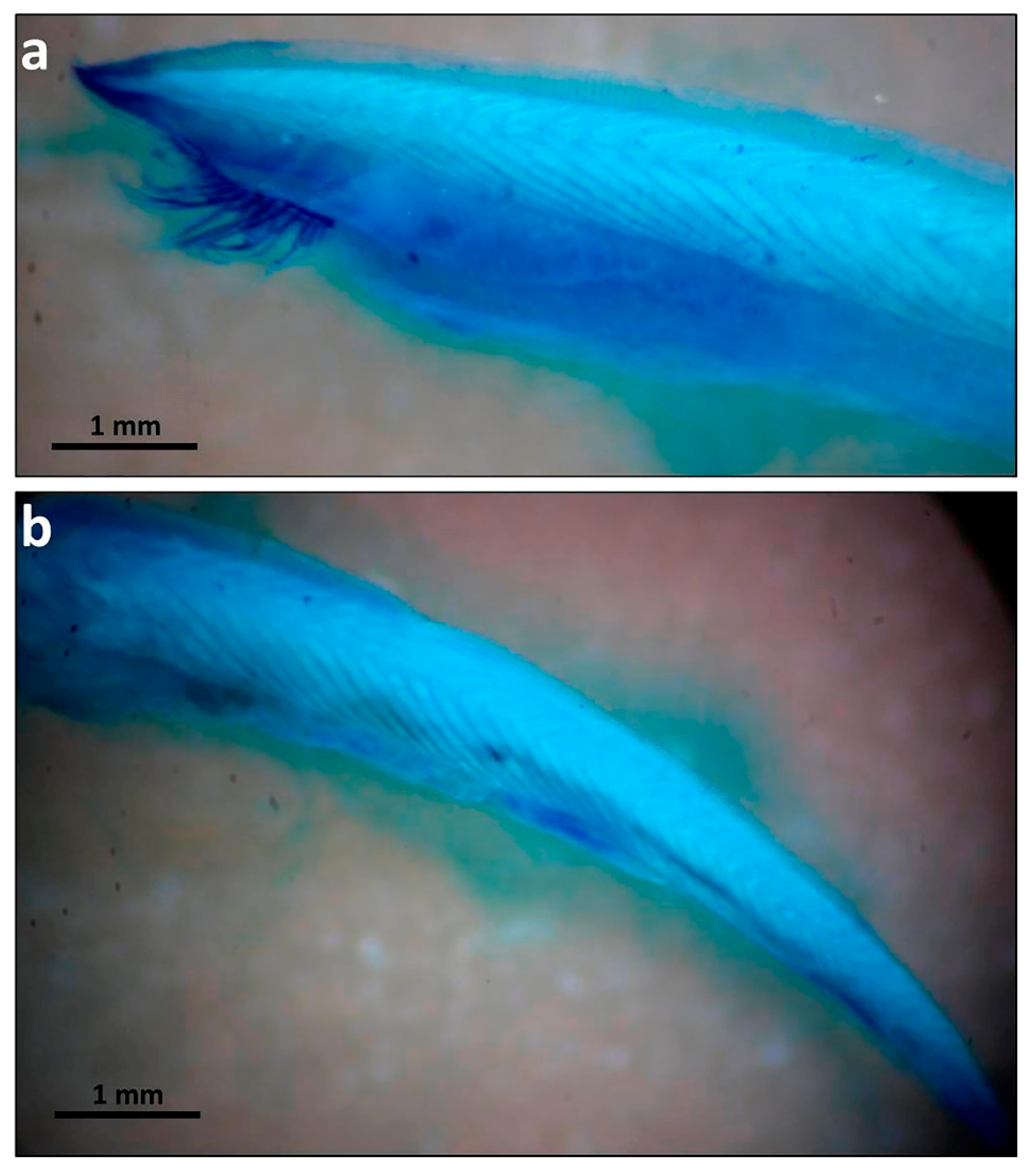 Table 1. Number of cephalochordates in each study zone. VZ = vent zone, MZ = middle zone, and EZ = external zone.
Zone
Total
VZ
MZ
EZ
Sample
1
2
3
1
2
3
1
2
3
Sampled cephalochordates
0
0
0
2
0
1
1
0
4
8

Table 2. Physical and chemical measurements in each zone of study (average ± standard error). VZ = vent zone, MZ = middle zone, and EZ = external zone.
| Zone | pH | Salinity (ppt) | Water Temperature (°C) |
| --- | --- | --- | --- |
| VZ | 7.67 ± 0.01 | 17.2 ± 0.07 | 89 ± 0.47 |
| MZ | 8.04 ± 0.00 | 34.9 ± 0.04 | 26.8 ± 0.09 |
| EZ | 8.05 ± 0.00 | 35.8 ± 0.02 | 25.6 ± 0.21 |

© 2019 by the authors. Licensee MDPI, Basel, Switzerland. This article is an open access article distributed under the terms and conditions of the Creative Commons Attribution (CC BY) license (http://creativecommons.org/licenses/by/4.0/).