Open Access This article is
freely available
re-usable
Review
Old Processes, New Movements: The Inclusion of Geodiversity in Biological and Ecological Discourse
Geography and Spatial Sciences, The University of Tasmania, Churchill Avenue, Sandy Bay, Tasmania 7001, Australia
*
Author to whom correspondence should be addressed.
Received: 16 October 2019 / Accepted: 8 November 2019 / Published: 13 November 2019
Abstract
:
There exists substantial variation in the qualitative and quantitative interpretations of the concept of geodiversity and its embedded elements and values. The resulting divergence and ambiguity in applications of the term constrain its present use as an operationalized concept in nature conservation research and discourse, unlike its seemingly analogous biotic term, 'biodiversity'. This paper presents findings from a critical literature review of 299 academic journal articles and texts that define geodiversity values, or otherwise incorporate geodiversity or its derived elements and values as components of conservation. Contrary to previous suggestions, we have found that most geoscientists have united behind a single definition of geodiversity and applied it frequently in their primary and applied, geotouristic, research. Qualitative elements of geodiversity, including system support values and aesthetic appeals within nature conservation, have been largely confined to geoconservation and geoscientific literature and are nearly absent from biological discourse. Encouragingly, however, we have observed a more recent increase in research pertaining to quantitative interpretations of abiotic geodiversity elements and their relationship with the spatial distribution and abundance of species. Although the inclusion of geodiversity elements (quantitative and qualitative) in conservation assessment and biodiversity research has been and remains far less universal than for biodiversity elements, there is strong potential for further unification of these two concepts, especially though collaborative quantitative research. The more that geodiversity is discussed outside of geographic and geoscientific disciplines, broader recognition and validated use of the concept of geodiversity will be used in the understanding, interpretation, and protection of patterns and processes at the landscape scale.
Keywords:
geoheritage; geoconservation; GIS; geoparks; soils; rocks; minerals; landforms
Author Contributions
A.B. and M.M. contributed equally to this manuscript.
Funding
This research received no external funding.
Acknowledgments
We acknowledge Jamie Kirkpatrick from the University of Tasmania for his feedback on an earlier version of this work.
Conflicts of Interest
The authors declare no conflict of interest.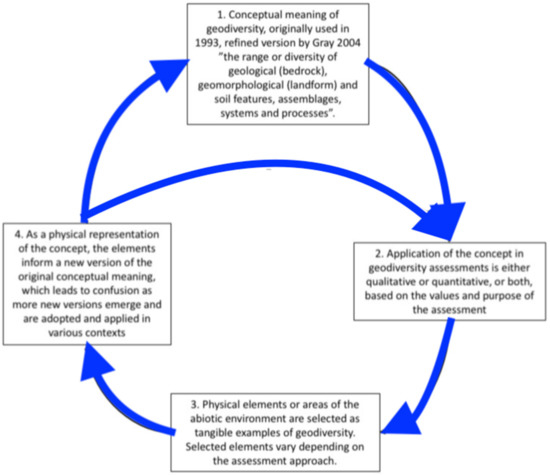 Figure 1. Geodiversity appears to be understood in geoscientific literature to have a definition (1) relating to the diversity of abiotic components. Challenges arise in the application and/or interpretation of this concept, which translates into vastly different values expressions and representations of geodiversity in published discourse.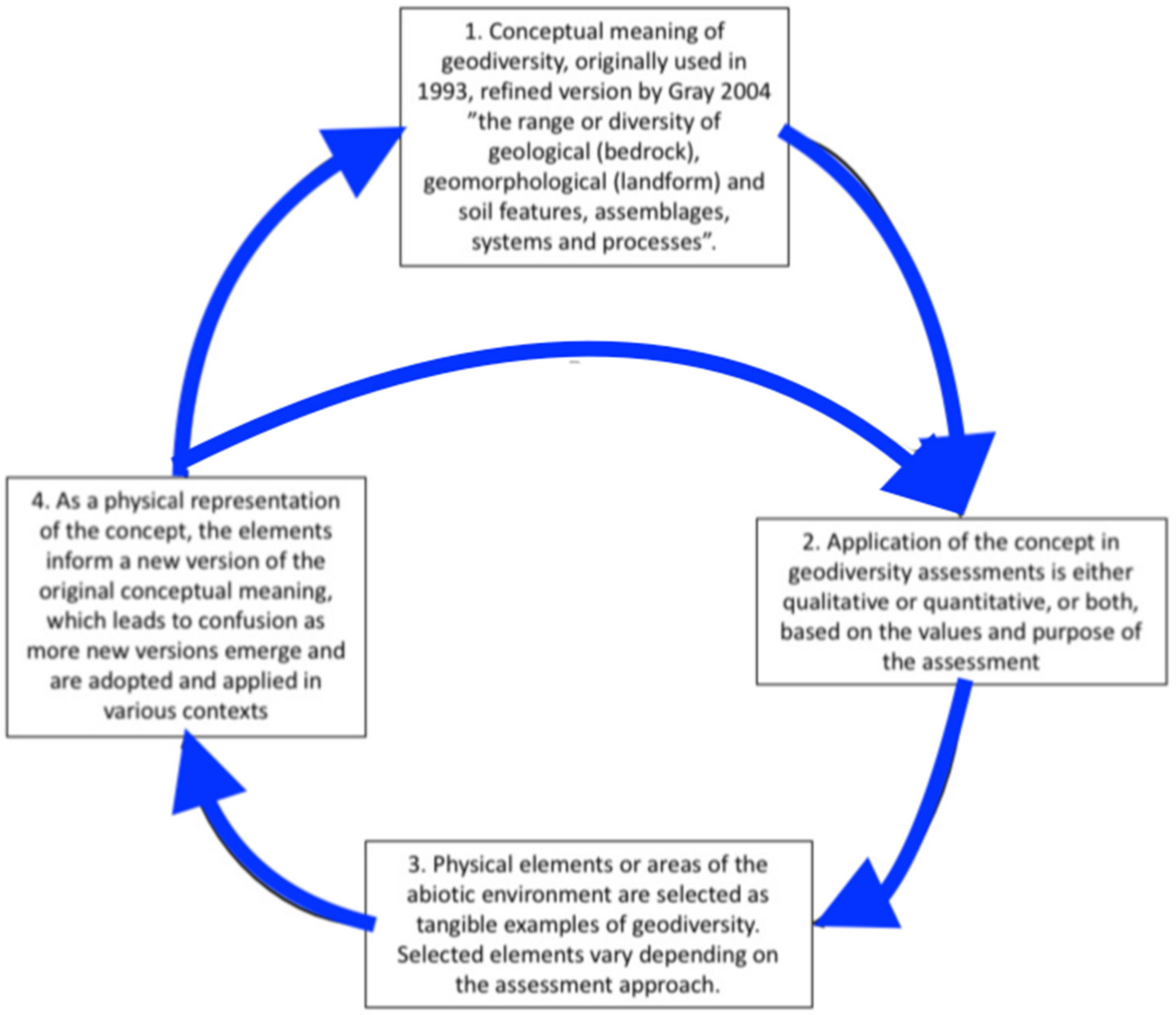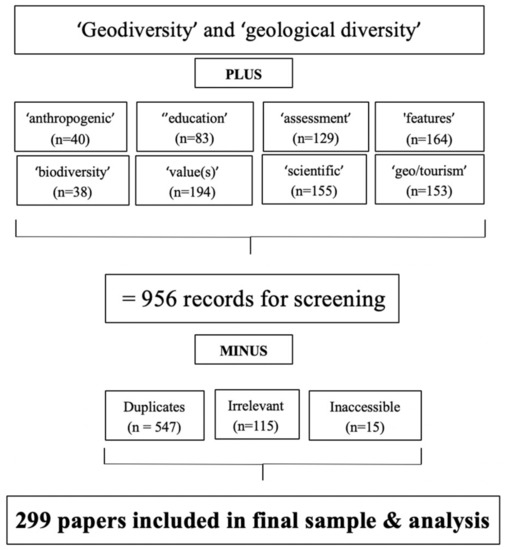 Figure 2. Results of a literature search for scholarly literature, books, and published manuals containing the terms 'geodiversity' and/or 'geological diversity' from searches of Google Scholar and Scopus Databases.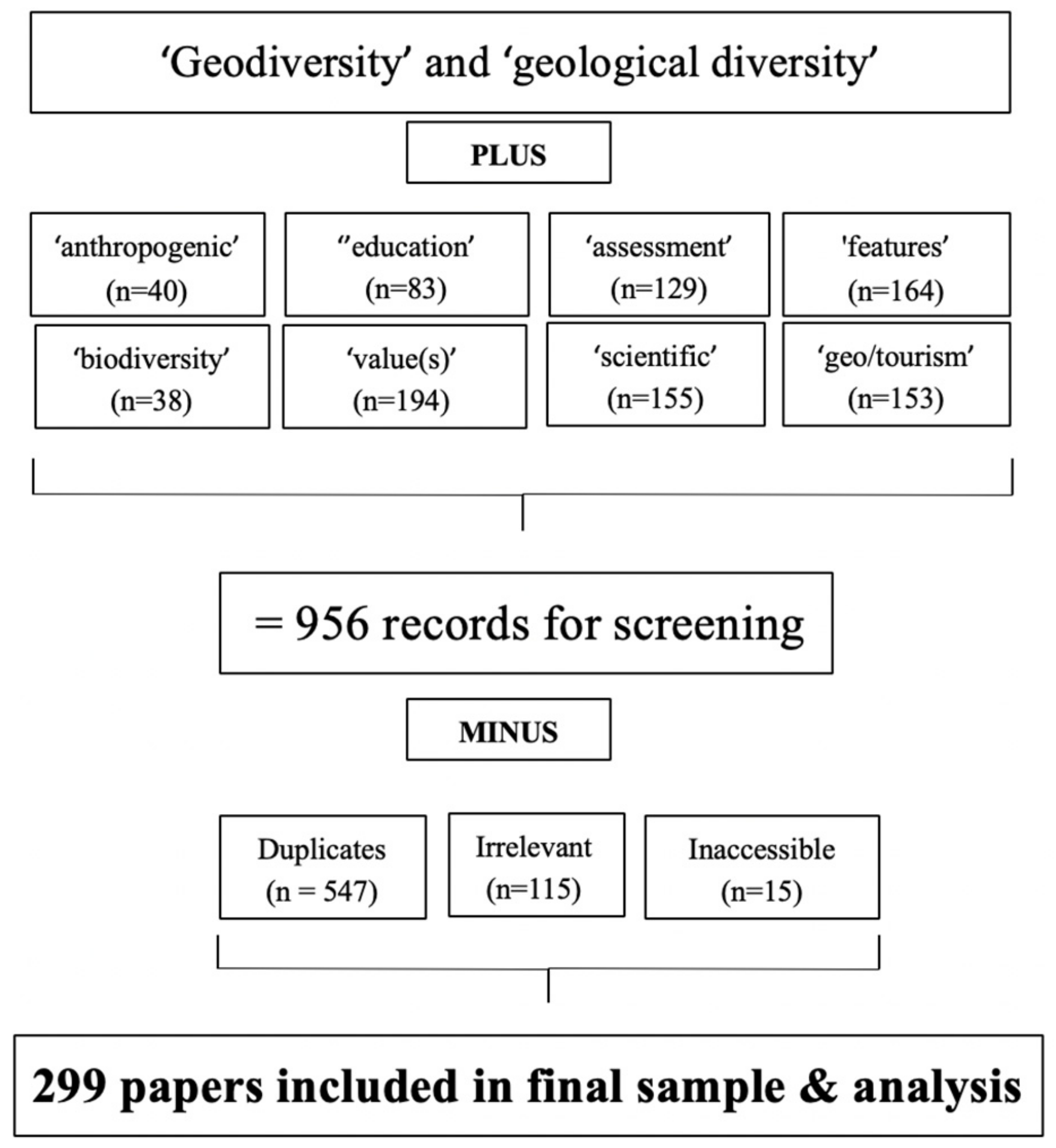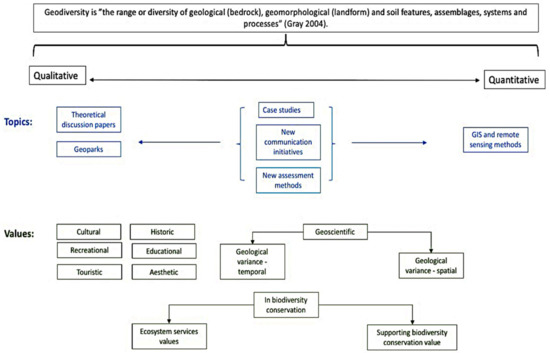 Figure 3. Node classification map of topics and derived values contained within 299 journal articles and books containing the containing the terms 'geodiversity' and/or 'geological diversity' from searches of Google Scholar and Scopus Databases. These are expressed along a qualitative–quantitative axis.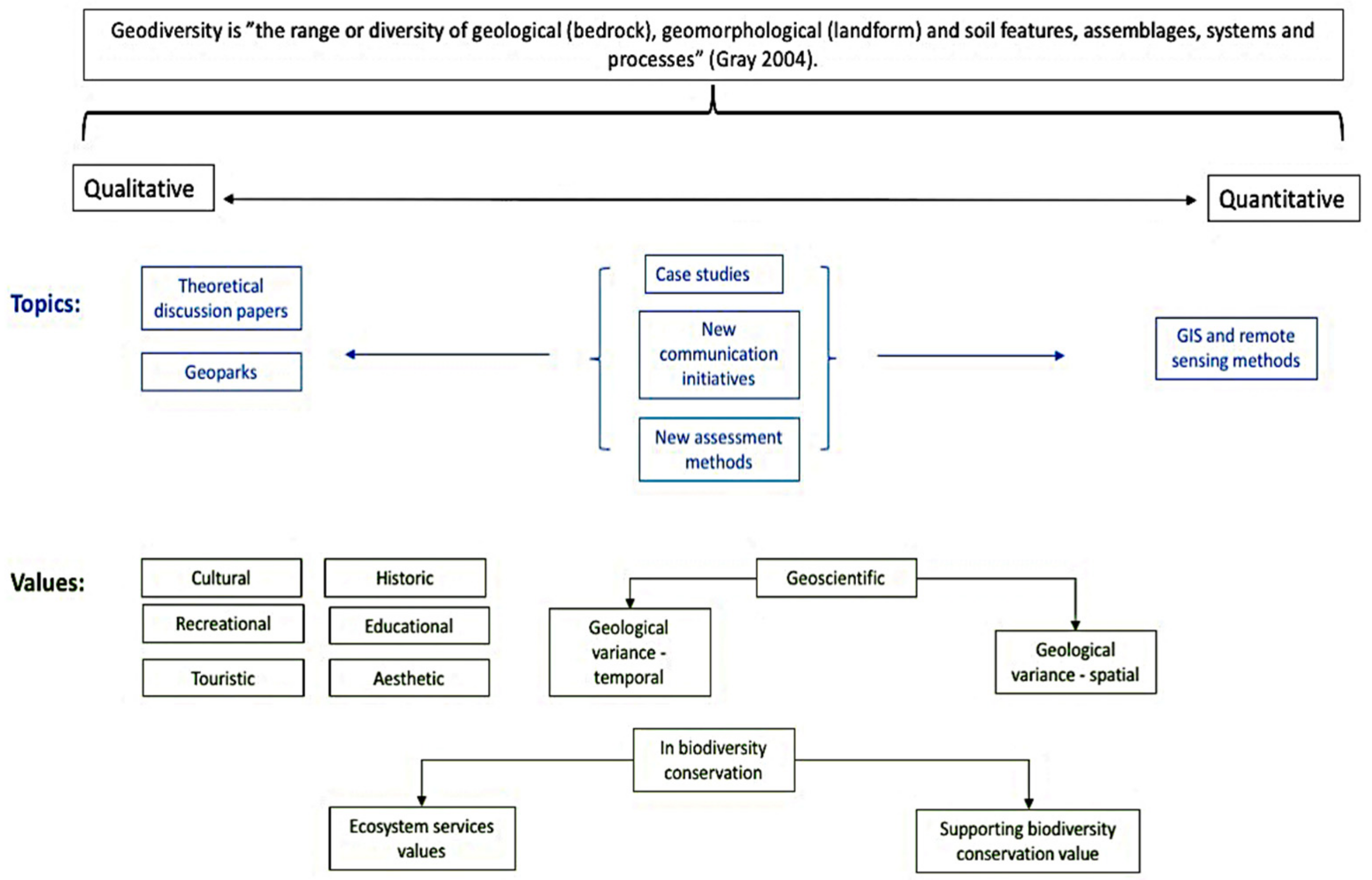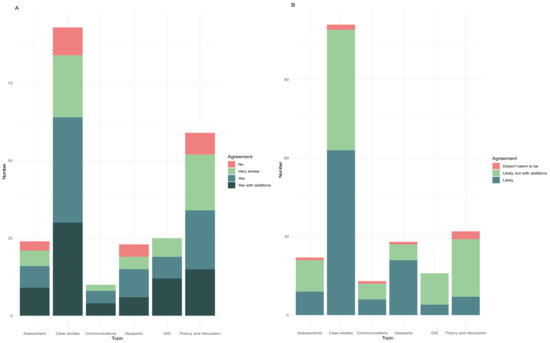 Figure 4.
Explicit (
A
) and implied (
B
) definitions of geodiversity compared with the dominant definition given in [
1
] across the six most common topics of publications mentioning the concept from 1993–May 2019. * Numbers provided should not be considered mutually exclusive.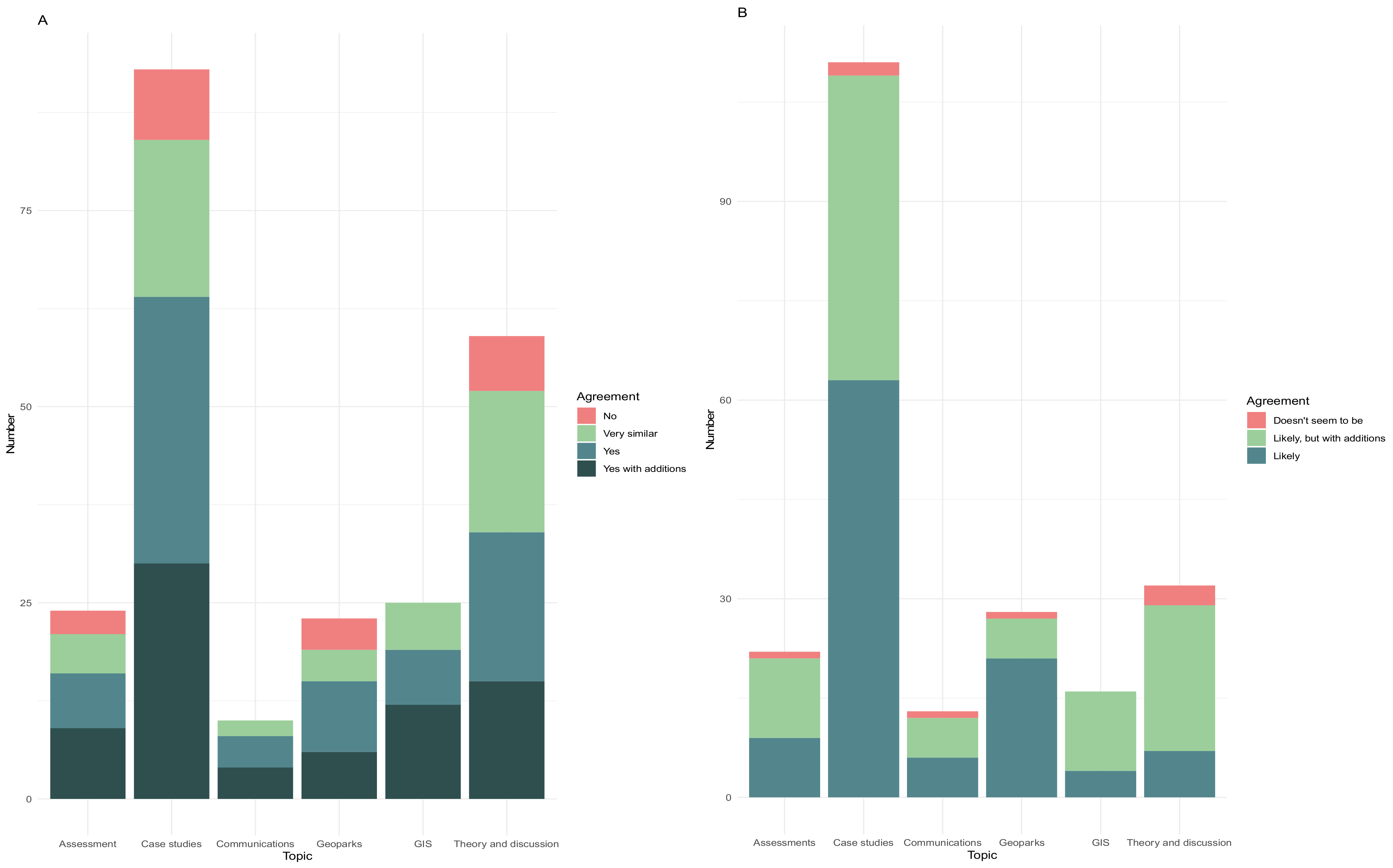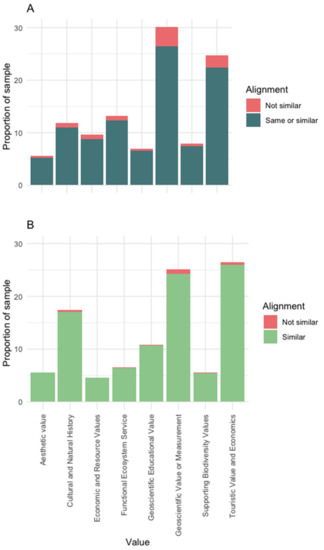 Figure 5.
The proportion of geodiversity definitions across the entire sample that associated the definition with different value sets. The sample is stratified by the alignment with [
1
]'s concept where (
A
) geodiversity was explicitly defined, or (
B
) could be inferred from the text.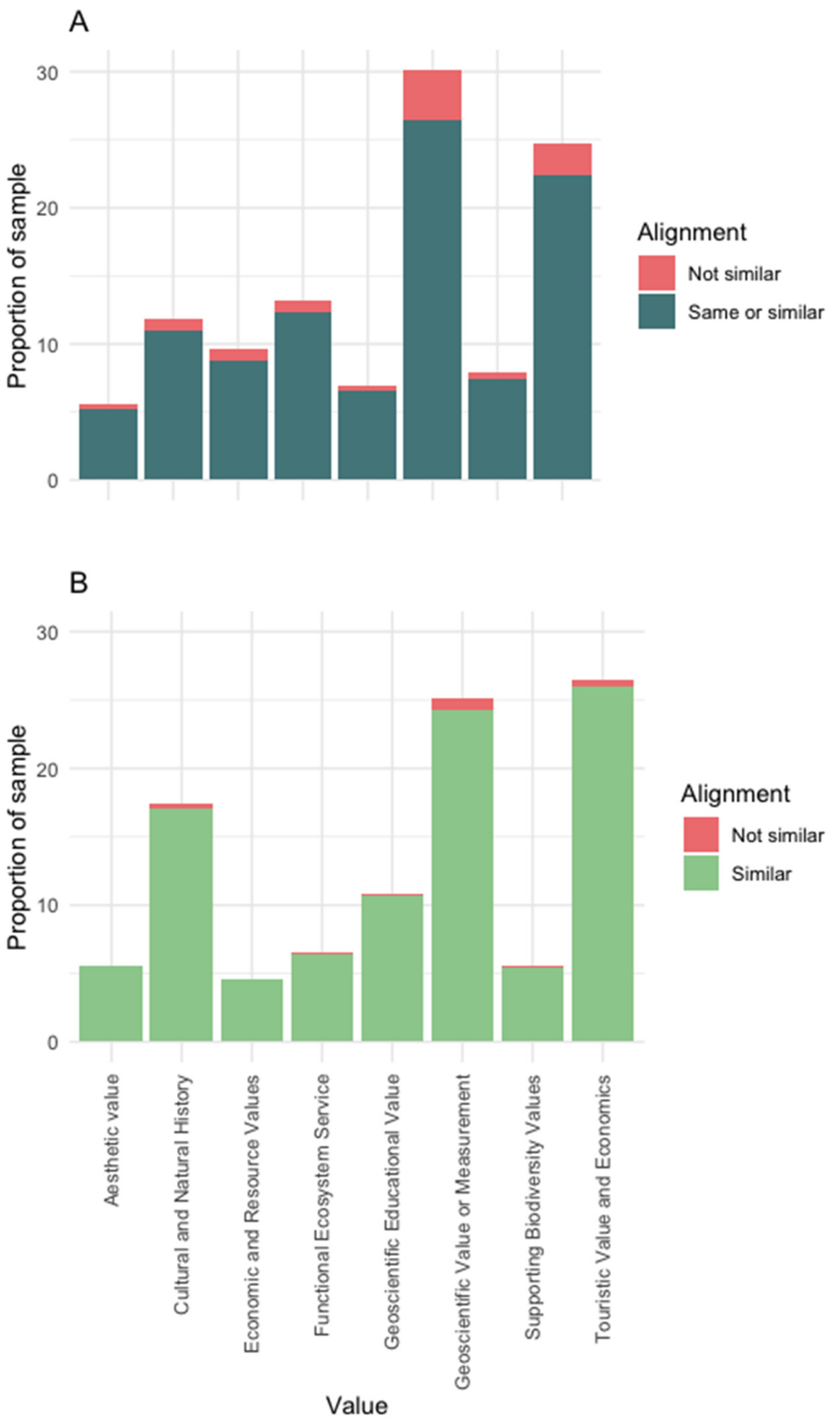 Table 1.
Percentage of papers and books that contained either an explicit definition of geodiversity (n = 144) or from which a definition of geodiversity could be reasonably inferred (n = 155) that was the same, similar to, or not like the popular concept (in geoscientific literature) described by [
1
].
The

Explicit

Definition (of Geodiversity) Provided In-Text Was That of [1] (or [14]):
The Definition (of Geodiversity)

Inferred

from Text:
Yes: 41%
Yes, with some additions: 27%
Seemed like that of [1] (or [14]): 36%
Similar: 20%
was seemingly like [1] (or [14]), but with additions: 42%
No: 12%
Was seemingly not like [1] (or [14]): 22%

Table 2. Explicit and implied definitions of geodiversity found in 299 published articles containing the word 'geodiversity' as part of this research, and the broad focus of these works.
| Focus of Paper | Description of Classification | Explicit (n) 1 | Inferred (n) 1 |
| --- | --- | --- | --- |
| Case Studies | Research on specific abiotic, geological, or landform elements and physical environments, typically so as to highlight their geoscientific, geoheritage, or ecological significance. | 93 | 111 |
| GIS and Remote Sensing | Research documenting or employing GIS or remote sensing techniques to 'quantify' or 'assess' geodiversity. | 25 | 16 |
| Geopark Studies | Primary or secondary research relating to national or UNESCO geoparks. | 23 | 28 |
| New Assessment Frameworks | New methods of assessing or determining geoheritage, landform significance, or geodiversity. | 24 | 22 |
| New Communication Initiatives | Authors and practitioners devised new inventory or instrument solutions to communicate and explore landforms, geographic elements, and/or geodiversity. | 10 | 13 |
| Theory and Discussion | The concept of geodiversity was explored or re-conceptualized as part of a major work (primarily qualitative). | 59 | 32 |
1 Categories are not mutually exclusive, and hence some papers were classified under two or more headings.

© 2019 by the authors. Licensee MDPI, Basel, Switzerland. This article is an open access article distributed under the terms and conditions of the Creative Commons Attribution (CC BY) license (http://creativecommons.org/licenses/by/4.0/).