Open Access This article is
freely available
re-usable
Article
Abrupt Change in a Subtidal Rocky Reef Community Coincided with a Rapid Acceleration of Sea Water Warming
1
Department of Earth, Environmental and Life Sciences, University of Genoa, 16132 Genoa, Italy
2
École Pratique des Hautes Études, USR 3278 EPHE-CNRS-UPVD CRIOBE, University of Perpignan, 66860 Perpignan, France
3
Italian Agency for New Technologies, Energy and Sustainable Economic Development, Marine Environment Research Centre, 19032 La Spezia, Italy
*
Author to whom correspondence should be addressed.
Received: 27 September 2019 / Accepted: 11 November 2019 / Published: 13 November 2019
Abstract
:
Seawater warming is impacting marine ecosystems, but proper evaluation of change requires the availability of long-term biological data series. Mesco Reef (Ligurian Sea, Italy) offers one of the longest Mediterranean data series on sessile epibenthic communities, based on underwater photographic surveys. Photographs taken in four stations between 20 m and 40 m depth allowed calculating the percent cover of conspicuous species in 1961, 1990, 1996, 2008, and 2017. Multivariate analysis evidenced an abrupt compositional change between 1990 and 1996. A parallel change was observed in Ligurian Sea temperatures. Two invasive macroalgae (
Caulerpa cylindracea
and
Womersleyella setacea
) became dominant after 1996. Community diversity was low in 1961 to 1996, rapidly increased between 1996 and 2008, and exhibited distinctly higher values in 2008–2017. A novel community emerged from the climate shift of the 1990s, with many once characteristic species lost, reduced complexity, biotic homogenization, greater diversity and domination by aliens. Only continued monitoring will help envisage the possibility for a reversal of the present phase shift or for further transformations driven by global change.
Keywords:
sea water warming; historical data series; phase shift; subtidal sessile epibenthos; coralligenous community; alien species; biotic homogenization; Mediterranean Sea
1. Introduction
Seawater warming is exerting an overwhelming impact on marine ecosystems and biota worldwide [
1
,
2
], with profound implications for the economic and social systems that depend upon them [
3
]. Together with ocean acidification and sea level rise, temperature increase is a major driver of ecological change and is leading to unprecedented biological shifts in the world's ocean [
4
], but further studies are needed to improve mechanistic understanding of how ocean warming will alter the structure and functioning of marine communities [
5
]. Sea water temperature influences marine organisms by a combination of direct (survival, reproduction, recruitment, etc.) and indirect effects, mediated by biotic interactions (predation, parasitism, diseases, etc.) or by the altered emphasis of marine current fluxes between adjacent basins, which may facilitate the arrival of allochthonous species [
6
,
7
]. While the earliest climate-related biological changes in the sea have been observed decades ago, the first unambiguous evidences of the effects of rising temperature on the marine ecosystems became clear in the 1990s [
8
,
9
,
10
], and a number of studies worldwide provided an abundant documentation in the subsequent years [
11
,
12
,
13
,
14
]. The semi-enclosed nature of the Mediterranean Sea, together with its smaller inertia due to the relative short residence time of its water masses, makes it highly reactive to climate change [
15
,
16
,
17
], so that it ranks among the world's regions for which the strongest warming rates are predicted [
18
]. The Mediterranean Sea is also a biodiversity hotspot [
19
,
20
], threatened by many anthropogenic impacts [
21
]. In addition to direct human impacts, climate change is driving the sensitive Mediterranean Sea ecosystems towards an unpredictable future [
22
,
23
,
24
]. A proper evaluation of ecosystem change requires the availability of long-time series [
25
,
26
], which are unfortunately rare in the Mediterranean Sea as well as worldwide [
6
,
27
]. The Ligurian Sea (NW Mediterranean) represents a partial exception, as historical data are available for a number of taxa and habitats [
28
].
There is growing evidence that a major shift in Ligurian Sea climate and ecosystem regime occurred around the 1980–90s [
28
,
29
], in coincidence with similar changes observed in other European seas and perhaps globally. Such changes were caused by complex ocean-atmosphere interactions and involved plankton, fish, and top predators [
30
,
31
,
32
].
Quantitative assessments of the ecological impact of climate change are scarce [
17
]. The rocky reef off Mesco Point offers one of the longest, although discontinuous, Mediterranean data series on epibenthic communities, which includes both qualitative and quantitative data ([
33
], and references therein). Qualitative, "naturalistic" observations are available since the 1930s [
34
], whereas quantitative data—obtained through underwater wire-frame still photography—are available since 1961 [
35
,
36
]. Combining observational information with quantitative data led to the conclusion that the epibenthic communities remained comparatively stable for nearly 60 years, then changed abruptly in the 1990s to assume a new configuration that in turn remained stable till 2008 [
33
].
The aim of the present paper is twofold: (i) updating the existing historical data series with new photographic surveys carried out in 2017, in order to see if the community remained stable for a further decade or returned to the previous situation; and (ii) to compare community trends with pre-existing sea water temperature data.
2. Materials and Methods
2.1. Study Area and Field Activity
Mesco Point is a rocky headland located in the eastern Ligurian Sea, composed by sandstones organised in strata, dipping SW as a plunging cliff. The rocky reef studied (hereafter, Mesco Reef) lies immediately off the point, between ca 15 m and ca 55 m depth (
Figure 1
), and hosts a typical coralligenous community [
33
,
36
]. Since 1997, Mesco Point and Mesco Reef have been included in the "Cinque Terre" Marine Protected Area (MPA): as a consequence, fishing has been banned and diving strictly regulated [
37
].
Fieldwork in 2017 [
38
] consisted in photographic surveys as already done in 1961 [
36
], 1990 [
39
], 1996 [
40
,
41
], and 2008 [
42
,
43
], always in summer. The original photostations of 1961 were relocated on the basis of published descriptions [
35
,
36
] and the personal detailed knowledge of Mesco Reef by one of the authors (AP). Four stations between 20 m and 40 m depth were selected (one at 20 m, one at 30 m and two at 40 m), with 3 replicates per station, for a total of 12 photoquadrats of 1 m
2
per year. Voucher specimens of non protected species were collected only when necessary to identify problematic organisms, especially turf/filamentous algae.
2.2. Temperature Data
As no time series of temperature data exist for Punta Mesco, we used the longest dataset available for the Ligurian Sea, i.e., that of Villefranche-sur-Mer, where measures of sea water temperature have been collected fortnightly in the water column between 0 m and 75 m depth since 1958 [
44
,
45
]. We took into account the data coming from 20 m and 40 m depth, where biological data also came, and from 0 m depth, to verify congruence with Ligurian sea surface temperature (SST) data derived from NOAA (US National Oceanic and Atmospheric Administration) satellite records and freely available at
www.esrl.noaa.gov/psd/cgi-bin/data/timeseries/timeseries1.pl
[
46
].
2.3. Data Management
Yearly means of sea water temperature were calculated independently for each of the depths selected (0 m, 20 m, and 40 m). Time trends between 1960 and 2018, to cover the periods of biological data, were explored by smoothing yearly means with moving averages over seven-year periods [
47
]. Water temperature data measured at 0 m off Villefranche-sur-Mer were almost superimposable to SST data from satellite records, indicating that they can be an acceptable proxy of sea water temperatures at Mesco.
From the photoquadrats, the percent cover of all the sessile epibenthic conspicuous species was obtained. To assure comparability with the earliest study, cover data were transformed into the following indices: 0.1 = cover negligible (<0.5%); 1 = less than 5% of the surface; 2 = between 5% and 25% of the surface; 3 = between 25% and 50% of the surface; 4 = between 50% and 75% of the surface; 5 = more than 75% of the surface [
36
]. Transformed cover data were analysed both in R-mode (for species) and Q-mode (for stations). Species were clustered using Bray–Curtis similarity and complete linkage. To explore change with time in community composition, the data matrix (photoquadrats × years) × species was submitted to non-metric multidimensional scaling (NMDS), based on Euclidean distances. NMDS has been integrated with a 1-way permutational multivariate analysis of variance (PERMANOVA), using 9999 random permutations of species between year groups to test for significance of the pseudo-F value. The temporal rate of change of the whole coralligenous community of the rocky reef was assessed by computing the average (± standard error) Euclidean distance between the photoquadrats of a given year and the centroid of the photoquadrats of 1961, thus allowing direct comparison with a previous study [
33
]. Finally, the average (± standard error) Coefficient of Variation (CV%) of Euclidean distances was calculated for each year, lower CV values indicating biotic homogenization [
48
,
49
]. Change in community structure was analysed using primarily the Shannon–Wiener diversity index, computed with the natural logarithm
ln
. However, as no single index adequately summarizes the diversity of a species assemblage, we also measured species richness, with Margalef index, and evenness, with Simpson index [
50
]. To assess the relative importance of richness and evenness in determining overall diversity, a graphical display was produced where each year was represented by its mean value (± standard error) in the richness-equitability plane [
51
]. All analyses were performed using the free software PaSt [
52
].
4. Discussion and Conclusions
Author Contributions
Conceptualization, C.N.B. and A.P.; methodology, A.P.; software, C.N.B. and V.P.; validation, C.N.B., C.M., A.A., and M.M.; formal analysis, C.N.B. and V.P.; investigation, A.A. and M.M.; resources, M.M.; data curation, C.N.B. and V.P.; writing—original draft preparation, C.N.B.; writing—review and editing, C.M.; visualization, C.N.B. and A.P.; supervision, C.N.B.; project administration, C.M.; funding acquisition, C.M. and M.M.
Funding
This research received no external funding.
Acknowledgments
This paper is dedicated to the memory of Gianni Roghi (1927–1967), pioneer in scuba diving and UW photography (
www.gianniroghi.it
). Luigi Piazzi (Sassari) identified
Womersleyella setacea
, Francesco Massa (Genoa) produced the 3D rendering of Mesco Reef based on multibeam data provided by Stefano Coppo and Corinna Artom of Regione Liguria (Genoa). The "Cinque Terre" Marine Protected Area authorised fieldwork at Mesco Reef.
Conflicts of Interest
The authors declare no conflict of interest.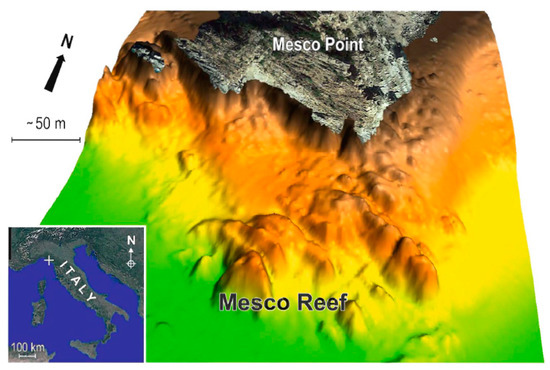 Figure 1. Geographical situation of the study area in Italy (cross in the inset) and three-dimensional reconstruction of Mesco Reef based on multibeam survey.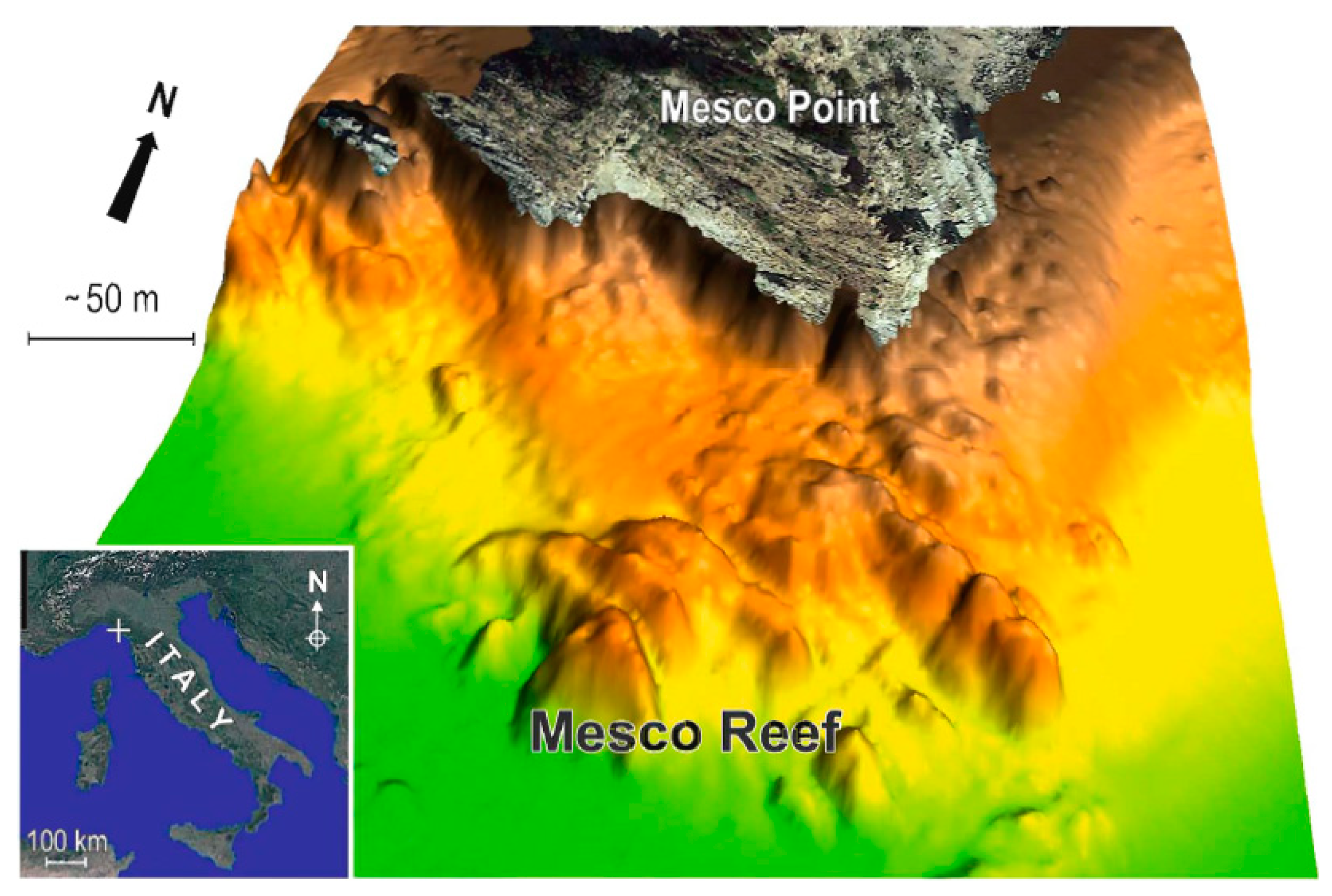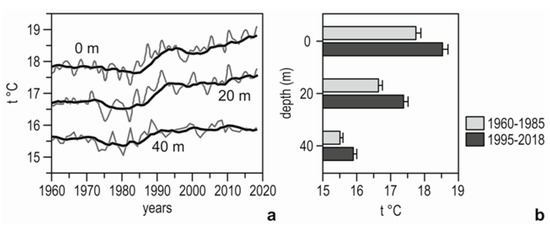 Figure 2.
Trend in Ligurian Sea water temperatures, 1960 to 2018: (
a
) thin lines represent yearly averages at 0 m, 20 m, and 40 m, thick lines are 7-year moving averages (data from Villefranche-sur-Mer [
44
,
45
]); (
b
) comparison between mean (+ standard error) sea water temperatures at 0 m, 20 m, and 40 m in two time periods: 1960–1985 and 1995–2018.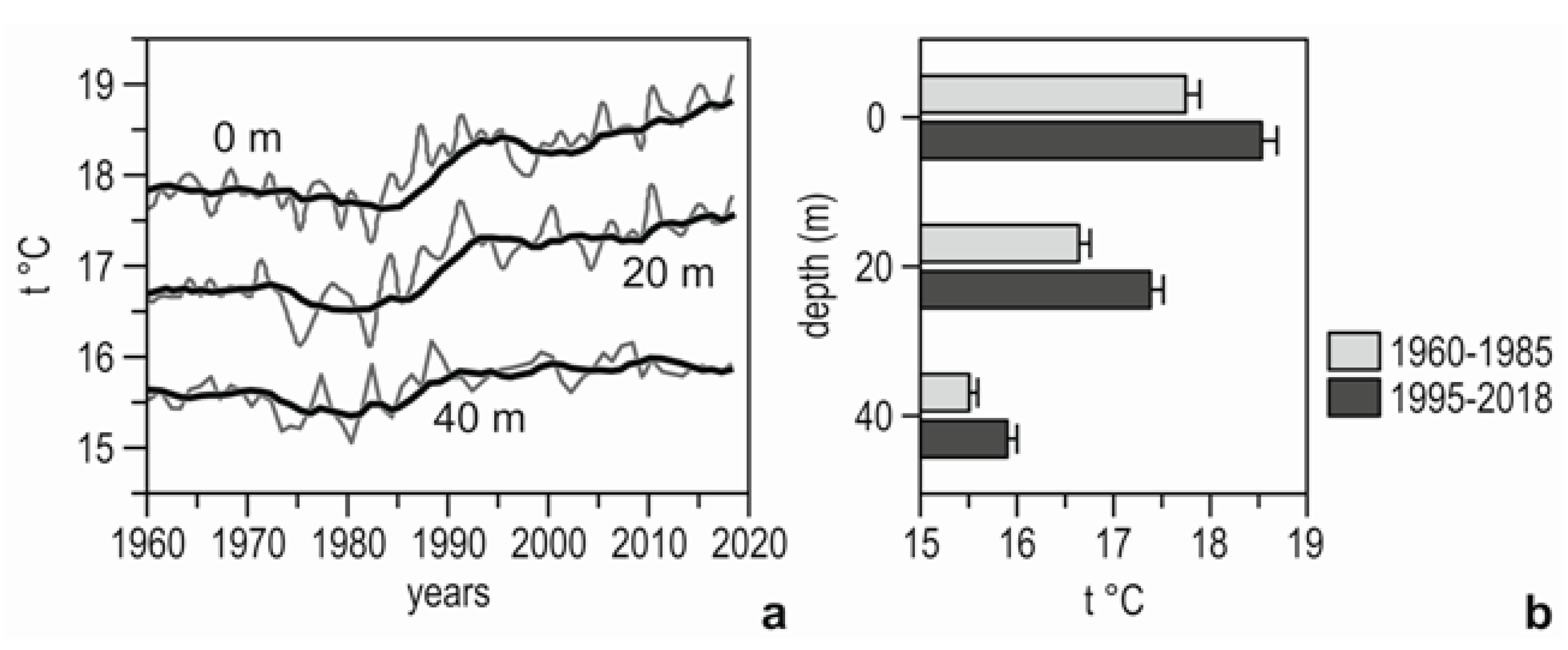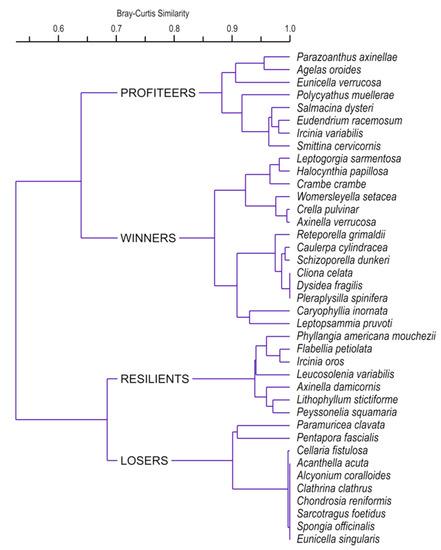 Figure 3. Species groups resulting from cluster analysis (Bray–Curtis similarity, complete linkage) in the sessile epibenthos of Mesco Reef. Groups' names have been assigned according to change over time in species cover (see text for groups' definition).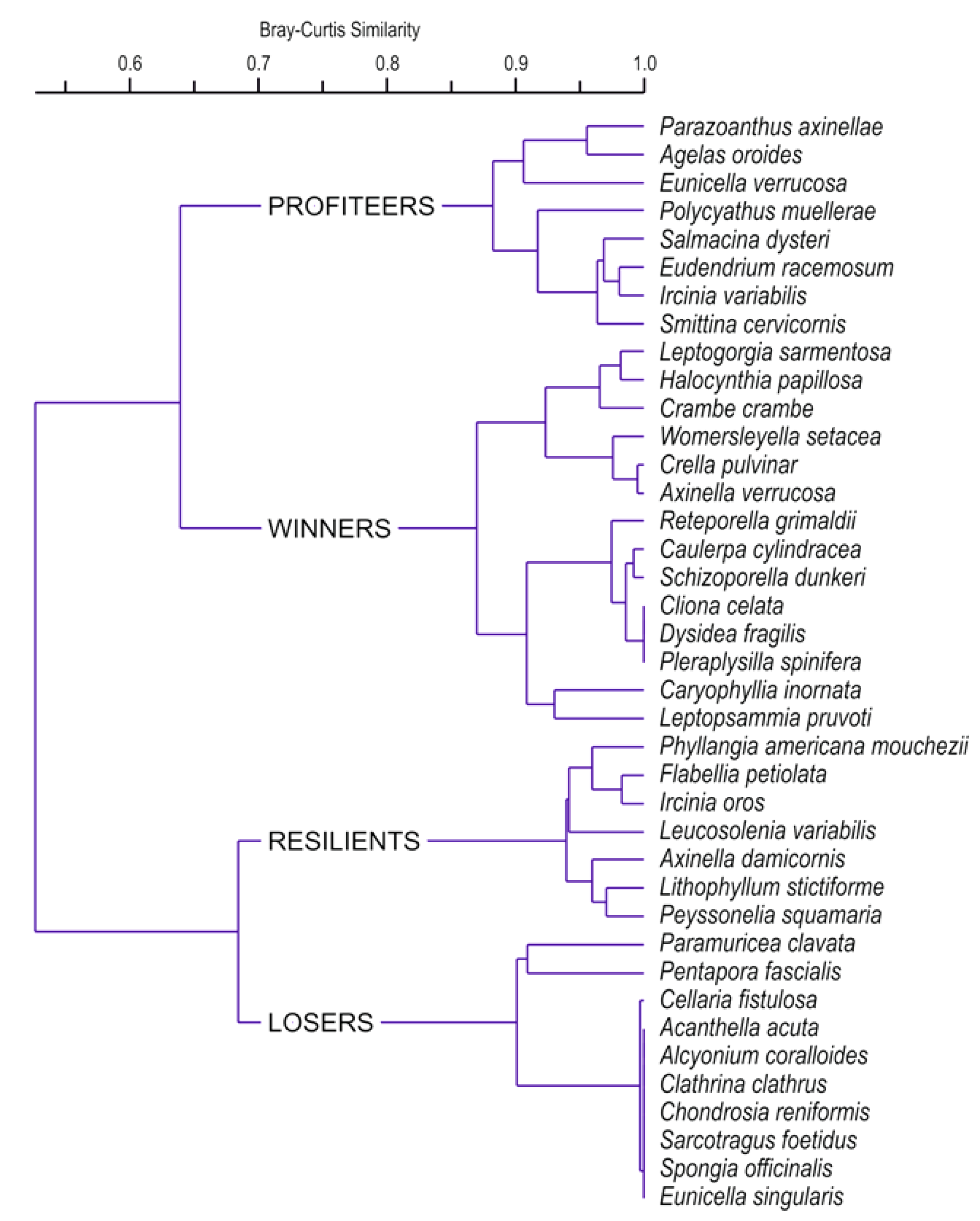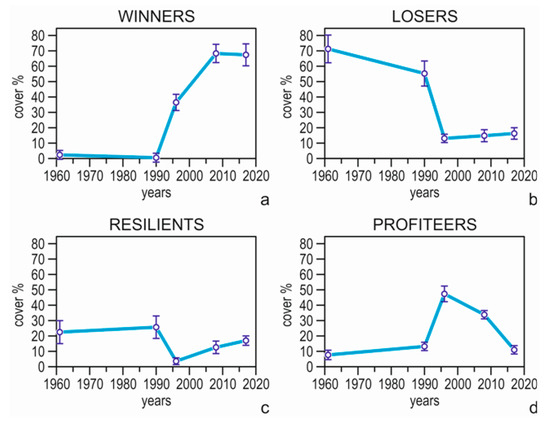 Figure 4. Change in mean (± standard error) total cover with time of the four groups of sessile epibenthic species identified by cluster analysis at Mesco Reef: (a) winners; (b) losers; (c) resilients; (d) profiteers; see text for groups' definition.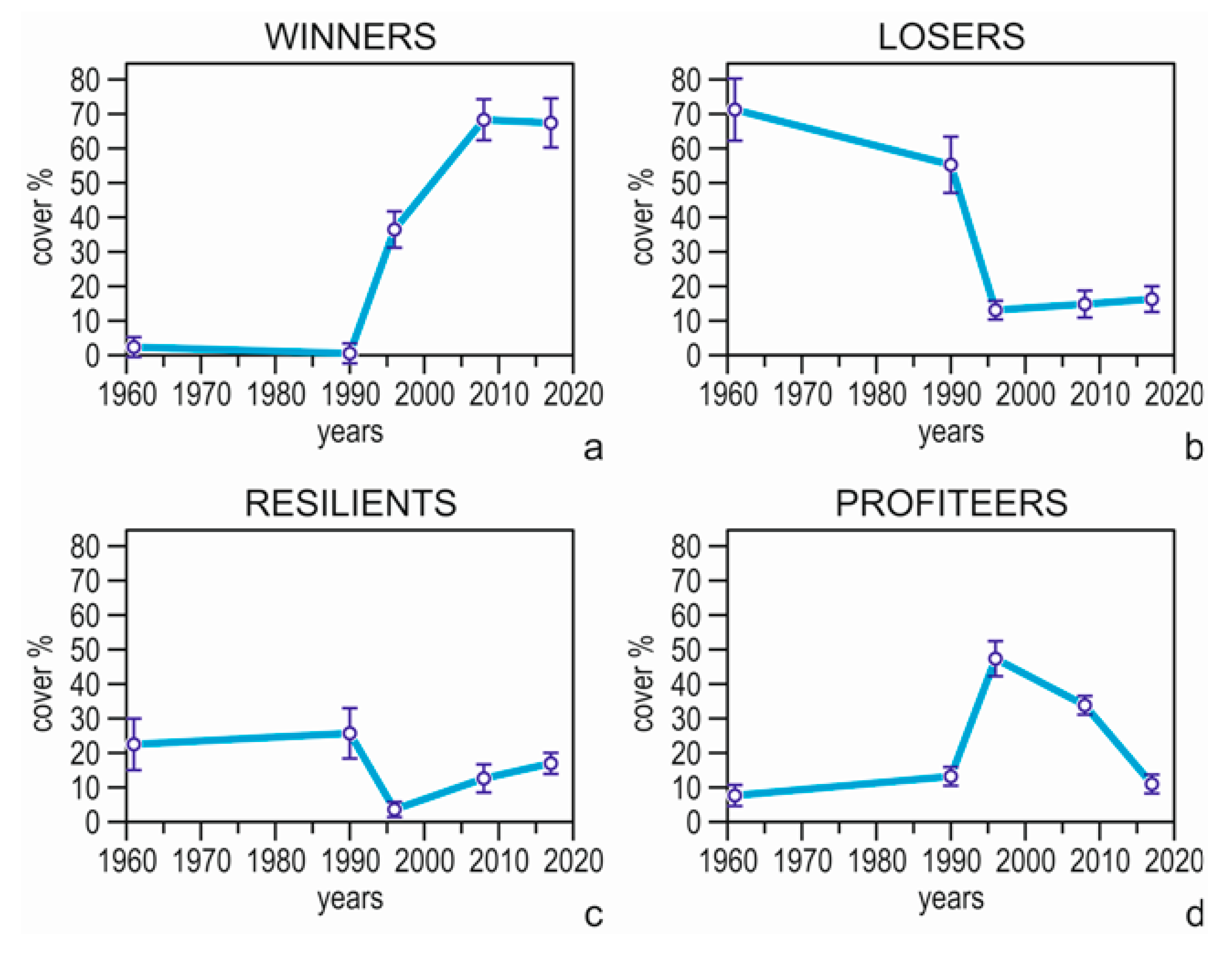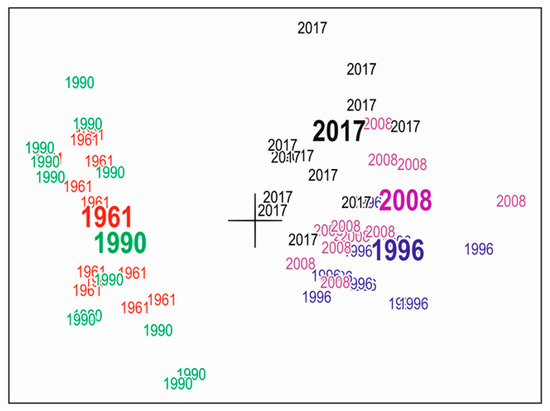 Figure 5. Two-dimensional NMDS plot of Mesco Reef photoquadrats. Stress = 0.1725. Small numbers represent individual photoquadrats of that year, large numbers the year centroids.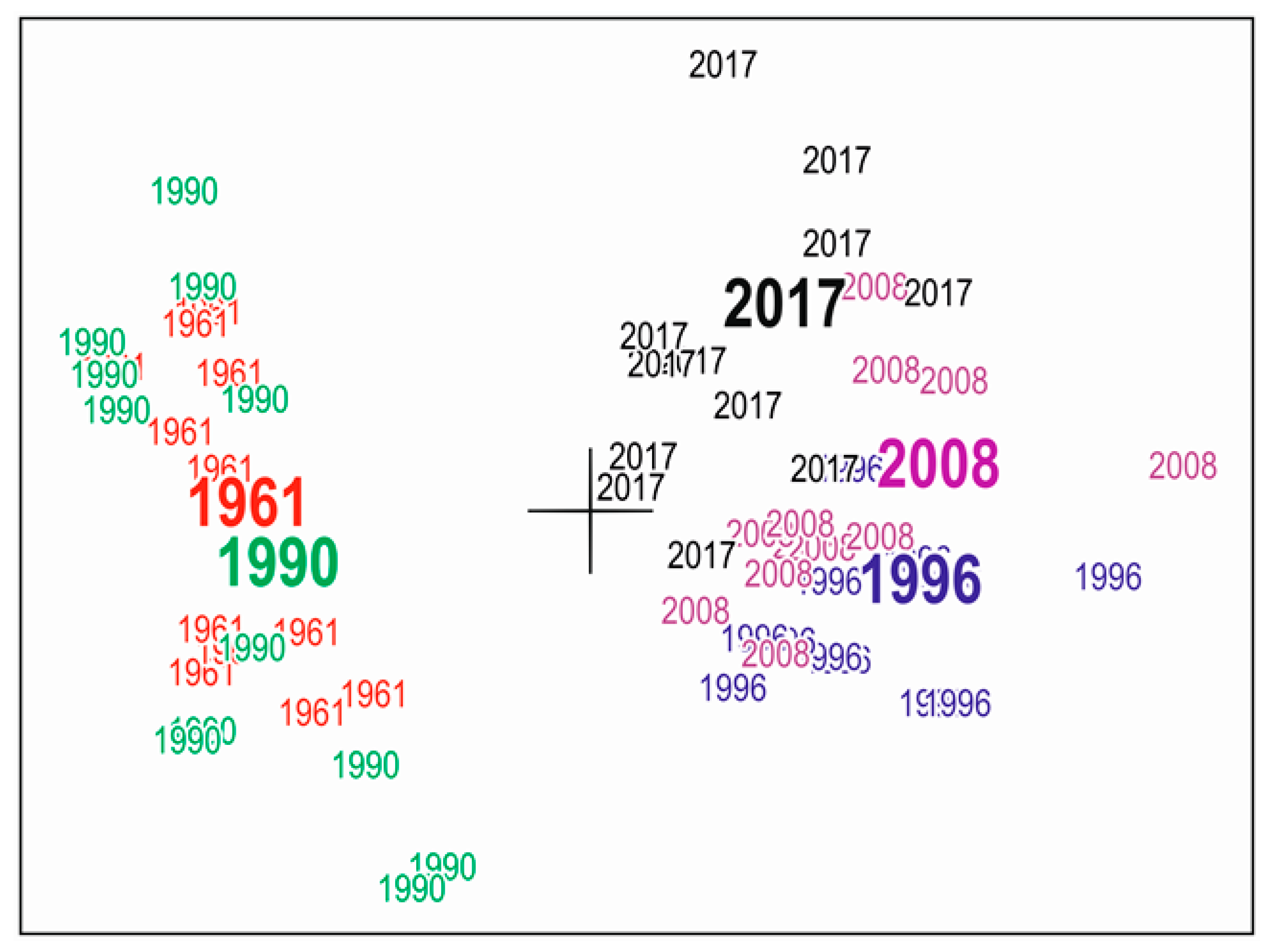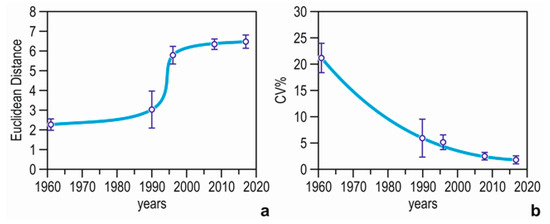 Figure 6. Quantitative change in community composition at Mesco Reef, 1961 to 2017: (a) Mean (± standard error) Euclidean distance among photoquadrats with respect to 1961; (b) Mean (± standard error) Coefficient of Variability (CV%) among photoquadrats in each year.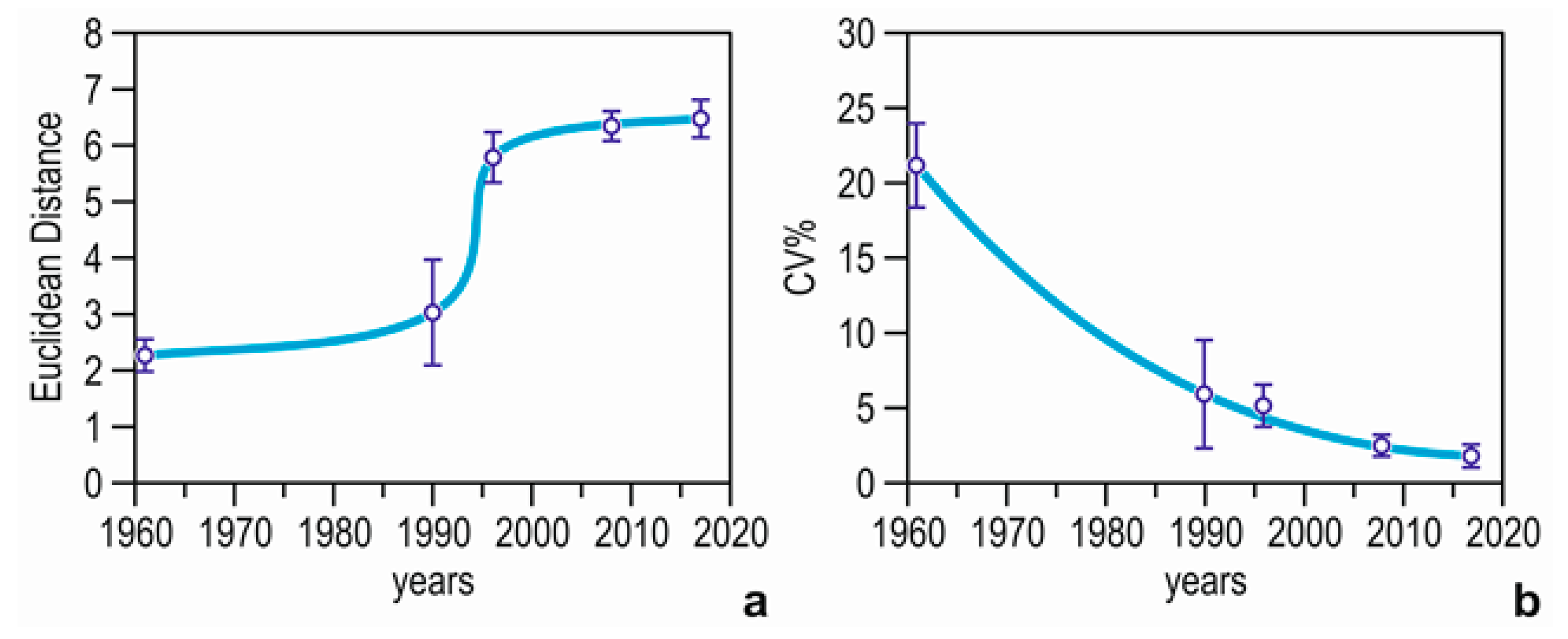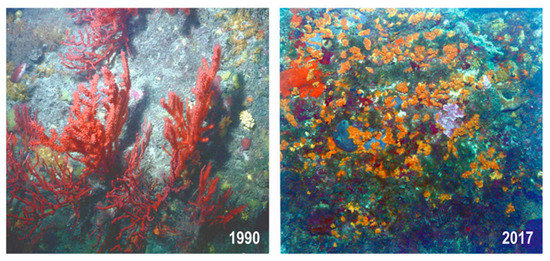 Figure 7.
Change in the epibenthic sessile community of Mesco Reef. Note the high canopy of the purple red gorgonian
Paramuricea clavata
in 1990 and the abundance of encrusting sponges and of the zoantharian
Parazoanthus axinellae
in 2017. The two images were taken in the same station at 20 m depth.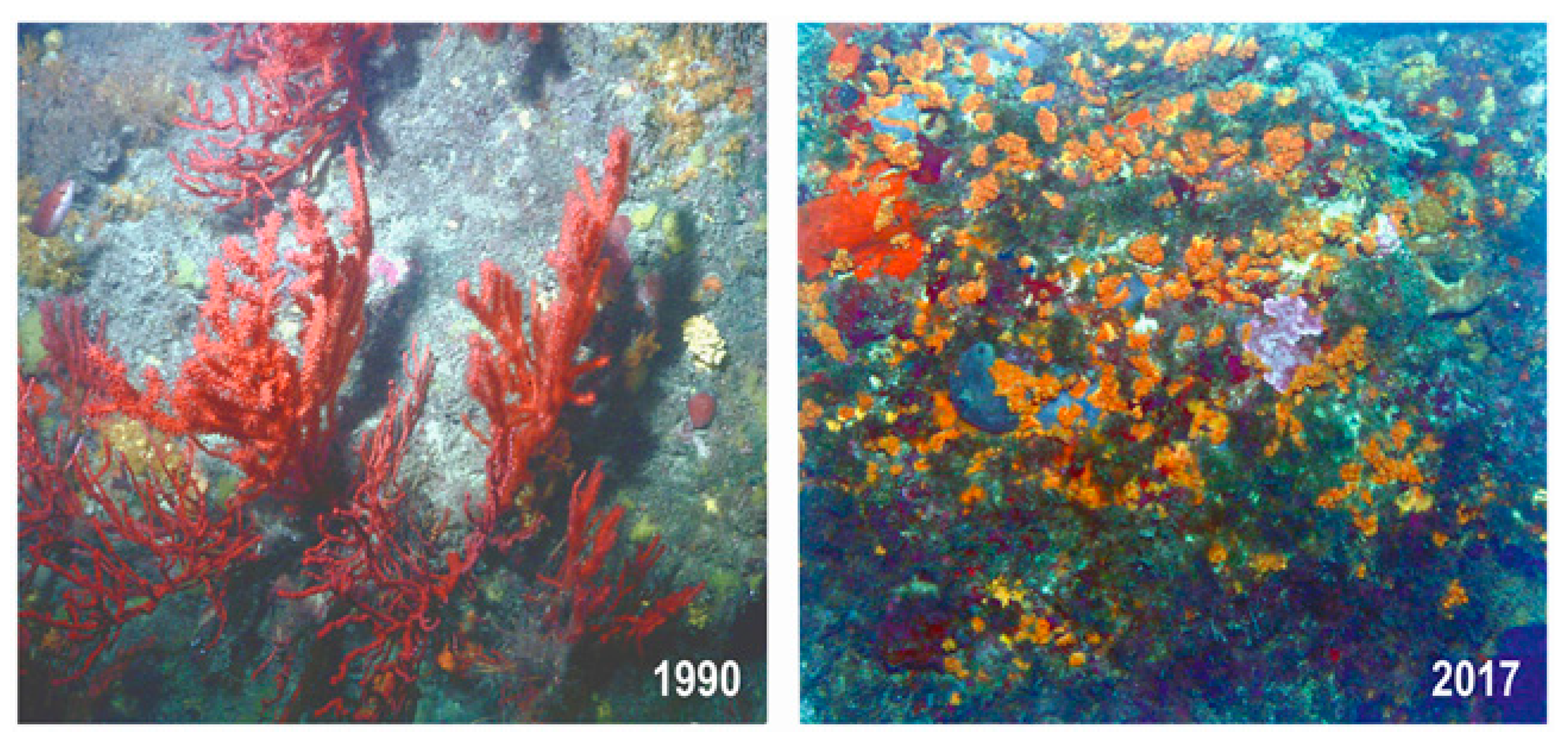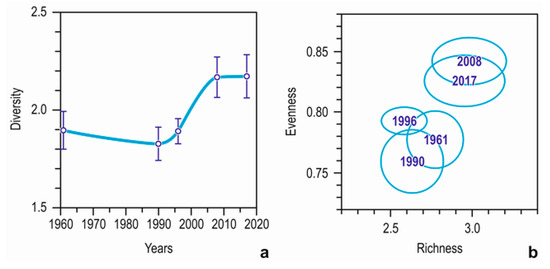 Figure 8. Change in community structure at Mesco Reef, 1961 to 2017: (a) Mean (± standard error) diversity (Shannon–Wiener index); (b) Position of year centroids in the richness-equitability plane, the axes of the ellipses being standard errors.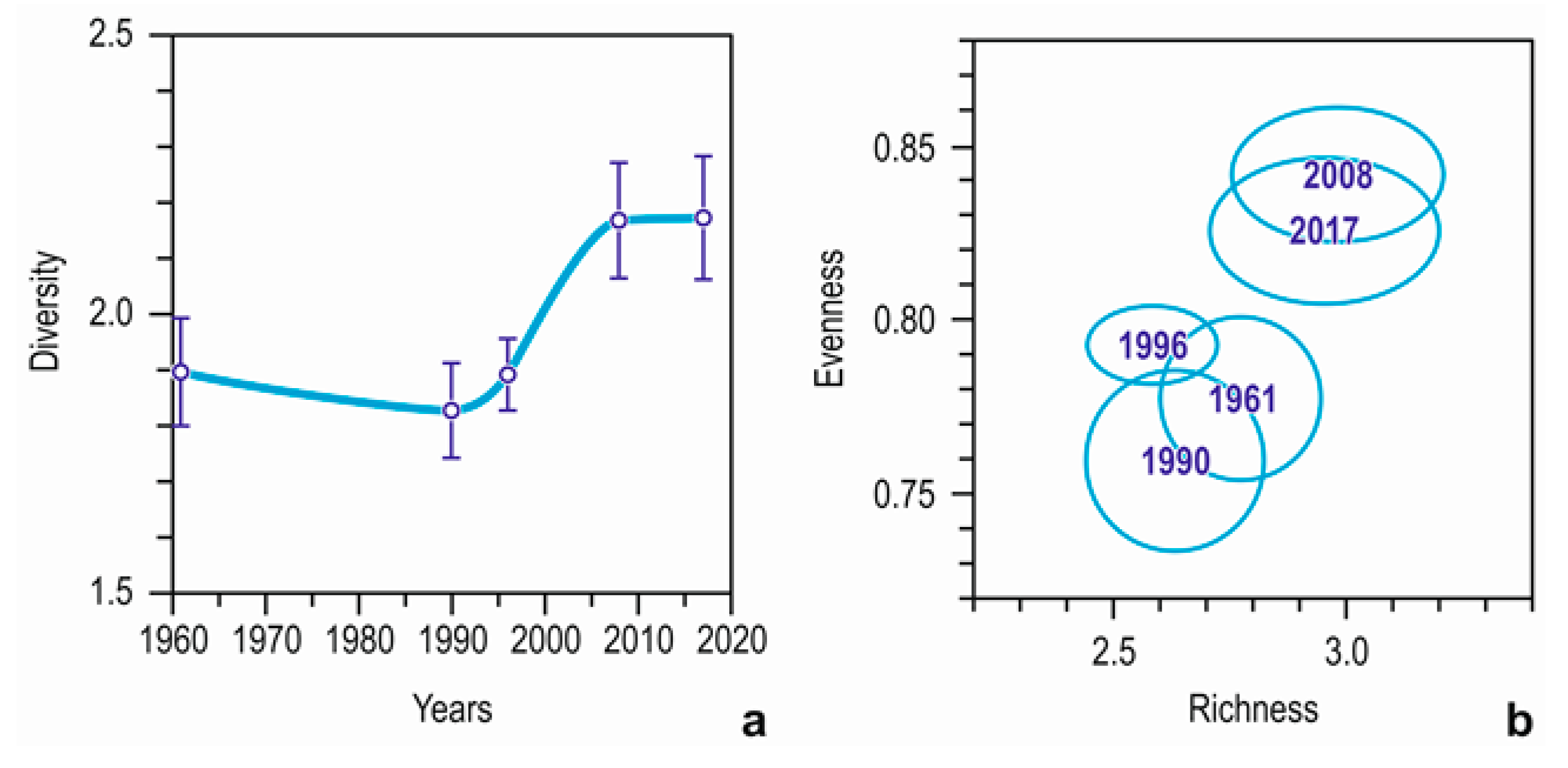 © 2019 by the authors. Licensee MDPI, Basel, Switzerland. This article is an open access article distributed under the terms and conditions of the Creative Commons Attribution (CC BY) license (http://creativecommons.org/licenses/by/4.0/).