Open Access This article is
freely available
re-usable
Article
Water Availability Coincides with Population Declines for an Endangered Butterfly
W. K. Kellogg Biological Station, Department of Integrative Biology, Michigan State University, Hickory Corners, MI 49060, USA
*
Author to whom correspondence should be addressed.
Received: 12 June 2018 / Accepted: 16 August 2018 / Published: 20 August 2018
Abstract
:
As global climate change causes population declines across numerous taxa, it becomes critical to understand the specific pathway by which climatic and anthropogenic factors influence population size. Water availability is a key environmental condition that links climate and humans to species response, especially for rare or threatened butterflies that are highly sensitive to changes in climate and the surrounding landscape. We use the wetland-dependent endangered St. Francis' satyr butterfly (
Neonympha mitchellii francisci
) to test how changes in water availability affect population size via changes in host plant growth. We show that long-term declines in water availability are directly linked to a decline in host plant growth and contributed to a population decrease of 95% for St. Francis' satyrs in the past decade, threatening the persistence of the species. Recent restoration work, which includes efforts to increase water availability via hardwood removal, has been successful in increasing population numbers. Many butterflies are broadly dependent on water availability and flow, and only by understanding the specific pathway that directly links water availability to species response can we make effective conservation plans to prepare for the altered water conditions of the future.
Keywords:
Neonympha mitchellii francisci
; population decline; precipitation; St. Francis' satyr; butterfly; temperature; water flow; restoration
2. Materials and Methods
We obtained mean daily discharge data from 1970–2017 from a USGS stream monitoring station at Flat Creek, NC (USGS, 2016). Flat Creek supported St. Francis' satyr populations at the start of our study until 2009 and is in close proximity to streams where many St. Francis' satyr populations are currently found. Flat Creek provides a strong representative sample of water flow for the numerous creeks that are found on Fort Bragg. We calculated the average water flow per water year (1 October–30 September) and conducted a linear regression to determine if water flow significantly changed across years.
3. Results
The total St. Francis' satyr population size outside artillery ranges was estimated to be 530 individuals in the second flight period of 2003, the first year that population size was quantified (
Figure 1
). The population increased to a maximum of 1730 individuals in 2004 before dropping to 25 individuals in 2016 and only a few individuals in 2017. However, once individuals from restored sites are included, the population estimate for 2017 was 560 individuals, with a peak of 790 individuals seen in 2016. Estimates do not include individuals in artillery impact areas, where thousands of individuals may persist.
Average water flow per year at Flat Creek significantly decreased by 0.11 m
3
/s, or 29%, from 1970–2017 (slope = −0.002,
p
= 0.004,
Figure 2
a). Average water flow ranged from a low of 0.14 m
3
/s in 2002 to a high of 0.57 m
3
/s in 1973 (mean = 0.32, s.d. = 0.08).
The average percentage of
C. mitchelliana
at a site ranged from 0.25% to 12.43% (mean = 3.61, s.d. = 3.35). The amount of C.
mitchelliana
significantly increased with water flow of the previous water year (slope = −2.307,
p
= 0.02,
Figure 2
b). The PY index ranged from 0 to 67 (mean = 10.0, s.d. = 11.8). The PY index was not significantly influenced by water flow of the previous water year (slope = 3.112,
p
= 0.91,
Figure 2
c). The water flow of the current year did not significantly influence the amount of
C. mitchelliana
(
p
= 0.24) or the PY index (
p
= 0.48). The year was significantly correlated with the PY index for both the current water year (
p
< 0.001) and the previous water year (
p
< 0.001). Higher amounts of
C. mitchelliana
were associated with higher PY index values (slope = 0.037,
p
= 0.32,
Figure 2
d).
Author Contributions
Both authors contributed equally to conceiving the study, collecting and interpreting data, and developing the final manuscript. H.L.C. conducted the analysis and drafted the manuscript.
Funding
This research was funded by the Fort Bragg Army Installation.
Acknowledgments
We would like to thank P. Hamel for early discussions on this topic, as well as the numerous technicians who have conducted butterfly and vegetation surveys. We thank S. Diamond, T. Wepprich, P. Hamel, and three anonymous reviewers for providing comments on an earlier version of this manuscript.
Conflicts of Interest
The authors declare no conflict of interest. The funder had no role in the design of the study; in the collection, analyses, or interpretation of data; in the writing of the manuscript, and in the decision to publish the results.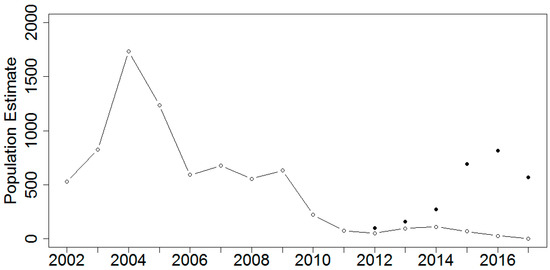 Figure 1. Estimated population size of St. Francis' satyrs during the second flight period from 2003–2017 outside of artillery impact areas on Fort Bragg, NC. Closed circles represent population size when restored sites were included.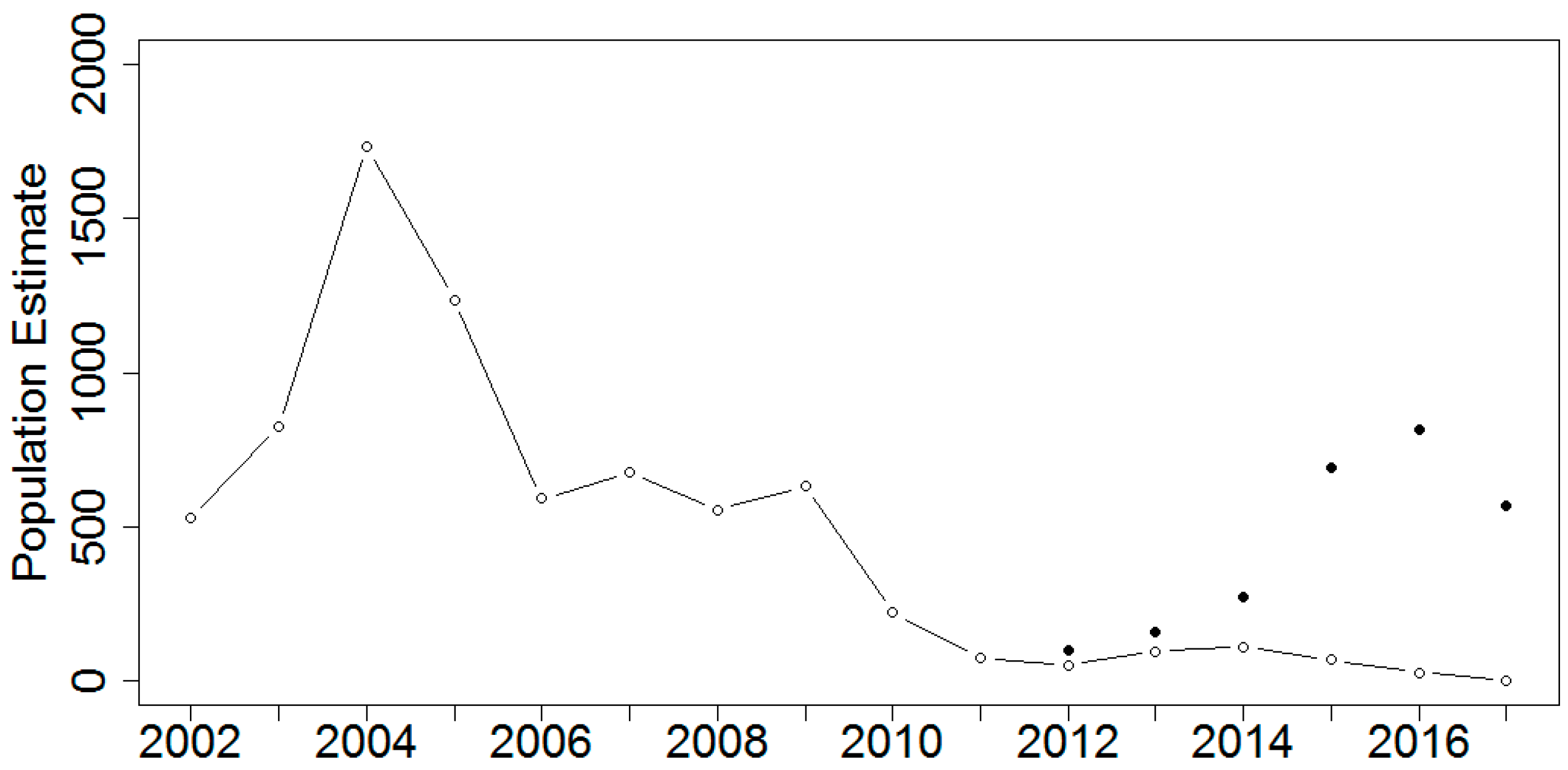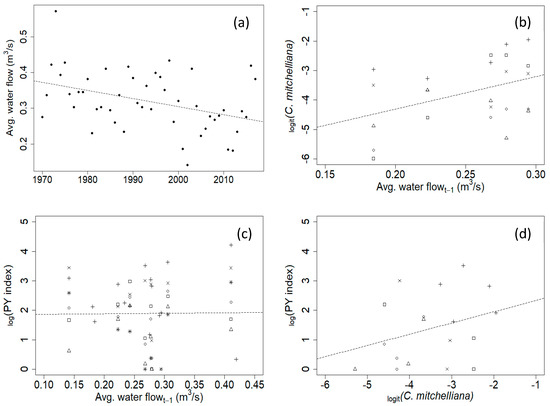 Figure 2.
Effects of water availability on plants and butterflies. (
a
) Change in average annual water flow from 1970–2017. (
b
) Average amount of
C. mitchelliana
present based on average annual water flow of previous water year. (
c
) Pollard-Yates (PY) index of St. Francis' satyrs based on average annual water flow of previous water year. (
d
) Relationship between amount of
C. mitchelliana
and PY index of St. Francis' satyrs. Different symbols represent an individual site where butterfly or plant surveys were conducted.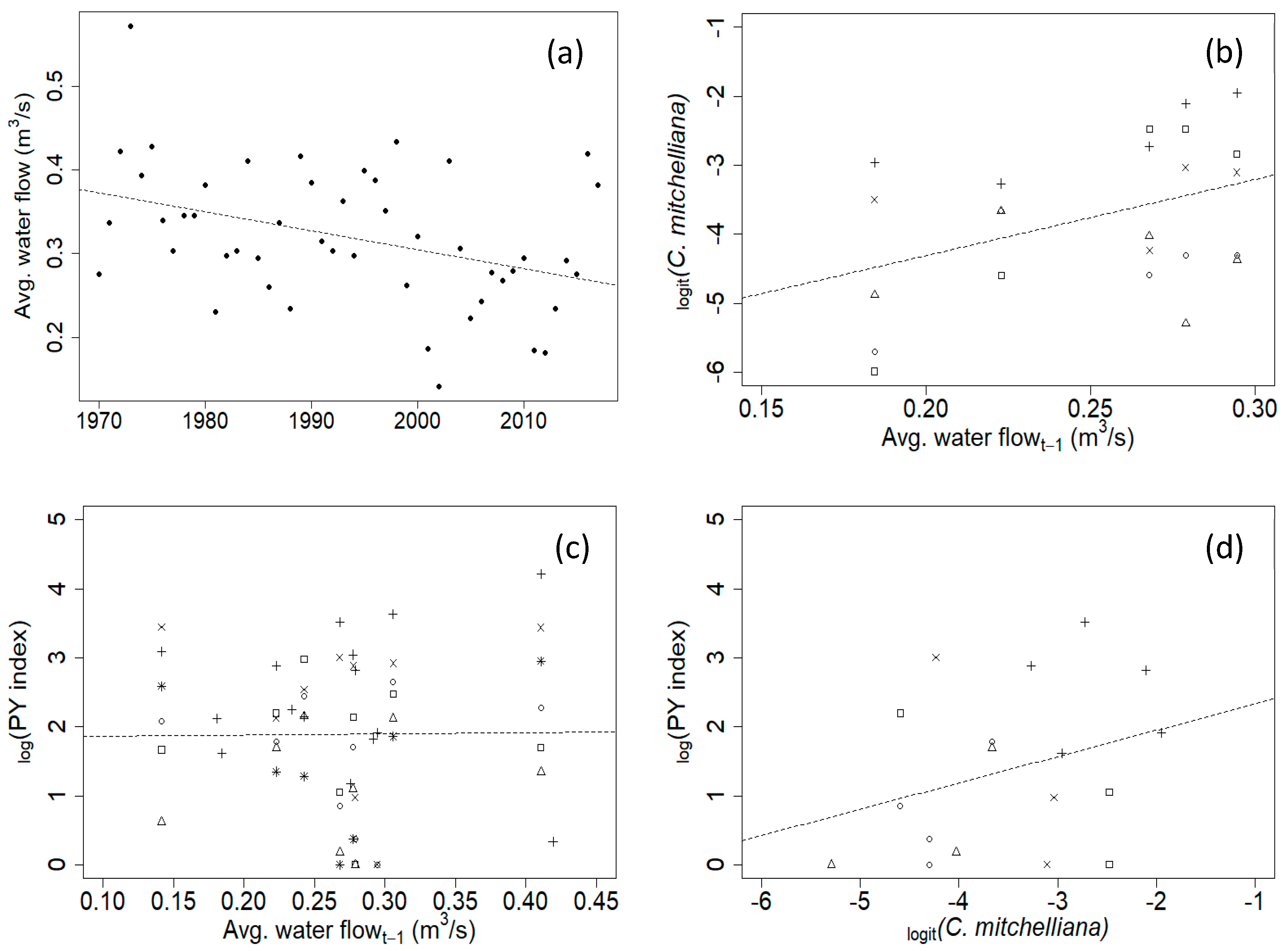 © 2018 by the authors. Licensee MDPI, Basel, Switzerland. This article is an open access article distributed under the terms and conditions of the Creative Commons Attribution (CC BY) license (http://creativecommons.org/licenses/by/4.0/).