Open Access This article is
freely available
re-usable
Review
Human Induced Pluripotent Stem Cells Derived from a Cardiac Somatic Source: Insights for an In-Vitro Cardiomyocyte Platform
1
Department of Biotechnology and Biosciences, Università degli Studi di Milano-Bicocca, Milano 20126, Italy
2
Fondazione Cardiocentro Ticino, Lugano 6900, Switzerland
3
Faculty of Biomedical Sciences, Università della Svizzera Italiana, Lugano 6900, Switzerland
*
Author to whom correspondence should be addressed.
Received: 18 December 2019 / Accepted: 10 January 2020 / Published: 13 January 2020
Abstract
:
Reprogramming of adult somatic cells into induced pluripotent stem cells (iPSCs) has revolutionized the complex scientific field of disease modelling and personalized therapy. Cardiac differentiation of human iPSCs into cardiomyocytes (hiPSC-CMs) has been used in a wide range of healthy and disease models by deriving CMs from different somatic cells. Unfortunately, hiPSC-CMs have to be improved because existing protocols are not completely able to obtain mature CMs recapitulating physiological properties of human adult cardiac cells. Therefore, improvements and advances able to standardize differentiation conditions are needed. Lately, evidences of an epigenetic memory retained by the somatic cells used for deriving hiPSC-CMs has led to evaluation of different somatic sources in order to obtain more mature hiPSC-derived CMs.
Keywords:
hiPSC-CMs; epigenetic memory; maturation; cell modelling; drug testing
1. Introduction
Human induced pluripotent stem cells (hiPSCs) have assumed a pivotal role in research since their discovery in 2007 [
1
]. The possibility to differentiate them into functional cardiomyocytes (hiPSC-CMs) awakened excitement for the potential use of those cells in repairing and regenerating damaged cardiac tissue [
2
,
3
]; however, even though hiPSC-CMs represent an autologous source that overcomes the immunological limitations and ethical concerns belonging to embryonic stem cells (ESCs), the risk of tumor formation and uncontrolled differentiation have restricted this kind of approach. The possibility to characterize specific phenotypes associated with patient-specific genotypes allows the use of hiPSC-derived cells for disease modelling and drug development with very promising results [
4
,
5
,
6
].
Several works in the past have reported that hiPSCs are similar to ESCs, but it was recently demonstrated that, because of their somatic origin, epigenetic memory can influence their differentiation and maturation processes [
7
]. Furthermore, quite a few studies have demonstrated that hiPSC-CMs are molecularly and functionally immature and resemble embryonic and neonatal CMs [
8
,
9
,
10
,
11
]. Differences in structural morphology, gene and protein expression, as well as calcium handling and ionic patterns, have been described using a time-course of hiPSC-CMs maturation in-vitro; electrical properties and physiology of derived CMs can dramatically change in a time-dependent way, thus leading to the crucial need to optimize time and culture conditions during differentiation [
12
].
The focus of this review is to raise the issue of the different limitations and strengths affecting hiPSC-CMs derived from different somatic sources by the same patient, with particular attention to the role of cell origin and the advantages of CMs derived from a cardiac source.
3. Cardiac Differentiation
4. Functional Properties of hiPSC-CMs: Overview and Limitations
Single cells recordings with the patch clamp technique are still the most informative and accurate technique to disclose mechanisms underlying abnormal electrical activity in hiPSC-CMs. However, global electrophysiological information can also be acquired by the multielectrode array (MEA) system by plating spontaneous beating clusters of hiPSC-CM. This technique is useful to evaluate changes in AP rate, duration and conduction velocity.
5. Pluripotency and Cardiac Differentiation of hiPSCs Derived from Cardiac vs. Non-Cardiac Sources
The reprogramming process can be applied to all type of somatic cells, such as placenta [
26
] mononuclear cells from blood [
25
], and keratinocytes [
28
], from which it is possible to address the differentiation process toward cardiac phenotype. The somatic source may influence the phenotype of iPSCs by affecting both reprogramming and differentiation efficiency. For example, it has been shown how blood-derived iPSCs differentiate into hematopoietic cells more easily in comparison to fibroblast-derived ones [
7
]; in addition, beta cell derived-iPSCs were more prone to differentiate into insulin-producing cells if compared to ESCs [
124
].
In agreement with these observations, it has been recently reported the possibility to reprogram explant-derived cells, elsewhere referred as cardiac progenitor cells (CPCs) [
125
], from human cardiac biopsies obtain functional and terminal differentiated CMs [
29
]. As schematized in
Figure 4
, CPC-derived hiPSCs account for improvements in differentiation to CMs in comparison to patient-matched hiPSCs from other somatic sources, such as bone marrow-derived mesenchymal stem cells (BMC) and dermal fibroblasts (HDF) both if cultured in monolayers [
126
] or EBs [
127
,
128
].
These works emphasized the existence of an epigenetic memory retained by iPSCs from their tissue of origin. Reprogramming of somatic cells to pluripotency undergo a reversal in DNA modifications that characterize the cell development, but in some cases these modifications remain unaltered, representing a residual tissue-specific DNA methylation that influences the differentiation potential of iPSCs [
129
].
Although hiPSC derived from HDFs have been described to produce a higher number of colonies that appear earlier in time, the expression level of pluripotency markers (e.g.,
Nanog
,
Oct4
) resulted significantly enhanced in hiPSC from CPCs as compared to both hiPSC from HDFs and from BMCs [
126
,
128
]. Inversely, Sanchez-Freire et al. [
127
] showed that the expression of pluripotency markers was not different between the two hiPSC lineages from different tissues. In both cases, the ability of reprogrammed cells to form three germ layers (i.e., mesoderm, ectoderm, and endoderm), which is considered a hallmark for pluripotency in iPSCs, is not affected by the cell source.
As for the specification potential toward cardiac phenotype, hiPSC derived from cardiac somatic sources showed higher efficiency during the re-differentiation process compared to non-cardiac ones in terms of genes expression for early (NKX 2.5, ISL1) and late cardiogenic transcription factors (HAND2, TBX5, GATA4 and MEF2C) [
127
,
128
]. Genes encoding for late cardiac specific markers, such as MYLC2.a, MYH6, TNNI3 and TNNT2, were also overexpressed in cardiac hiPSC-CMs, as well as those encoding for cardiac specific ion channels (HCN1-4, CACNA1C and 1G, RyR2, Cx43) [
126
,
128
].
Accordingly, a higher percentage of Troponin T (cTnT)-positive CMs in beating cardiac
Sca1
-iPSC-CMs (cardiac) compared to HDF-iPSC-CMs (non-cardiac) has been reported both by Sanchez-Freire et al. (15 days) [
127
] and Meraviglia et al. (18–20 days) [
128
] as a late differentiation marker. Taken together these data support the hypothesis that the cardiac origin of somatic cells to be reprogrammed influences the transcription of cardiac genes during the differentiation of iPSCs.
While Meraviglia et al. and Pianezzi et al. observed that hiPSC-CMs started beating at 10 days of differentiation, Sanchez-Freire et al. needed five more days to detect the first spontaneous events in their
Sca1
- and HDF-derived CMs. Furthermore, in the studies by Meraviglia et al. and Pianezzi et al. this correlated with an upregulation of cTnI expressed in a sarcomeric pattern. In addition, CPC-derived CMs from Pianezzi et al. are the first population to exhibit early spontaneous beating (at 10 days of differentiation) compared to patient-matched HDF- and BMC-derived ones (15 days), thus suggesting precocity in cell differentiation from cardiac source.
Functionally, Meraviglia et al. and Sanchez-Freire et al. did not observe any differences in term of beating rates between cardiac and non-cardiac sources derived-CMs at 30 days of differentiation. Interestingly, in urine-derived hiPSC-CMs [
111
] the adaptation of AP to stimulation rates was not observed until 90 days of maturation, while in our hand CPC-derived cells showed APD
90
shortening when stimulated from 2 to 4 Hz already at 35 days of differentiation (unpublished). Meraviglia et al. noticed that the maturation process affected especially the maximum diastolic potential (MDP) values, that resulted more hyperpolarized in CPC-CMs at 60 day of differentiation. However, Sanchez-Freire et al. did not observe any electrical difference between cardiac- and fibroblast-derived CMs at day 30.
In recent work, it has been observed variability in electrical properties and sensitivity to ion channel blockers in CMs derived from different sources [
130
]. Accordingly, the MEA measurements by Pianezzi et al. pointed out a higher maturation degree of CPC-CMs by highlighting the presence of I
Ks
, a current more expressed and more functional in CPC-derived CMs in comparison to HDF- and BMC-derived cells. A higher repolarization reserve in CPC-CMs has been demonstrated by highlighting the contribution of I
Ks
with the specific blocker JNJ303 under I
Kr
blockade with E4031. In support of this, a JNJ303-dependent QT prolongation resulted strongly enhanced in CPC-CMs in comparison to HDF- and BMC-CMs [
126
].
In Pianezzi et al. CMs derived from cardiac somatic cells showed differences from an early stage of maturation in calcium handling. Here, not only CPC-, but also HDF- and BMC-CMs at 35 days of differentiation were able to elicit RyR-mediated Ca2+ release when exposed to caffeine. However, the quantification of the number of responsive CMs clearly showed that the percentage of CPC-derived ones was significantly greater than the percentages of CMs derived from the other two cell types. On the other hand, the molecular expression of RyR2 and SERCA2a proteins were not different among the three groups. Thus, the "caffeine responsiveness" may represent a functional index, over the expression of cardiac specific genes, for the identification of differentiating CMs. Despite of this, in Sanchez-Freire et al., 30 days of differentiation were not sufficient to evince any differences between CPC- and HDF-CMs, equally immature in Ca2+ transient properties.
In general, we can say that, although different somatic cells show a cardiogenic potential when exposed to appropriate cardiac stimuli, cardiac precursor cells seem to be temporally and/or qualitatively more prone to differentiate into functional cardiac cells. Moreover, it must be clarified whether maturation of reprogrammed cells from cardiac sources represents also at late time points a better cellular substrate for cardiac disease modelling, drug testing and tissue regeneration.
6. Conclusions
To date, it has been widely described how hiPSC-CMs are able to recapitulate molecular and functional aspects of human heart pathophysiology, thus providing a good tool for disease modelling and development of personalized therapy that involves a pharmacological treatment. A wide range of genetic cardiomyopathies has been modelled using hiPSC-CMs [
131
], for example familiar long QT (LQT) syndromes [
4
,
85
,
86
,
87
,
132
,
133
], Brugada syndrome [
134
,
135
], Catecholaminergic polymorphic tachycardia (CPVT) [
136
,
137
] and atrial fibrillation [
138
,
139
].
Unfortunately, the physiological phenotype of iPSC-CMs is heterogeneous both in term of sub-populations of CMs and in term of maturation degree during differentiation protocol, potentially leading to an incorrect interpretation of data. To avoid this, the comparison of their functional parameters with the native and adult counterpart is crucial. The cellular size and morphology, together with the expression of structural proteins and a T-tubular system that ensure the electrical conduction, must be evaluated in order to perform accurate functional analysis and develop 3D platforms; electrophysiological parameters and Ca2+ handling features, contractile force, responses to beta-adrenergic stimulation, metabolic profile and conduction velocity must be verified to assess the ability of hiPSC-CM-based models to recapitulate diseases and pathological phenotypes. Furthermore, populations of cells differentiated from iPSCs contain non-cardiomyocyte cells that may interfere with maturation levels, electrophysiological properties and conduction velocity of differentiating CMs, therefore affecting the sensitivity to tested drugs. Standardization of methods and techniques from one laboratory to another is needed for a reliable comparison between healthy and pathological cell models.
Current differentiation protocols that are being tested to optimize the structural and functional maturation degree of hiPSC-CMs use addition of physiological substrates, prolongation of culture time, coculture with endothelial cells or fibroblasts, 3D cell platforms ("organoids") and mechanical and electrical stimulation (dynamic clamp); these techniques, combined with purification methods such as pre-plating or substitution of glucose with lactate in the early maturation phase of CMs, can produce up to 90% cTnT-positive hiPSC-CMs [
140
,
141
,
142
,
143
,
144
,
145
,
146
,
147
].
Despite their limitations, thanks to molecular, structural and functional correlations with primary adult CMs, hiPSC-CMs can be considered reliable tool for disease modelling and it represents a valid platform for pharmacological screening [
53
,
54
]. Moreover, it is crucial to consider the somatic origin of hiPSC-CMs since it has been clearly demonstrated to impact on time of development and maturation degree of derived CMs in a patient-matched comparison.
The selection of a somatic donor tissue has to be adjusted according to the goal of the study. Since CPCs are derived from cardiac biopsies of patients who undergo heart surgery, the accessibility to human material can be limited. For these reasons, the use of cardiac derived cells as source to generate hiPSCs represents a compromise between the possibility to obtain a more mature CM and the invasiveness and risks of cardiac procedures.
Author Contributions
Writing and original draft preparation, A.M.L. and C.A.; figure preparation, A.M.L.; review and editing, C.A., M.R., and L.B. All authors have read and agreed to the published version of the manuscript.
Funding
L.B. was supported by research grant of Velux Stiftung (1127), Zurich and by research grant of Swiss National Science Foundation (IZCOZ0_182948) (Switzerland).
Conflicts of Interest
The authors declare no conflict of interest.
Abbreviations
| | |
| --- | --- |
| hiPSC | Human Induced Pluripotent Stem Cell |
| CM | Cardiomyocyte |
| ESC | Embryonic Stem Cell |
| MET | Mesenchymal to Epithelial Transition |
| CVD | Cardiovascular Disease |
| CPC | Cardiac Progenitor Cell |
| BMC | Bone Marrow-derived stem Cell |
| HDF | Human Dermal Fibroblast |
| Na+ | Sodium |
| K+ | Potassium |
| Ca2+ | Calcium |
| Ediast | Diastolic Membrane Potential |
| AP | Action Potential |
| APA | Action Potential Amplitude |
| APD | Action Potential Duration |
| MDP | Maximum Diastolic Potential |
| MEA | Multielectrode Array |
| ECG | Electrocardiogram |
| TdP | Torsade de Pointes |
| LQTS | Long QT Syndrome |
| CPVT | Catecholaminergic Polymorphic Ventricular Tachycardia |
| DCM | Dilated Cardiomyopathies |
| HCM | Hypertrophic Cardiomyopathies |
| QSP | Quantitative System Pharmacology |
| CiPA | Comprehensive In Vitro Proarrythmia Assay |

Figure 1. Schematic overview of the sequential events occurring during somatic cell reprogramming into human iPSCs. The process consists of three steps, Initiation, Maturation, and Stabilization. The main events occurring during each step are indicated.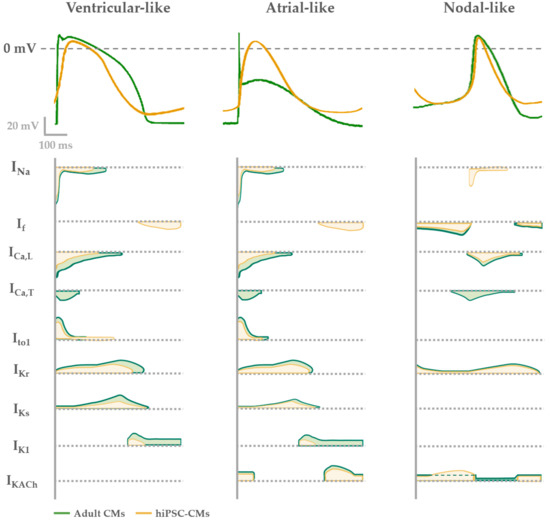 Figure 2. Electrophysiological phenotypes of hiPSC-derived (yellow) compared with adult CMs (green). AP shape (upper panel) described in each phenotype (ventricular-, atrial- or nodal-like) is determined by different contribution of cardiac ion currents, represented over time in the lower panel.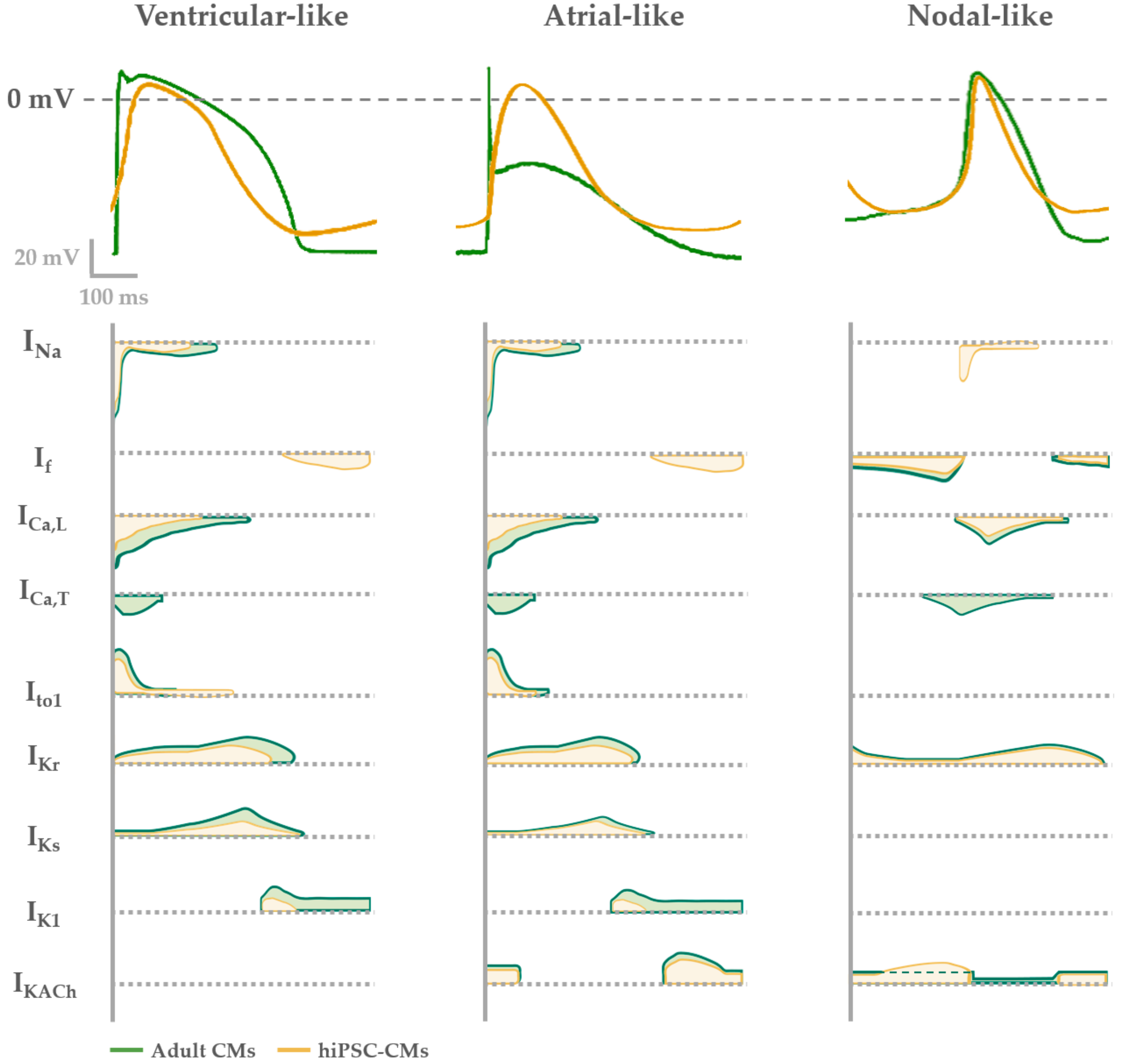 Figure 3. Calcium-induced calcium release mechanism (CICR) schematized with T-tubule and sarcomere structures. Ca2+ influx via the L-type calcium channels is able to cause a release of the SR Ca2+ store via the Ca2+-sensitive ryanodine receptors (RYR2). In hiPSC-CMs the Ca2+ entry is mainly the extracellular one and calcium handling kinetics are slower (yellow in the inset) compared to adult CMs (green).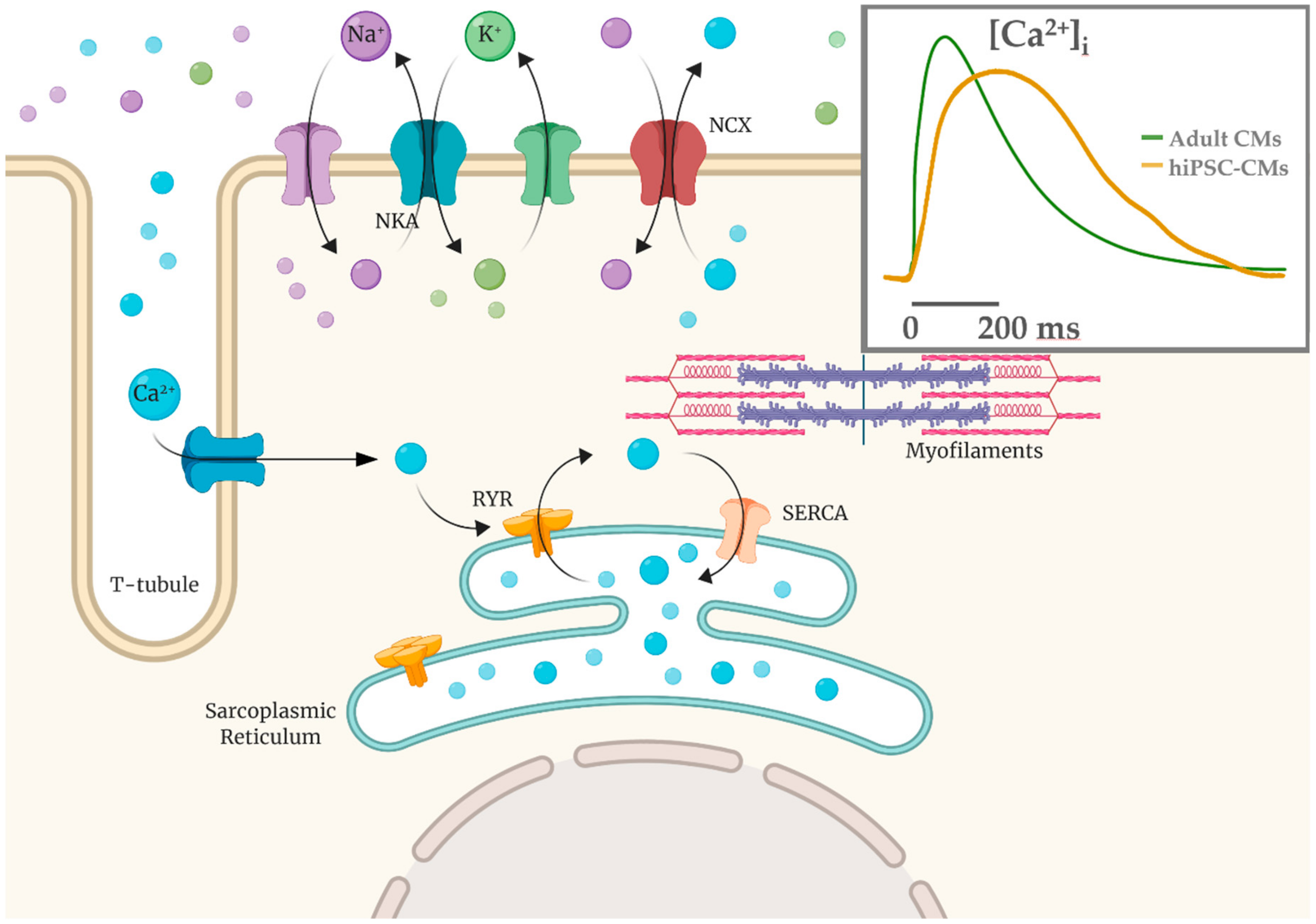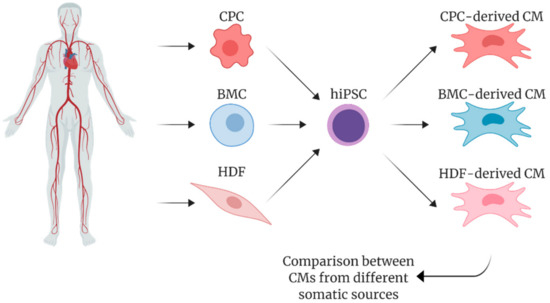 Figure 4. Schematic overview of human induced pluripotent stem cells (hiPSCs-CMs) generated from different somatic sources: cardiac progenitor cells (CPCs) from cardiac tissue, bone marrow cells (BMs) from sternal region, and dermal fibroblasts (HDFs) from skin.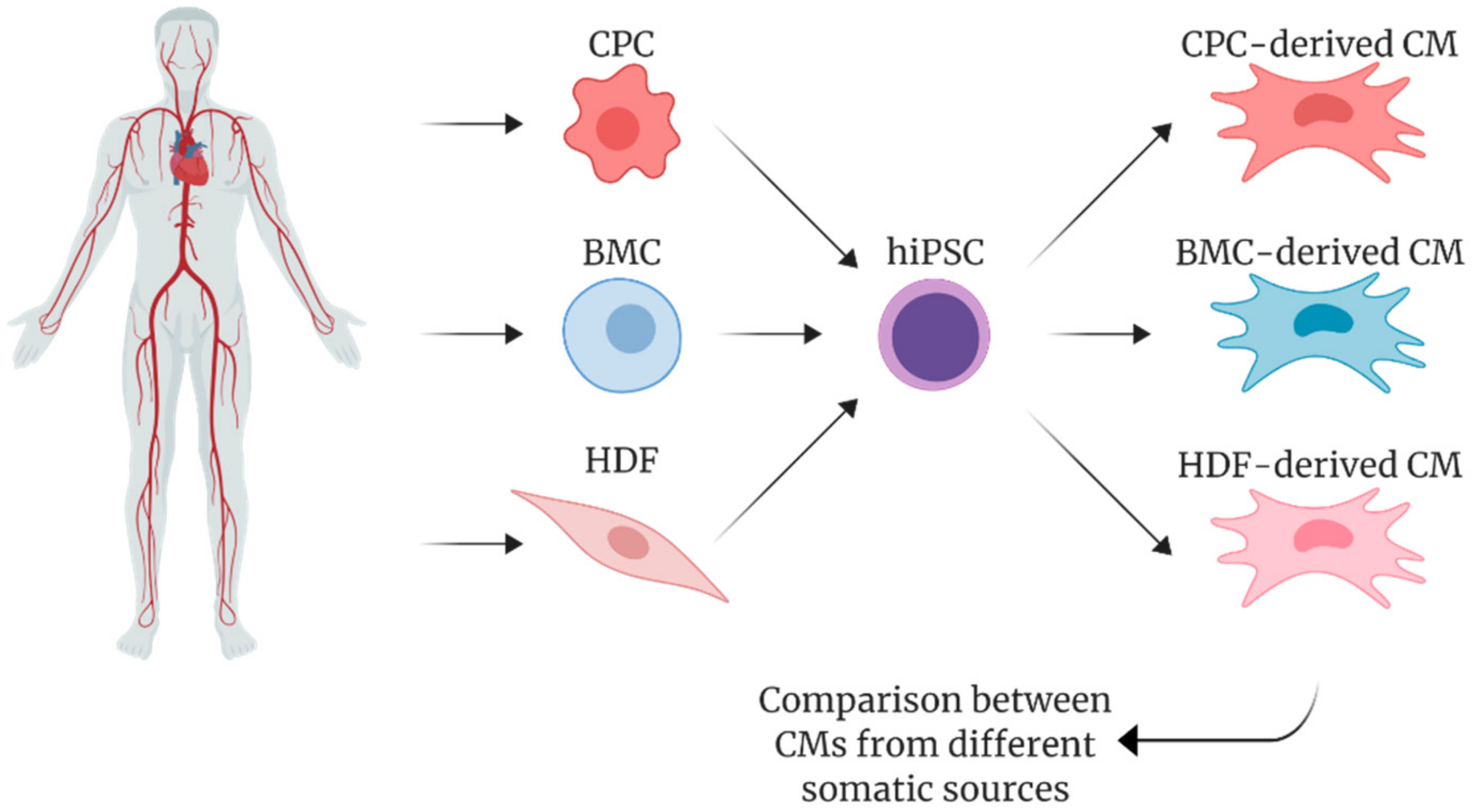 © 2020 by the authors. Licensee MDPI, Basel, Switzerland. This article is an open access article distributed under the terms and conditions of the Creative Commons Attribution (CC BY) license (http://creativecommons.org/licenses/by/4.0/).