Open Access This article is
freely available
re-usable
Communication
Predicting Apoptosis Protein Subcellular Locations based on the Protein Overlapping Property Matrix and Tri-Gram Encoding
1
AIEN Institute, Shanghai Ocean University, Shanghai 201306, China
2
College of Sciences & Engineering, University of Tasmania, 7001 Tasmania, Australia
3
College of Information Technology, Shanghai Ocean University, Shanghai 201306, China
4
Key Laboratory of Fisheries Information Ministry of Agriculture, Shanghai 201306, China
†
These authors contributed equally to this work.

Received: 1 April 2019 / Accepted: 8 May 2019 / Published: 11 May 2019
Abstract
:
To reveal the working pattern of programmed cell death, knowledge of the subcellular location of apoptosis proteins is essential. Besides the costly and time-consuming method of experimental determination, research into computational locating schemes, focusing mainly on the innovation of representation techniques on protein sequences and the selection of classification algorithms, has become popular in recent decades. In this study, a novel tri-gram encoding model is proposed, which is based on using the protein overlapping property matrix (POPM) for predicting apoptosis protein subcellular location. Next, a 1000-dimensional feature vector is built to represent a protein. Finally, with the help of support vector machine-recursive feature elimination (SVM-RFE), we select the optimal features and put them into a support vector machine (SVM) classifier for predictions. The results of jackknife tests on two benchmark datasets demonstrate that our proposed method can achieve satisfactory prediction performance level with less computing capacity required and could work as a promising tool to predict the subcellular locations of apoptosis proteins.
Keywords:
tri-gram; protein overlapping property matrix; subcellular location; support vector machine; recursive feature elimination
2. Results and Discussion
2.1. Effects of Top K Features
After computing tri-gram features, a 1000-dimensional feature vector for each protein was obtained. Then, we acquired a ranked list of these features on the basis of their importance with the help of SVM-RFE. To find the ideal dimensions, the overall accuracies for the top
K
features were calculated by using jackknife cross-validation, where
K
= 10, 20, 30, ..., 300. We set the maximum value of
K
to be 300 because the prediction accuracies decline after reaching their peak points.
Figure 1
shows the values on ZW225 and CL317 datasets with different top
K
features corresponding to their accuracies. It is clear that the overall accuracy (OA) for the ZW225 dataset reached the highest level when
K
climbed to 120. Besides, the CL317 dataset also obtained a favorable accuracy at this point. Therefore, we selected the top 120 features to represent a protein in the following study.
Table 1
illustrates the performance of our method on two datasets by performing jackknife tests. As shown in the table, the accuracies of ZW225 and CL317 datasets reached relatively high levels of 98.2% and 96.2% respectively. Among these subcellular locations, the specificity (Spec) values were more than 98%, and the Matthews correlation coefficient (MCC) values were more than 92% for the two datasets. Notably, only the sensitivity (Sens) value of the secreted (Secr) location on the CL317 dataset was slightly lower than in the other locations and so was the accuracy of the mitochondrial (Mito) location on the ZW225 dataset. This may be due to the limited numbers of Mito and Secr proteins on the two datasets. Namely, the training sample size has an important influence on the accuracy.
2.2. Performance Comparison with Existing Methods
To assess the performance of our method objectively, we compared it with results from other existing methods based on the same datasets. The detailed outcomes of jackknife tests are reported in
Table 2
and
Table 3
where the Sens of each class and the OA are chosen as performance indexes. The comparison results of Spec and MCC of different methods on the two datasets are listed in
Tables S1–S4 in the Supplementary Materials
.
Based on
Table 2
, our method had an outstanding overall performance (98.2% in OA) on the ZW225 dataset, which was an improvement of over 10% compared with other methods such as Auto_Cova [
12
] and EN_FKNN [
9
]. Noticeably, the prediction accuracies of both Cyto proteins and Nucl proteins achieved 100%. Also, the Sens values of Memb and Mito reached relatively high prediction levels, with 96.6% and 96% respectively, which performed better than many other methods, including EBGW_SVM [
17
], DF_SVM [
5
], PSSM_AC [
8
], and ID_SVM [
15
]. In general, for the ZW225 dataset, our proposed method achieved a pleasing level.
In
Table 3
, for the CL317 dataset, our method generated a relatively high OA (96.2%) and achieved a remarkably enhanced performance for the subcellular locations of Cyto and Mito with 99.1% and 97.1% respectively. Compared with the previous study of the tri-gram PSSM algorithm [
18
], the proposed method not only improves the prediction accuracy but also largely reduces the computing costs. Admittedly, the PsePSSM-DCCA-LFDA [
25
] method performs excellently in every aspect, reaching 100% in almost all performance indexes for both datasets. This means that the combination of those three proven techniques—PsePSSM, DCCA, and LFDA—is effective for predicting protein subcellular locations. However, generating the PSSM profiles of query proteins by PSI-BLAST program is usually time-consuming and memory-consuming, which may limit its application with large-scale sequence data. To illustrate this point, the longest sequence (ID: Q68749, length: 3037) and the shortest sequence (ID: O43715, length: 76) of the datasets were selected to test the time required of this method. Remarkably, in our laboratory environment (Intel Xeon CPU E5620 @ 2.40GHz, 16 4-core processors, 16G RAM), it took 8334 seconds and 471 seconds to generate the PSSM profiles of two proteins (i.e., Q68749 and O43715) respectively. This result also indicates that the longer a sequence is, the more time it will take to process it. However, the required time for obtaining POPMs of two proteins is less than 1 second, which suggests that our method provides a convenient and fast way to extract features solely from amino acid sequences. The results also show that this relatively efficient method can achieve a favorable prediction accuracy as well.
In conclusion, our method not only greatly reduces the computational complexity but also obtains a comparable performance for predicting apoptosis protein subcellular locations. This significant progress is attributed to the powerful feature encoding scheme based on the tri-gram computed from POPM and SVM-RFE applied to select optimal features.
4. Conclusions
In this study, we focused on the design of a high-efficiency feature extraction technique for the prediction of the subcellular locations of apoptosis proteins. Firstly, a tri-gram encoding scheme based on POPM was introduced to transform the sequences of query proteins into 1000-dimensional feature vectors. Then, 120 optimal features selected by the SVM-RFE algorithm were input into a SVM prediction engine to perform the classification. The comparison with other existing models very strongly suggested that the proposed method is not encumbered by the limitations of alignment-based methods and could work as a very cost-effective tool for predicting subcellular location of apoptosis proteins. Due to the generality of this method, it is promising as an application for other protein classification problems in the future.
Author Contributions
The manuscript was written through contributions of all authors. T.L. designed the study and revised the paper. Y.Y., H.Z. and W.X. analyzed the data and wrote the first draft of paper. C.W. implemented the algorithm. All authors read and approved the final manuscript.
Funding
This research was funded by the National Natural Science Foundation of China, grant numbers 11601324 and 11701363.
Acknowledgments
The authors would like to thank Xiaoguang Bao for his pertinent suggestions.
Conflicts of Interest
The authors declare no conflict of interest.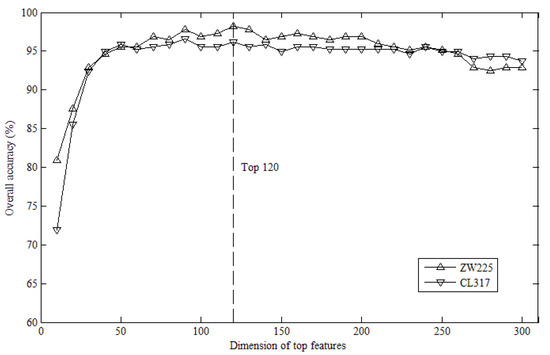 Figure 1. The graph illustrates the efficiency of various top features on the two datasets' overall accuracies.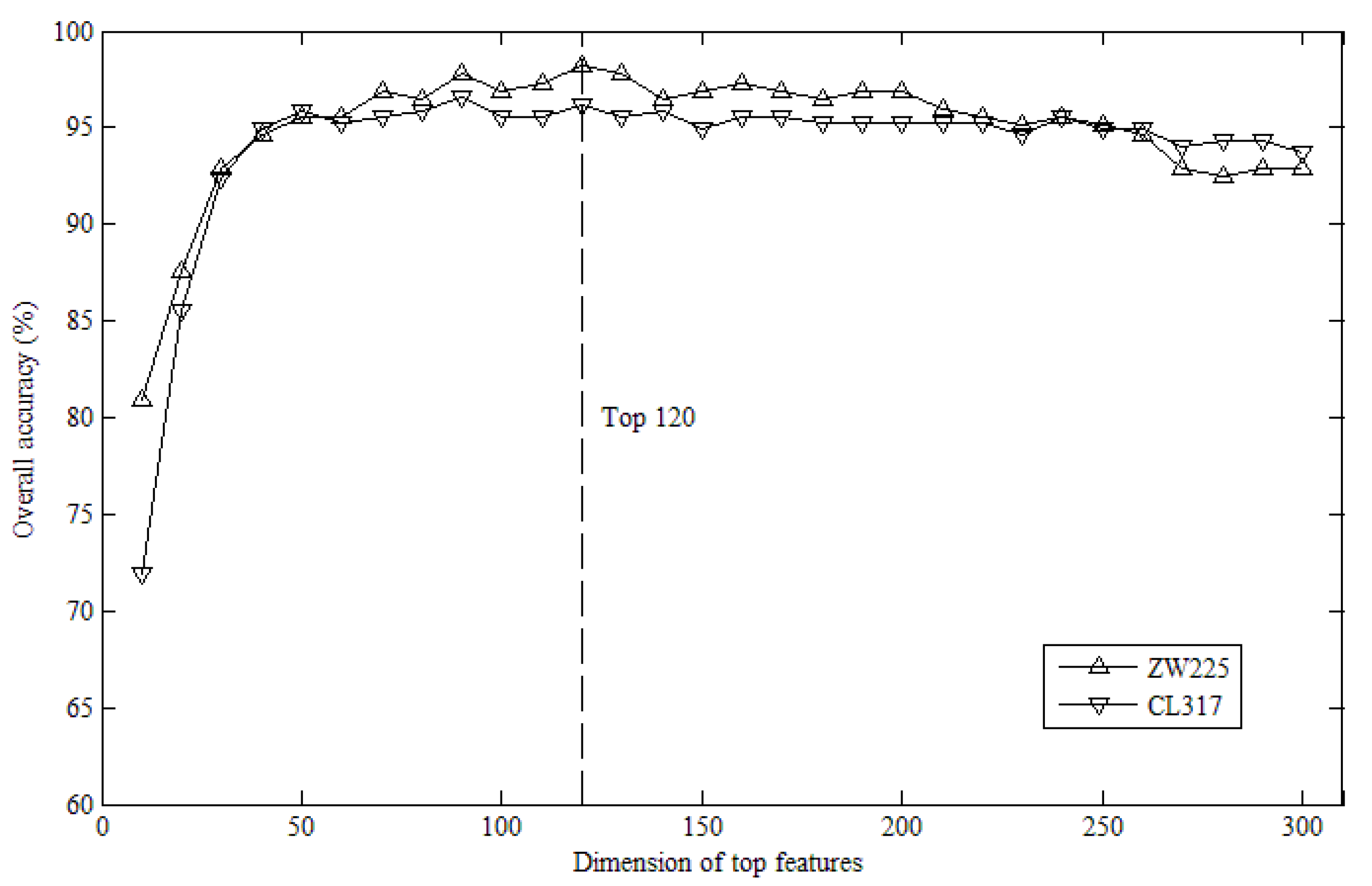 Dataset
Location 1
Sens (%)
Spec (%)
MCC
OA (%)
ZW225
Cyto
100
98.1
0.970
98.2
Memb
96.6
100
0.972
Mito
96.0
100
0.977
Nucl
100
99.5
0.985
CL317
Cyto
99.1
98.5
0.973
96.2
Memb
92.7
98.9
0.923
Mito
97.1
99.3
0.951
Secr
88.2
100
0.936
Nucl
96.2
99.2
0.954
Endo
95.7
99.3
0.950
1 For short, cytoplasmic, membrane, mitochondrial, secreted, nuclear and endoplasmic reticulum are called Cyto, Memb, Mito, Secr, Nucl, and Endo, respectively.
Method
Sens for Each Class (%)
OA (%)
Cyto
Memb
Mito
Nucl
EBGW_SVM [17]
90.0
93.3
60.0
63.4
83.1
DF_SVM [5]
87.1
92.1
64.0
73.2
84.0
PSSM_AC [8]
82.9
92.1
68.0
78.0
84.0
ID_SVM [15]
92.9
91.0
68.0
73.2
85.8
Auto_Cova [12]
81.3
93.3
85.7
84.6
87.1
EN_FKNN [9]
94.3
94.4
60.0
80.5
88.0
Tri-gram PSSM [18]
97.1
98.9
96.0
97.6
97.8
PsePSSM-DCCA-LFDA [25]
100
98.9
100
100
99.6
Our method
100
96.6
96.0
100
98.2
Method
Sens for Each Class (%)
OA (%)
Cyto
Memb
Mito
Secr
Nucl
Endo
ID [14]
81.3
81.8
85.3
88.2
82.7
83.0
82.7
ID_SVM [15]
91.1
89.1
79.4
58.8
73.1
87.2
84.2
DF_SVM [5]
92.9
85.5
76.5
76.5
93.6
86.5
88.0
PseAAC_SVM [13]
93.8
90.9
85.3
76.5
90.4
95.7
91.1
PSSM-AC [8]
93.8
90.9
91.2
82.4
86.5
95.7
91.5
APSLAP [10]
99.1
89.1
85.3
88.2
84.3
95.8
92.4
Tri-gram PSSM [18]
98.2
96.4
94.1
82.4
96.2
95.7
95.9
PsePSSM-DCCA-LFDA [25]
99.1
100
100
100
100
100
99.7
Our method
99.1
92.7
97.1
88.2
96.2
95.7
96.2
| Physicochemical Properties | Amino Acid Residues |
| --- | --- |
| Polar | N, Q, S, D, E, C, T, K, R, H, Y, W |
| Positive | K, H, R |
| Negative | D, E |
| Charged | K, H, R, D, E |
| Hydrophobic | A, G, C, T, I, V, L, K, H, F, Y, W, M |
| Aliphatic | I, V, L |
| Aromatic | F, Y, W, H |
| Small | P, N, D, T, C, A, G, S, V |
| Tiny | A, S, G, C |
| Proline | P |

© 2019 by the authors. Licensee MDPI, Basel, Switzerland. This article is an open access article distributed under the terms and conditions of the Creative Commons Attribution (CC BY) license (http://creativecommons.org/licenses/by/4.0/).