Computational Aminoacyl-tRNA Synthetase Library Design for Photocaged Tyrosine
1
Institut für Chemie, Technische Universität Berlin, Müller-Breslau-Straße 10, 10623 Berlin, Germany
2
Biophysikalische Chemie, Institut für Biologie, Humboldt-Universität zu Berlin, 10115 Berlin, Germany
3
Institute of Biochemistry and Molecular Biology, University of Hamburg, 20146 Hamburg, Germany
4
Lehrstuhl für Biochemie, Universität Bayreuth, 95447 Bayreuth, Germany
5
Department of Chemistry, University of Manitoba, Winnipeg, MB R3T 2N2, Canada
*
Author to whom correspondence should be addressed.
†
These authors contributed equally to this manuscript.
‡
Present address: Bayer AG, Pharmaceuticals, Protein Engineering and Assays, Nattermannallee 1, 50829 Köln, Germany.
Received: 16 April 2019 / Revised: 7 May 2019 / Accepted: 9 May 2019 / Published: 11 May 2019
Abstract
Engineering aminoacyl-tRNA synthetases (aaRSs) provides access to the ribosomal incorporation of noncanonical amino acids via genetic code expansion. Conventional targeted mutagenesis libraries with 5–7 positions randomized cover only marginal fractions of the vast sequence space formed by up to 30 active site residues. This frequently results in selection of weakly active enzymes. To overcome this limitation, we use computational enzyme design to generate a focused library of aaRS variants. For aaRS enzyme redesign, photocaged
ortho
-nitrobenzyl tyrosine (ONBY) was chosen as substrate due to commercial availability and its diverse applications. Diversifying 17 first- and second-shell sites and performing conventional aaRS positive and negative selection resulted in a high-activity aaRS. This
Mj
TyrRS variant carries ten mutations and outperforms previously reported ONBY-specific aaRS variants isolated from traditional libraries. In response to a single in-frame amber stop codon, it mediates the in vivo incorporation of ONBY with an efficiency matching that of the wild type
Mj
TyrRS enzyme acylating cognate tyrosine. These results exemplify an improved general strategy for aaRS library design and engineering.
View Full-Text
►

▼

Figures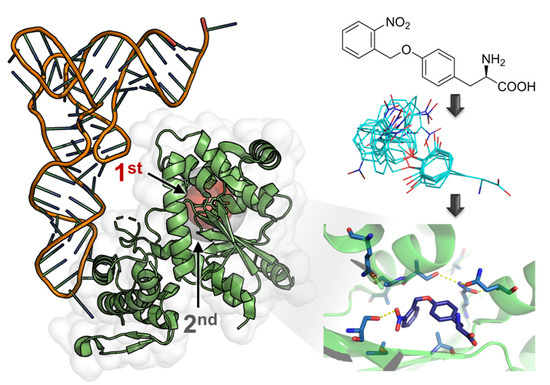 Graphical abstract
This is an open access article distributed under the
Creative Commons Attribution License
which permits unrestricted use, distribution, and reproduction in any medium, provided the original work is properly cited (CC BY 4.0).

Share & Cite This Article
MDPI and ACS Style
Baumann, T.; Hauf, M.; Richter, F.; Albers, S.; Möglich, A.; Ignatova, Z.; Budisa, N. Computational Aminoacyl-tRNA Synthetase Library Design for Photocaged Tyrosine. Int. J. Mol. Sci. 2019, 20, 2343.
Note that from the first issue of 2016, MDPI journals use article numbers instead of page numbers. See further details here.
Related Articles
Comments
[Return to top]