Towards A Molecular Understanding of The Cannabinoid Related Orphan Receptor GPR18: A Focus on Its Constitutive Activity
1
Department of Chemistry and Biochemistry, University of North Carolina at Greensboro, Greensboro, NC 27412, USA
2
Instituto de Química Médica, Consejo Superior de Investigaciones Científicas, 28006 Madrid, Spain
*
Author to whom correspondence should be addressed.
Received: 7 April 2019 / Revised: 7 May 2019 / Accepted: 8 May 2019 / Published: 9 May 2019
Abstract
The orphan G-protein coupled receptor (GPCR), GPR18, has been recently proposed as a potential member of the cannabinoid family as it recognizes several endogenous, phytogenic, and synthetic cannabinoids. Potential therapeutic applications for GPR18 include intraocular pressure, metabolic disorders, and cancer. GPR18 has been reported to have high constitutive activity, i.e., activation/signaling occurs in the absence of an agonist. This activity can be reduced significantly by the A3.39N mutation. At the intracellular (IC) ends of (transmembrane helices) TMH3 and TMH6 in GPCRs, typically, a pair of oppositely charged amino acids form a salt bridge called the "ionic lock". Breaking of this salt bridge creates an IC opening for coupling with G protein. The GPR18 "ionic lock" residues (R3.50/S6.33) can form only a hydrogen bond. In this paper, we test the hypothesis that the high constitutive activity of GPR18 is due to the weakness of its "ionic lock" and that the A3.39N mutation strengthens this lock. To this end, we report molecular dynamics simulations of wild-type (WT) GPR18 and the A3.39N mutant in fully hydrated (POPC) phophatidylcholine lipid bilayers. Results suggest that in the A3.39N mutant, TMH6 rotates and brings R3.50 and S6.33 closer together, thus strengthening the GPR18 "ionic lock".
View Full-Text
►

▼

Figures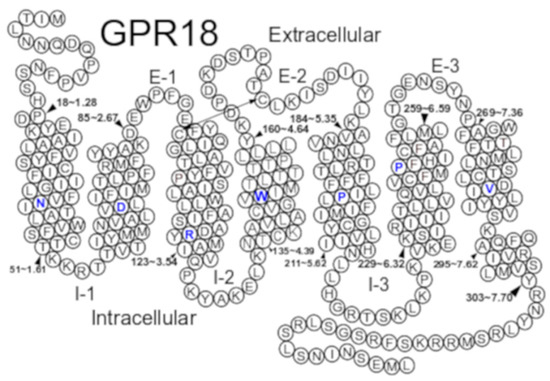 Figure 1
This is an open access article distributed under the
Creative Commons Attribution License
which permits unrestricted use, distribution, and reproduction in any medium, provided the original work is properly cited (CC BY 4.0).

Share & Cite This Article
MDPI and ACS Style
Sotudeh, N.; Morales, P.; Hurst, D.P.; Lynch, D.L.; Reggio, P.H. Towards A Molecular Understanding of The Cannabinoid Related Orphan Receptor GPR18: A Focus on Its Constitutive Activity. Int. J. Mol. Sci. 2019, 20, 2300.
Note that from the first issue of 2016, MDPI journals use article numbers instead of page numbers. See further details here.
Related Articles
Comments
[Return to top]