Open Access This article is
freely available
re-usable
Article
Intrinsically Disordered Linkers Impart Processivity on Enzymes by Spatial Confinement of Binding Domains
1
Institute of Enzymology, Center of Natural Sciences, Hungarian Academy of Sciences, 1117 Budapest, Hungary
2
Instituto de Investigaciones Biotecnológicas IIB-INTECH, Consejo Nacional de Investigaciones Científicas y Técnicas (CONICET), Universidad Nacional de San Martín, Buenos Aires 1650, Argentina
3
Genome Editing Research Center, Division of Biomedical Science, Korea Research Institute of Bioscience and Biotechnology (KRIBB), Daejeon 34113, Korea
4
Department of Nano and Bioinformatics, University of Science and Technology (UST), Daejeon 34113, Korea
5
VIB Center for Structural Biology, Vrije Univresiteit Brussel, 1050 Belgium, Brussel
*
Author to whom correspondence should be addressed.
Received: 3 April 2019 / Accepted: 26 April 2019 / Published: 29 April 2019
Abstract
:
(1) Background: Processivity is common among enzymes and mechanochemical motors that synthesize, degrade, modify or move along polymeric substrates, such as DNA, RNA, polysaccharides or proteins. Processive enzymes can make multiple rounds of modification without releasing the substrate/partner, making their operation extremely effective and economical. The molecular mechanism of processivity is rather well understood in cases when the enzyme structurally confines the substrate, such as the DNA replication factor PCNA, and also when ATP energy is used to confine the succession of molecular events, such as with mechanochemical motors. Processivity may also result from the kinetic bias of binding imposed by spatial confinement of two binding elements connected by an intrinsically disordered (ID) linker. (2) Method: By statistical physical modeling, we show that this arrangement results in processive systems, in which the linker ensures an optimized effective concentration around novel binding site(s), favoring rebinding over full release of the polymeric partner. (3) Results: By analyzing 12 such proteins, such as cellulase, and RNAse-H, we illustrate that in these proteins linker length and flexibility, and the kinetic parameters of binding elements, are fine-tuned for optimizing processivity. We also report a conservation of structural disorder, special amino acid composition of linkers, and the correlation of their length with step size. (4) Conclusion: These observations suggest a unique type of entropic chain function of ID proteins, that may impart functional advantages on diverse enzymes in a variety of biological contexts.
Keywords:
enzyme efficiency; polymeric substrate; processive enzyme; disordered linker; binding motif; binding domain; spatial search; local effective concentration
2. Results
2.1. The Classical Mechanisms of Processivity
For rationalizing the diverse mechanisms of processivity, we suggest that they fall into two broad mechanistic categories (cf.
Table S1
). The structural underpinning of the mechanism is straightforward when the enzyme uses structural confinement to make dissociation from the substrate highly unfavorable [
1
]. Complete confinement may result from ring-shaped oligomeric structures (e.g., PCNA [
16
,
17
] (
Figure 1
A)), whereas asymmetric structures of a single polypeptide chain can also either fully (e.g., exonuclease I [
1
]) or partially (e.g., HIV reverse transcriptase [
18
] (
Figure 1
B)) enclose the substrate. These mechanisms can be interpreted in terms of a preferred 1D sliding of the substrate (template) within the well-defined structural element of the enzyme.
Processivity of a completely different structural rationale can be observed in motor enzymes that use chemical energy for unidirectional movement along cytoskeletal tracks [
12
,
13
]. These motors usually have a dimeric structure, with their dimerization region and ATPase domains connected to their substrate-binding domains by long and extended structures (stalk) (
Figure 1
C). Large-scale conformational changes elicited by ATP hydrolysis in the ATPase domain(s) propagate to these binding domains, which result in a preference for the re-binding to the substrate track vs. full dissociation [
14
,
15
]. In these mechanisms, passive diffusional moves and energy-driven directional steps are combined, i.e., they represent a combination of confining the sequence of events by structural and spatial means. As outlined in the next paragraph, confinement by the limitation of search space by a disordered linker connecting binding domains (
Figure 1
D) can also account for processivity of enzymes, which appears to be widely applied in biology.
2.2. Statistical Physical Modelling of Domain-Linker-Domain Enzymes
Another caveat to the model calculations is if, besides qualitatively assessing whether an enzyme is processive or not, we can draw quantitative conclusions on the level of processivity (average number of steps taken before releasing the substrate). For this, one has to note that the extent of processivity (average number of elementary steps upon engagement with the substrate) is straightforward to define, but not trivial—and is probably not unequivocal—to measure. Furthermore, being a kinetic phenomenon, it may show high stochastic fluctuations and may be very sensitive to experimental conditions.
2.3. Multiple Examples of DLD-Type Processive Enzymes
The foregoing modelling studies show the potential for processivity encoded in the DLD arrangement of enzymes. Next, we demonstrate that there are many such enzymes in biology. Out of 47 processive enzymes of various mechanisms (
Table S1
), a simple literature search identified 12 processive systems that appear to rely on the DLD domain arrangement, such as MMP-9 [
33
,
37
], RNAse H1 [
5
], or a variety of glycohydrolases [
6
,
31
,
32
]. These ATP-independent enzymes enlisted in
Table 1
, are analyzed further.
2.3.1. Structural Disorder of Linkers in Monomeric Processive Enzymes
A critical element of processivity in these DLD-type of processive enzymes is the structural disorder of the linker region connecting the binding domains, which has been experimentally demonstrated in only a few cases. For example, the cellulose-binding domain can be effectively separated from the catalytic domain of cellobiohydrolase I by limited proteolysis [
38
], in agreement with the extreme proteolytic sensitivity of IDPs [
34
]. Structural disorder was directly observed in cellulase Cel6A and Cel6B by small-angle X-ray scattering (SAXS) [
39
], in xylanase 10C by X-ray crystallography [
40
], and in MMP-9 by atomic-force microscopy (AFM) [
33
]. Besides these few examples, however, structural disorder has not yet been systematically analyzed in monomeric processive enzymes.
To this end, we applied bioinformatic predictions for the local structural disorder of the linker regions of DLD enzymes in
Table 1
(
Figure 3
). Prediction of structural disorder of three processive enzymes MMP-9, Cel6A and RNAse H1 by IUPred [
41
] shows a distinctive pattern of a very sharp transition from local order in the binding domains to structural disorder within the linker region. Given the reliability of disorder prediction [
42
], we may conclude that the linker region in processive enzymes is always disordered, as confirmed for all the cases collected from literature (cf.
Table 1
, predicted disorder values). Interestingly, the length of the linkers in these processive enzymes always falls within the critical range suggested by model calculations above (cf.
Figure 2
).
2.3.2. Conservation of Sequence, Length and Dynamics of Linkers
2.3.3. Specific Sequence Features of Processive Linkers
Disordered linkers can also be classified by their amino acid composition [
49
]. Processive linkers in DLD enzymes may also be under special pressure in this regard, because their potential to interact with the flanking domains and/or with other protein partners, or to undergo regulatory post-translational modifications (PTMs), may be of paramount importance. To assess these features, we analyzed the amino acid composition of disordered linkers in DLD enzymes and compared them to that of DisProt linkers and all disordered regions and annotated disordered linkers in the DisProt database [
44
] (
Figure 6
). Our results show that processive linkers have significantly less hydrophobic residues than other linkers and disordered proteins in general, which suggests they have to avoid hydrophobic collapse (cf. restraints on κ value stated above) and/or interactions with partners, which most often is mediated by motifs of hydrophobic character [
50
]. On the other hand, they are enriched in Pro and Gly (denoted as special residues,
Figure 5
A only shows P under 'special'), which entails that they have to remain extended and flexible and have a balance in oppositely-charged residues (D + E vs. R + K). Probably also for the same reason, they are, on average, more polar.
A further notable feature of DLD linkers is their enrichment in Ser and Thr, which may be indicative of frequent O-linked glycosylation and/or regulatory phosphorylation. A search in UniProt [
51
] for post-translational modifications (PTMs) of the DLD linkers shows several such modifications in these enzymes (
Table 2
).
These modifications may impact their kinetic and structural parameters and may tune their interaction with one of the domains of the flanking domains or with external partners. For example, the linker of cellulase emerges from a point not proximal to the cellulose substrate, rather from a point behind, i.e., the kinetic behavior of the enzyme is fine-tuned by the binding of the linker to the surface of the catalytic domain (see next section). Regulated linker-domain interactions are also instrumental in MMP-9, in which the linker has two short binding motifs, that bind the catalytic domain of the enzyme [
35
].
The primary function of linkers in DLD processive enzymes is to ensure relatively unrestricted spatial search of domains for binding sites along a multivalent (polymeric) substrate partner. They, however, are also often involved in the regulation of the functioning of the enzyme, as witnessed by additional binding functions and/or PTM events within the linkers themselves (for PTMs, data are either taken from UniProt or from the reference given).
2.3.4. Modelling Cellulase, a Processive Enzyme
Based on all the foregoing analyses, it appears compelling that the DLD arrangement makes enzymes processive. This seems a general phenomenon, which can be demonstrated by low-resolution statistical-kinetic modelling (
Figure 2
). Here we proceed to show that by incorporating structural details, i.e., atomistic structural models of the domains, into the model and considering domain-linker interactions (
Figure 7
), we can quantitatively describe the mechanistic and kinetic behavior of one of the most-studied DLD processive enzymes, that of bacterial cellulase (
Trichoderma. reesei
Cel7A, cf.
Table 1
). Cel7A has two domains of different size, a larger catalytic domain (CD) that confines the linear cellulose substrate, i.e., in itself tends to be processive, and a smaller cellulose binding domain (also termed motif, CBM) attached with a disordered linker of 33 amino acids in length (
Figure 7
A). The enzyme is processive, typically carrying out about 20–100 cleavage events before dissociating form its substrate. By modeling all parameters of: (i) linker length and flexibility, (ii) catalytic parameters of the enzymatic domain (for the range of kinetic parameters within the Cel7A family, cf.
Table S3
) and binding parameters of the free (binding) domain, (iii) structural hindrance arising from the actual structures of the domains and domain-linker interaction, and (iv) distance of cellulose binding sites, we show that average binding time of the CBM domain (
Figure 7
B) undergoes a minimum at a linker length range that is very close to the observed linker lengths in cellulases (
Table 1
). Furthermore, binding of the linker to the CD has an effect on the behavior of the system (
Figure 7
B, cf. blue region in color scheme) as it restricts the freedom of movement of the domains, making it less processive. Since all the known cellulase linkers are highly flexible and contain little or no secondary structural elements, changing the Kuhn-segment length is not applicable in this system. The level of processivity that can be approximated as the ratio of the time of binding of CBM to the time of the catalytic reaction (for the CD of cellulase,
Table S3
, measured with rather artificial substrates) is on the order of 10–100, which agrees with the values reported (
Table 1
).
3. Discussion
As outlined, there are diverse molecular mechanisms underlying processivity, falling into two general categories, structural confinement by well-folded binding elements and spatial confinement by independent binding elements connected through a linker region. This latter mechanism is apparent in dimeric mechanochemical motors and also in monomeric enzymes. The importance of the general kinetic consequence of processivity can be deduced from its convergent appearance in many independent systems. Whereas its mechanistic underpinning is rather well understood in the case of enzymes that rely on structural confinement and is also analyzed rather extensively in the case of mechanochemical motors, it has so far been largely overlooked in the case of monomeric enzymes.
Author Contributions
Conceptualization, P.T., A.T., L.B.C., K.H.H.; methodology, T.H., E.S., B.S.; software, L.K., T.H.; formal analysis, B.S., E.S., T.H., L.B.C.; data curation, B.S., E.S., N.M., writing—original draft preparation, A.T., L.B.C.; writing—review and editing, P.T., L.B.C.; A.T., P.T.; funding acquisition, P.T., L.B.C., K.H.H.
Funding
This work was supported by the Odysseus grant G.0029.12 from Research Foundation Flanders (FWO), a "Korea-Hungary & Pan EU consortium for investigation of IDP structure and function" from National Research Council of Science and Technology (NST) of Korea (NTM2231611, to K.H. and P.T.) and grants K124670 (to P.T.) and K125340 (to A.T.) from National Research, Development and Innovation Office (NRDIO). LBC is a career investigator from Consejo Nacional de Investigaciones Científicas y Técnicas (CONICET, Argentina).
Conflicts of Interest
The authors declare no conflict of interest.
Abbreviations
| | |
| --- | --- |
| AFM | atomic-force microscopy |
| DLD | domain-linker-domain |
| FJC | freely jointed chain |
| ID | intrinsically disordered |
| IDP | intrinsically disordered protein |
| IDR | intrinsically disordered region |
| MMP-9 | matrix metalloproteinase-9 |
| PTM | post-translational modification |
| RNAse-H1 | ribonuclease H1 |
| SAXS | small-angle X-ray scattering |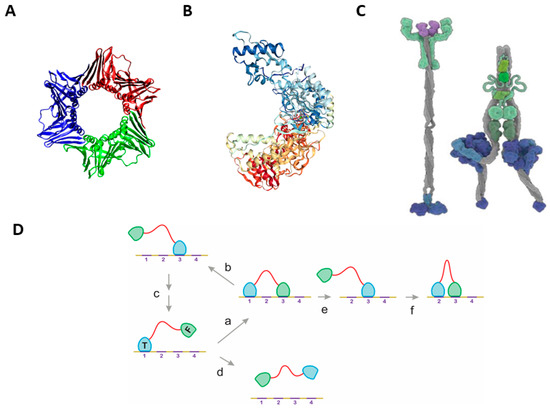 Figure 1.
Basic mechanisms of processivity. The figure illustrates the two basic types (and four subtypes) of the mechanism of processivity. The classical mechanism based on structural confinement are represented by folded proteins that either (
A
) completely surround their partner by an oligomeric structure of toroidal shape, such as PCNA (PDB: 1AXC) [
16
,
17
], or (
B
) use an asymmetric binding domain to restrict its dissociation, such as in HIV reverse transcriptase (PDB: 1REV) [
18
]. Basically, different mechanisms are based on spatial confinement allowed by two binding motifs connected by a long, adaptable or flexible linker, as appears in (
C
) the ATP-dependent dimeric mechanochemical motors kinesin-1 and dynein (adapted from [
20
]), or (
D
) monomeric processive enzymes of domain-disordered linker-domain arrangement. These types of enzymes analyzed here in detail (for cases, see
Table 1
) bind their polymeric substrate via two binding domains, termed "bound" or "tethered" (T) for the one that anchors the enzyme to the substrate and "unbound" or "free" (F) for the one that is in search for substrate "target" binding sites), connected by a structurally disordered linker. We show by statistical-kinetic modeling that binding via the tethering domain kinetically favors binding via the free domain (a) over full dissociation of the protein (d), which may then result in processive diffusional moves (c) or directed movements driven by energy-dependent binding and/or modification of the substrate (e,f).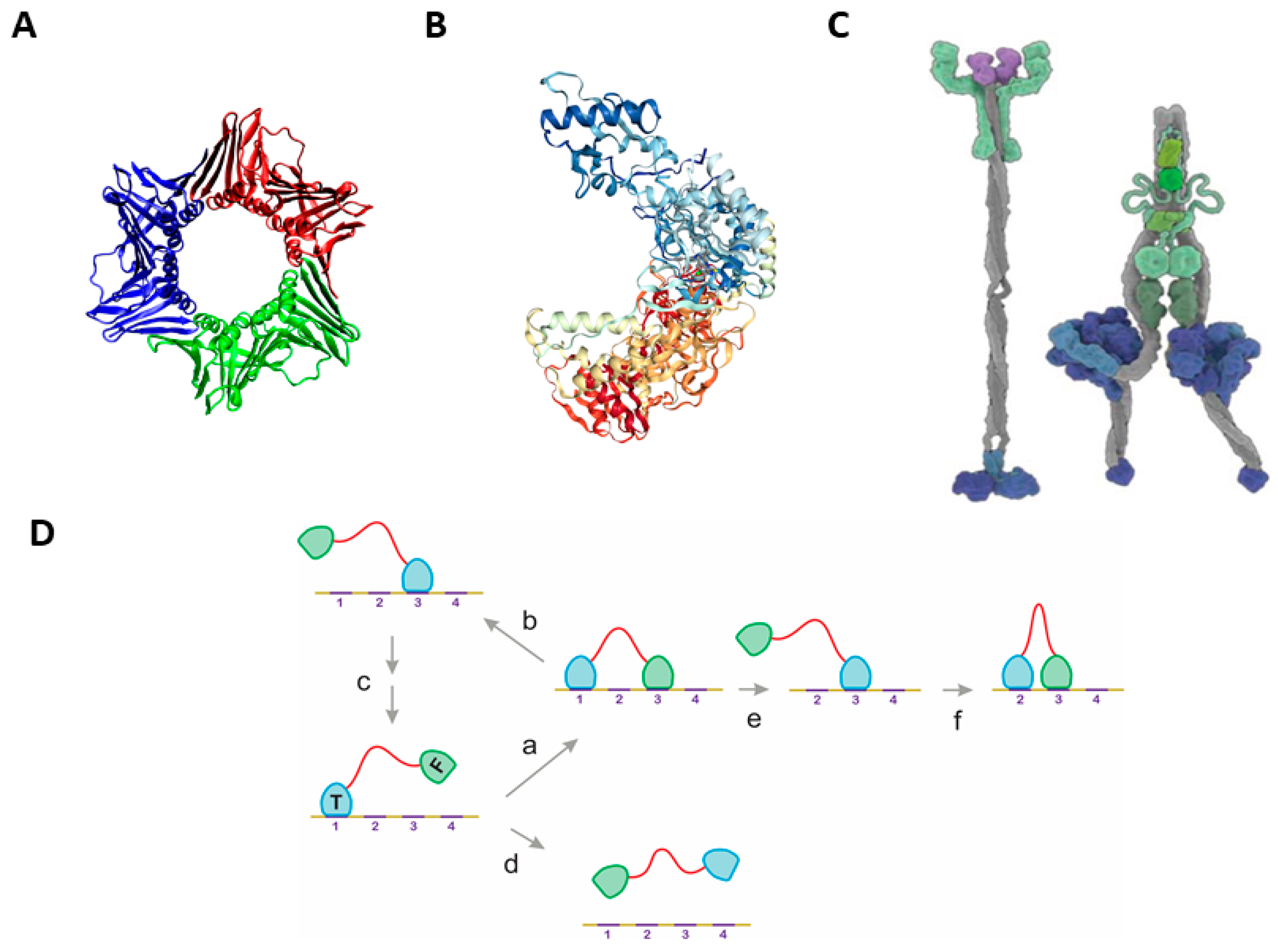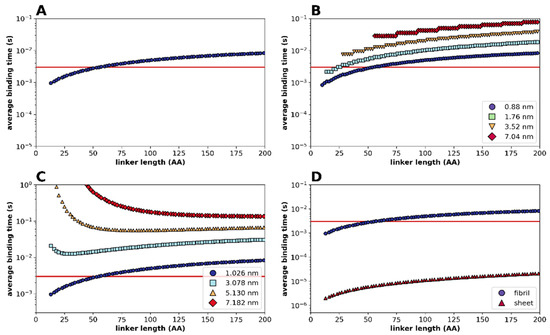 Figure 2.
Modelling linker length in processive enzymes. Average binding times (tb) of a free domain linked to the tethering domain already bound to the substrate by a disordered linker of the given length (cf.
Figure 1
D, and
Supplementary Equations (S9) and (S10)
). The substrate is modelled based on cellulose geometry: it is assumed to contain binding sites spaced equidistantly every 1.026 nm (1 cellobiose unit) in the X dimension for a thread, and every 2 nm in the Y dimension in case of a sheet. (
A
) Average binding time of the free domain with a random-coil linker (length of Kuhn segment (lk) = 0.88 nm) and binding domains with no physical dimensions. (
B
) Lengthening the Kuhn segment length from 0.88 nm (random-coil) to 7.04 nm (PPII helix) significantly slows binding and reduces processivity. (
C
) "Diluting" binding sites on the substrate (by lengthening the distance between binding sites from 1 cellobiose unit to 7) has a dramatic effect on binding time. (
D
) Binding to a 2D substrate (sheet) is much faster than binding to a 1D substrate (fibril), making the enzyme more processive. On all the panels, if we assume a dissociation half-time of 3 × 10
−3
s (limited by catalysis), the enzyme is typically processive at shorter, but not at longer, linker lengths (see text for details).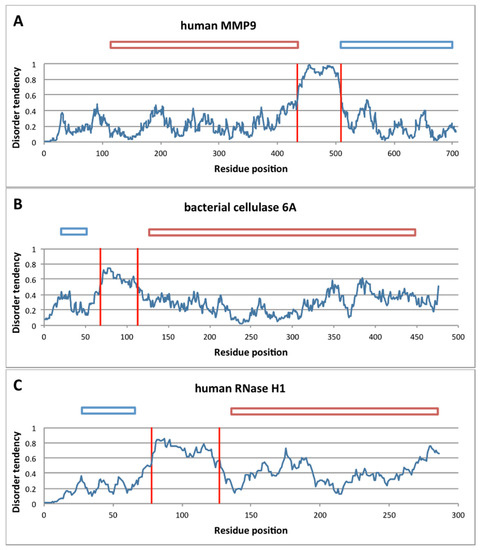 Figure 3.
Structural disorder of linker regions in processive enzymes. The linker region in monomeric processive enzymes tends to be highly disordered, as shown here for three illustrative examples by the IUPred algorithm [
41
]. Traces of disorder score are given for the human and matrix metalloproteinase-9 (MMP-9) sequence (
A
), bacterial cellulase 6A (
B
) and Ribonuclease H1 (RNAseH1) (
C
). In each case, the sharp transition from order to disorder (IUPred score > 0.5) and again to order clearly delimits the linker as a disordered element connecting two globular domains. Globular domains are visualized on top of the diagrams, with blue rectangles representing binding domains and red ones representing catalytic domains.
Figure 4.
Length distribution and conservation of linker regions in DLD type processive enzymes. (
A
) Length distribution of linkers in DLD enzymes (
Table 1
), in comparison with that of all disordered regions and disordered linkers in the DisProt database [
44
]. (
B
) Comparison of the variance (mean values of the data ± SD) of structural disorder (predicted by IUPred [
41
]) flexibility (as approximated by the ratio of flexible residues predicted by DynaMine [
45
]) and sequence (assessed by DisCons [
22
]) of the linkers (L) and their flanking domains (D1 and D2) of the processive DLD type of enzymes (from
Table 1
) calculated for sequences in species given in (
Table S2
). Sequence conservation is defined in
Section 4
Data and Methods.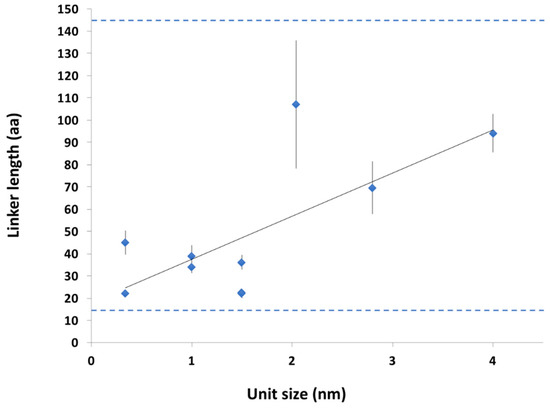 Figure 5.
Linker length in DLD enzymes correlates with step size. Linker length in amino acids of the DLD-type processive enzymes (
Table 1
) is plotted as a function of the unit (step) size in the given substrate. The unit size is the size of the elementary unit (e.g., cellobiose in cellulose, nucleotides in RNA and DNA cf.
Table S4
) derived from the geometry of the substrate, which is the first approximation of the size of elementary steps the enzyme may take along the given substrate. The linear fit shows the correlation between the two (R
2
= 0.4998), whereas horizontal dashed lines show the shortest and longest linker that occurs in DLD processive enzymes (
Figure 4
A).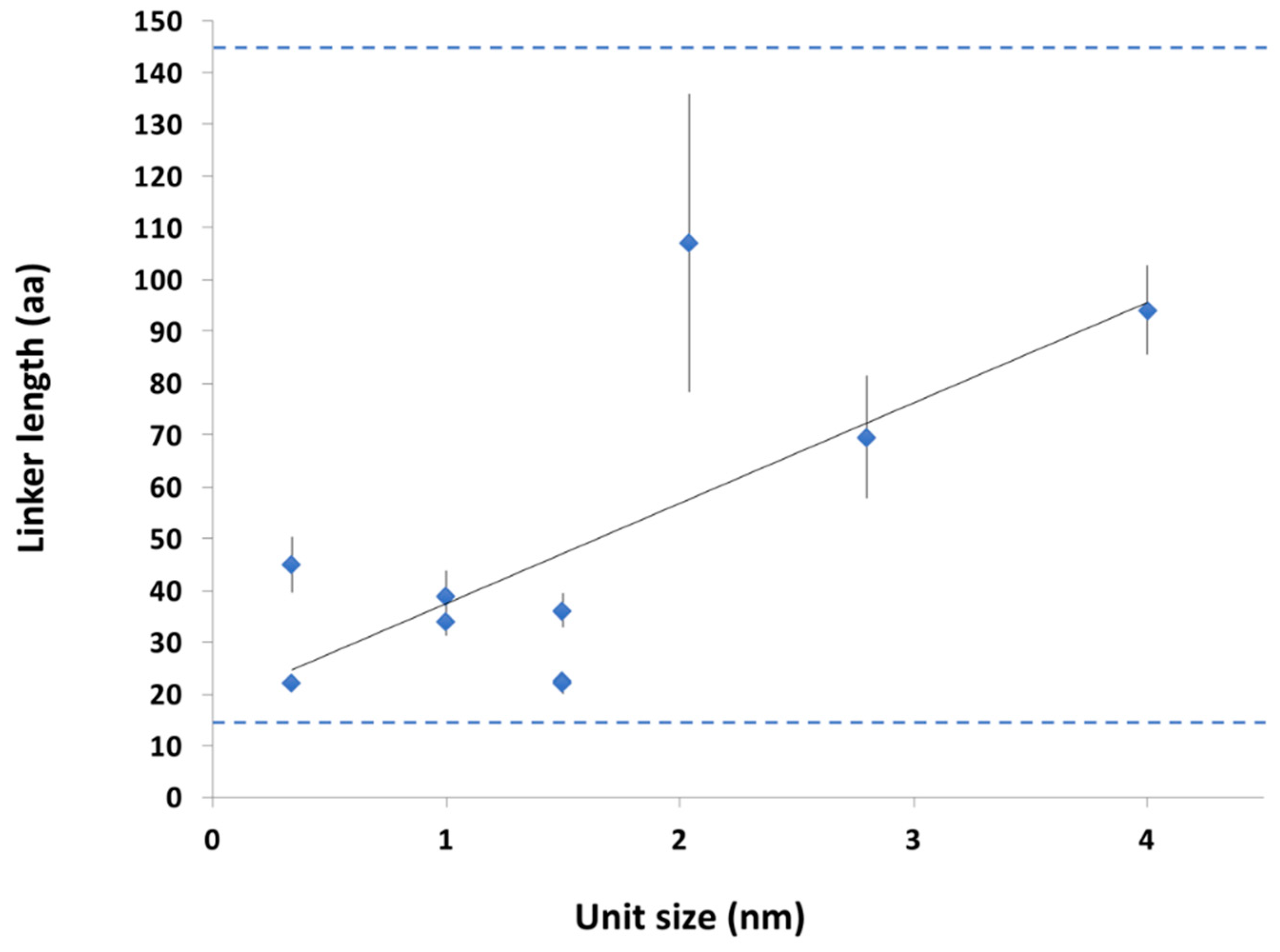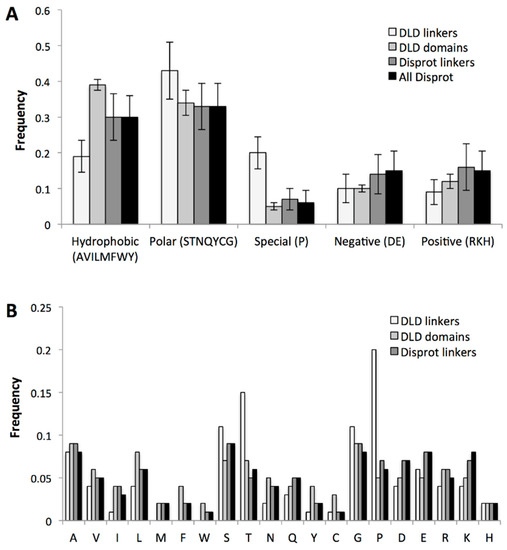 Figure 6.
Special features of amino acid composition of linkers. Amino acid composition of linkers in DLD processive enzymes was analyzed and depicted with reference to similar measures of other data. (
A
) Amino acids of linkers were grouped into five categories and compared to the composition of non-linker (binding domain) regions of DLD enzymes (in
Table 1
) and also of all disordered linkers and assigned disordered linkers in the DisProt database [
44
]. (
B
) The abundance of amino acids in linkers and non-linker regions in DLD processive enzymes and in all disordered regions and assigned linker regions in the DisProt database.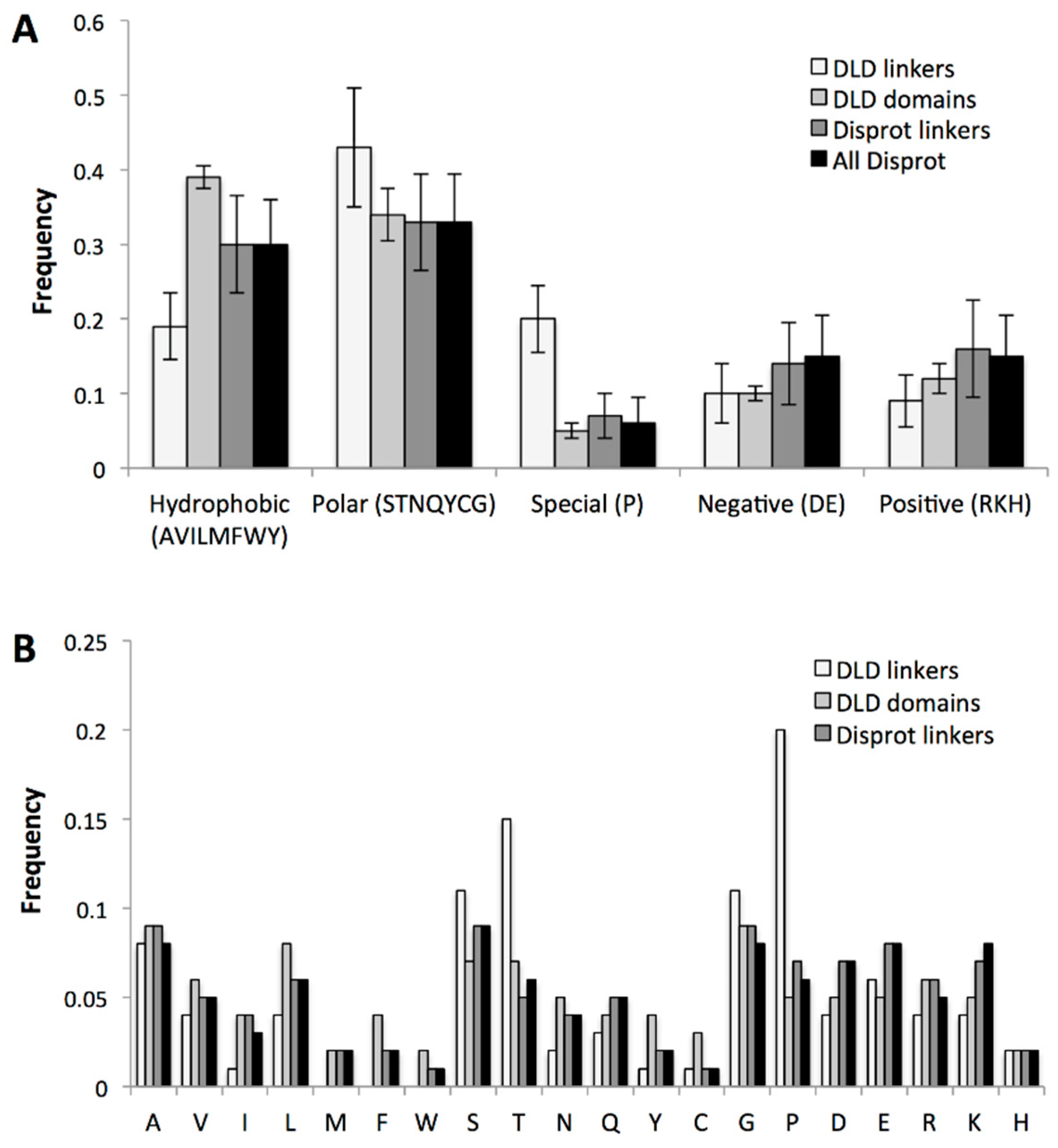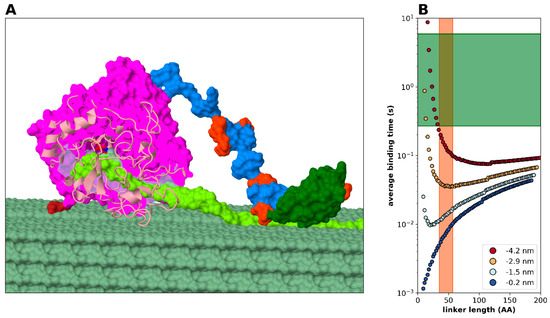 Figure 7.
Cellulase: a model processive enzyme. (
A
) Model of the Cel7A cellulase based on the structure PDB 8cel for the catalytic domain (CD) and PDB 2mwk for the cellulose-binding domain (CBM). The CD is purple with the cellulose tunnel shown in transparent blue. One glycosylation of the CD is visible in dark red. Further elements marked are the two catalytic amino acids (red and blue stick-and-ball), the linker region (blue with orange mannose glycosylation), the CBM (dark green), and the cellulose sheet (pale green) of which one fibril (yellow-green) is being processed. The sequence and glycosylation is based on UniProt P62694. (
B
) Statistical kinetic modelling considering geometry (size) and binding of the linker to CD shows binding times characteristic of this system. The green area represents typical catalytic times for Cel7A cellulase family (
Table S3
), whereas the red area marks typical linker region lengths (
Figure S2
). The four curves correspond to various values of the linker region's partial binding to the CD, which results in it emerging from the CD at different points (see color mark). If we consider the beginning of the CD domain as the origin of the coordinate system and the cellulose filament moves along the X axis, and assume no binding between the linker and the CD, then free end of the linker region reaches −4.2 nm (red in color scale). When the largest portion of the linker is bound to the CD, the starting point of the free linker end is at zero (blue in color scale). Yellow and light blue colors represent intermediate back-binding cases, with −2.5 and −1.5 nm starting points, respectively.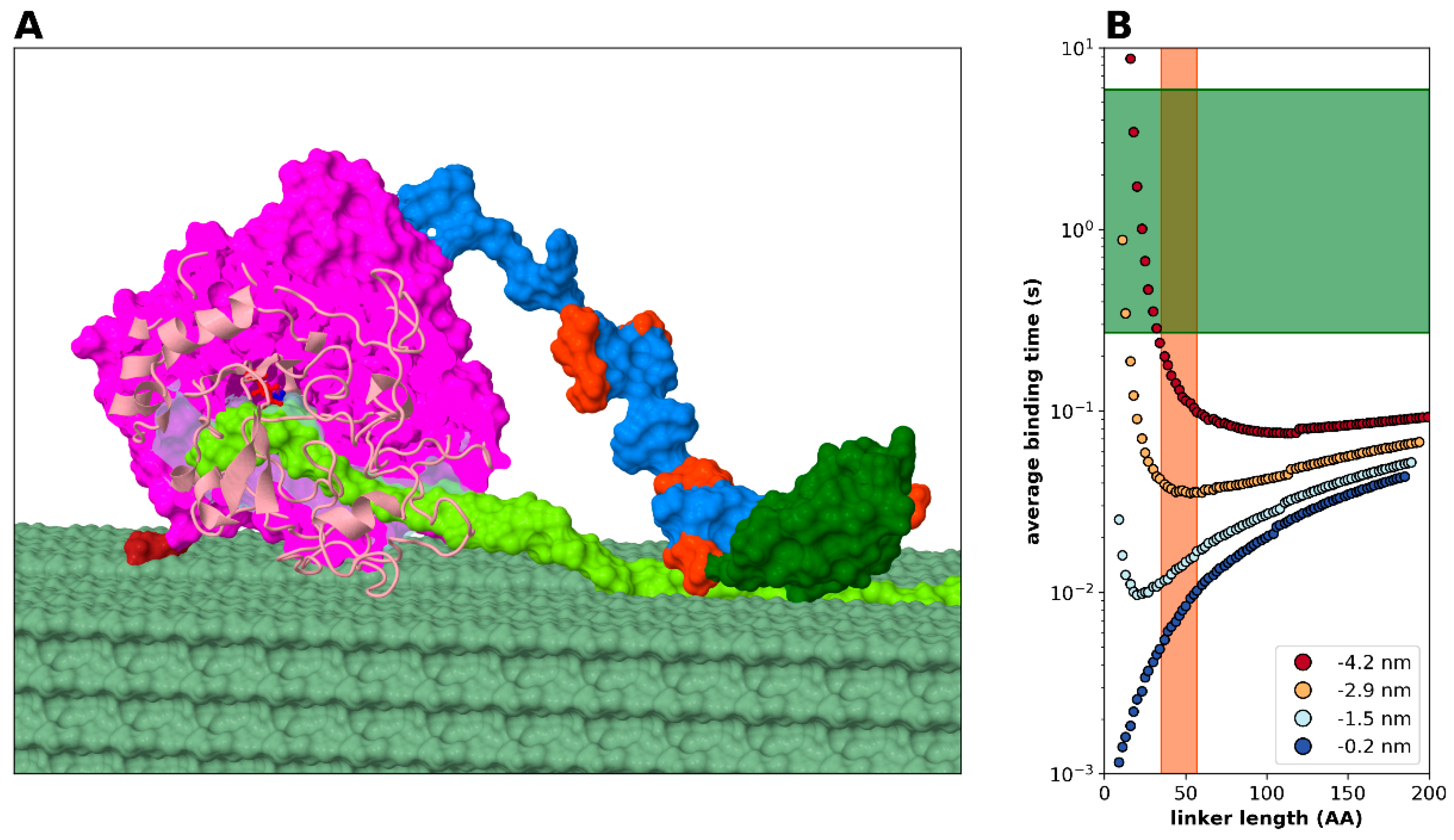 Protein Name
UniProt ID
ATP
Partner
Linker Length
Kappa Value (Plot Region)
Processivity
1

H. sapiens

RNAse H1
O60930
-
RNA
50 aa (78–127)
0.254 (2)
2

H. sapiens

XPF
Q92889
-
DNA
22 aa (821–842)
0.187 (1)
60 nucleotides
3

T. reesei

Cel7A
P62694
-
cellulose
33 aa (445–477)
0.503 (1)
21 catalytic steps
4

H. insolens

Cel6A
Q9C1S9
-
cellulose
46 aa (68–113)
0.288 (1)
5

C. cellulolyticum

Cel48F *
P37698
-
cellulose
28 aa (106–133)
0.069 (2)
6

C. thermocellum

1,4-beta-glucanase *
Q5TIQ4
-
cellulose
103 aa (688–790)
0.238 (1)
7

H. sapiens

Telomerase
O14746
-
DNA
94 aa (231–324)
0.252 (1)
8

X. laevis

XMAP215
Q9PT63
-
tubulin
121 aa (1079–1199)
0.189 (1)
25 tubulin dimers
9

H. sapiens

Chitotriosidase-1
Q13231
-
chitooligosaccharides
31 aa (387–417)
0.263 (1)
8.6 cleavage steps
10

B. circulans

Chitinase A1
P20533
-
crystalline-chitin
23 aa (444–466)
0.353 (1)
11

O. sativa subsp. Japonica

Chitinase 2
Q7DNA1
-
chitin
17 aa (74–90)
0.848 (1)
12

H. sapiens

MMP-9
P14780
-
gelatine
76 aa (434–509)
0.112 (1)
* no sufficient number of orthologous proteins.

Table 2. Additional functions of linkers in DLD processive enzymes. Cases where the linker was shown to bind to its adjacent domain are marked with "+".
Enzyme
UniProt ID
PTMs
Domain Binding
Ref.

H. sapiens

RNASEH1
O60930
Phosphorylation: S74, S76
[52]

T. reesei

Cel7A
P62694
Glycosylation: T461, T462, T463, T462, T469, T470, T471, S473, S474
+
[53]

H. sapiens

Telomerase
O14746
Phosphorylation: S227
[54,55,56]

H. sapiens

Nedd4-1
P46934
Phosphorylation: S670, S742, S743, S747, Y785, S884, S888. Ubiqutination: K882

H. sapiens

MMP-9
P14780
+

© 2019 by the authors. Licensee MDPI, Basel, Switzerland. This article is an open access article distributed under the terms and conditions of the Creative Commons Attribution (CC BY) license (http://creativecommons.org/licenses/by/4.0/).