Bacterial Isolate Inhabiting Spitsbergen Soil Modifies the Physiological Response of
Phaseolus coccineus

in Control Conditions and under Exogenous Application of Methyl Jasmonate and Copper Excess

1

Department of Plant Physiology, Maria Curie-Skłodowska University, Akademicka St. 19, 20-033 Lublin, Poland

2

Department of Environmental Microbiology, Maria Curie-Skłodowska University, Akademicka St. 19, 20-033 Lublin, Poland

3

Department of Geology and Soil Science, Maria Curie-Skłodowska University, Kraśnicka Ave. 2cd, 20-718 Lublin, Poland

4

Department of Analytical Chemistry, Medical University of Lublin, Chodźki 4a, 20-093 Lublin, Poland

*

Author to whom correspondence should be addressed.

Received: 14 March 2019 / Revised: 9 April 2019 / Accepted: 15 April 2019 / Published: 17 April 2019
Abstract
The aim of the study was to demonstrate the potential of the promotion and regulation of plant physiology and growth under control and copper stress conditions, and the impact of the exogenous application of methyl jasmonate on this potential. Runner bean plants were treated with methyl jasmonate (1 or 10 µM) (J; J1 or J10) and Cu (50 µM), and inoculated with a bacterial isolate (S17) originating from Spitsbergen soil, and identified as
Pseudomonas luteola
using the analytical profile index (API) test. Above- and under-ground plant parts were analyzed. The growth parameters; the concentration of the photosynthetic pigments, elements, flavonoids (FLAVO), phenolics (TPC), allantoin (ALLA), and low molecular weight organic acids (LMWOAs); the activity of antioxidant enzymes and enzymes of resistance induction pathways (e.g., superoxide dismutase (SOD), catalase (CAT), ascorbate (APX) and guaiacol (GPX) peroxidase, glucanase (GLU), and phenylalanine (PAL) and tyrosine ammonia-lyase (TAL)), and the antioxidant capacity (AC) were studied. The leaves exhibited substantially higher ALLA and LMWOA concentrations as well as PAL and TAL activities, whereas the roots mostly had higher activities for a majority of the enzymes tested (i.e., SOD, CAT, APX, GPX, and GLU). The inoculation with S17 mitigated the effect of the Cu stress. Under the Cu stress and in the presence of J10, isolate S17 caused an elevation of the shoot fresh weight, K concentration, and TAL activity in the leaves, and APX and GPX (also at J1) activities in the roots. In the absence of Cu, isolate S17 increased the root length and the shoot-to-root ratio, but without statistical significance. In these conditions, S17 contributed to a 236% and 34% enhancement of P and Mn, respectively, in the roots, and a 19% rise of N in the leaves. Under the Cu stress, S17 caused a significant increase in FLAVO and TPC in the leaves. Similarly, the levels of FLAVO, TPC, and AC were enhanced after inoculation with Cu and J1. Regardless of the presence of J, inoculation at Cu excess caused a reduction of SOD and CAT activities, and an elevation of GPX. The effects of inoculation were associated with the application of Cu and J, which modified plant response mainly in a concentration-dependent manner (e.g., PAL, TAL, and LMWOA levels). The conducted studies demonstrated the potential for isolate S17 in the promotion of plant growth.
View Full-Text
►

▼

Figures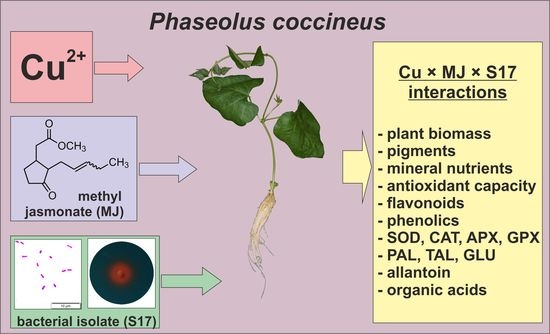 Graphical abstract
This is an open access article distributed under the
Creative Commons Attribution License
which permits unrestricted use, distribution, and reproduction in any medium, provided the original work is properly cited (CC BY 4.0).

Share & Cite This Article
MDPI and ACS Style
Hanaka, A.; Nowak, A.; Plak, A.; Dresler, S.; Ozimek, E.; Jaroszuk-Ściseł, J.; Wójciak-Kosior, M.; Sowa, I. Bacterial Isolate Inhabiting Spitsbergen Soil Modifies the Physiological Response of Phaseolus coccineus in Control Conditions and under Exogenous Application of Methyl Jasmonate and Copper Excess. Int. J. Mol. Sci. 2019, 20, 1909.
Note that from the first issue of 2016, MDPI journals use article numbers instead of page numbers. See further details here.
Related Articles
Comments
[Return to top]