Quantitative Phosphoproteomic and Physiological Analyses Provide Insights into the Formation of the Variegated Leaf in
Catalpa fargesii
1
State Key Laboratory of Tree Genetics and Breeding, Key Laboratory of Tree Breeding and Cultivation of State Forestry Administration, Research Institute of Forestry, Chinese Academy of Forestry, Beijing 100091, China
2
State Key Laboratory of Tree Genetics and Breeding, Northeast Forestry University, Harbin 150000, China
3
Department of Biology, Centre for Forest Biology, University of Victoria, Victoria, BC V8P 5C2, Canada
*
Authors to whom correspondence should be addressed.
Received: 6 March 2019 / Revised: 11 April 2019 / Accepted: 11 April 2019 / Published: 17 April 2019
Abstract
Variegated plants are valuable materials for investigating leaf color regulated mechanisms. To unveil the role of posttranslational modification in the variegated phenotype, we conducted global quantitative phosphoproteomic analysis on different leaf color sectors of
Maiyuanjinqiu
and the corresponding of
Catalpa fargesii
using Ti
4+
-IMAC phosphopeptide enrichment. A total of 3778 phosphorylated sites assigned to 1646 phosphoproteins were identified, and 3221 in 1434 proteins were quantified. Differential phosphoproteins (above 1.5 or below 1/1.5) in various leaf color sectors were selected for functional enrichment analyses. Gene ontology (GO) enrichment revealed that processes of photosynthesis, regulation of the generation of precursor metabolites, response to stress, homeostasis, amino acid metabolism, transport–related processes, and most of the energy metabolisms might contribute to leaf color. KEGG pathway enrichment analysis was performed based on differential phosphoproteins (DPs) in different organelles. The result showed that most enriched pathways were located in the chloroplasts and cytosol. The phosphorylation levels of glycometabolism enzymes might greatly affect leaf variegation. Measurements of fluorescence parameters and enzyme activities confirmed that protein phosphorylation could affect plant physiology by regulating enzyme activity. These results provide new clues for further study the formation mechanisms of naturally variegated phenotype.
View Full-Text
►

▼

Figures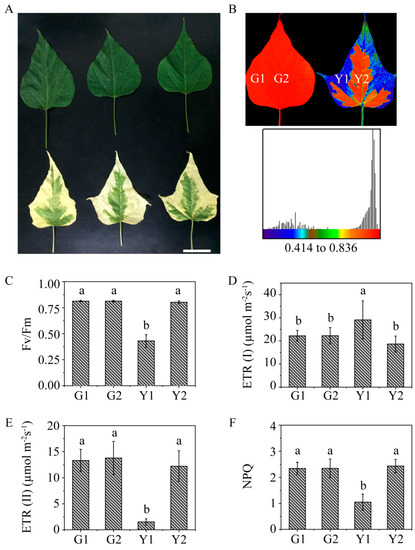 Figure 1
This is an open access article distributed under the
Creative Commons Attribution License
which permits unrestricted use, distribution, and reproduction in any medium, provided the original work is properly cited (CC BY 4.0).

Share & Cite This Article
MDPI and ACS Style
Wang, N.; Zhu, T.; Lu, N.; Wang, Z.; Yang, G.; Qu, G.; Kong, L.; Zhang, S.; Ma, W.; Wang, J. Quantitative Phosphoproteomic and Physiological Analyses Provide Insights into the Formation of the Variegated Leaf in Catalpa fargesii. Int. J. Mol. Sci. 2019, 20, 1895.
Note that from the first issue of 2016, MDPI journals use article numbers instead of page numbers. See further details here.
Related Articles
Comments
[Return to top]