Comparison of Proton and Photon Beam Irradiation in Radiation-Induced Intestinal Injury Using a Mouse Model
1
Department of Radiation Oncology, Samsung Medical Center, Seoul 06351, Korea
2
Department of Medicine, Samsung Medical Center, Seoul 06351, Korea
3
Sungkyunkwan University School of Medicine, Seoul 06351, Korea
*
Authors to whom correspondence should be addressed.
†
These authors contributed equally to this paper as first authors.
Received: 19 March 2019 / Revised: 15 April 2019 / Accepted: 16 April 2019 / Published: 17 April 2019
Abstract
When radiotherapy is applied to the abdomen or pelvis, normal tissue toxicity in the gastrointestinal (GI) tract is considered a major dose-limiting factor. Proton beam therapy has a specific advantage in terms of reduced doses to normal tissues. This study investigated the fundamental differences between proton- and X-ray-induced intestinal injuries in mouse models. C57BL/6J mice were irradiated with 6-MV X-rays or 230-MeV protons and were sacrificed after 84 h. The number of surviving crypts per circumference of the jejunum was identified using Hematoxylin and Eosin staining. Diverse intestinal stem cell (ISC) populations and apoptotic cells were analyzed using immunohistochemistry (IHC) and a terminal deoxynucleotidyl transferase-mediated dUTP nick-end labelling (TUNEL) assay, respectively. The crypt microcolony assay revealed a radiation-dose-dependent decrease in the number of regenerative crypts in the mouse jejunum; proton irradiation was more effective than X-ray irradiation with a relative biological effectiveness of 1.14. The jejunum is the most sensitive to radiations, followed by the ileum and the colon. Both types of radiation therapy decreased the number of radiosensitive, active cycling ISC populations. However, a higher number of radioresistant, reserve ISC populations and Paneth cells were eradicated by proton irradiation than X-ray irradiation, as shown in the IHC analyses. The TUNEL assay revealed that proton irradiation was more effective in enhancing apoptotic cell death than X-ray irradiation. This study conducted a detailed analysis on the effects of proton irradiation versus X-ray irradiation on intestinal crypt regeneration in mouse models. Our findings revealed that proton irradiation has a direct effect on ISC populations, which may result in an increase in the risk of GI toxicity during proton beam therapy.
View Full-Text
►

▼

Figures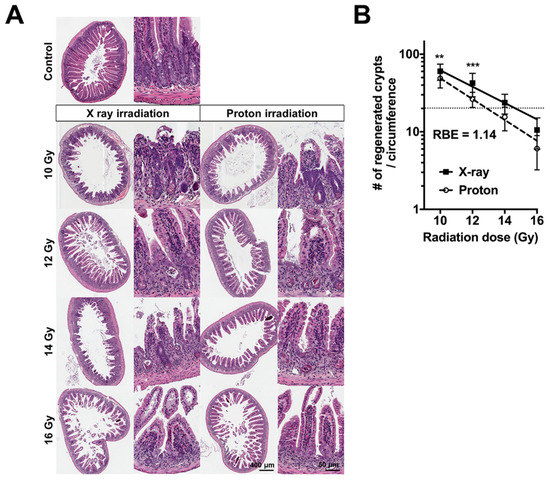 Figure 1
This is an open access article distributed under the
Creative Commons Attribution License
which permits unrestricted use, distribution, and reproduction in any medium, provided the original work is properly cited (CC BY 4.0).

Share & Cite This Article
MDPI and ACS Style
Choi, C.; Lee, C.; Shin, S.-W.; Kim, S.-Y.; Hong, S.N.; Park, H.C. Comparison of Proton and Photon Beam Irradiation in Radiation-Induced Intestinal Injury Using a Mouse Model. Int. J. Mol. Sci. 2019, 20, 1894.
Note that from the first issue of 2016, MDPI journals use article numbers instead of page numbers. See further details here.
Related Articles
Comments
[Return to top]