Phosphoproteomic Analysis of Two Contrasting Maize Inbred Lines Provides Insights into the Mechanism of Salt-Stress Tolerance
State Key Laboratory of Plant Physiology and Biochemistry, College of Biological Sciences, China Agricultural University, Beijing 100193, China
*
Author to whom correspondence should be addressed.
†
These authors contributed equally to this work.
Received: 25 February 2019 / Revised: 6 April 2019 / Accepted: 9 April 2019 / Published: 16 April 2019
Abstract
Salinity is a major abiotic stress that limits maize yield and quality throughout the world. We investigated phosphoproteomics differences between a salt-tolerant inbred line (Zheng58) and a salt-sensitive inbred line (Chang7-2) in response to short-term salt stress using label-free quantitation. A total of 9448 unique phosphorylation sites from 4116 phosphoproteins in roots and shoots of Zheng58 and Chang7-2 were identified. A total of 209 and 243 differentially regulated phosphoproteins (DRPPs) in response to NaCl treatment were detected in roots and shoots, respectively. Functional analysis of these DRPPs showed that they were involved in carbon metabolism, glutathione metabolism, transport, and signal transduction. Among these phosphoproteins, the expression of 6-phosphogluconate dehydrogenase 2, pyruvate dehydrogenase, phosphoenolpyruvate carboxykinase, glutamate decarboxylase, glutamate synthase,
l
-gulonolactone oxidase-like, potassium channel AKT1, high-affinity potassium transporter, sodium/hydrogen exchanger, and calcium/proton exchanger CAX1-like protein were significantly regulated in roots, while phosphoenolpyruvate carboxylase 1, phosphoenolpyruvate carboxykinase, sodium/hydrogen exchanger, plasma membrane intrinsic protein 2, glutathione transferases, and abscisic acid-insensitive 5-like protein were significantly regulated in shoots. Zheng58 may activate carbon metabolism, glutathione and ascorbic acid metabolism, potassium and sodium transportation, and the accumulation of glutamate to enhance its salt tolerance. Our results help to elucidate the mechanisms of salt response in maize seedlings. They also provide a basis for further study of the mechanism underlying salt response and tolerance in maize and other crops.
View Full-Text
►

▼

Figures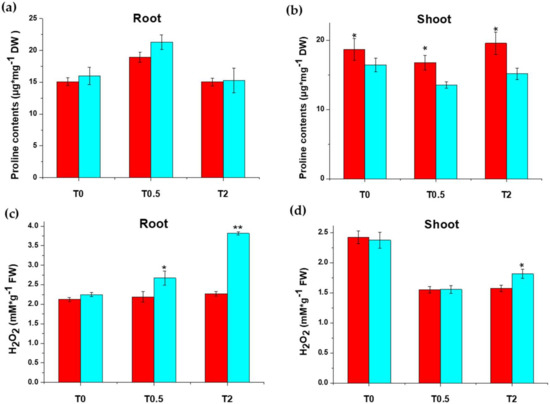 Figure 1
This is an open access article distributed under the
Creative Commons Attribution License
which permits unrestricted use, distribution, and reproduction in any medium, provided the original work is properly cited (CC BY 4.0).

Share & Cite This Article
MDPI and ACS Style
Zhao, X.; Bai, X.; Jiang, C.; Li, Z. Phosphoproteomic Analysis of Two Contrasting Maize Inbred Lines Provides Insights into the Mechanism of Salt-Stress Tolerance. Int. J. Mol. Sci. 2019, 20, 1886.
Note that from the first issue of 2016, MDPI journals use article numbers instead of page numbers. See further details here.
Related Articles
Comments
[Return to top]