Anti-Apoptotic Effects of Recombinant Human Hepatocyte Growth Factor on Hepatocytes Were Associated with Intrahepatic Hemorrhage Suppression Indicated by the Preservation of Prothrombin Time
1
Eisai Co., Ltd., KAN Product Creation Unit, Eisai Product Creation Systems, 5-1-3 Tokodai, Tsukuba, Ibaraki 3002635, Japan
2
KAN Research Institute, Inc., 6-8-2 Minatojima-Minamimachi, Chuo-Ku, Kobe, Hyogo 6500047, Japan
3
Digestive and Lifestyle Diseases, Department of Human and Environmental Sciences, Kagoshima University Graduate School of Medical and Dental Sciences, 8-35-1 Sakuragaoka, Kagoshima 8908544, Japan
4
Department of HGF Tissue Repair and Regenerative Medicine, Kagoshima University Graduate School of Medical and Dental Sciences, 8-35-1 Sakuragaoka, Kagoshima 8908544, Japan
5
Department of Gastroenterology and Hepatology, Kagoshima City Hospital, 37-1 Uearata-cho, Kagoshima 8908760, Japan
*
Author to whom correspondence should be addressed.
Received: 20 March 2019 / Revised: 10 April 2019 / Accepted: 11 April 2019 / Published: 12 April 2019
Abstract
Hepatocyte growth factor (HGF) is an endogenously expressed bioactive substance that has a strong anti-apoptotic effect. In this study, we biochemically and histologically characterized the effects of rh-HGF on in vitro human hepatocyte injury and mouse acute liver failure (ALF) models, both of which were induced by antibody-mediated Fas signaling. rh-HGF inhibited intracellular caspase-3/7 activation and cytokeratin 18 (CK-18) fragment release in both models. Histologically, rh-HGF dramatically suppressed parenchymal damage and intrahepatic hemorrhage. Among the laboratory parameters, prothrombin time (PT) was strongly preserved by rh-HGF, and PT was well correlated with the degree of intrahepatic hemorrhage. These results showed that the anti-apoptotic effect of rh-HGF on hepatocytes coincided strikingly with the suppression of intrahepatic hemorrhage. PT was considered to be the best parameter that correlated with the intrahepatic hemorrhages associated with hepatocellular damage. The action of rh-HGF might derive not only from its anti-apoptosis effects on liver parenchymal cells but also from its stabilization of structural and vasculature integrity.
View Full-Text
►

▼

Figures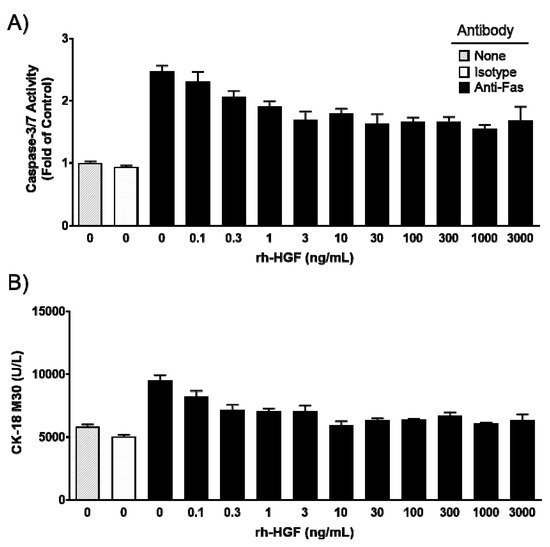 Figure 1
This is an open access article distributed under the
Creative Commons Attribution License
which permits unrestricted use, distribution, and reproduction in any medium, provided the original work is properly cited (CC BY 4.0).

Share & Cite This Article
MDPI and ACS Style
Motoi, S.; Toyoda, H.; Obara, T.; Ohta, E.; Arita, Y.; Negishi, K.; Moriya, K.; Kuboi, Y.; Soejima, M.; Imai, T.; Ido, A.; Tsubouchi, H.; Kawano, T. Anti-Apoptotic Effects of Recombinant Human Hepatocyte Growth Factor on Hepatocytes Were Associated with Intrahepatic Hemorrhage Suppression Indicated by the Preservation of Prothrombin Time. Int. J. Mol. Sci. 2019, 20, 1821.
Note that from the first issue of 2016, MDPI journals use article numbers instead of page numbers. See further details here.
Related Articles
Comments
[Return to top]