Bumetanide-Derived Aquaporin 1 Inhibitors, AqB013 and AqB050 Inhibit Tube Formation of Endothelial Cells through Induction of Apoptosis and Impaired Migration In Vitro
1
Solid Tumour Group, Basil Hetzel Institute, Queen Elizabeth Hospital, Woodville South, SA 5011, Australia
2
Adelaide Medical School, University of Adelaide, Adelaide, SA 5005, Australia
3
Medical Oncology, Queen Elizabeth Hospital, Woodville South, SA 5011, Australia
*
Author to whom correspondence should be addressed.
Received: 18 March 2019 / Revised: 9 April 2019 / Accepted: 10 April 2019 / Published: 12 April 2019
Abstract
AqB013 and AqB050 compounds inhibit aquaporin 1 (AQP1), a dual water and ion channel implicated in tumour angiogenesis. We tested AqB013 and AqB050 either as monotherapy or in combination on tube formation of murine endothelial cells (2H-11 and 3B-11) and human umbilical vascular endothelial cells (HUVECs). The mechanism underlying their anti-tubulogenic effect was explored by examining cell viability, induction of apoptosis and migration using 3-(4,5-dimethylthiazol-2-yl)-5-(3-carboxymethoxyphenyl)-2-(4-sulfophenyl)-2
H
-tetrazolium (MTS) assay, Annexin V/propidium iodide apoptosis assay and scratch wound assay. Tube formation of all the cell lines was inhibited by AqB013, AqB050 and the combination of the two compounds. The inhibition of 2H-11 and 3B-11 was frequently accompanied by impaired migration, whereas that of HUVEC treated with AqB050 and the combination was associated with reduced cell viability due to apoptosis. AqB013 and AqB050 exhibited an anti-tubulogenic effect through inhibition of AQP1-mediated cell migration and induction of apoptosis. Together with previously reported anti-tumour cell effect of AqB013 and AqB050, our findings support further evaluation of these compounds as potential cancer therapeutics.
View Full-Text
►

▼

Figures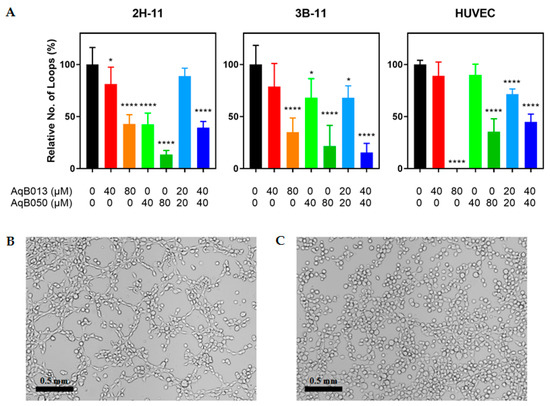 Figure 1
This is an open access article distributed under the
Creative Commons Attribution License
which permits unrestricted use, distribution, and reproduction in any medium, provided the original work is properly cited (CC BY 4.0).

Share & Cite This Article
MDPI and ACS Style
Tomita, Y.; Palethorpe, H.M.; Smith, E.; Nakhjavani, M.; Townsend, A.R.; Price, T.J.; Yool, A.J.; Hardingham, J.E. Bumetanide-Derived Aquaporin 1 Inhibitors, AqB013 and AqB050 Inhibit Tube Formation of Endothelial Cells through Induction of Apoptosis and Impaired Migration In Vitro. Int. J. Mol. Sci. 2019, 20, 1818.
Note that from the first issue of 2016, MDPI journals use article numbers instead of page numbers. See further details here.
Related Articles
Comments
[Return to top]