Open Access This article is
freely available
re-usable
Article
Bioreactor-Controlled Physoxia Regulates TGF-β Signaling to Alter Extracellular Matrix Synthesis by Human Chondrocytes
1
Institute of Anatomy and Cell Biology, University Hospital Aachen, 52072 Aachen, Germany
2
Department of Orthopaedic Surgery, Maastricht University Medical Centre+, 6229 HXMaastricht, The Netherlands
3
Department of Diagnostic and Interventional Radiology, Aachen University Hospital, 52072 Aachen, Germany
†
Present address: Ambarli mah. Resitpasa Cad. Aygun Sit. D blok D:3 34310 Avcilar/Istanbul, Turkey.

‡
Present address: CARIM School for Cardiovascular Diseases, Maastricht University (MUMC+), 6229 ER Maastricht, The Netherlands.

Received: 16 March 2019 / Accepted: 2 April 2019 / Published: 6 April 2019
Abstract
:
Culturing articular chondrocytes under physiological oxygen tension exerts positive effects on their extracellular matrix synthesis. The underlying molecular mechanisms which enhance the chondrocytic phenotype are, however, still insufficiently elucidated. The TGF-β superfamily of growth factors, and the prototypic TGF-β isoforms in particular, are crucial in maintaining matrix homeostasis of these cells. We employed a feedback-controlled table-top bioreactor to investigate the role of TGF-β in microtissues of human chondrocytes over a wider range of physiological oxygen tensions (i.e., physoxia). We compared 1%, 2.5%, and 5% of partial oxygen pressure (pO
2
) to the 'normoxic' 20%. We confirmed physoxic conditions through the induction of marker genes (
PHD3
,
VEGF
) and oxygen tension-dependent chondrocytic markers (
SOX9
,
COL2A1
). We identified 2.5% pO
2
as an oxygen tension optimally improving chondrocytic marker expression (
ACAN
,
COL2A1
), while suppressing de-differentiation markers (
COL1A1,
COL3A1
). Expression of TGF-β isoform 2 (
TGFB2
) was, relatively, most responsive to 2.5% pO
2
, while all three isoforms were induced by physoxia. We found TGF-β receptors
ALK1
and
ALK5
to be regulated by oxygen tension on the mRNA and protein level. In addition, expression of type III co-receptors betaglycan and endoglin appeared to be regulated by oxygen tension as well. R-Smad signaling confirmed that physoxia divergently regulated phosphorylation of Smad1/5/8 and Smad2/3. Pharmacological inhibition of canonical ALK5-mediated signaling abrogated physoxia-induced
COL2A1
and
PAI-1
expression. Physoxia altered expression of hypertrophy markers and that of matrix metalloproteases and their activity, as well as expression ratios of specific proteins (Sp)/Krüppel-like transcription factor family members SP1 and SP3, proving a molecular concept of ECM marker regulation. Keeping oxygen levels tightly balanced within a physiological range is important for optimal chondrocytic marker expression. Our study provides novel insights into transcriptional regulations in chondrocytes under physoxic
in vitro
conditions and may contribute to improving future cell-based articular cartilage repair strategies.
Keywords:
TGF-β superfamily; physiological oxygen; physoxia; chondrocytic marker expression; TGF-β receptors, type I, type II, type III; Sp1/3;
ALK1
,
ALK5
; betaglycan; endoglin
Author Contributions
H.J. and T.P. drafted the study design. H.J., A.-R.K. and S.G. performed the experiments and collected data. All authors were involved in the analyses thereof. H.J. drafted the manuscript and all authors critically read and revised it. The final version of the manuscript was unanimously approved by all.
Funding
This research was financially supported by the Prosperos project, funded by the Interreg VA Flanders—The Netherlands program (CCI grant No. 2014TC16RFCB046). HJ is further indebted to the START Initiative (grant No. 691513) and the Aachen Interdisciplinary Center for Clinical Research (IZKF, project No. 531403) of the Medical Faculty of the RWTH Aachen University as well as the Umbrella Research Cooperation (IA No. 700116).
Acknowledgments
We would like to thank Pia Pickert, Felix Waldmann, and Prathyusha Pavanram, Dept. of Orthopaedics/Institute of Anatomy and Cell Biology, University Hospital Aachen, for their kind assistance. We are grateful to Tim Welting, Lodewijk van Rhijn, and Peter Emans, Dept. of Orthopaedic Surgery, Maastricht University Medical Center+, Maastricht, The Netherlands, for supporting this study.
Conflicts of Interest
Authors declare that they have no conflict of interest.
Abbreviations
| | |
| --- | --- |
| MDPI | Multidisciplinary Digital Publishing Institute |
| ECM | Extracellular Matrix |
| TBSF | TGF-β superfamily |
| TF | Transcription factor |

Figure 1.
Validation of hypoxic conditions and its effect on marker gene expression. Figure shows representative HIF-1α protein expression next to that of β-actin as loading control (
A
). Relative mRNA expression of hypoxia- and chondrocyte-specific markers (
B
). As expression of all four markers was significantly suppressed under "hypoxic" conditions (≤5% pO
2
), as compared to "normoxic" conditions (i.e., 21% pO
2
), we confirmed robust oxygenation levels within the micro-bioreactor. Screening of marker gene expression after 48 h further revealed significant differences in mRNA levels between 1% and 5% of oxygenation and also between 2.5% and 5% pO
2
. Oxygenation levels are shown as grey scales of increasing intensities from 1% to 21%, respectively. Molecular weight (kDa) is indicated; Western blots (
n
= 3), RT-qPCR (
n
= 6); *
p
< 0.05, **
p
< 0.01, ***
p
< 0.001.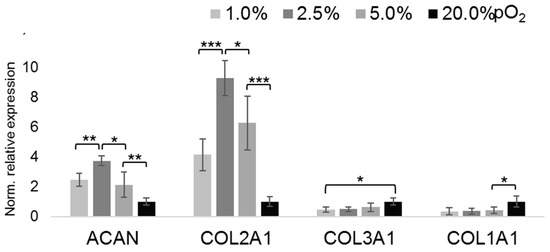 Figure 2.
Oxygen tension-dependent expression of ECM markers. RT-qPCR gene expression analyses of aggrecan core protein (
ACAN
) and selected types of collagens as phenotypical markers to asses oxygenation level-dependent differentiation. Oxygenation levels (% pO
2
) appear as grey scales, as shown within the figure.
n
= 6; *
p
< 0.05, **
p
< 0.01, ***
p
< 0.001.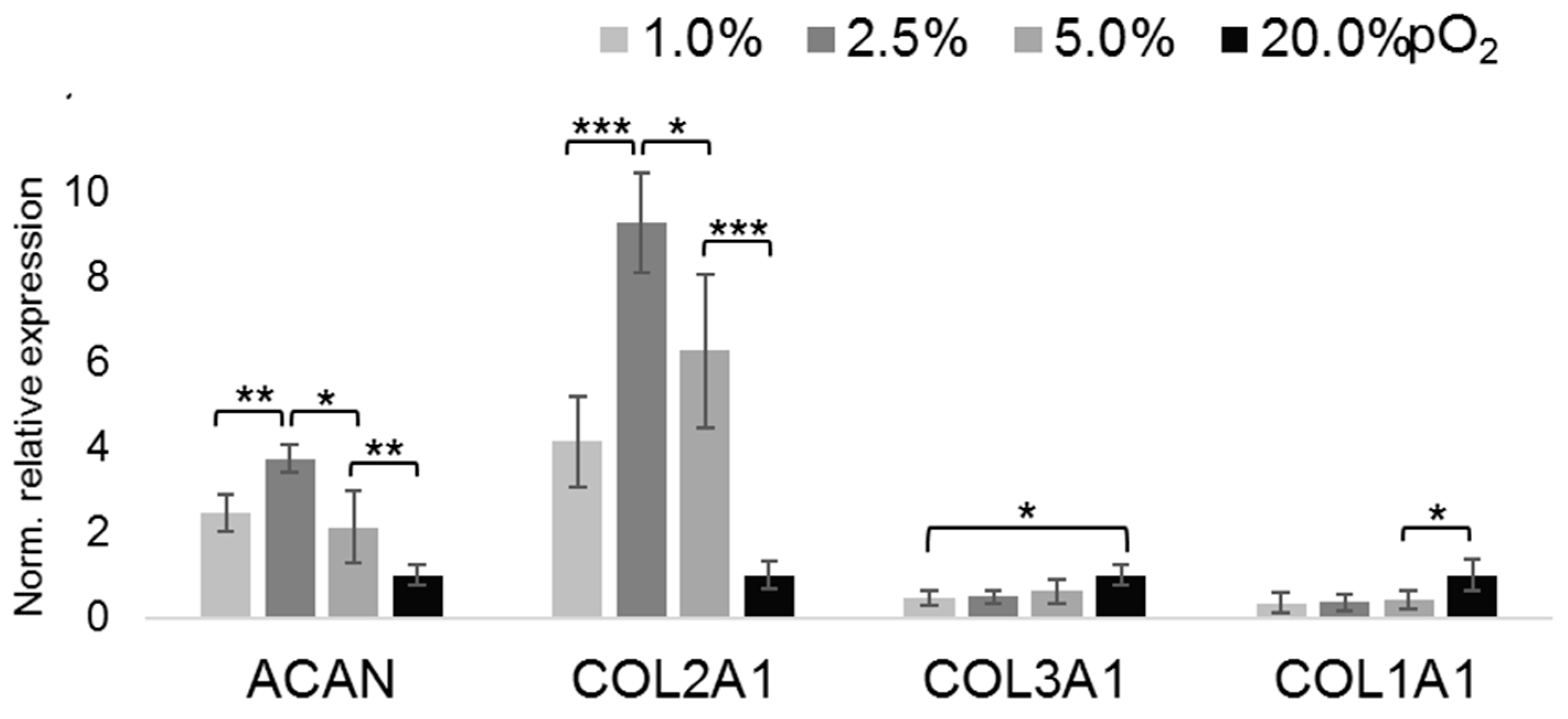 Figure 3.
Oxygen tension-dependent expression of prototypic TGF-β ligand isoforms. We used RT-qPCR to screen oxygen-dependent changes in mRNA abundance of all three human TGF-β isoforms,
TGFB1-3
(
A
). As
TGFB2
was most prominently upregulated by extracellular oxygenation levels of 2.5% pO
2
, and below, we validated its expression on protein level (
B
), with its abundance in 20% pO
2
set to 1. Oxygenation levels (% pO
2
) appear as grey scales as shown within the figure. RT-qPCR (
n
= 6), ELISA (
n
= 3); *
p
< 0.05, **
p
< 0.01, ***
p
< 0.001.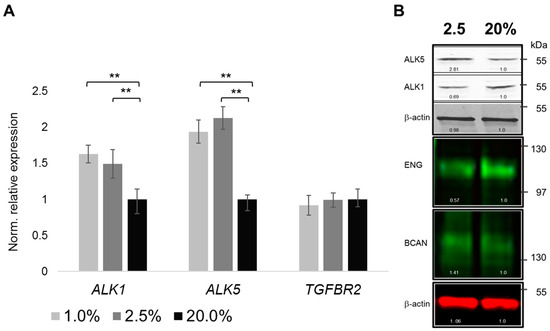 Figure 4.
Oxygen tension-dependent abundances of TGF-β receptors. Normalized relative mRNA expression of TGF-β type I (
ALK1
,
ALK5
) and type II (
TGFBR2
) receptors (
A
). Representative images of TGF-β type I and type III (betaglycan, BGCN; endoglin, EGN) receptor protein abundances. Chondrocytes were cultured under 1% and/or 2.5% and 20% pO
2
, respectively; loading control, β-actin (
B
). MW in kDa on right. RT-qPCR (
n
= 5), immunoblots (
n
= 3); **
p
< 0.01.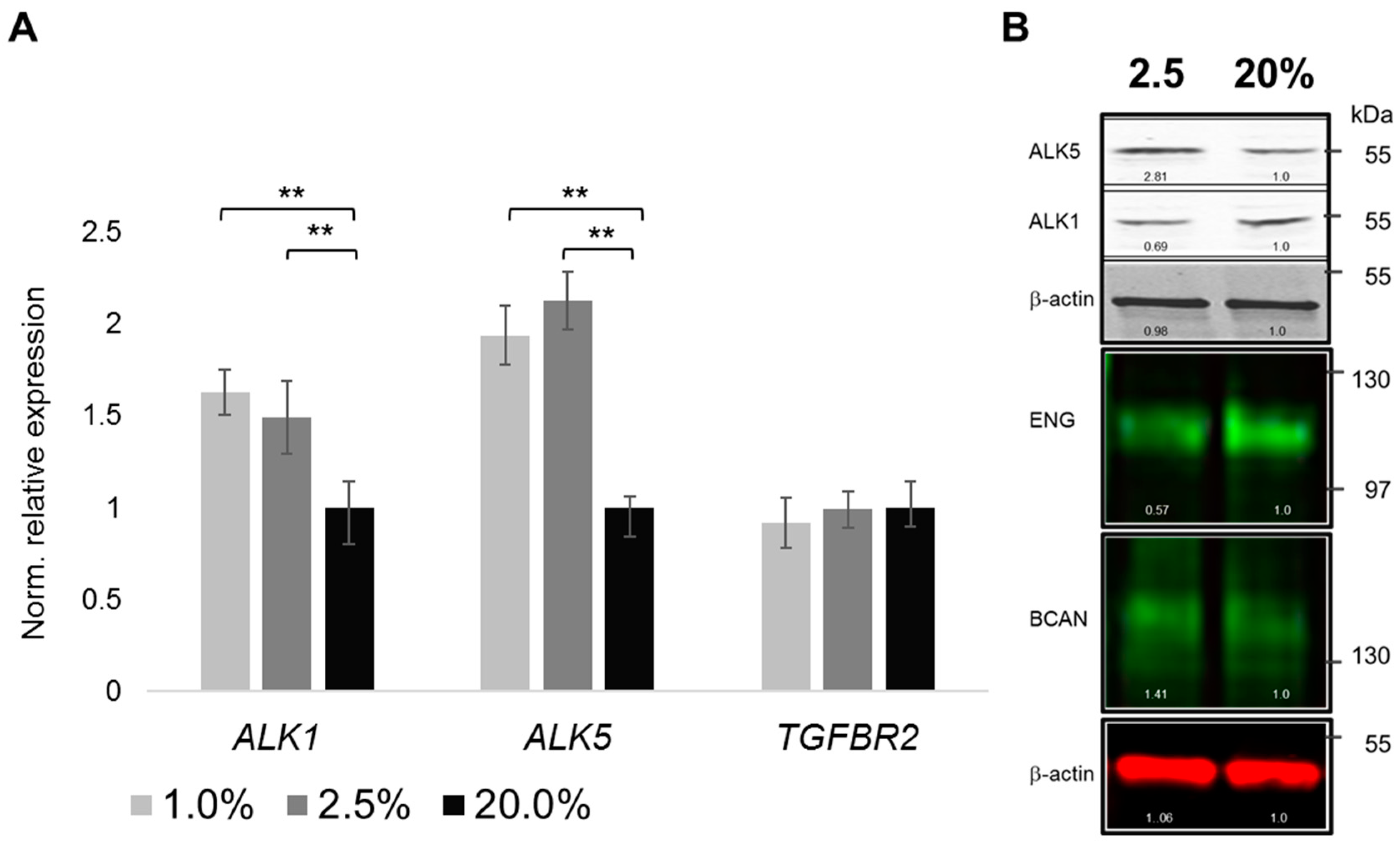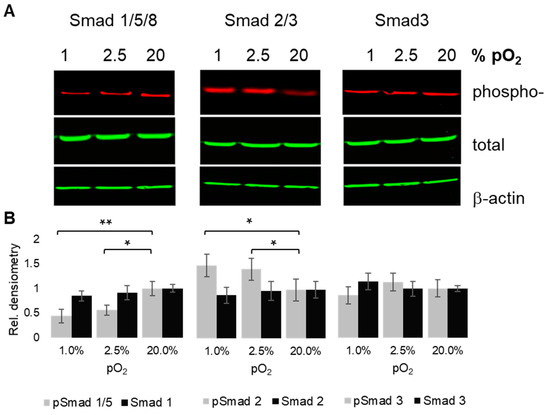 Figure 5.
Oxygen tension-dependent R-SMAD phosphorylation. Chondrocytes were cultured under 1%, 2.5%, and 20% pO
2
, respectively. Immunoblots showing phosphorylated forms of Receptor SMADs 1/5/8, 2/3, and 3, respectively, next to their respective total expression levels (
A
); loading control, β-actin. Underneath: Densiometric signal quantification (
B
); triplicates from three donors; *
p
< 0.05, **
p
< 0.01.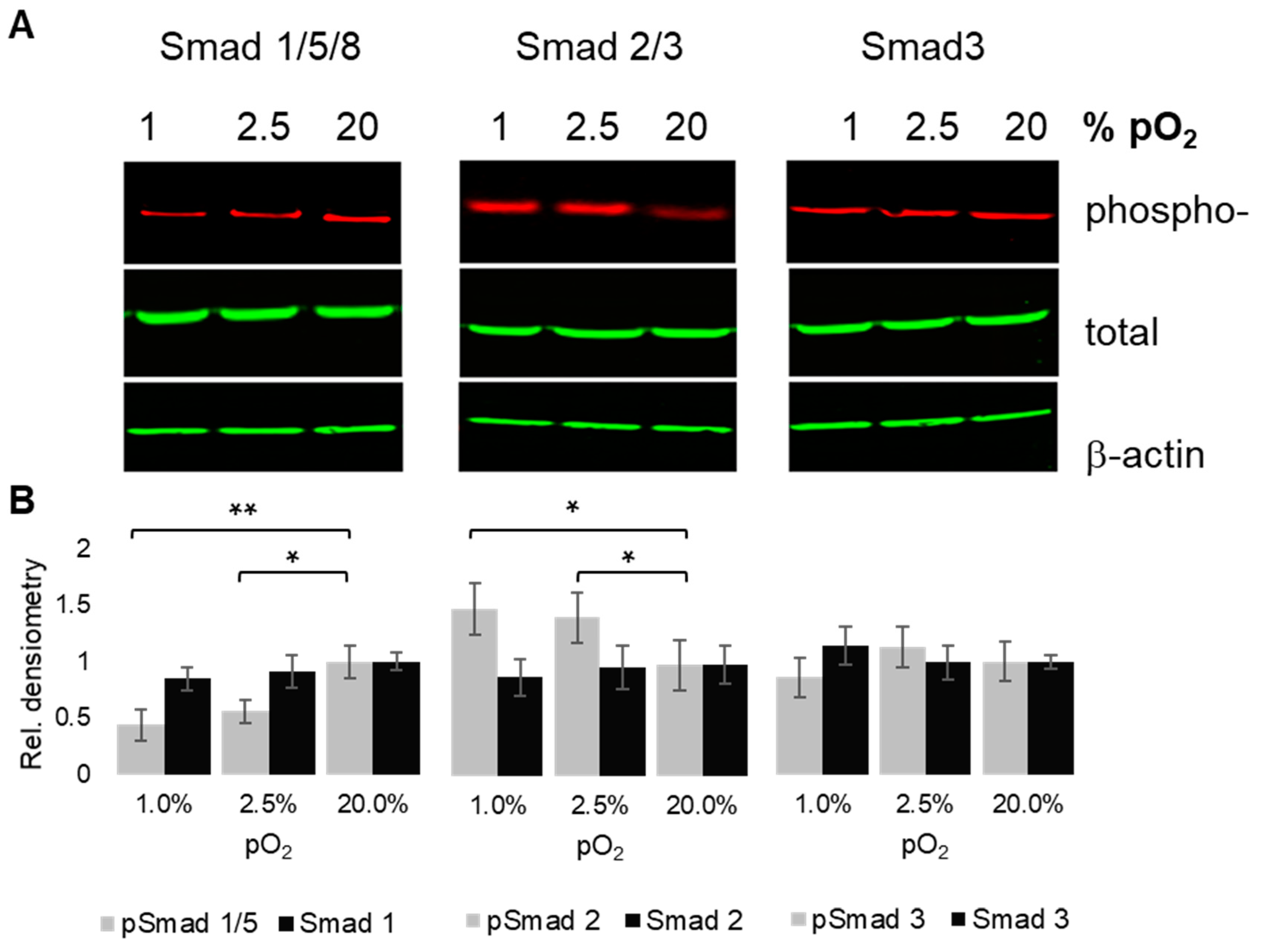 Figure 6.
Oxygenation-tension and ALK5-dependent expression of collagen type II, next to PAI-1 and selected downstream targets ID and SP. Normalized relative mRNA expression of type II collagen (COL-II, i.e.,
COL2A1
) next to that of ALK5-Smad2/3 downstream target
PAI-1
(plasminogen activator inhibitor-1). Pharmacological inhibition of ALK5 (ALK5i) suggests its involvement in
COL2A1
expression (
A
). Respective immunoblots showing protein abundances (
B
). Expression of ALK1-Smad1/5/8-target DNA-binding proteins inhibitor
ID1
and
ID3
and transcription factors
SP1
and
SP3
, respectively (
C
). Selected oxygenation levels were 2.5% and 20% pO
2
, respectively. RT-qPCR (
n
= 5), Western blot (
n
= 3); *
p
< 0.05, **
p
< 0.01, ***
p
< 0.001.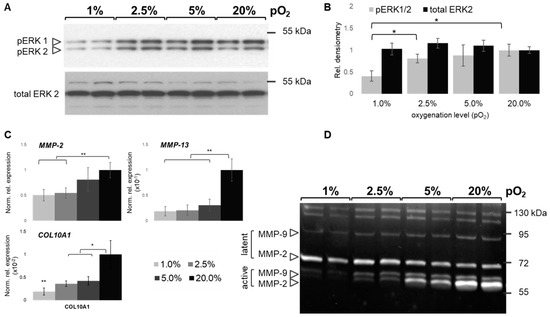 Figure 7.
Oxygen-dependent regulation of extracellular signal-regulated kinase (ERK) and matrix metalloprotease (MMP) activity. Representative Western blots showing phosphorylated active ERK (pERK1/2; p44/42, respectively) and total ERK2 as loading control from two donors (
A
) next to densiometric signal quantification (
B
). Normalized relative gene expression levels of
MMP-2
and selected hypertrophy markers
MMP-13
and COL10A1 (
C
). Gelatin zymography (
D
) shows latent MMPs and respective gelatinolytic activity of active forms, mainly derived from gelatinases MMP-2 and MMP-9. MW, kDa, on right. Oxygen percentages (pO
2
) as gray scales (light gray 1%, black, 20%). Representative images derived from pooled pellets are shown. RT-qPCR (
n
= 4), Western blot (
n
= 3); zymogram (
n
= 2); *
p
< 0.05, **
p
< 0.01.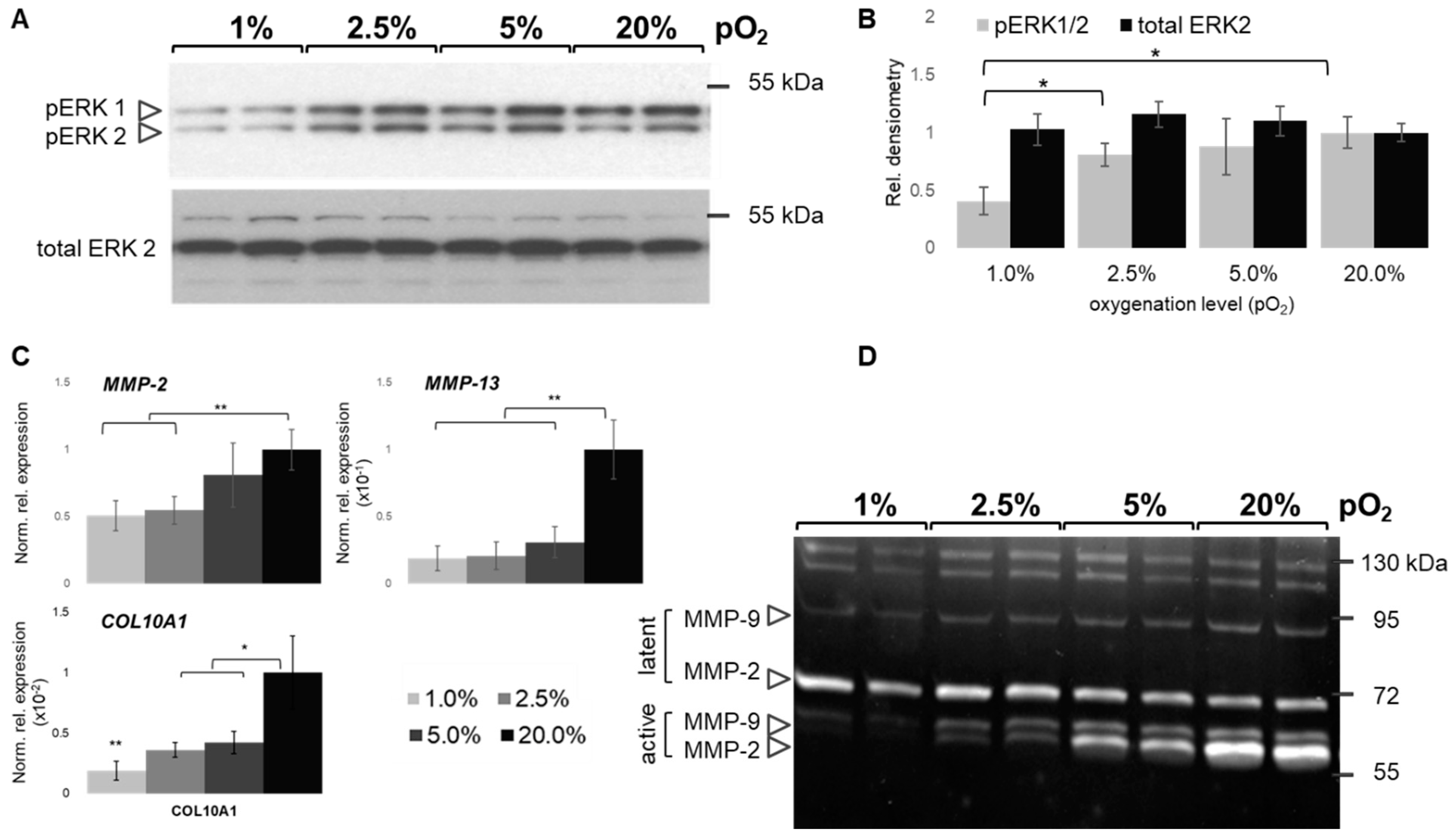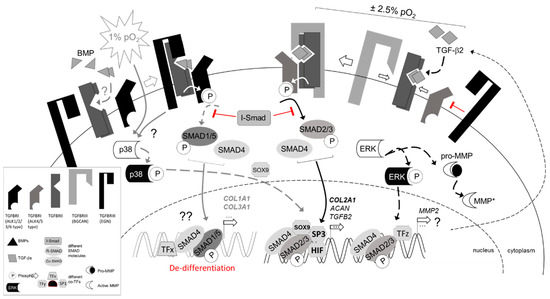 Figure 8.
Simplified schematic of proposed TGF-β signal transduction under physoxic conditions. TBSF signaling is mediated via specific heteromeric complexes of type I (activin A receptor type II-like kinases, ALKs) and type II (TGFBRII) serine/threonine kinase receptors. Canonically, TGF-β interacts with TGFBRII and ALK5, but in some cells (e.g., chondrocytes) signaling through ALK1 may also occur [
29
]. Physoxia prominently upregulates TGF-β2, while severe hypoxia was also reported to result in nuclear SOX9 accumulation upon BMP-2 stimulation in a p38 MAPK-dependent, but Smad-independent manner [
31
]. This is shown on the left in gray, as it was not studied here. BMPs commonly signal through BMPRII, ActRIIA, or ActRIIB as type II receptors and type I receptors ALK1, 2, 3, and 6. Co-receptors (TGFBRIII) betaglycan and endoglin can modulate TGFBRII/ALK5 and TGFBRII/ALK1 signaling in a cell type-dependent manner. Intracellular signaling can be divided into two main Smad-mediated signaling pathways. ALK1, 2, 3 and 6 induce phosphorylation of Smad1, 5 and 8, while ALK5 induces phosphorylation of Smad2 and Smad3, respectively. Activated R-Smads form heteromeric complexes with common Smad4 to translocate into the nucleus, where they can act as transcription factors (TF) in complexes together with gene specific co-TFs, like ID or SP molecules, to regulate expression of specific target genes. The ratio of these co-TFs may fine-tune gene expression of, for example, collagen molecules. Physoxia stimulates TGF-β2 and its co-receptors BGCAN, while suppressing EGN. To this end, physoxia seems to stimulate ALK5-mediated signaling pathways, shown on the right. Putative involvement of ERK1/2 and MMP-2 is indicated. Arrows (black) indicate stimulation (gray, putative), while blocks (red) indicate inhibitory effects. Please note: To simply the cartoon, only ALK1 and ALK5 were used to represent both pathways, type II and type III receptors are not illustrated as dimers, and soluble co-receptors, reported in other cells, were excluded. [
31
]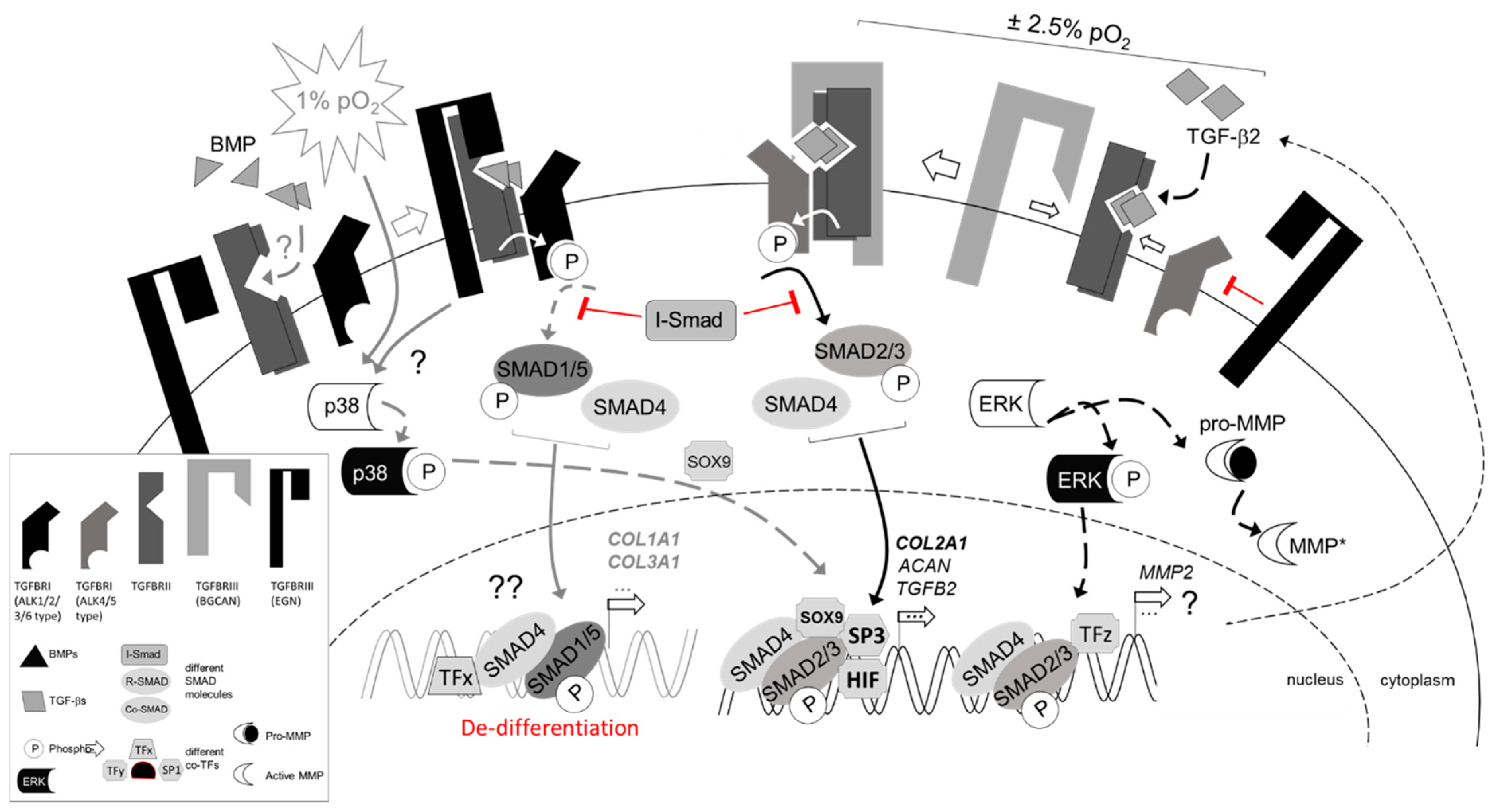 © 2019 by the authors. Licensee MDPI, Basel, Switzerland. This article is an open access article distributed under the terms and conditions of the Creative Commons Attribution (CC BY) license (http://creativecommons.org/licenses/by/4.0/).