Open Access This article is
freely available
re-usable
Article
Mechanistic Insights in NeuroD Potentiation of Mineralocorticoid Receptor Signaling
1
Department of Medicine, Division of Endocrinology, Leiden University Medical Center, 2333 ZA Leiden, The Netherlands
2
Department of Cognitive Neuroscience, Radboudumc, 6525 GA Nijmegen, The Netherlands
3
Donders Institute for Brain, Cognition and Behaviour, Radboud University, 6525 EN Nijmegen, The Netherlands
4
Department of Translational Neuroscience, UMC Utrecht Brain Center, University Medical Center Utrecht, 3584 CG Utrecht, The Netherlands
*
Author to whom correspondence should be addressed.
Received: 1 March 2019 / Accepted: 25 March 2019 / Published: 29 March 2019
Abstract
:
Mineralocorticoid receptor (MR)-mediated signaling in the brain has been suggested as a protective factor in the development of psychopathology, in particular mood disorders. We recently identified genomic loci at which either MR or the closely related glucocorticoid receptor (GR) binds selectively, and found members of the NeuroD transcription factor family to be specifically associated with MR-bound DNA in the rat hippocampus. We show here using forebrain-specific MR knockout mice that GR binding to MR/GR joint target loci is not affected in any major way in the absence of MR. Neurod2 binding was also independent of MR binding. Moreover, functional comparison with MyoD family members indicates that it is the chromatin remodeling aspect of NeuroD, rather than its direct stimulation of transcription, that is responsible for potentiation of MR-mediated transcription. These findings suggest that NeuroD acts in a permissive way to enhance MR-mediated transcription, and they argue against competition for DNA binding as a mechanism of MR- over GR-specific binding.
Keywords:
basic-helix-loop-helix; brain; coactivator; glucocorticoids; hippocampus; mineralocorticoid receptor knockout; stress; transcription biology
Author Contributions
Conceptualization, L.T.C.M.v.W. and O.C.M.; Formal analysis, L.T.C.M.v.W.; Funding acquisition, B.R. and O.C.M.; Investigation, L.T.C.M.v.W., J.C.B., H.C.M.S., I.M.M., T.P., and R.D.; Project administration, L.T.C.M.v.W. and R.A.S.; Resources, R.A.S.; Supervision, L.T.C.M.v.W. and O.C.M.; Validation, H.C.M.S.; Visualization, L.T.C.M.v.W.; Writing—original draft, L.T.C.M.v.W. and O.C.M.; Writing—review and editing, J.C.B., B.R. and R.A.S.
Funding
This research was supported by the Netherlands Organisation for Scientific Research (NWO) ALW, grant number 823.02.002.
Acknowledgments
We thank Trea Streefland for technical assistance and Stephen Tapscott for providing plasmids.
Conflicts of Interest
The authors declare no conflict of interest. The funder had no role in the design of the study; in the collection, analyses, or interpretation of data; in the writing of the manuscript; or in the decision to publish the results.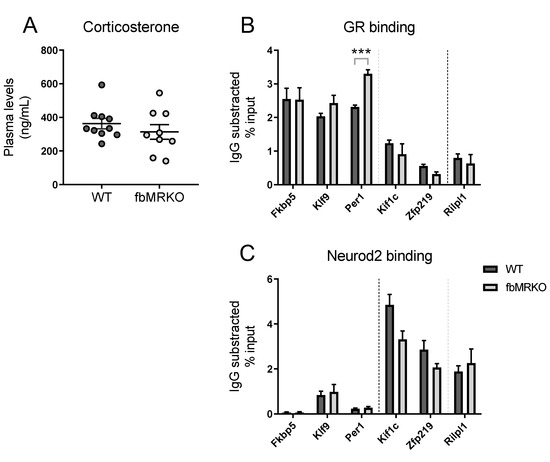 Figure 1.
(
A
) Corticosterone levels of wild-type (WT) and forebrain-specific mineralocorticoid receptor (MR) knockout (fbMRKO) mice. In these mice chromatin immunoprecipitation coupled with quantitative polymerase chain reaction (ChIP-qPCR) measurements for (
B
) glucocorticoid receptor (GR) and (
C
) Neurod2 were performed. For each gene, the corresponding immunoglobulin G (IgG) background signal is subtracted from detected binding levels, expressed as the percentage of immunoprecipitated DNA. The binding sites near
Fkbp5
,
Klf9
,
Per1
,
Kif1c
and
Zfp219
are joint MR/GR loci, while
Rilpl1
has been identified as an MR-specific target [
9
] (separated by the right dotted line). Genes are further sorted based on the absence (
Fkbp5
,
Klf9
,
Per1
) or presence (
Kif1c
,
Zfp219
,
Rilpl1
) of a NeuroD binding sequence near the MR binding site (separated by the left dotted line). ***
p
< 0.001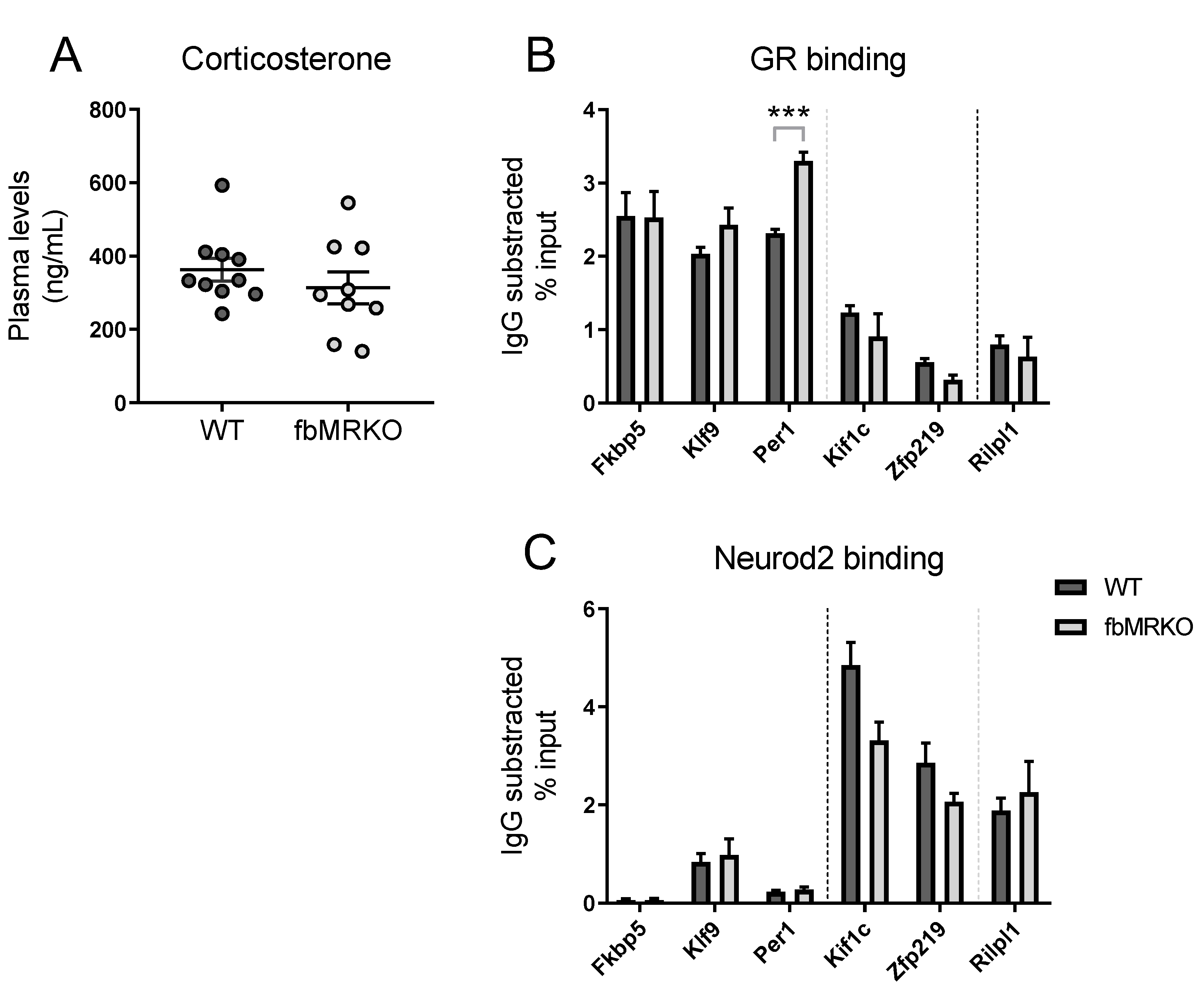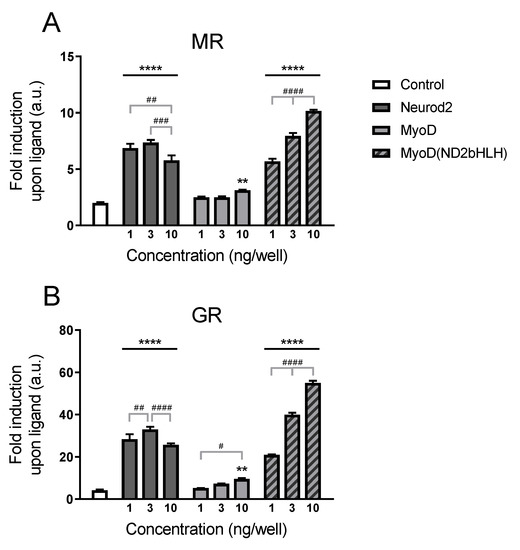 Figure 2.
Specificity of NeuroD coactivation at the previously identified binding motif (CAGATG) for (
A)
MR and (
B)
GR. HEK293 cells were transfected with GRE-At_GA luciferase construct, MR or GR (10 ng/well), various amounts of Neurod2, MyoD or the MyoD/Neurod2 chimera (MyoD(ND2bHLH)) (1–3–10 ng/well), and stimulated with corticosterone (10
−7
M). Data are presented as luciferase activity fold induction upon corticosterone treatment. a.u. = arbitrary unit; **
p
< 0.01, ****
p
< 0.0001 compared to control condition; #
p
< 0.05, ##
p
< 0.01, ###
p
< 0.001, ####
p
< 0.0001 for within group comparisons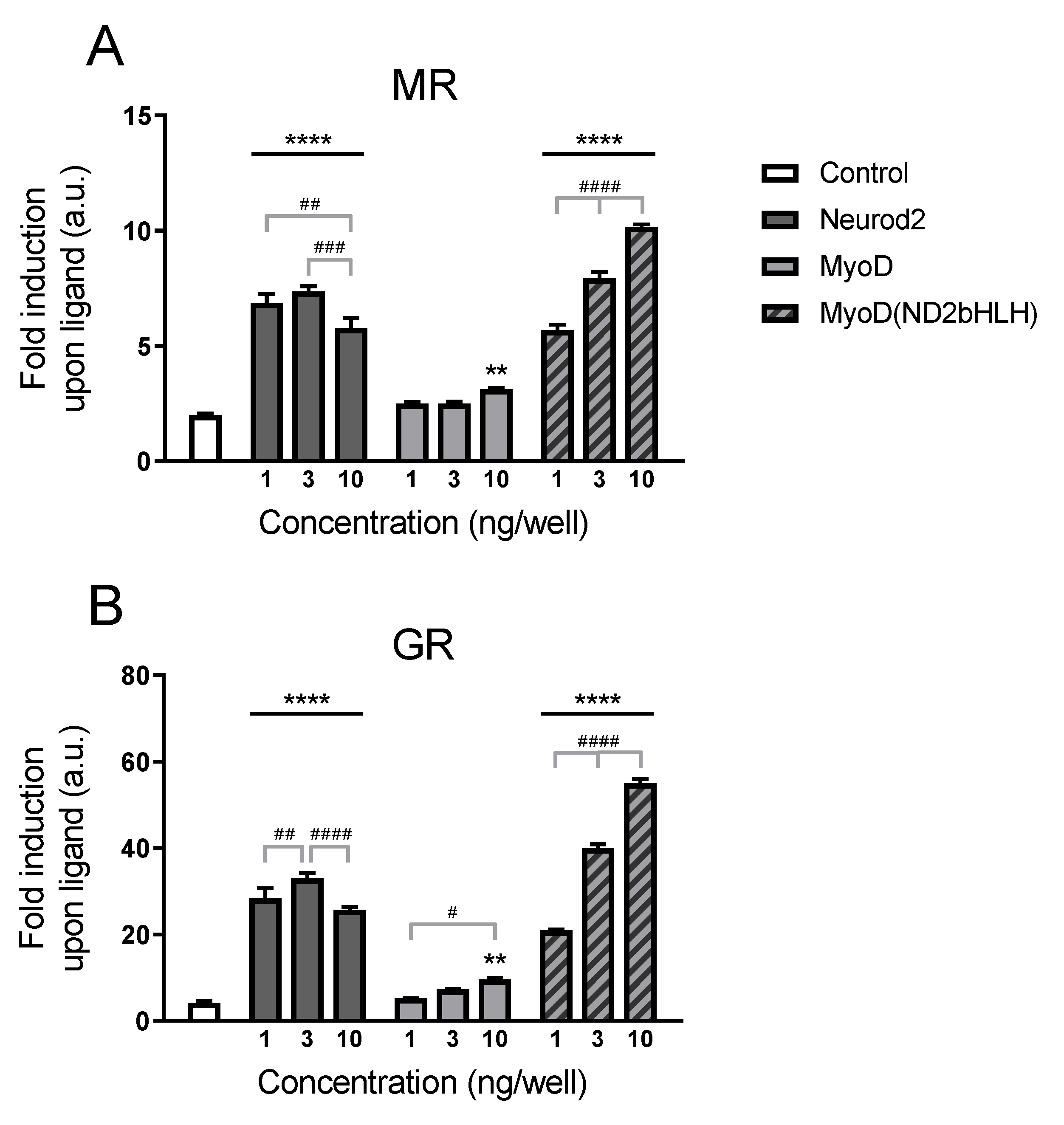 Figure 3.
Modulation by NeuroD and MyoD variants at the shared binding motif (CAGCTG) for (
A
) MR- and (
B)
GR-mediated transcription. HEK293 cells were transfected with GRE-At_GC luciferase construct, MR or GR (10 ng/well), and Neurod2, MyoD, MyoDΔN or Myf5 (10 ng/well), and stimulated with corticosterone (10
−7
M). Luciferase activity of nonstimulated control cells was normalized to 1. Numbers represent fold induction upon corticosterone treatment. a.u. = arbitrary unit; *
p
< 0.05, **
p
< 0.01, ****
p
< 0.0001 compared to control condition; ####
p
< 0.0001 compared to Neurod2 condition; &&
p
< 0.01 compared to MyoD condition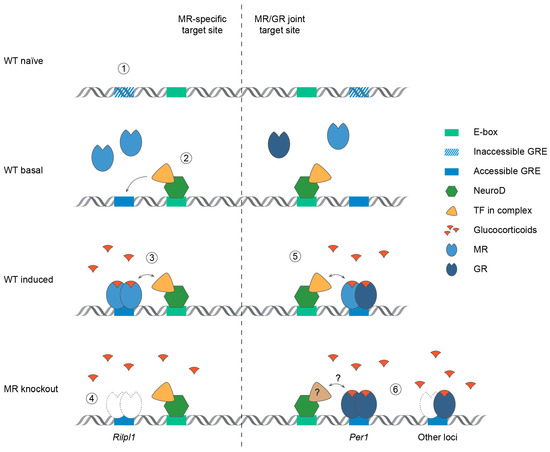 Figure 4.
Summary of the interaction between hippocampal MR and NeuroD. Glucocorticoid response elements (GREs) previously inaccessible (
1
) could be rendered accessible by chromatin remodeling (one-way arrow) induced by NeuroD (
2
) binding at a nearby E-box (the NeuroD-specific sequence CAGATG). Upon ligand availability MR can bind an accessible GRE (
3
) in order to modulate transcriptional activity of its target genes. This interaction between NeuroD and MR (two-way arrow) is likely mediated via additional TF(s) in the transcriptional complex [
9
]. In forebrain MR knockout mice (
4
) GR is not compensating for the lack of MR binding at the MR-specific
Rilpl1
site. Also at several MR/GR joint target sites (
5
) NeuroD occupancy is observed in the vicinity. Of note, we cannot discriminate between the binding of homo- and heterodimers in the present study. In absence of MR (
6
) GR binding is increased at the
Per1
promoter, while for the other tested loci GR binding levels are unaltered. For sites that become GR-specific due to MR knockout, interactions with NeuroD remain to be explored, and other TF(s) might be involved (
?
). MR = mineralocorticoid receptor, GR = glucocorticoid receptor, GRE = glucocorticoid response element, TF = transcription factor, WT = wild type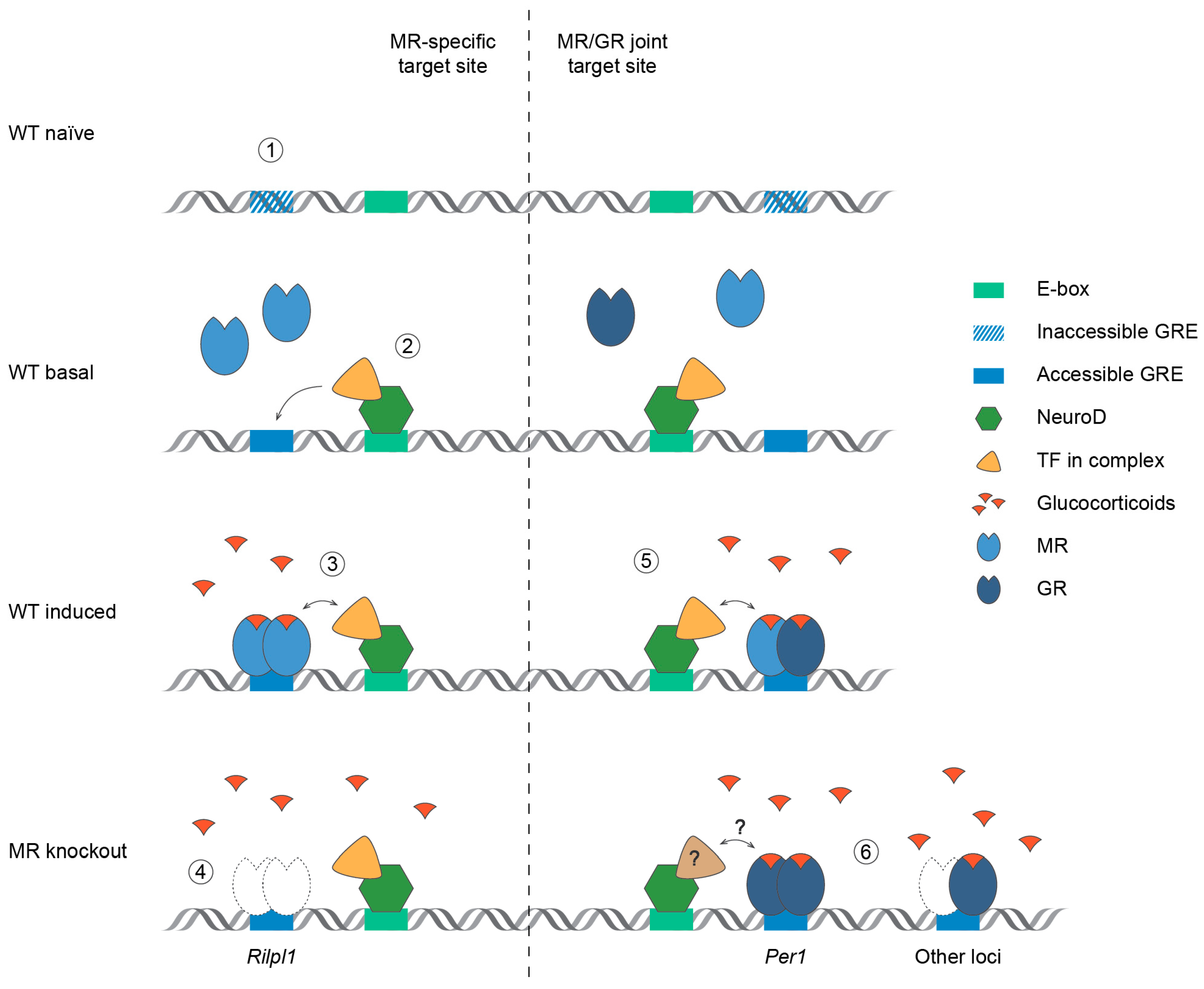 Table 1. Primer sequences used for qPCR on mouse hippocampal ChIP samples. Primers target a mineralocorticoid receptor binding site near the listed gene.
Gene
Full Name
Forward & Reverse (5′ > 3′)
Product Length (bp)

Fkbp5

FK506 binding protein 5
TGCCAGCCACATTCAGAACA
TCAAGTGAGTCTGGTCACTGC
122

Kif1c

Kinesin family member 1C
GCTGGGGTGTACACAGATGG
TGACTAGCCAGAGCAGTATGTC
156

Klf9

Kruppel-like factor 9
ATCTAGGGCAGTTTGTTCAA
GGCAGGTTCATCTGAGGACA
96

Per1

Period circadian clock 1
GGAGGCGCCAAGGCTGAGTG
CGGCCAGCGCACTAGGGAAC
73

Rilpl1

Rab interacting lysosomal protein-like 1
CAGGCAGATGCCAGGCT
CCCATGCCTGTTCCTCTAGT
106

Zfp219

Zinc finger protein 219
AGTCCATCACATTCTGTTGCTTTC
TAGTCAGCTATGACCATGCAGT
131

© 2019 by the authors. Licensee MDPI, Basel, Switzerland. This article is an open access article distributed under the terms and conditions of the Creative Commons Attribution (CC BY) license (http://creativecommons.org/licenses/by/4.0/).