Open Access This article is
freely available
re-usable
Review
Use of Multifactorial Treatments to Address the Challenge of Translating Experimental Myocardial Infarct Reduction Strategies
1
Burdock Group, 859 Outer Road, Orlando, FL 32814, USA
2
Department of Physiology, Brody School of Medicine, 600 Moye Blvd, East Carolina University, Greenville, NC 27834, USA
†
These authors contributed equally to this work.

Received: 6 February 2019 / Accepted: 15 March 2019 / Published: 22 March 2019
Abstract
:
Myocardial tissue damage that occurs during an ischemic event leads to a spiraling deterioration of cardiac muscle structural and functional integrity. Reperfusion is the only known efficacious strategy and is the most commonly used treatment to reduce injury and prevent remodeling. However, timing is critical, and the procedure is not always feasible for a variety of reasons. The complex molecular basis for cardioprotection has been studied for decades but formulation of a viable therapeutic that can significantly attenuate myocardial injury remains elusive. In this review, we address barriers to the development of a fruitful approach that will substantially improve the prognosis of those suffering from this widespread and largely unmitigated disease. Furthermore, we proffer that ephrinA1, a candidate molecule that satisfies many of the important criteria discussed, possesses robust potential to overcome these hurdles and thus offers protection that surpasses the limitations currently observed.
Keywords:
myocardial infarction; cardioprotection; therapeutic strategies; ephrinA1; ischemia; reperfusion
2. Pathophysiology of MI
When coronary occlusion occurs, cardiac myocytes are starved of oxygen. These terminally differentiated cardiomyocytes become ischemic and quickly begin to undergo necrosis, apoptosis [
39
,
40
,
41
], and/or autophagy [
41
,
42
,
43
,
44
]. The damage from an MI is rapid, with necrosis occurring within the first 40 min of blockage [
42
]. Despite the controversy surrounding the potential for cardiac repair using endogenous or exogenous progenitor cells, significant obstacles regarding host integration, clinical feasibility, and functional outcomes must be overcome. As such, once the necrotic tissue is removed, fibroblasts deposit a non-contractile matrix of collagen, leading to scar formation. The scar tissue is rigid and, combined with increased fibrosis in the viable portions of the myocardium, impairs both the contractility and relaxation of the heart muscle, i.e., impaired diastolic filling and systolic ejection [
41
,
45
,
46
,
47
,
48
].
To make matters worse, the systemic physiological response to ischemic stress causes further damage. The immune system responds immediately to ischemia in the heart with neutrophils infiltrating the oxygen-deprived tissue. Shortly after neutrophils have migrated to the ischemic zone, leukocytes (mostly macrophages) arrive and begin to facilitate digestion of necrotic cells [
39
,
41
,
46
,
49
,
50
,
51
]. While the immune system is critical for tissue repair in terms of remodeling to promote revascularization and scar formation, the neutrophils also release reactive oxygen species (ROS), cytokines and chemokines, and proteolytic enzymes, which cause further damage to surrounding cells and the intercellular matrix. Ultimately, this systemic response to ischemia backfires and causes a larger infarct zone [
41
,
42
,
45
,
46
,
47
,
48
].
The fibrotic scar that replaces lost contractile myocardium following an ischemic event undergoes continuous remodeling. The extracellular matrix (ECM) degrades in response to increased matrix metalloproteinase (MMP) activity and the fragments generated play a role in propagation of the inflammatory response as well as the deposition of replacement scar tissue, which itself evolves from the early fibrin-based matrix to a collagen-based mature scar [
52
]. The dynamic changes in composition of the ECM that occur in response to the polarization of immune cell subsets from the pro-inflammatory to the resolution phase is also complex, as is the sequelae of fibroblast activation and scar formation, both of which remain under intensive investigation [
53
,
54
,
55
,
56
,
57
,
58
]. Of note, the juncture between the non-contractile scar and contractile viable myocardium creates strain, which, in animal models with large MIs, is predisposed to rupture. The beat-to-beat tension placed on this region is not often considered but requires special attention [
59
]. The scarred heart is subject to increased workload to sustain adequate cardiac output. Under increased stress, the healthy, non-proliferative cardiac myocytes also begin to hypertrophy leading to LV remodeling and subsequent chamber dilation. The hypertrophied cardiac myocytes further exacerbate the already strained heart, and this, combined with increased interstitial fibrosis, results in eventual inability for the contractile apparatus of the heart to contract strongly enough to maintain sufficient circulatory blood flow (i.e., heart failure) [
41
,
60
,
61
,
62
,
63
]. Without sufficient blood flow, systemic oxygen deprivation leads to organ failure and eventual death. Thus, if the initial infarct injury can be reduced, the downward spiral to heart failure and mortality may be at least partially averted. Additionally, reductions in the initial infarct injury result in increased preservation of 3D tissue structure, which is beneficial for surgical reconstruction [
64
].
3. Ephrin A1 Ligand Intramyocardial Injection is Cardioprotective
4. Potential mechanisms for Ephrin A1-mediated cardioprotection
5. Conclusions
Despite the massive need and corresponding effort exerted, finding a practical and efficacious agent for cardioprotection has proven to be an elusive task. In 2010, the National Institutes of Health established a "consortium for preclinical assessment of cardioprotective therapies", otherwise known as CAESAR to address the longstanding futility surrounding cardioprotection. The rationale was to establish an infrastructure that would increase the rigor of scientific research such that proposed cardioprotective molecules would likely succeed in efficacy [
104
]. However, despite this conceptually valuable paradigm shift, no overtly effective, clinically relevant, cardioprotective agents have emerged.
Numerous factors likely contribute to the lack of progress with regards to rehabilitating damaged myocardium. One factor may be that the treatment needs to be multi-faceted [
25
,
105
]. The majority of known cardioprotective factors only influence one or two aspects of tissue injury and recovery [
30
,
106
,
107
]. One study examined the effect of applying a combination of therapies to the outcome on infarct size. This study found that using a combination of three major MI treatments showed a 55% decrease in infarct size, far exceeding benefits typically obtained by a single therapeutic intervention [
108
]. This combination treatment strategy is similar to the benefit observed with a single EA1-Fc treatment. Acute treatment of MI with EA1-Fc ligand has similar profound effects in preclinical studies. An average reduction of 50% infarct size comes from a single EA1-Fc treatment alone at the time of coronary artery ligation and complete functional recovery in reperfused myocardium [
41
,
42
] (
Figure 3
).
The robust cardioprotection afforded by EA1-Fc treatment is in the early stages of research with respect to mechanism and duration of protection. Much work in the discovery and development phase of drug development remains before pre-clinical studies can begin. Of particular note, there are outstanding questions regarding the route of administration, timing, and dose of the EA1-Fc treatment. These issues must be investigated further before EA1-Fc can advance to pre-clinical pharmacological research. The method/substance applied must coordinately influence the cascades that promote protection and/or reduce injury at the cellular and molecular level of most, if not all, cell types involved. Given the controversy and multidimensional nature of questions surrounding the parameters of an optimal intervention, many unknowns still remain [
25
,
29
]. Additionally, there is still debate throughout the cardiac research community regarding what magnitude of difference is needed to establish efficacy and what endpoints should be used for this measure [
109
]. The traditional measurement of infarct size may not be the best indicator for extrapolating therapeutic potential due to differences in body size and heart rate. Instead, functional outcomes normalized to an uninjured control may be a better metric. Another hurdle that EA1-Fc must overcome is discovery of the mechanism by which it confers cardioprotection. It may be that EA1-Fc simply amplifies, inhibits, or maintains the normal activity of EphA receptors. The possibility also exists, though, that the addition of exogenous EA1-Fc ligand during the stress of I/R conveys its positive effects through an alternative mechanism. Ultimately, uncovering the mechanism of EA1-Fc-mediated cardioprotection would allow great insight into what processes can be targeted for future development and individualized MI treatments to optimize clinical outcomes.
6. Patents
The work references Patents 8,580,739 issued 11/12/13 and 9,974,831 issued 5/22/18.
Funding
The research referred to in this review was supported by 1RH15HL124483-01A1, as well as the North Carolina Biotechnology Center, and several intramural awards including the Brody Brother's Endowment, Brody Seed Pilot Grant Program, East Carolina Diabetes and Obesity Pilot Grant Program, and the ECU Undergraduate Research and Creative Achievement Award Program.
Acknowledgments
The authors would like to acknowledge the Physiology and Comparative Medicine Departments as well as the East Carolina Diabetes and Obesity Institute.
Conflicts of Interest
The authors declare no conflict of interest.
Abbreviations
| | |
| --- | --- |
| CVD | Cardiovascular Disease |
| MI | Myocardial Infarction |
| EA1 | EphrinA1 |
| ATP | Adenosine Triphosphate |
| ROS | Reactive Oxygen Species |
| ECM | Extracellular Matrix |
| EF | Ejection Fraction |
| FS | Fractional Shortening |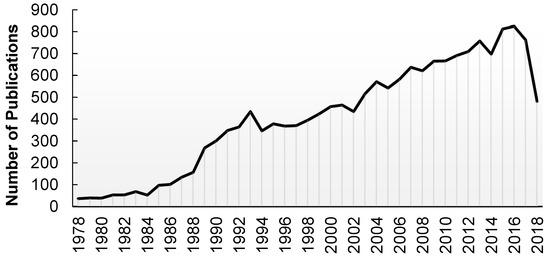 Figure 1.
Literature search on Pubmed for the terms related to cardiac ischemia tissue injury show 16,752 publications since 1978. Search details: ("heart"[MeSH Terms] OR "heart"[All Fields] OR "cardiac"[All Fields]) OR ("ischaemia"[All Fields] OR "ischemia"[MeSH Terms] OR "ischemia"[All Fields]) OR ("tissues"[MeSH Terms] OR "tissues"[All Fields] OR "tissue"[All Fields]) OR ("wounds and injuries"[MeSH Terms] OR ("wounds"[All Fields] AND "injuries"[All Fields]) OR "wounds and injuries"[All Fields] OR "injury"[All Fields]) AND ("1978/01/01"[PDAT]: "2018/11/29"[PDAT]):
https://www.ncbi.nlm.nih.gov/pubmed/
; site visited on 29 November 2018.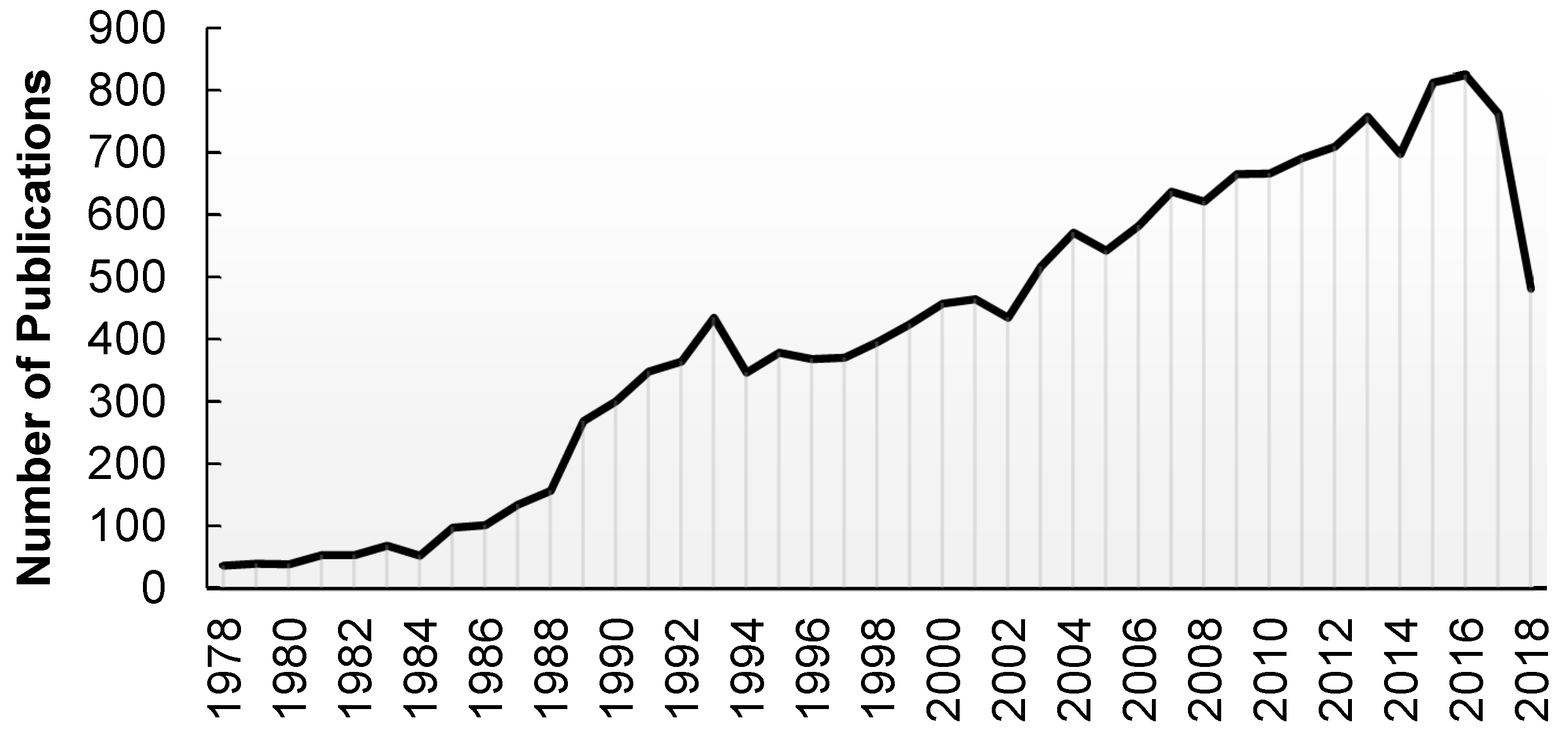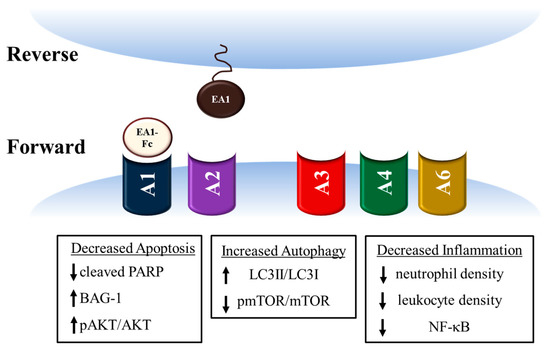 Figure 2. Potential Mechanisms of EA1-Fc Mediated Cardioprotection. Treatment with Ephrin A1-Fc (EA1-Fc) in a mouse model of myocardial infarction (MI) was shown to alter expression of five Ephrin receptors (EphA1-A4 and EphA6) as well as endogenous EA1 ligand when compared to the vehicle treated MI group. Canonical ephrin signaling regulates a wide-variety of physiological processes. The cardioprotective role of EA1-Fc may be attributed to ephrin signaling. In support of this, in the EA1-Fc MI group, indicators of decreased apoptosis, increased autophagy, and decreased inflammation were observed. The possibility also exists that EA1-Fc injection is cardioprotective through a mechanism that is not normally attributed to ephrin signaling.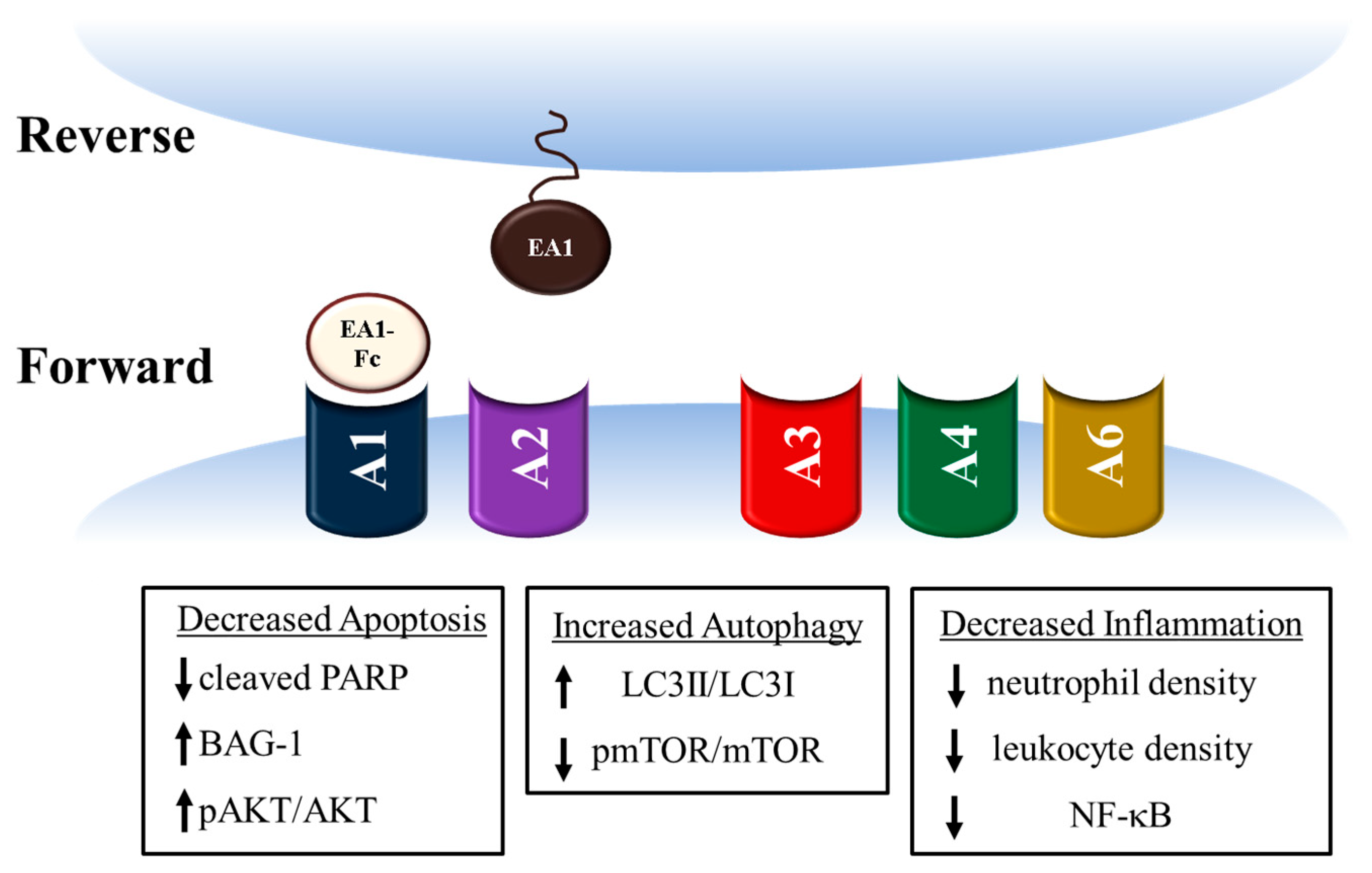 Figure 3.
Comparison of pharmacological cardioprotective strategies' efficacy to reduce infarct size due to ischemia/reperfusion injury [
106
].


Table 1.
Ischemic heart disease related deaths in select demographics [
5
] *.
| Grouping | % of All Deaths |
| --- | --- |
| Global | 15.96266586 |
| Low SDI | 8.554976163 |
| Middle SDI | 16.63194299 |
| High SDI | 16.59093766 |
| Mexico | 14.2476225 |
| United States | 18.65732133 |
| Southeast Asia | 13.05553801 |
| South Asia | 15.47558271 |
| Central Asia | 33.26288153 |
| Indonesia | 14.29116844 |
| Oceania | 13.89558582 |
| Australasia | 16.54619353 |
| Latin America and Caribbean | 14.05392127 |
| Tropical Latin America | 13.07831696 |
| Southern Latin America | 14.71951694 |
| Eastern Europe | 34.96210128 |
| Central Europe | 26.35190592 |
| Western Europe | 15.93160107 |
| United Kingdom | 14.30616833 |
| Sweden | 19.92329938 |
| Central Sub-Saharan Africa | 5.589027664 |
| Southern Sub-Saharan Africa | 6.811094508 |
| Sub-Saharan Africa | 4.942820494 |
| North Africa and Middle East | 24.78925909 |
| Western Sub-Saharan Africa | 4.443263763 |
| Eastern Sub-Saharan Africa | 4.873600872 |
* Includes males and females of all ages. Shown as percent (%) of total deaths in group. SDI = socio demographic index.

© 2019 by the authors. Licensee MDPI, Basel, Switzerland. This article is an open access article distributed under the terms and conditions of the Creative Commons Attribution (CC BY) license (http://creativecommons.org/licenses/by/4.0/).