Proteome and Phosphoproteome Analysis in TNF Long Term-Exposed Primary Human Monocytes
1
Institute of Clinical Chemistry, Hannover Medical School, 30625 Hannover, Germany
2
Institute of Toxicology, Hannover Medical School, 30625 Hannover, Germany
3
Core Unit Proteomics, Hannover Medical School, 30625 Hannover, Germany
*
Author to whom correspondence should be addressed.
†
These authors contributed equally to this work.
‡
These authors contributed equally to this work.
Received: 11 February 2019 / Revised: 27 February 2019 / Accepted: 6 March 2019 / Published: 12 March 2019
Abstract
To better understand the inflammation-associated mechanisms modulating and terminating tumor necrosis factor (TNF-)induced signal transduction and the development of TNF tolerance, we analyzed both the proteome and the phosphoproteome in TNF long term-incubated (i.e., 48 h) primary human monocytes using liquid chromatography-mass spectrometry. Our analyses revealed the presence of a defined set of proteins characterized by reproducible changes in expression and phosphorylation patterns in long term TNF-treated samples. In total, 148 proteins and 569 phosphopeptides were significantly regulated (103 proteins increased, 45 proteins decreased; 377 peptides with increased and 192 peptides with decreased phosphorylation). A variety of these proteins are associated with the non-canonical nuclear factor κB (NF-κB) pathway (nuclear factor κB (NFKB) 2, v-rel reticuloendotheliosis viral oncogene homolog (REL) B, indolamin-2,3-dioxygenase (IDO), kynureninase (KYNU)) or involved in the negative regulation of the canonical NF-κB system. Within the phosphopeptides, binding motifs for specific kinases were identified. Glycogen synthase kinase (GSK) 3 proved to be a promising candidate, since it targets NF-κB inhibiting factors, such as CCAAT/enhancer binding protein (C/EBP) β. Our experiments demonstrate that both proteome and phosphoproteome analysis can be effectively applied to study protein/phosphorylation patterns of primary monocytes. These results provide new regulatory candidates and evidence for a complex network of specific but synergistically acting/cooperating mechanisms enabling the affected cells to resist sustained TNF exposure and resulting in the resolution of inflammation.
View Full-Text
►

▼

Figures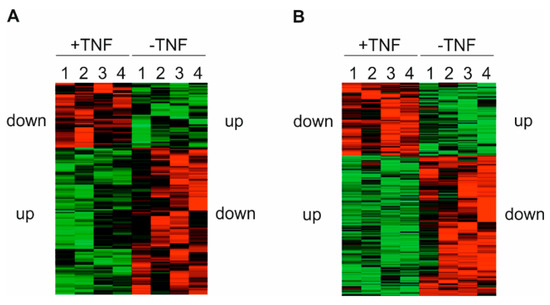 Figure 1
This is an open access article distributed under the
Creative Commons Attribution License
which permits unrestricted use, distribution, and reproduction in any medium, provided the original work is properly cited (CC BY 4.0).

Share & Cite This Article
MDPI and ACS Style
Welz, B.; Bikker, R.; Junemann, J.; Christmann, M.; Neumann, K.; Weber, M.; Hoffmeister, L.; Preuß, K.; Pich, A.; Huber, R.; Brand, K. Proteome and Phosphoproteome Analysis in TNF Long Term-Exposed Primary Human Monocytes. Int. J. Mol. Sci. 2019, 20, 1241.
Note that from the first issue of 2016, MDPI journals use article numbers instead of page numbers. See further details here.
Related Articles
Comments
[Return to top]