Combining Mechanochemistry and Spray Congealing for New Praziquantel Pediatric Formulations in Schistosomiasis Treatment
1
Department of Pharmacy and BioTechnology, University of Bologna, Via S. Donato 19/2, 40127 Bologna, Italy
2
Department of Chemical and Pharmaceutical Sciences, University of Trieste, P.le Europa 1, 34127 Trieste, Italy
3
Department of Pharmaceutical and Pharmacological Sciences, University of Padova, via Marzolo 5, 35131 Padova, Italy
4
Helminth Drug Development Unit, Department of Medical Parasitology and Infection Biology, Swiss Tropical and Public Health Institute, Socinstr.57, CH-4051 Basel, Switzerland
5
Universität Basel, Petersplatz 1, P.O. Box, CH-4001 Basel, Switzerland
*
Authors to whom correspondence should be addressed.
Received: 18 February 2019 / Revised: 7 March 2019 / Accepted: 8 March 2019 / Published: 12 March 2019
Abstract
Praziquantel (PZQ) is the first line drug for the treatment of schistosome infections and is included in the WHO Model List of Essential Medicines for Children. In this study, the association of mechanochemical activation (MA) and the spray congealing (SC) technology was evaluated for developing a child-friendly PZQ dosage form, with better product handling and biopharmaceutical properties, compared to MA materials. A 1:1 by wt PZQ—Povidone coground—was prepared in a vibrational mill under cryogenic conditions, for favoring amorphization. PZQ was neat ground to obtain its polymorphic form (Form B), which has an improved solubility and bioactivity. Then, activated PZQ powders were loaded into microparticles (MPs) by the SC technology, using the self-emulsifying agent Gelucire
®
50/13 as a carrier. Both, the activated powders and the corresponding loaded MPs were characterized for morphology, wettability, solubility, dissolution behavior, drug content, and drug solid state (Hot Stage Microscopy (HSM), Differential Scanning Calorimetry (DSC), X-Ray Powder Diffraction Studies (PXRD), and FT-IR). Samples were also in vitro tested for a comparison with PZQ against
Schistosoma mansoni
newly transformed schistosomula (NTS) and adults. MPs containing both MA systems showed a further increase of biopharmaceutical properties, compared to the milled powders, while maintaining PZQ bioactivity. MPs containing PZQ Form B represented the most promising product for designing a new PZQ formulation.
View Full-Text
►

▼

Figures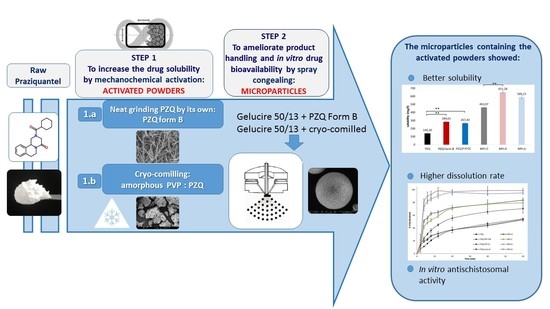 Graphical abstract
This is an open access article distributed under the
Creative Commons Attribution License
which permits unrestricted use, distribution, and reproduction in any medium, provided the original work is properly cited (CC BY 4.0).

Share & Cite This Article
MDPI and ACS Style
Albertini, B.; Perissutti, B.; Bertoni, S.; Zanolla, D.; Franceschinis, E.; Voinovich, D.; Lombardo, F.; Keiser, J.; Passerini, N. Combining Mechanochemistry and Spray Congealing for New Praziquantel Pediatric Formulations in Schistosomiasis Treatment. Int. J. Mol. Sci. 2019, 20, 1233.
Note that from the first issue of 2016, MDPI journals use article numbers instead of page numbers. See further details here.
Related Articles
Comments
[Return to top]