Open Access This article is
freely available
re-usable
Review
Relevance of Oxygen Concentration in Stem Cell Culture for Regenerative Medicine
1
Freshage Research Group- Department of Physiology, Faculty of Medicine, University of Valencia, Avenida Blasco Ibañez 15, CIBERFES, INCLIVA, 46010 Valencia, Spain
2
Freshage Research Group- Department of Physiotherapy, Faculty of Physiotherapy, University of Valencia, CIBERFES, INCLIVA, 46010 Valencia, Spain
3
Master's Program in Oral Surgery and Implant Dentistry, Faculty of Medicine and Dentistry, University of Valencia, 46010 Valencia, Spain
*
Author to whom correspondence should be addressed.
Received: 11 February 2019 / Accepted: 4 March 2019 / Published: 8 March 2019
Abstract
:
The key hallmark of stem cells is their ability to self-renew while keeping a differentiation potential. Intrinsic and extrinsic cell factors may contribute to a decline in these stem cell properties, and this is of the most importance when culturing them. One of these factors is oxygen concentration, which has been closely linked to the maintenance of stemness. The widely used environmental 21% O2 concentration represents a hyperoxic non-physiological condition, which can impair stem cell behaviour by many mechanisms. The goal of this review is to understand these mechanisms underlying the oxygen signalling pathways and their negatively-associated consequences. This may provide a rationale for culturing stem cells under physiological oxygen concentration for stem cell therapy success, in the field of tissue engineering and regenerative medicine.
Keywords:
aging; redox; physiological oxygen concentration; environmental oxygen concentration; physioxia; senescence
Funding
This research was funded by the following grants: Instituto de Salud Carlos III and co-funded by FEDER (Grant No. PIE15/00013), SAF2016-75508-R from the Spanish Ministry of Education and Science (MEC), CB16/10/00435 (CIBERFES), and EU Funded ADVANTAGE-724099 Join Action (HP-JA) 3rd EU Health Programme to J.V., PCIN-2017-117 of the Ministry of Economy and Competitiveness and the EU Joint Programming Initiative 'A Healthy Diet for a Healthy Life' (JPI HDHL INTIMIC-085) to C.B. and GV/2018//067 to M.I. In addition, C.M.-B. is recipient of a postdoctoral grant financed by Generalitat Valenciana (APOSTD/2018/230) and FSE (European Social Fund).
Conflicts of Interest
The authors declare no conflict of interest. The funders had no role in the design of the study; in the collection, analyses, or interpretation of data; in the writing of the manuscript, or in the decision to publish the results.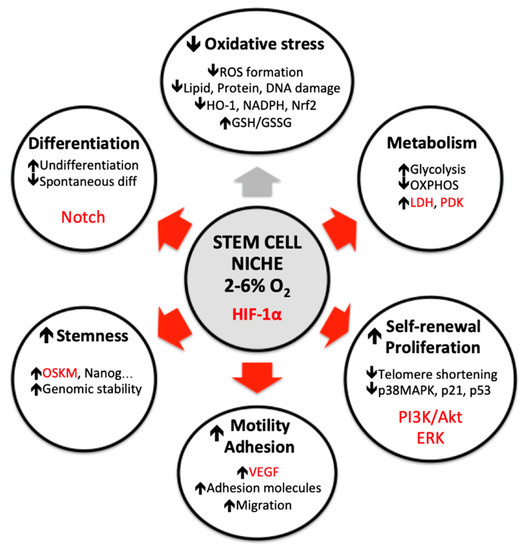 Figure 2. Benefits of low oxygen tension on stem cells behaviour. HIF-1α implication is shown in red. Abbreviations: HIF-1α: hypoxia inducible factor 1α; ROS: reactive oxygen species; HO-1: Heme Oxygenase 1; Nrf2: nuclear receptor factor 2; GSH/GSSG: glutathione ratio; OXPHOS: oxidative phosphorylation; LDH: lactate dehydrogenase; PDK: pyruvate dehydrogenase kinase; MAPK: mitogen activated protein kinase; PI3K: phosphoinositide 3 kinase; ERK: extracellular signal regulated kinase; VEGF: vascular endothelial growth factor; OSKM: Oct3/4, Sox2, Klf4 and c-Myc; HIF: hypoxia inducible factor.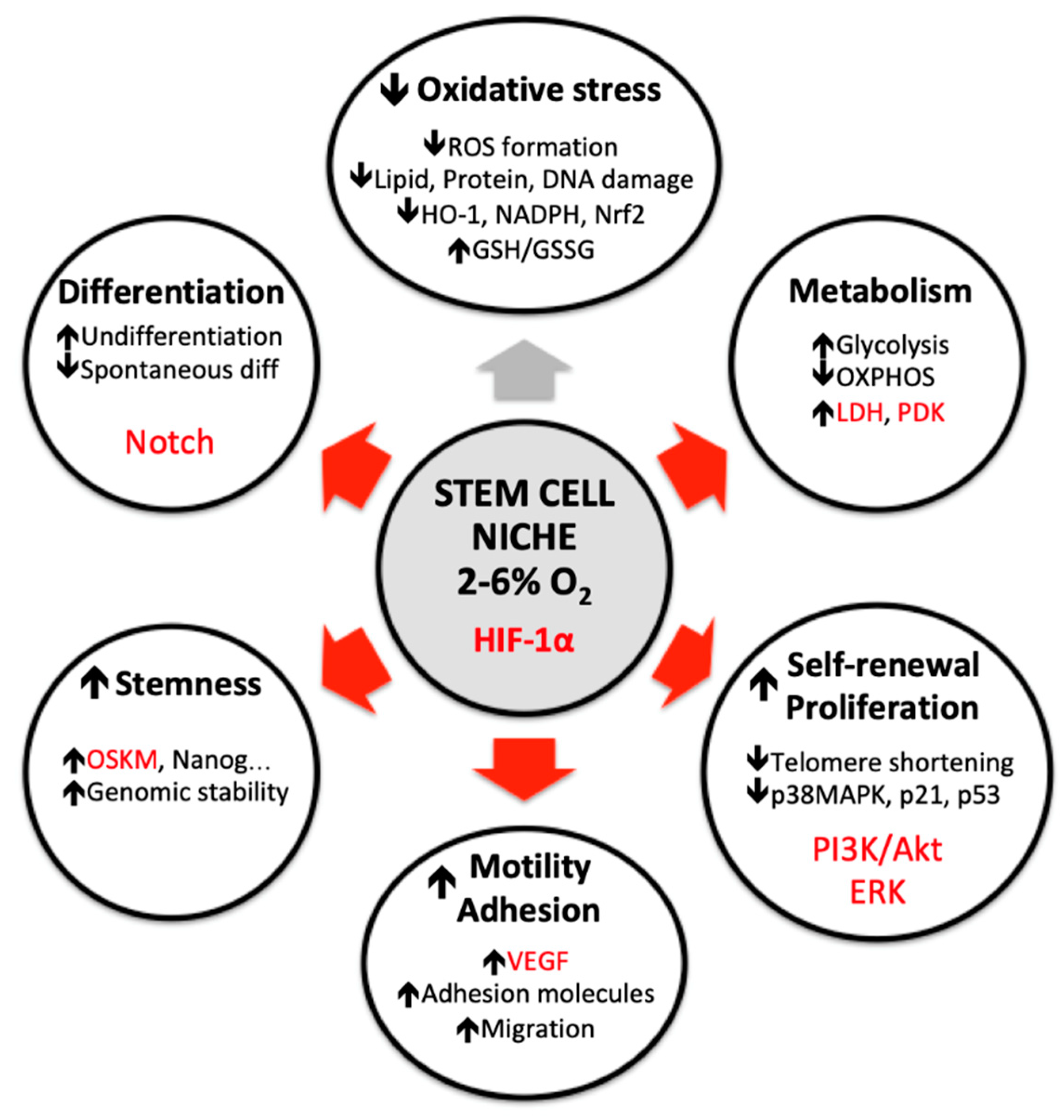 Cell Type
Oxygen Conditions
Duration
Affected Parameters
Ref.
C2C12 myoblasts
6% vs. 21%
72 h
ROS production, differentiation
[134]
HSCs (CD34+ cells)
5% vs. 21%
7 days
ROS levels, antioxidant enzymes (SOD, CAT and GPx), glutathione redox state
[135]
Human Dermal Fibroblasts (HDFs)
5% vs. 21%
72 h
ROS production, enzymatic and non-enzymatic antioxidant response system, DNA damage, extracellular matrix (ECM) proteins
[136]
DPSCs
3% vs. 21%
Up to passage 25
Oxidative stress parameters (ROS, MDA, carbonylation, antioxidant defenses), proliferation, stemness (OSKM)
[138]
MSCs from adipose tissue
3% vs. 20%
Up to 22 passages
Genetic stability, glycolytic function, cell differentiation and ROS production and targets (Protein carbonylation and MDA)
[151]
NSCs
3% vs. 21%
10 days
Survival, renewal potential and differentiation
[152]
BMSCs
2% vs. 20%
12 days
Proliferation kinetics, metabolism, differentiation potential
[153]
BMSCs
1% vs. 21%
7 days
Proliferation, migration, morphology, adhesion molecules, osteogenic differentiation
[154]
MSCs from umbilical cord
1.5%, 2.5%, 5%, 21%
70 h
Proliferation, metabolism, pH, oxygen consumption
[155]
ADSCs
1% vs. 20%
72 h
Proliferation, ROS generation, migration, OSKM
[157]
Muscle Precursor Cells (MPCs)
5%, 10%, 15%, 20%
Up to passage 2
Cell cycle regulation (p21 and p27), Proliferation
[159]
BM-MSCs and ADSCs
2% vs. 21%
Up to passage 10
Morphology, differentiation potential, genomic stability, telomere length, mitochondrial membrane potential, ATP content
[164]
Central Nervous System (CNS) Precursor Cells
2%, 5%, 20%
Up to passage 2
(35 days)
Proliferation, HIF1α, apoptosis, multilineage differentiation potential
[167,168]
MSCs from umbilical cord
3% vs. 21%
Up to passage 12
Proliferation, HIF1α, ERK signalling pathway, stemness (OCT3/4 and Nanog), p21, p16, p53
[173]
BM-MSCs
5% vs. 21%
Up to passage 15
Donor age, differentiation potential, SA-β-Gal, miRNA sequencing, KEGG signalling pathways
[174]
BM-MSCs
1% vs. 21%
Up to passage 4
Migration, proliferation, apoptosis, differentiation potential, PTEN-PI3K/AKT signalling pathway, miRNAs, HGF and VEGF
[175]
Satellite Cells
1% vs. 21%
48 h
Quiescence, self-renewal, miRNAs, Notch signalling pathway, transplantation efficiency
[177]
CSCs
0.5%, 5%, 21%
Up to passage 10
Proliferation, survival, migration, SA-β-Gal, apoptosis
[179]
MSCs from umbilical cord
2.2% vs. 21%
24 h
ROS levels, migration, HIF1α, VEGF
[182]
ESCs
1–5% vs. 21%
Up to passage 50
Morphology, colony growth, differentiation, hGC production, embryoid body formation
[184]
ESCs
4% vs. 20%
Up to passage 50
Morphological differentiation, microarray and transcriptome profiling, HIF, stemness
[185]
Neural Crest Stem Cells
5% vs. 20%
12 days
Survival, proliferation, multilineage differentiation
[186]
BM-MSCs
1, 3, 5, 10% vs. 21%
7 days
Viability, proliferation, self-renewal, osteogenic differentiation
[187]
C2C12 myoblasts, Satellite Cells and NSCs
1% vs. 21%
7 days
Notch signalling pathway, undifferentiated state maintenance
[194]
BM-MSCs and HSCs
5, 12, 20%
10 days
ROS content, proliferation, directional differentiation, apoptosis, cell cycle, migration
[195]
BM-MSCs
2% vs. 18%
2 weeks
Osteogenic and adipogenic differentiation, HIF1α, VEGF
[196]
BM-MSCs
1% vs. 21%
7 days/4 weeks
Proliferation, migration, stemness (OCT3/4, Nanog, SALL4, KLF4), differentiation
[154]
MSCs
2% vs. 20%
7 days
Proliferation, osteogenic differentiation
[197]
BM-MSCs
0.2% vs. 21%
7 or 14 days
Osteogenic and adipogenic differentiation, HIF1α
[198]
MSCs
1, 2, 3, 4, 6% vs. 21%
2, 4, 8, 24, 48, 72 h
Adipogenic differentiation
[199]
BM-MSCs
3% vs. 21%
Isolation and expansion (4 weeks)
Chondrogenic differentiation, cell surface markers, ECM formation, expansion, HIFs
[200]
BM-MSCs
2% vs. 20%
14 days
Chondrogenic differentiation
[201]
MSCs
1% vs. 21%
21 days
Osteogenic differentiation, HIFs
[202]
WJ-MSCs
3% vs. 21%
Up to passage 13
Growth kinetics, SA-β-Gal, differentiation, HIFs, p16, p21, p53, karyotype
[203]
ADSCs
1% vs. 21%
Up to passage 2
Proliferation, multilineage differentiation, stemness (Nanog, SOX2)
[204]
ESCs (dorsal pancreatic bud)
3%, 8%, 21%
24h or 7 days
Cell differentiation, HIF1α gene and protein expression
[205]
ESCs
3–5% vs. 20%
Up to passage 3
Morphology, proliferation, pluripotency (SOX2, Nanog and OCT3/4), HIFs
[210]
BM-MSCs
1% vs. 21%
14 days
Proliferation, differentiation, self-renewal
[215]
WJ-MSCs
5% vs. 21%
2-4 weeks
Proliferation, stemness (OCT3/4, Nanog, REX1 and SOX2), HIFs, differentiation
[216]
BM-MSCs
5% vs. 21%
Up to passage 2
Morphology, differentiation, transcriptional profiling, metabolism, adhesion
[217]
Dermal Fibroblasts into IPSCs
1%, 5%, 21%
40 days
Efficiency of reprogramming into iPSCs (ESC markers, teratoma formation)
[218]
Fibroblasts, ESCs and IPSCs
2%, 5%, 21%
2 weeks
Reprogramming efficiency, HIFs, metabolism (OCR and ECAR)
[219,220]
Abbreviations: HSC: haematopoietic stem cell; HDF: human dermal fibroblast; DPSC: dental pulp stem cell; MSC: mesenchymal stem cell; NSC: neural stem cell; BMSC: bone marrow stem cell; ADSC: adipose derived stem cell; MPC: muscle precursor cell; BM-MSC: bone marrow mesenchymal stem cell; CNS: central nervous system; CSC: cardiac stem cell; ESC: embryonic stem cell; WJ-MSC: Wharton Jelly mesenchymal stem cell; iPSC: induced pluripotent stem cell.

© 2019 by the authors. Licensee MDPI, Basel, Switzerland. This article is an open access article distributed under the terms and conditions of the Creative Commons Attribution (CC BY) license (http://creativecommons.org/licenses/by/4.0/).