Open Access This article is
freely available
re-usable
Review
Extracellular Vesicles from Thyroid Carcinoma: The New Frontier of Liquid Biopsy
1
College of Medicine, Touro University Nevada, 874 American Pacific Drive, Henderson, NV 89014, USA
2
Mediterranean Institute of Oncology Foundation, Via Penninazzo 7, 95029 Viagrande, Italy
†
These authors were contributed equally to this work.

Received: 8 February 2019 / Accepted: 1 March 2019 / Published: 5 March 2019
Abstract
:
The diagnostic approach to thyroid cancer is one of the most challenging issues in oncology of the endocrine system because of its high incidence (3.8% of all new cancer cases in the US) and the difficulty to distinguish benign from malignant non-functional thyroid nodules and establish the cervical lymph node involvement during staging. Routine diagnosis of thyroid nodules usually relies on a fine-needle aspirate biopsy, which is invasive and often inaccurate. Therefore, there is an urgent need to identify novel, accurate, and non-invasive diagnostic procedures. Liquid biopsy, as a non-invasive approach for the detection of diagnostic biomarkers for early tumor diagnosis, prognosis, and disease monitoring, may be of particular benefit in this context. Extracellular vesicles (EVs) are a consistent source of tumor-derived RNA due to their prevalence in circulating bodily fluids, the well-established isolation protocols, and the fact that RNA in phospholipid bilayer-enclosed vesicles is protected from blood-borne RNases. Recent results in other types of cancer, including our recent study on plasma EVs from glioblastoma patients suggest that information derived from analysis of EVs from peripheral blood plasma can be integrated in the routine diagnostic tumor approach. In this review, we will examine the diagnostic and prognostic potential of liquid biopsy to detect tumor-derived nucleic acids in circulating EVs from patients with thyroid carcinoma.
Keywords:
thyroid carcinoma; papillary thyroid carcinoma; liquid biopsy; cancer; extracellular vesicles; exosomes; diagnostic biomarkers; miRNA
2. Liquid Biopsy: History, Advantages
As precision medicine is emerging as the new paradigm in oncology, tumor sampling for molecular characterization is becoming an almost mandatory procedure. However, tissue biopsy is not always feasible and repeated sampling is often impossible due to invasiveness of the procedure. This restricts the use of tissue sampling and molecular characterization only to the diagnostic approach, while therapy monitoring is still impracticable. Liquid biopsy has the potential to overcome this limit, extending the benefits of molecular characterization to early diagnosis and cancer monitoring. This may also produce unprecedented advantages in the treatment of cancer by identifying early events of resistance, relapse, and progression.
3. Potential Advantages of EVs for Liquid Biopsy
The potential of EVs and their content as cancer biomarkers is increasingly being recognized. Tumor-derived EVs may be investigated for their protein expression or genetic profile as diagnostic or prognostic markers [
27
,
28
,
29
,
30
]. A potential drawback of plasma/serum EV analysis is that they contain not only cancer-derived EVs, but also EVs released by blood cells, endothelial cells, stromal cells, and others. Moreover, during neoplastic growth, immune response and the often associated inflammation may alter the rate of release of EVs. Intriguingly, in a recent study by our group [
17
], orthotopically growing glioblastoma cells were responsible for 35–50% of all circulating EVs. Although unrelated to thyroid cancer, this study indicates that the fraction of circulating plasma EVs derived from cancer cells is highly significant, even in a disease confined to the brain and relatively isolated from the rest of the body by the blood–brain barrier.
3.1. Protein Expression Profile
Protein profiling of EVs is challenging because of their small particle size, low abundance of proteins, and heterogeneity. However, using a laboratory-built high-sensitivity flow cytometer, Tian et al. [
31
] recently reported a quantitative multiparameter analysis of single EVs down to 40 nm with high analysis rate. By this technique, the authors found a significantly elevated level of CD147-positive EVs in colorectal cancer patients compared to healthy controls, thus indicating potential for future proteomics-based development of cancer diagnostic and therapeutic strategies. In another study, by proteomic analysis of EVs from patients with pancreatic cancer, 18 or 14 proteins were found to be up-regulated and 11 or 14 proteins down-regulated compared with EVs from healthy volunteers or from pancreatitis patients, respectively [
32
]. Also, studies on colorectal cancer cells and malignant mesothelioma identified specific EV proteins that are considered a potential specific signature for these diseases [
33
,
34
].
3.2. Non-Coding RNA Content
Since the EV membrane protects RNA from blood-borne RNases and EV-associated RNA is generally free of endogenous RNA contaminants such as ribosomal RNA [
35
], EVs provide a more consistent source of RNA for disease biomarker detection compared with cellular or free plasma RNA. Interestingly, EV-associated miRNAs remain stable for years when EVs are stored at −20 °C [
36
]. The presence of functional RNA in EVs was first described in 2006 for murine stem cell-derived EVs [
37
] and in 2007 for murine mast cell-derived EVs taken up by human mast cells [
27
]. In ovarian cancer, a specific exosomal signature consisting of 8 miRNAs has been proposed as surrogate diagnostic for cancer screening in asymptomatic subjects [
38
]. Another study on EVs of patients with melanoma found a correlation between down-regulation of circulating miR-125b and disease progression [
39
]. The group of miR-1246, miR-3976, miR-4644, and miR-4306 were up-regulated in EVs from 83% of pancreatic adenocarcinoma patients [
40
]. Dejima et al. discovered that miR-21 and miR-4257 expression in plasma EVs have potential as predictive biomarkers of recurrence in NSCLC patients [
41
]. Similarly, circulating EV-associated miR-125a-3p in early-stage colon carcinoma [
42
], as well as miR-320, miR-574-3p, and RNU6-1 in glioblastoma multiforme [
43
], have been proposed as diagnostic biomarkers for early detection and monitoring of these specific types of cancer. A comprehensive list of EV-associated miRNAs is available in the miRandola database (
http://mirandola.iit.cnr.it
) [
44
]. Several studies on esophageal cancer, prostate cancer, and meningioma confirmed the power of EV-associated RNA in cancer diagnosis [
45
,
46
,
47
]. In the FEMX-I melanoma cell line, we recently reported a higher concentration for 49 miRNAs in EVs than in EV-producing cancer cells, including 20 miRNAs with cancer-related function [
48
]. A correlation of EV-associated integrin α6β4 and integrin α6β1 with lung metastasis, and of integrin αVβ5 with liver metastasis were found by Hoshino et al. [
15
]. Moreover, novel studies point to the clinical relevance of other types of non-coding RNA as more represented in EVs than miRNAs. Nabet and coll. [
49
] reported the prevalence of non-coding RNA species distinct from miRNAs, in particular signal recognition particles (SRP) RNA in stromal cell-derived EVs released during co-culture with breast cancer cells. As we discussed in a recent Commentary [
50
], this is surprising given the general consensus in the EV field on the prevalence of coding RNA and miRNA in EVs. In fact, the main EV data repository, "Vesiclopedia" (
https://www.microvesicles.org
), contains ~28,000 entries for mRNAs and ~5,000 entries for miRNAs, but no entries for other non-coding RNAs. Undoubtedly, miRNAs have been studied more in depth than other non-coding RNAs in EVs [
27
,
48
,
51
,
52
,
53
], but the presence of a multitude of other non-coding RNA families in EVs suggests that other types of EV-associated non-coding RNAs, such as SRP RNA, snRNA, snoRNA, and piRNA [
52
,
54
], may have clinical potential as biomarkers for thyroid cancer [
55
]. More studies have shown the presence of tumor RNA in the plasma/serum of cancer patients [
56
]. These include mRNAs that are correlated with different tumor genes [
57
,
58
,
59
,
60
,
61
], tyrosine kinase mRNA, telomerase components, and viral mRNA. The potential value for therapy management of the EV mRNA profile in patients with metastatic breast cancer has been recently reported [
62
].
4. Potential Advantages of EVs for Liquid Biopsy in Patients with Thyroid Cancer
Author Contributions
G.R., C.P., M.F.S., S.F., L.M., and A.L. contributed to the text. M.S., G.R., and C.P. performed experiments. A.L. coordinated the review.
Funding
This research received no external funding.
Acknowledgments
We thank Emmett Findlay and Wolfgang Gilliar for their support and encouragement.
Conflicts of Interest
The authors declare no conflicts of interest.
Abbreviations
| | |
| --- | --- |
| EVs | Extracellular vesicles |
| PTC | Papillary thyroid carcinoma |
| cfDNA | Cell-free DNA |
| MTC | Medullary thyroid carcinoma |
| NSCLC | Non-small cell lung cancer |
| CTCs | Circulating tumor cell |
| miRNA | Micro RNA |
| lncRNA | Long non-coding RNA |
| circRNA | Circular RNA |
| snoRNA | Small nucleolar RNA |
| snRNA | Small nuclear RNA |
| tRNA | Transfer RNA |
| piRNA | Piwi-interacting RNA |
| cfRNA | Cell-free RNA |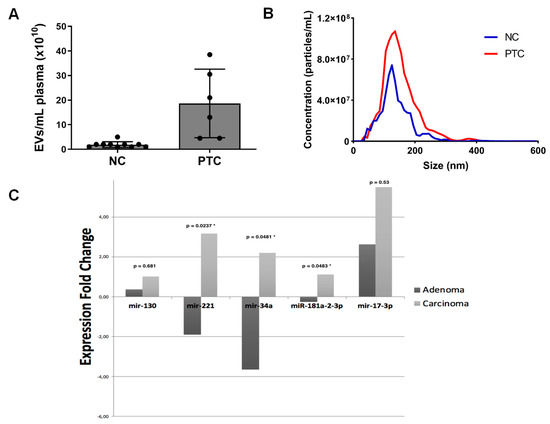 Figure 1.
(
A
) Scatter plot of extracellular vesicle (EV) plasma concentration in normal controls (NC) and patients with papillary thyroid carcinoma (PTC) by NTA. EVs were isolated by differential centrifugation. (
B
) Representative size distribution of EVs from plasma of a patient with PTC and a NC. (
C
) Relative quantitation of miRNAs in patients with thyroid adenoma and carcinoma compared to healthy controls, *
p
< 0.01. Patients' blood samples were collected in disodium EDTA tubes. Plasma samples were prepared by centrifugation and aliquoted into 1.5-mL tubes. EVs were isolated by differential centrifugation as described in Rappa et al. [
48
]. We measured their plasma concentration and individual size by NTA. Data analysis was performed with NTA 3.0 software. The diffusion coefficient and hydrodynamic radius were determined using the Stokes–Einstein equation, and results displayed as a particle size distribution. Data are presented as the average and standard deviation of six video recordings of 60–90 s per sample. Since NTA is accurate between particle concentrations in the range of 2 × 10
7
to 2 × 10
9
/mL, samples containing higher numbers of particles were diluted before analysis and the relative concentration calculated according to the dilution factor. Silica microspheres of 100 and 200 nm, supplied by Malvern, were used for calibration.

Table 1. Publications describing the use of extracellular vesicles, circulating tumor cells, cell-free DNA, and cell-free RNA for diagnosis and monitoring of thyroid cancer.
Liquid Biopsy in Thyroid Cancer
Sample Type
Object
Up-/Down-Regulation
Histotype
References
EV
miR-146b, miR-222
Up
PTC
[66]
miR-222, miR-142
Up
PTC
[68]
miR-25-3p, miR-451a, miR-140-3p, let-7
Up
PTC
[70]
miR-31-5p, miR-126-3p, miR-145-5p, miR-181a
miR-21
Up
PTCFTC
[71]
miR-21, miR-181a-5p
Up
PTC
[73]
SRC, TLN1, ITGB2, CAPNS1
-
PTC
[78]
Drug delivery system
-
TC
[79]
The increase of EPC-EVs and laminins involves folliculogenesis
Up
FTC
[80]
lncRNAs, linc-ROR
-
PTC
[74]
lncRNA MALAT1, SLUG, SOX2,and induced EMT
-
PTC
[81]
CTC
Calcitonin-positive CTCs after 12 years
Up
MTC
[82]
High number of CTCs
Up
DTC DM+
[83]
CTCs ≥ 5 is worse OS
-
TC
[84]
High number of CTCs → progressive cancer disease
-
TC
[85]
PCR detection
-
TC
[86]
cfDNA/ctDNA
BRAF mutation and deregulation miRNA
Up/Down
PTC
[87]
RETM91PT mutation
-
MTC
[20]
cfDNA integrity index
-
TC
[88]
BRAF mutation
-
TC
[89]
95% common alteration between cfDNA and tissue DNA
-
FTC
[90]
BRAF, PIK3CA, NRAS, PTEN, TP53 mutation in cfDNA and tissue DNA
-
ATC
[21]
BRAF mutation
-
PTC
[91]
ctDNA panel: 9 cancer gene driver
-
TC
[92]
BRAFV600
Up
PTC
[93]
BRAFV600
Up
PTC
[94]
BRAFV600
Up
DTC
[95]
cfDNA methylation of β-actin, CDH1,DAPK, CALCA, and RARβ2
-
DTC
[96]
BRAFV600
Up
PTC
[97]
High number
Up
DTC
[98]
BRAFV600
Up
PTC
[99]
cfRNA
miR-146a-5p, miR221-3p
Up
PTC
[67]
let-7e, miR-151-5p, miR-222
Up
PTC
[16]
miR-579, miR-95, miR-29b, miR-190
Down
Up
PTC
[69]
miR-21, miR-151-5p, miR-222, miR-221
Up
PTC
[72]
let-7e, miR-151-5p, miR-222
Up
PTC
[16]
miR-146a-5p, miR-150-5p, miR-199b-3p, miR-342-3p
Down
PTC
[100]
Abbreviations: EV, extracellular vesicles; CTC, circulating tumor cells; cfDNA, cell-free DNA; ctDNA, circulating tumor DNA; cfRNA, cell-free RNA; EPC, endothelial progenitor cells; lncRNA, long non-coding RNA; linc-ROR, long intergenic non-protein coding RNA, regulator of reprogramming; EMT, epithelial-mesenchymal transition; miRNA, micro RNA; PTC, papillary thyroid carcinoma; FTC, follicular thyroid carcinoma; TC, thyroid carcinoma; MTC, medullary thyroid carcinoma; DTC, differentiated thyroid carcinoma; DM+, distant metastasis positive; ATC, anaplastic thyroid carcinoma.

© 2019 by the authors. Licensee MDPI, Basel, Switzerland. This article is an open access article distributed under the terms and conditions of the Creative Commons Attribution (CC BY) license (http://creativecommons.org/licenses/by/4.0/).