Role of Histamine H3 Receptor Antagonists on Intraocular Pressure Reduction in Rabbit Models of Transient Ocular Hypertension and Glaucoma
1
Department of Neuroscience, Psychiatry, Drug Area and Child Health (NEUROFARBA), Section of Pharmacology and Toxicology, University of Florence, 50130 Florence, Italy
2
Department of Experimental and Clinical Medicine, Section of Anatomy and Histology, University of Florence, 50139 Florence, Italy
3
Department of Technology and Biotechnology of Drugs, Jagiellonian University Medical College, 30-688 Krakow, Poland
4
Institute of Pharmaceutical and Medicinal Chemistry, Heinrich Heine University Düsseldorf, 40225 Düsseldorf, Germany
*
Author to whom correspondence should be addressed.
Received: 22 January 2019 / Revised: 19 February 2019 / Accepted: 21 February 2019 / Published: 24 February 2019
Abstract
Intraocular pressure (IOP) has a tendency to fluctuate throughout the day, reaching its peak in the early morning in healthy subjects or glaucoma patients. Likewise, histamine tone also fluctuates over time, being lower at nighttime. Numerous studies have demonstrated a correlation between short-term IOP fluctuation and glaucoma progression; however, it has not yet been determined whether histamine plays a role in IOP fluctuations. The aim of this research was to establish the distribution of the histamine receptor proteins and respective mRNAs in the eye by western blot, immunohistochemistry and RT-PCR in New Zealand rabbits. Furthermore, we used a transient ocular hypertension (OHT) model induced by injection of 50 µL of 5% hypertonic saline into the vitreous and a stable OHT model (100 µL 0.1% carbomer in the anterior chamber) to address the potential IOP-lowering ability of H
3
receptor (H
3
R) antagonists (ciproxifan, DL76 and GSK189254). IOPs were performed with a Tono-Pen at baseline and 60, 120 and 240 min post treatment after transient OHT induction and, every day for 12 days in the stable OHT model. All histamine receptor subtypes were localized in the rabbit retina and ciliary body/trabecular meshwork. All the treatments lowered IOP in a dose-dependent fashion between 0.3% and 1%. More specifically, the effects were maximal with ciproxifan at 60 min post-dose (IOP
60
change = −18.84 ± 4.85 mmHg, at 1%), remained stable until 120 min (IOP
120
change = −16.38 ± 3.8 mmHg, at 1%) and decayed thereafter to reach baseline values at 240 min. These effects were highly specific and dependent on histamine release as pre-treatment with imetit (H
3
R agonist, 1%) or pyrilamine (H
1
R antagonist, 1%) largely blocked ciproxifan-mediated effects. Color Doppler ultrasound examination was performed to evaluate changes in ophtalmic artery resistivity index (RI) before and after repeated dosing with DL 76, GSK189254, ciproxifan and timolol. Chronic treatments with H
3
R antagonists and timolol improved the vascular performance of ophthalmic arteries and reduced retinal ganglion cell death. Oxidative stress was also reduced and measured 8-Hydroxy-2′-deoxyguanosine (8OH
d
G) expression, and by dihidroethydium (DHE) staining. These results demonstrated that the histamine system participates in IOP regulation and that H
3
R antagonists could represent a future promising therapy for glaucoma. Further studies should be focused on the long-term IOP circadian fluctuations.
View Full-Text
►

▼

Figures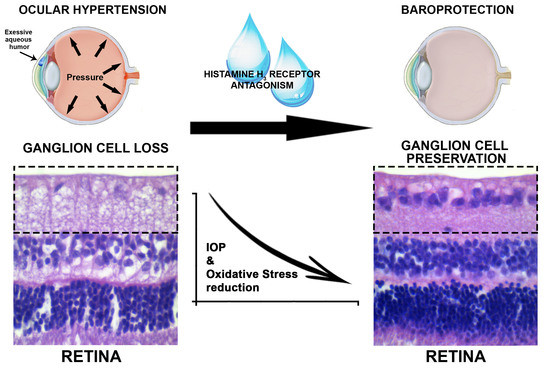 Graphical abstract
This is an open access article distributed under the
Creative Commons Attribution License
which permits unrestricted use, distribution, and reproduction in any medium, provided the original work is properly cited (CC BY 4.0).

Share & Cite This Article
MDPI and ACS Style
Lanzi, C.; Lucarini, L.; Durante, M.; Sgambellone, S.; Pini, A.; Catarinicchia, S.; Łażewska, D.; Kieć-Kononowicz, K.; Stark, H.; Masini, E. Role of Histamine H3 Receptor Antagonists on Intraocular Pressure Reduction in Rabbit Models of Transient Ocular Hypertension and Glaucoma. Int. J. Mol. Sci. 2019, 20, 981.
Note that from the first issue of 2016, MDPI journals use article numbers instead of page numbers. See further details here.
Related Articles
Comments
[Return to top]