Metallothionein 3 Is a Hypoxia-Upregulated Oncogene Enhancing Cell Invasion and Tumorigenesis in Human Bladder Carcinoma Cells
1
Department of Urology, Chang Gung Memorial Hospital-Linkou, Kwei-Shan, Tao-Yuan 33302, Taiwan
2
Graduate Institute of Clinical Medical Science, College of Medicine, Chang Gung University, Kwei-Shan, Tao-Yuan 33302, Taiwan
3
Department of Anatomy, College of Medicine, Chang Gung University, Kwei-Shan, Tao-Yuan 33302, Taiwan
4
Graduate Institute of Biomedical Sciences, College of Medicine, Chang Gung University, Kwei-Shan, Tao-Yuan 33302, Taiwan
5
School of Nursing, College of Medicine, Chang Gung University, Kwei-Shan, Tao-Yuan 33302, Taiwan
6
Department of Medicine, College of Medicine, Chang Gung University, Kwei-Shan, Tao-Yuan 33302, Taiwan
*
Author to whom correspondence should be addressed.
Received: 27 January 2019 / Revised: 19 February 2019 / Accepted: 20 February 2019 / Published: 23 February 2019
Abstract
Metallothioneins have been viewed as modulators in a number of biological regulations regarding cancerous development; however, the function of metallothionein 3 (
MT3
) in bladder cancer is unexplored. We determined the regulatory mechanisms and potential function of MT3 in bladder carcinoma cells. Real-Time Reverse Transcriptase-Polymerase Chain Reaction (RT-qPCR) assays revealed that TSGH-8301 cells expressed more
MT3
levels than RT-4, HT1376, and T24 cells. Immunoblot and RT-qPCR assays showed that arsenic (AS
2
O
3
) treatments enhanced the gene expression of
MT3
. Hypoxia induced
HIF-1α
,
HIF-2α
, and
MT3
expression; furthermore, HIF-2α-knockdown attenuated hypoxic activation on
MT3
expression. Ectopic overexpression of
MT3
increased cell proliferation, invasion, and tumorigenesis significantly in T24 and HT1376 cells in vitro and in vivo; however,
MT3
-knockdown in TSGH-8301 cells had the reverse effect. Moreover, knockdown of
MT3
enhanced arsenic-induced apoptosis determined by the Annexin V-FITC apoptosis assay.
MT3
-overexpression downregulated the gene expressions of N-myc downstream regulated gene 1 (
NDRG1
), N-myc downstream regulated gene 2 (
NDRG2
), and the mammary serine protease inhibitor (
MASPIN
) in HT1376 and T24 cells, whereas
MT3
-knockdown in TSGH-8301 cells had the opposite effect. The experiments indicated that
MT3
is an arsenic- and hypoxia-upregulated oncogene that promotes cell growth and invasion of bladder carcinoma cells via downregulation of
NDRG1
,
NDRG2
, and
MASPIN
expressions.
View Full-Text
►

▼

Figures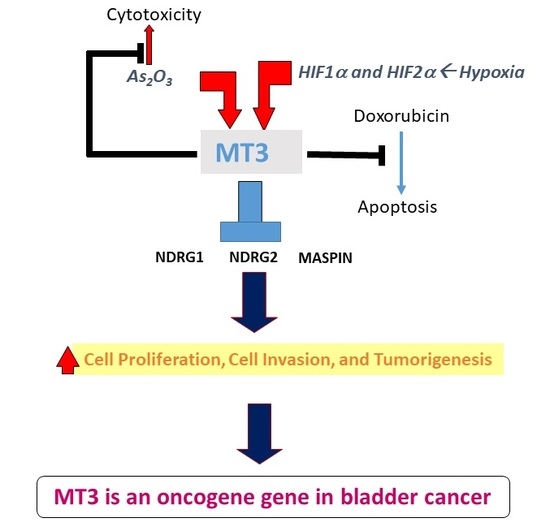 Graphical abstract
This is an open access article distributed under the
Creative Commons Attribution License
which permits unrestricted use, distribution, and reproduction in any medium, provided the original work is properly cited (CC BY 4.0).

Share & Cite This Article
MDPI and ACS Style
Tsui, K.-H.; Hou, C.-P.; Chang, K.-S.; Lin, Y.-H.; Feng, T.-H.; Chen, C.-C.; Shin, Y.-S.; Juang, H.-H. Metallothionein 3 Is a Hypoxia-Upregulated Oncogene Enhancing Cell Invasion and Tumorigenesis in Human Bladder Carcinoma Cells. Int. J. Mol. Sci. 2019, 20, 980.
Note that from the first issue of 2016, MDPI journals use article numbers instead of page numbers. See further details here.
Related Articles
Comments
[Return to top]