Hydroxamic Acid-Based Histone Deacetylase (HDAC) Inhibitors Bearing a Pyrazole Scaffold and a Cinnamoyl Linker
1
Department of Drug Sciences, University of Catania, Viale A. Doria 6, 95125 Catania, Italy
2
Department of Chemical, Biological, Pharmaceutical, and Environmental Sciences, University of Messina, Viale F. Stagno D'Alcontres 31, 98166 Messina, Italy
3
Higher Institute of Applied Sciences and Technology of Mahdia, University of Monastir, Sidi Massa-oud, Hiboun Mahdia Tunisian 5100, Tunisia
4
Consorzio Interuniversitario Nazionale di ricerca in Metodologie e Processi Innovativi di Sintesi (C.I.N.M.P.S.), Via E. Orabona, 4, 70125 Bari, Italy
*
Author to whom correspondence should be addressed.
Received: 31 January 2019 / Revised: 15 February 2019 / Accepted: 18 February 2019 / Published: 21 February 2019
Abstract
Genetic abnormalities have been conventionally considered as hallmarks of cancer. However, recent studies have demonstrated that epigenetic mechanisms are also implicated in the insurgence and development of cancer. Patterns of the epigenetic component include DNA methylation and histone modifications. Acetylation of histones is controlled by histone acetyltransferases (HATs) and histone deacetylases (HDACs). Imbalance of these two enzymatic systems is known to be a key factor in tumor progression. Because HDACs have been found to function incorrectly in cancer, various HDAC inhibitors (HDACIs) are being investigated to act as cancer chemotherapeutics. Herein, we report the synthesis, docking studies and biological activity of a series of hydroxamic acid-based HDACIs bearing an
N
1
-aryl or
N
1
-H pyrazole nucleus as surface recognition motif and a cinnamoyl group as a linker to the hydroxamic acid zinc-binding group (ZBG). Some of the tested compounds exhibited inhibitory properties towards HDACs and antiproliferative activity against neuroblastoma SH-SY5Y tumor cell line both at micromolar concentrations.
View Full-Text
►

▼

Figures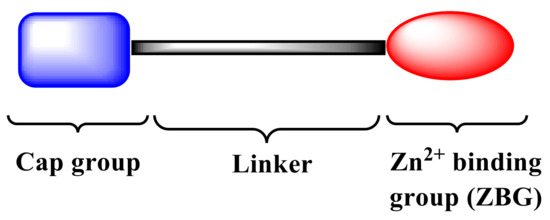 Figure 1
This is an open access article distributed under the
Creative Commons Attribution License
which permits unrestricted use, distribution, and reproduction in any medium, provided the original work is properly cited (CC BY 4.0).

Share & Cite This Article
MDPI and ACS Style
Zagni, C.; Citarella, A.; Oussama, M.; Rescifina, A.; Maugeri, A.; Navarra, M.; Scala, A.; Piperno, A.; Micale, N. Hydroxamic Acid-Based Histone Deacetylase (HDAC) Inhibitors Bearing a Pyrazole Scaffold and a Cinnamoyl Linker. Int. J. Mol. Sci. 2019, 20, 945.
Note that from the first issue of 2016, MDPI journals use article numbers instead of page numbers. See further details here.
Related Articles
Comments
[Return to top]