Long Non Coding RNA H19: A New Player in Hypoxia-Induced Multiple Myeloma Cell Dissemination
1
Department of BioMedicine, Neurosciences and Advanced Diagnostics (Bi.N.D), Via Divisi 83, 90133 Palermo, Italy
2
IRCCS ISTITUTO ORTOPEDICO RIZZOLI, 40138 Bologna, Italy
3
Laboratory of Preclinical and Surgical Studies, IRCCS ISTITUTO ORTOPEDICO RIZZOLI, 40138 Bologna, Italy
*
Authors to whom correspondence should be addressed.
†
These authors contributed equally to this manuscript.
Received: 16 January 2019 / Revised: 6 February 2019 / Accepted: 11 February 2019 / Published: 13 February 2019
Abstract
The long non-coding RNA H19 (lncH19) is broadly transcribed in the first stage of development and silenced in most cells of an adult organism; it appears again in several tumors where, through different molecular mediators, promotes cell proliferation, motility and metastases. LncH19 has been associated with hypoxia-inducible factor 1-alpha (HIF-1α) activation and, in some tumors, it has proved to be necessary and required to sustain hypoxic responses. Here we propose to investigate a putative role for the lncH19 in hypoxia induced multiple myeloma (MM) progression. Transcriptional analysis of MM cell lines (RPMI and MM1.S) exposed to normoxia or hypoxia (1% O
2
) was done in order to evaluate lncH19 levels under hypoxic stimulation. Then, to investigate the role of lncH19 in hypoxia mediated MM progression, transcriptional, protein and functional assays have been performed on hypoxia stimulated MM cell lines, silenced or not for lncH19. Our data demonstrated that hypoxic stimulation in MM cell lines induced the overexpression of lncH19, which, in turn, is required for the expression of the hypoxia induced genes involved in MM dissemination, such as C-X-C Motif Chemokine Receptor 4 (CXCR4) and Snail. Moreover, adhesion assays demonstrated that lncH19 silencing abrogates the increased adhesion on stromal cells induced by the hypoxic condition. Finally, Western blot analysis indicated that lncH19 silencing impaired HIF1α nuclear translocation. The LncH19, required for the induction of hypoxic responses in MM cells, could represent a new therapeutic target for MM.
View Full-Text
►

▼

Figures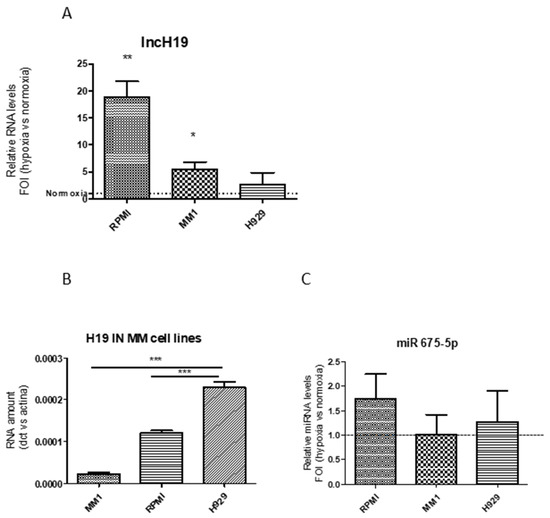 Figure 1
This is an open access article distributed under the
Creative Commons Attribution License
which permits unrestricted use, distribution, and reproduction in any medium, provided the original work is properly cited (CC BY 4.0).

Share & Cite This Article
MDPI and ACS Style
Corrado, C.; Costa, V.; Giavaresi, G.; Calabrese, A.; Conigliaro, A.; Alessandro, R. Long Non Coding RNA H19: A New Player in Hypoxia-Induced Multiple Myeloma Cell Dissemination. Int. J. Mol. Sci. 2019, 20, 801.
Note that from the first issue of 2016, MDPI journals use article numbers instead of page numbers. See further details here.
Related Articles
Comments
[Return to top]