Preclinical Evaluation of Long-Term Neuroprotective Effects of BDNF-Engineered Mesenchymal Stromal Cells as Intravitreal Therapy for Chronic Retinal Degeneration in Rd6 Mutant Mice
1
Department of General Pathology, Pomeranian Medical University in Szczecin, 70-111 Szczecin, Poland
2
First Department of Ophthalmology, Pomeranian Medical University in Szczecin, 70-111 Szczecin, Poland
*
Authors to whom correspondence should be addressed.
Received: 7 January 2019 / Revised: 3 February 2019 / Accepted: 10 February 2019 / Published: 12 February 2019
Abstract
This study aimed to investigate whether the transplantation of genetically engineered bone marrow-derived mesenchymal stromal cells (MSCs) to overexpress brain-derived neurotrophic factor (BDNF) could rescue the chronic degenerative process of slow retinal degeneration in the rd6 (retinal degeneration 6) mouse model and sought to identify the potential underlying mechanisms. Rd6 mice were subjected to the intravitreal injection of lentivirally modified MSC-BDNF or unmodified MSC or saline. In vivo morphology, electrophysiological retinal function (ERG), and the expression of apoptosis-related genes, as well as BDNF and its receptor (TrkB), were assessed in retinas collected at 28 days and three months after transplantation. We observed that cells survived for at least three months after transplantation. MSC-BDNF preferentially integrated into the outer retinal layers and considerably rescued damaged retinal cells, as evaluated by ERG and immunofluorescence staining. Additionally, compared with controls, the therapy with MSC-BDNF was associated with the induction of molecular changes related to anti-apoptotic signaling. In conclusion, BDNF overexpression observed in retinas after MSC-BDNF treatment could enhance the neuroprotective properties of transplanted autologous MSCs alone in the chronically degenerated retina. This research provides evidence for the long-term efficacy of genetically-modified MSC and may represent a strategy for treating various forms of degenerative retinopathies in the future.
View Full-Text
►

▼

Figures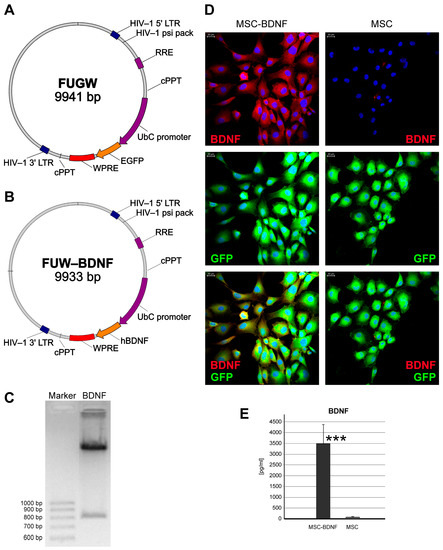 Figure 1
This is an open access article distributed under the
Creative Commons Attribution License
which permits unrestricted use, distribution, and reproduction in any medium, provided the original work is properly cited (CC BY 4.0).

Share & Cite This Article
MDPI and ACS Style
Lejkowska, R.; Kawa, M.P.; Pius-Sadowska, E.; Rogińska, D.; Łuczkowska, K.; Machaliński, B.; Machalińska, A. Preclinical Evaluation of Long-Term Neuroprotective Effects of BDNF-Engineered Mesenchymal Stromal Cells as Intravitreal Therapy for Chronic Retinal Degeneration in Rd6 Mutant Mice. Int. J. Mol. Sci. 2019, 20, 777.
Note that from the first issue of 2016, MDPI journals use article numbers instead of page numbers. See further details here.
Related Articles
Comments
[Return to top]