NF-κB-Associated Pain-Related Neuropeptide Expression in Patients with Degenerative Disc Disease
1
Department of Clinical Neuroscience, Karolinska Institutet, 171 77 Stockholm, Sweden
2
Stockhom Spine Center, Löwenströmska Hospital, 194 89 Upplands Väsby, Sweden
3
Department of Oncology-Pathology, Karolinska Institutet, 171 77 Stockholm, Sweden
4
Swedish National Board of Forensic Medicine, 171 65 Solna, Sweden
5
McCaig Institute for Bone & Joint Health, University of Calgary, Calgary, AB T2N 1N4, Canada
6
Department of Physiology and Pharmacology, Karolinska Institutet, 17177 Stockholm, Sweden
*
Author to whom correspondence should be addressed.
Received: 5 January 2019 / Revised: 30 January 2019 / Accepted: 30 January 2019 / Published: 3 February 2019
Abstract
The role of nuclear factor kappa-light-chain-enhancer of activated B cells (NF-κB) has been highlighted in mechanisms underlying inflammatory and neuropathic pain processes. The present study was designed to investigate whether NF-κB signaling is associated with pain-related neuropeptide expression in patients with chronic back pain related to degenerative disc disease (DDD). Intervertebral disc (IVD) tissues were collected from forty DDD patients undergoing disc replacement or fusion surgery, and from eighteen postmortem (PM) control subjects.
RELA
,
NFKB1
,
CGRP
,
TAC1
,
TRPV1
, and
MMP-3
gene expression were analyzed by RT-qPCR, while NF-κB subunit RelA and NF-κB1–DNA binding in nuclear extracts and calcitonin gene related peptide (CGRP), substance P (SP), and transient receptor potential, subfamily V, member 1 (TRPV1) protein levels in cytosolic extracts of tissues were assessed by enzyme-linked immunosorbent assay (ELISA). An upregulated NF-κB1–DNA binding, and higher CGRP and TRPV1 protein levels were observed in DDD patients compared to PM controls. In DDD patients, NF-κB1–DNA binding was positively correlated with nuclear RelA levels. Moreover, NF-κB1–DNA binding was positively associated with
TRPV1
and
MMP-3
gene and SP and TRPV1 protein expression in DDD patients. Our results indicate that the expression of SP and TRPV1 in IVD tissues was associated with NF-κB activation. Moreover, NF-κB may be involved in the generation or maintenance of peripheral pain mechanisms by the regulation of pain-related neuropeptide expression in DDD patients.
View Full-Text
►

▼

Figures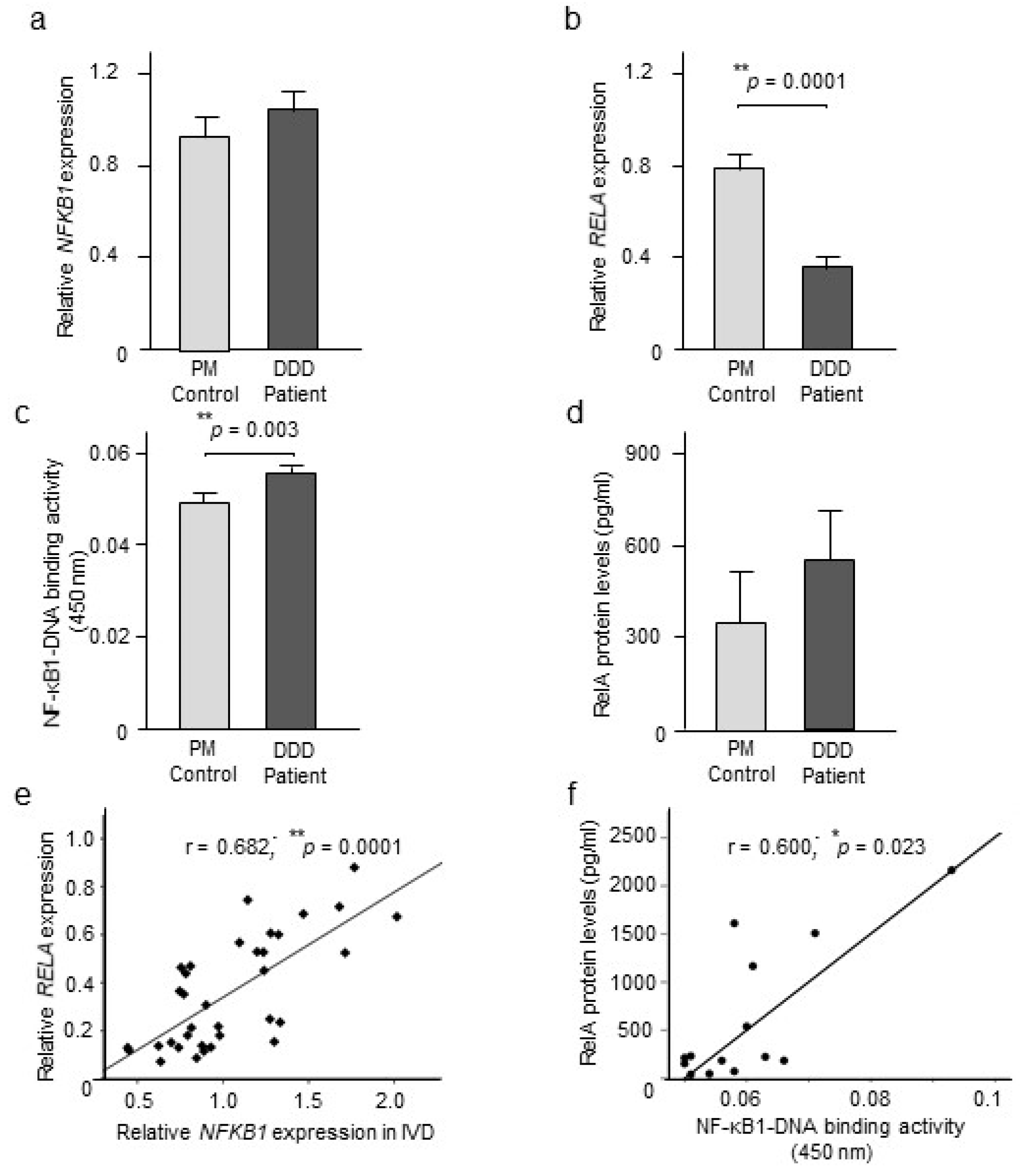 Figure 1
This is an open access article distributed under the
Creative Commons Attribution License
which permits unrestricted use, distribution, and reproduction in any medium, provided the original work is properly cited (CC BY 4.0).

Share & Cite This Article
MDPI and ACS Style
Ahmed, A.S.; Berg, S.; Alkass, K.; Druid, H.; Hart, D.A.; Svensson, C.I.; Kosek, E. NF-κB-Associated Pain-Related Neuropeptide Expression in Patients with Degenerative Disc Disease. Int. J. Mol. Sci. 2019, 20, 658.
Note that from the first issue of 2016, MDPI journals use article numbers instead of page numbers. See further details here.
Related Articles
Comments
[Return to top]