Bisoprolol, Known to Be a Selective β1-Receptor Antagonist, Differentially but Directly Suppresses IK(M) and IK(erg) in Pituitary Cells and Hippocampal Neurons
1
Department of Anesthesia, An Nan Hospital, China Medical University, Tainan 70965, Taiwan
2
Department of Anesthesia, China Medical University, Taichung 40402, Taiwan
3
Graduate Institute of Medical Sciences, Chang Jung Christian University, Tainan 71101, Taiwan
4
Department of Emergency Medicine, An Nan Hospital, China Medical University, Tainan 70965, Taiwan
5
Institute of Basic Medical Sciences, National Cheng Kung University Medical College, Tainan 70101, Taiwan
6
Department of Physiology, National Cheng Kung University Medical College, Tainan 70101, Taiwan
*
Author to whom correspondence should be addressed.
Received: 7 January 2019 / Revised: 27 January 2019 / Accepted: 30 January 2019 / Published: 2 February 2019
Abstract
Bisoprolol (BIS) is a selective antagonist of β
1
adrenergic receptors. We examined the effects of BIS on M-type K
+
currents (I
K(M)
) or
erg
-mediated K
+
currents (I
K(erg)
) in pituitary GH
3,
R1220 cells, and hippocampal mHippoE-14 cells. As GH
3
cells were exposed to BIS, amplitude of I
K(M)
was suppressed with an IC
50
value of 1.21 μM. The BIS-induced suppression of I
K(M)
amplitude was not affected by addition of isoproterenol or ractopamine, but attenuated by flupirtine or ivabradine. In cell-attached current, BIS decreased the open probability of M-type K
+
(K
M
) channels, along with decreased mean opening time of the channel. BIS decreased I
K(erg)
amplitude with an IC
50
value of 6.42 μM. Further addition of PD-118057 attenuated BIS-mediated inhibition of I
K(erg)
. Under current-clamp conditions, BIS depolarization increased the firing of spontaneous action potentials in GH
3
cells; addition of flupirtine, but not ractopamine, reversed BIS-induced firing rate. In R1220 cells, BIS suppressed I
K(M)
; subsequent application of ML-213(Kv7.2 channel activator) reversed BIS-induced suppression of the current. In hippocampal mHippoE-14 neurons, BIS inhibited I
K(M)
to a greater extent compared to its depressant effect on I
K(erg)
. This demonstrated that in pituitary cells and hippocampal neurons the presence of BIS is capable of directly and differentially suppressing I
K(M)
and I
K(erg)
, despite its antagonism of β
1
-adrenergic receptors.
View Full-Text
►

▼

Figures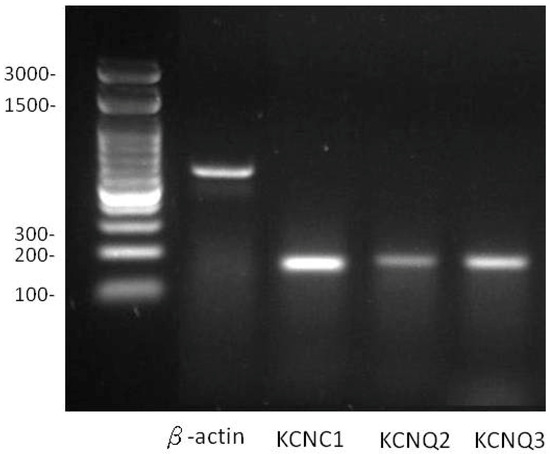 Figure 1
This is an open access article distributed under the
Creative Commons Attribution License
which permits unrestricted use, distribution, and reproduction in any medium, provided the original work is properly cited (CC BY 4.0).

Share & Cite This Article
MDPI and ACS Style
So, E.C.; Foo, N.-P.; Ko, S.Y.; Wu, S.-N. Bisoprolol, Known to Be a Selective β1-Receptor Antagonist, Differentially but Directly Suppresses IK(M) and IK(erg) in Pituitary Cells and Hippocampal Neurons. Int. J. Mol. Sci. 2019, 20, 657.
Note that from the first issue of 2016, MDPI journals use article numbers instead of page numbers. See further details here.
Related Articles
Comments
[Return to top]