Catabolism of Fibromodulin in Developmental Rudiment and Pathologic Articular Cartilage Demonstrates Novel Roles for MMP-13 and ADAMTS-4 in C-terminal Processing of SLRPs
1
Raymond Purves Research Laboratory, Institute of Bone & Joint Research, North Sydney Area Health Authority, Kolling Institute of Medical Research, University of Sydney, Royal North Shore Hospital, St. Leonards, NSW 2065, Australia
2
Bioventus LLC, 4721 Emperor Blvd., Suite 100, Durham, NC 27703, USA
3
Sydney Medical School, Northern, Royal North Shore Hospital, St. Leonards, NSW 2065, Australia
4
Graduate School of Biomedical Engineering, University of New South Wales, Sydney 2033, Australia
*
Author to whom correspondence should be addressed.
Received: 23 December 2018 / Revised: 17 January 2019 / Accepted: 25 January 2019 / Published: 29 January 2019
Abstract
Background: Cartilage regeneration requires a balance of anabolic and catabolic processes. Aim: To examine the susceptibility of fibromodulin (FMOD) and lumican (LUM) to degradation by MMP-13, ADAMTS-4 and ADAMTS-5, the three major degradative proteinases in articular cartilage, in cartilage development and in osteoarthritis (OA). Methods: Immunolocalization of FMOD and LUM in fetal foot and adult knee cartilages using an FMOD matrix metalloprotease (MMP)-13 neoepitope antibody (TsYG11) and C-terminal anti-FMOD (PR184) and anti-LUM (PR353) antibodies. The in vitro digestion of knee cartilage with MMP-13, A Disintegrin and Metalloprotease with Thrompospondin motifs (ADAMTS)-4 and ADAMTS-5, to assess whether FMOD and LUM fragments observed in Western blots of total knee replacement specimens could be generated. Normal ovine articular cartilage explants were cultured with interleukin (IL)-1 and Oncostatin-M (OSM) ± PGE3162689, a broad spectrum MMP inhibitor, to assess FMOD, LUM and collagen degradation. Results and Discussion: FMOD and LUM were immunolocalized in metatarsal and phalangeal fetal rudiment cartilages and growth plates. Antibody TsYG11 localized MMP-13-cleaved FMOD in the hypertrophic chondrocytes of the metatarsal growth plates. FMOD was more prominently localized in the superficial cartilage of normal and fibrillated zones in OA cartilage. TsYG11-positive FMOD was located deep in the cartilage samples. Ab TsYG11 identified FMOD fragmentation in Western blots of normal and fibrillated cartilage extracts and total knee replacement cartilage. The C-terminal anti-FMOD, Ab PR-184, failed to identify FMOD fragmentation due to C-terminal processing. The C-terminal LUM, Ab PR-353, identified three LUM fragments in OA cartilages. In vitro digestion of human knee cartilage with MMP-13, ADAMTS-4 and ADAMTS-5 generated FMOD fragments of 54, 45 and 32 kDa similar to in blots of OA cartilage; LUM was less susceptible to fragmentation. Ab PR-353 detected N-terminally processed LUM fragments of 39, 38 and 22 kDa in 65–80-year-old OA knee replacement cartilage. FMOD and LUM were differentially processed in MMP-13, ADAMTS-4 and ADAMTS-5 digestions. FMOD was susceptible to degradation by MMP-13, ADAMTS-4 and to a lesser extent by ADAMTS-5; however, LUM was not. MMP-13-cleaved FMOD in metatarsal and phalangeal fetal rudiment and growth plate cartilages suggested roles in skeletogenesis and OA pathogenesis. Explant cultures of ovine cartilage stimulated with IL-1/OSM ± PGE3162689 displayed GAG loss on day 5 due to ADAMTS activity. However, by day 12, the activation of proMMPs occurred as well as the degradation of FMOD and collagen. These changes were inhibited by PGE3162689, partly explaining the FMOD fragments seen in OA and the potential therapeutic utility of PGE3162689.
View Full-Text
►

▼

Figures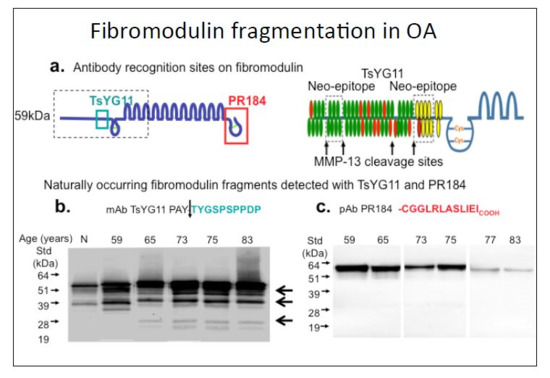 Graphical abstract
This is an open access article distributed under the
Creative Commons Attribution License
which permits unrestricted use, distribution, and reproduction in any medium, provided the original work is properly cited (CC BY 4.0).

Share & Cite This Article
MDPI and ACS Style
Shu, C.C.; Flannery, C.R.; Little, C.B.; Melrose, J. Catabolism of Fibromodulin in Developmental Rudiment and Pathologic Articular Cartilage Demonstrates Novel Roles for MMP-13 and ADAMTS-4 in C-terminal Processing of SLRPs. Int. J. Mol. Sci. 2019, 20, 579.
Note that from the first issue of 2016, MDPI journals use article numbers instead of page numbers. See further details here.
Related Articles
Comments
[Return to top]