Open Access This article is
freely available
re-usable
Review
Targeting microRNAs as a Therapeutic Strategy to Reduce Oxidative Stress in Diabetes
1
Diabetes Unit, Department of Medicine, Surgery and Neurosciences, University of Siena, V.le Bracci, 16, 53100 Siena, Italy
2
Fondazione Umberto Di Mario ONLUS c/o Toscana Life Sciences, 53100 Siena, Italy
3
UO Diabetologia, Azienda Ospedaliera Universitaria Senese, 53100 Siena, Italy
†
G.E.G. and N.B. are joint first authors.

Received: 29 October 2019 / Accepted: 15 December 2019 / Published: 17 December 2019
Abstract
:
Diabetes mellitus is a group of heterogeneous metabolic disorders characterized by chronic hyperglycaemia as a consequence of pancreatic β cell loss and/or dysfunction, also caused by oxidative stress. The molecular mechanisms involved inβ cell dysfunction and in response to oxidative stress are also regulated by microRNAs (miRNAs). miRNAs are a class of negative gene regulators, which modulate pathologic mechanisms occurring in diabetes and its complications. Although several pharmacological therapies specifically targeting miRNAs have already been developed and brought to the clinic, most previous miRNA-based drug delivery methods were unable to target a specific miRNA in a single cell type or tissue, leading to important off-target effects. In order to overcome these issues, aptamers and nanoparticles have been described as non-cytotoxic vehicles for miRNA-based drug delivery. These approaches could represent an innovative way to specifically target and modulate miRNAs involved in oxidative stress in diabetes and its complications. Therefore, the aims of this review are: (i) to report the role of miRNAs involved in oxidative stress in diabetes as promising therapeutic targets; (ii) to shed light onto the new delivery strategies developed to modulate the expression of miRNAs in diseases.
Keywords:
diabetes; oxidative stress; miRNAs; drug delivery; aptamers; nanoparticles
1. Introduction
In such a context, a pivotal role is played by oxidative stress which represents the outcome of an imbalance between the production and neutralization of Reactive Oxygen Species (ROS) and nitrogen species (NS) and which leads to a reduced antioxidant capacity of the cell. In diabetes, oxidative stress is mainly caused by an excessive increase of glucose, Free Fatty Acids (FFA), and/or inflammatory mediators which, in turn, cause mitochondrial dysfunction and/or Endoplasmic Reticulum (ER) stress with consequent insulin resistance and β cell dysfunction. In vascular endothelial cells these stress stimuli lead to the accumulation of Nitric Oxide (NO), increased Advanced Glycation-End products (AGE), activation of polyol-sorbitol pathway, Diacylglycerol (DAG), and Protein Kinase C (PKC) mediators, as well as to an increase of cytokines and prostanoids concentration.
Different strategies (such as nanoparticles or aptamers) have been adopted to deliver miRNA-based drugs. Thus, the aim of this review is to shed light on the real putative clinical application of miRNA-based drugs which could potentially target oxidative stress molecular mechanisms involved in diabetes and its complications.
2. Oxidative Stress in Diabetes
3. miRNAs as Regulators of Oxidative Stress in Diabetes
As previously mentioned, miRNAs can be involved in the regulation of several key biological pathways and cellular functions demonstrating their critical role in insulin secretion, pancreatic development and function, and diabetic complications [
45
,
46
]. The alterations of specific miRNA levels can induce oxidative stress and damage and consequent development of different diseases. Therefore, it is very important to shed light on the role of miRNAs in β cell function and dysfunction, as well as in diabetes and its complications in oxidative stress conditions.
3.1. miRNAs, β Cell Function and Oxidative Stress
3.2. miRNAs, Oxidative Stress and Diabetic Complications
4. MiRNAs as Therapeutic Targets: Strategies and Perspectives
miRNAs have been largely associated with several diseases and pathologic alterations, including oxidative stress both in β cell dysfunction and diabetic complications. Thanks to their ability to target a large number of genes, miRNAs represent upstream regulators of many cellular physiological and pathological processes [
79
]; hence, the direct targeting of a single miRNA (or a set of miRNAs) could potentially lead to the modulation of an entire biological process. Several therapeutic strategies aimed at modulating miRNAs expression in specific cell types or tissues have been largely investigated and represent one of the most intriguing research area.
4.1. miRNA Mimicking or Inhibition
As for miRNA inhibition strategies, two different methods have been explored with the aim to inhibit the expression of miRNAs: (i) miRNA sponges; (ii) antisense oligonucleotides.
4.2. Delivery Systems for miRNA-Based Drugs
One of the most critical aspects of targeted in vivo miRNA modulation (both inhibition and mimicking) is represented by the lack of a safe and reliable strategy to specifically target organs and tissues/cells. Different inorganic and organic nanoparticles as well as the novel developed aptamer-based technology, are currently being investigated as vehicles to deliver miRNA modulation complexes, in order to specifically target cells and tissues in an effective, non-cytotoxic manner (
Figure 2
).
4.2.1. Inorganic Nanoparticles
4.2.2. Organic Nanoparticles (NPs)
miRNAs can easily be transferred to cells and tissues using liposomes [
102
,
125
]. Liposomes are composed of cationic lipids structurally characterized by an hydrophobic moiety and a positively charged cationic head; nucleic acids naturally binds to liposomes through their phosphate-generated negative charge [
126
]. In addition, liposomes have low toxicity and a consequent low risk of immunological rejection, which represents one of the most important issue in drug-delivery strategies [
127
]. Pramanik and colleagues developed lipid-based NPs to deliver miR-34a mimics with the aim to limit pancreatic cancer cell growth in mice. Interestingly, the administration of miR-34a-lipid-NP was able to reduce tumor growth [
128
]. Of note, the liposome-miR-34a drug, MRX34, is now under clinical phase I for the treatment of solid tumors [
129
]. Importantly, miR-34a is able to target and regulate the expression of Sirtuin-1 (SIRT1) [
130
], whose upregulation is critical to inhibit oxidative damage to vascular endothelial cells [
131
]. Of note, the expression of miR-34a has been found upregulated in subjects with diabetes-induced chronic heart failure [
132
]; consequently, a nano-drug aimed at inhibiting the expression of miR-34a could represent a novel and effective approach to treat oxidative stress in T2D vascular complications [
133
].
An additional strategy is represented by polymer-mediated delivery of miRNAs. Dendrimers have been reported as an optimal nanomaterial to generate miRNA-based drugs. Dendrimers are monodispersed, branched, and chemically synthesized macromolecules, belonging to a class of polymers, mainly used to deliver oligonucleotides [
134
]. Interestingly, Wang and colleagues encapsulated miR-34a mimic into S6 aptamer-conjugated-dendrimer in order to deliver a lung cancer-targeted gene nanoparticle (PAM-Ap/pMiR-34a NPs). As expected, aptamer conjugation has significantly improved cellular uptake as well as gene transfection efficiency of PAM-Ap/pMiR-34a NPs in cultured Non-Small-Cell Lung Cancer (NSCLC) cells. Furthermore, PAM-Ap/pMiR-34a NPs was efficient to modulate the expression of B Cell Lymphoma 2 (BCL-2) and p53genes in vitro, inhibiting cell growth, migration, and invasion, and inducing apoptosis of lung cancer cells, compared with non-targeted NPs [
135
].
Chitosan is a natural polysaccharide of β-1-4 linked
N
-acetyl-
d
-glucosamine and d-glucosamine, showing natural abundance, low toxicity [
136
], biodegradability, and mucoadhesivity; such properties make this material ideal to deliver miRNA-based complexes [
137
]. Currently, chitosan-conjugated miRNA drugs are mainly developed for cancer therapy, such as miR-145/chitosan complex (breast cancer) [
136
] or miR-34a/chitosan complex (bone metastases caused by prostate cancer) [
138
]. Overall, these data show that the function of miR-34a has been largely studied, and that its modulation has been delivered through different NP formulations. Indeed, the administration of miR-34a mimics conjugated with several NPs has been demonstrated to inhibit tumor growth and progression. However, since miR-34a has been found upregulated in oxidative stress conditions in diabetes and diabetic complications, the inhibition of its expression could represent a potential strategy to treat oxidative stress damage in diabetes.
4.2.3. Aptamers
One of the most potentially promising strategies to develop drugs aimed at modulation of miRNAs with high specificity for cells and tissues is represented by aptamers. Aptamers are short single-stranded (ss) DNA or RNA molecules selected for the binding to a specific target [
139
]. Aptamers can fold into different secondary structures, such as stem loop, bugle, pseudoknot, G-quadruplex, and kissing hairpin [
140
], resulting in the formation of a unique three-dimensional (3D) structure able to specifically recognize their targets [
141
]. The 3D interactions are pivotal for aptamer binding affinity, and specificity, and drives the formation of aptamer-target complexes [
142
]. Aptamers are generated through the SELEX (Systematic Evolution of Ligands by Exponential Enrichment) methodology, which consists of a series of selection cycles aimed at increasing aptamers affinity to a specific target [
143
]. Upon several rounds, aptamers libraries are strictly selected based on experimental conditions (pH, binding temperature, binding time, etc.) and on target properties (charge, hydrophilicity/hydrophobicity, etc). These variables contribute to the specific selection which affects the affinity and function of the enriched aptamers [
144
].
Different procedures are adopted to generate DNA or RNA aptamers. DNA aptamers are generated through incubation of the target with the library, which is then amplified with Polymerase Chain Reaction (PCR), thus resulting in a dsDNA (double stranded DNA) library subsequently subjected to strand separation to produce a new ssDNA library for the next selection cycle. On the other side, RNA aptamersare subjected to reverse transcription into dsDNA to enable subsequent RNA transcription [
145
]. DNA aptamers are inherently more stable and the related manufacturing costs are lower than RNA aptamers [
146
]. RNA aptamers have diverse 3D conformations, and stronger intra-strand RNA-RNA interactions, which increases binding affinity and specificity [
147
]. However, unmodified aptamers are susceptible to nuclease-mediated degradation which causes short half-lives in vivo [
148
]. For this reason, aptamers with a putative clinical application should be chemically modified.
Generally, aptamers are modified by replacing the 2′ position with different chemical groups, such as a fluoro- (F), amino- (NH
2
), or O-methyl (OCH
3
) group, and by capping the 3′ end with inverted thymidine in order to increase nuclease resistance and enhancing binding affinity. After these modifications, "remodeled" nucleotides can be incorporated into aptamers through two different strategies: in-SELEX and post-SELEX. In the in-SELEX strategy, modified aptamers are directly isolated from a DNA or RNA library containing modified nucleotides compatible with DNA or RNA polymerases [
149
]. In post-SELEX strategies, modified aptamers are inserted in pre-selected aptamers during solid-phase chemical synthesis. However, since the affinity and the specificity as well as the function of an aptamer is sensitive to its structure, post-SELEX modification may affect the inherent properties and folding structures of the original aptamers, thereby compromising the binding affinity [
150
]. Therefore, specific modifications should be precisely chosen depending on aptamer molecule clinical application, taking into consideration the potential alteration of therapeutic efficacy or side-effects. Importantly, aptamers have also been identified as valid vehicles for miRNA-drugs delivery [
151
]. Indeed, different studies describe the efficacy of miRNA mimics or inhibitors conjugated to aptamers. For example, Li and colleagues demonstrated that miR-188 is upregulated in Bone Marrow Mesenchymal Stem Cells (BMSCs), and that its overexpression leads to bone loss and bone marrow fat accumulation. In order to inhibit this age-related condition, the authors developed an aptamer conjugated to antagomiR-188, that specifically targets BMSCs (respect to macrophages/monocytes and preosteoclasts). The results show that miR-188 inhibition through the aptamer delivery system is able to restore bone formation and to block fat accumulation [
152
]. On the other side, Iaboni and colleagues designed an aptamer-miRNA chimera system that consists of GL21.T, an RNA aptamer capable of recognizing the tyrosine kinase receptor Axl and miR-212. This strategy allows to the chimeric aptamer to specifically target NSCLC cells. In addition, the authors demonstrated that the conjugation of miR-212 to GL21.T efficiently inhibits the anti-apoptotic protein PED/PEA-15 (15 kDa Phosphoprotein Enriched in Astrocytes), involved in the tumor resistance to chemotherapy treatment. Moreover, this chimera system is able to increase the caspase activation and reduce the viability of tumor cells, in combination with Tumor Necrosis Factor(TNF)-related apoptosis-inducing ligand (TRAIL) therapy [
153
].
4.3. Clinical Advancements of miRNA-Based Drugs
Among those miRNAs previously described to have a role in the regulation of molecular mechanisms of oxidative stress, some of them have been suggested as therapeutic targets. For example, miR-21-conjugated NPs has been assessed in glioblastoma treatment [
154
,
155
]. Specifically, Seo and colleagues demonstrated that both RNA-based anti-miR-21 conjugated with a cationic Poly(Amine-Co-Ester) (PACE) and Peptide Nucleic Acid (PNA) anti-miR-21 conjugated with a copolymer of Poly(Lactic Acid) and Hyperbranched Polyglycerol (PLA-HPG), provided an efficient intracellular delivery system to inhibit miR-21 expression, leading to PTEN upregulation and apoptosis of human GBM (Glyoblastoma Multiforme) cancer cells. MiR-21 has also been demonstrated to be hyperexpressed in HUVEC (Human Umbelical Vein Endothelial Cells) cells uponconstant or oscillating high glucose exposure, and its upregulation is able to inhibit expression and function of several specific target genes such as KRIT1(Krev/Rap1 Interaction Trapped-1), NRF2 (Nuclear Factor erythroid Related Factor 2), and SOD2 (Superoxide Dismutase 2) (which have anti-oxidant functions), thus generating mitochondrial dysfunction. Circulating miR-21 was also found upregulated in T1D, T2D, and in IGT patients, in which increased ROS production has been observed [
72
]. Moreover, as antagomiR-21 conveyed with different NPs resulted in efficient uptake by target tissue, a miR-21 nano-based drug could also be promising for diabetes therapies targeting oxidative stress.
Recently, a GalNac (
N
-Acetylgalactosamine)-conjugated oligonucleotide linked to miR-103 and -107 inhibitors (RG-125,AZD4076) was developed for the treatment of non-alcoholic steato hepatitis (NASH) in patients with T2D. Currently, a clinical phase I trial with RG-125, as therapy for patients with T2D and liver disease is currently ongoing (ClinicalTrials.gov:NCT02826525). However, to date, there is no evidence that these drugs are efficient to inhibit oxidative damages occurring in diabetes and its complications.
Another important miRNA, whose role in the protection against oxidative stress has been largely assessed, is the angiomiR miR-126. Importantly, Deacetylated poly-
N
-Acetyl glucosamine (DEAC-pGlcNAc) polymers miR-126-NPs have been developed [
156
] for the treatment of sepsis; this complex resulted in an appropriate size for cellular uptake, as well as ideal to avoid degradation by RNAses. Of note, miR-126 regulates SIRT1 (Sirtuin 1) and is able to protect endothelial cells from ROS-induced senescence [
77
], and has been demonstrated to be involved in angiogenic signaling and vascular integrity [
157
]. Collectively, such results suggest that miR-126 may represent a potential therapeutic target in order to reduce oxidative stress and vascular damage during diabetes.
Finally, several studies suggest that miR-146a may represent an additional therapeutic target in diabetes, given its important role in inflammation and oxidative stress both in T1D and T2D. Indeed, miR-146a-polymer-based-NPs beneficial effects have been demonstrated in diabetes-induced peripheral neuropathy [
158
]. Of note, miR-146a has been shown to directly target NOX4 (NADPH Oxidase 4) [
63
], causing an increased production of Extracellular Matrix (ECM) proteins in endothelial cells and in the retina of rats with glucose-induced diabetes [
64
], thus potentially representing a candidate target for the treatment of diabetic neuropathy.
5. Concluding Remarks
Chronic hyperglycaemia is the primary cause of severe tissue damages, induced by several important mechanisms involved or activated in consequence of oxidative stress [
159
,
160
]. Among the epigenetic factors that regulate oxidative stress mechanisms, miRNAs have been demonstrated to play an essential role [
161
]. In fact, a large number of miRNAs have been demonstrated to regulate the expression of several factors causing or preventing oxidative stress in T1D, T2D, or diabetic complications.
Several innovative drugs based on miRNA modulation have been developed for the treatment of different diseases. Among these, aptamers show the essential ability to target a particular miRNA in a specific cell type, avoiding the onset of side/off-target effects in other cells/tissues.
Although several advancements have been made in the design of novel drugs, the development of innovative strategies and high efficient delivery systems aimed at modulating miRNA expression is still highly required in order to treat diabetes dysfunctions and its chronic complications.
Author Contributions
Writing—original draft preparation, G.E.G., N.B. G.L., L.N. and C.F.; supervision, writing—review and editing, F.D. and G.S.
Funding
This work has received funding from the Innovative Medicines Initiative 2 (IMI2) Joint Undertaking under grant agreement no. 115797 (INNODIA). This joint undertaking receives support from the Union's Horizon 2020 research and innovation program and EFPIA, JDRF, and the Leona M. and Harry B. Helmsley Charitable Trust. F.D. is supported by the Italian Ministry of Research (grant no. 2015373Z39_007) and by Fondazione Roma. G.S. is supported by the Italian Ministry of Research (grant no. 201793XZ5A_006).
Acknowledgments
The secretarial help of Maddalena Prencipe is highly appreciated.
Conflicts of Interest
The authors declare no conflict of interest. The funders had no role in the design of the study; in the collection, analyses, or interpretation of data; in the writing of the manuscript, or in the decision to publish the results.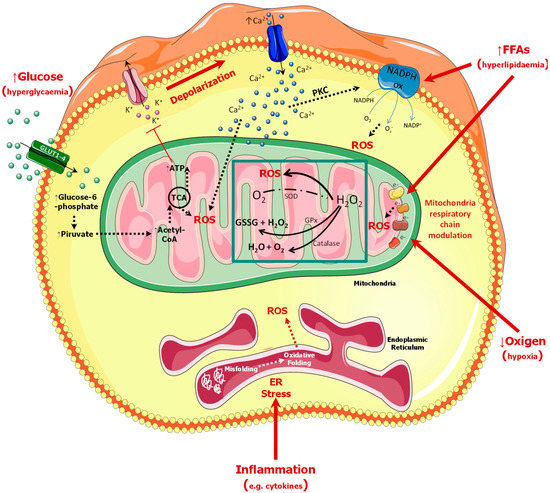 Figure 1. Graphical representation of oxidative stress mechanisms in β cells. The generation of Reactive Oxygen Species (ROS) could be caused by several conditions including hyperglycaemia, hyperlipidaemia, hypoxia, and Endoplasmic Reticulum (ER) stress (due to inflammation). Increased glucose concentration in β cells stimulates a rapid and proportional rise of glycolytic flux followed by a robust stimulation in the production of reducing equivalents, due to the channeling of glucose carbon into the Tricarboxylic Acid Cycle (TCA) cycle, which can lead to an enhancement of ROS production. However, further increases in intracellular Ca2+ can stimulate mitochondrial generation of ROS while Ca2+ via Protein Kinase C (PKC) activation, may enhance Nicotinamide Adenine Dinucleotide Phosphate (NADPH) oxidase-dependent generation of ROS and, thus, induce oxidative stress and/or apoptosis. The mechanism by which Free Fatty Acids (FFAs) promotes ROS generation in mitochondria could be explained by the activation of NADPH oxidase and another mechanism which contributes to lipid-induced oxidative stress in β cells is the modulation of respiratory chain. β cells are also prone to the stress caused by low oxygen levels which leads to ROS production and other signs of oxidative stress. Hypoxia or low oxygen tension can lead to increased ROS generation, mostly through the involvement of complexes I and III of the mitochondrial electron transport chain. In the ER, ROS are generated as a product of protein folding events; therefore, the increased accumulation of dysregulated formation or breakage of disulfide bonds result in an excessive amount of ROS which causes oxidative stress. In addition, the presence of Superoxide Dismutase (SOD), causes the abnormal accumulation of H2O2 and other ROS (green box inset) which may damage the cells at multiple levels.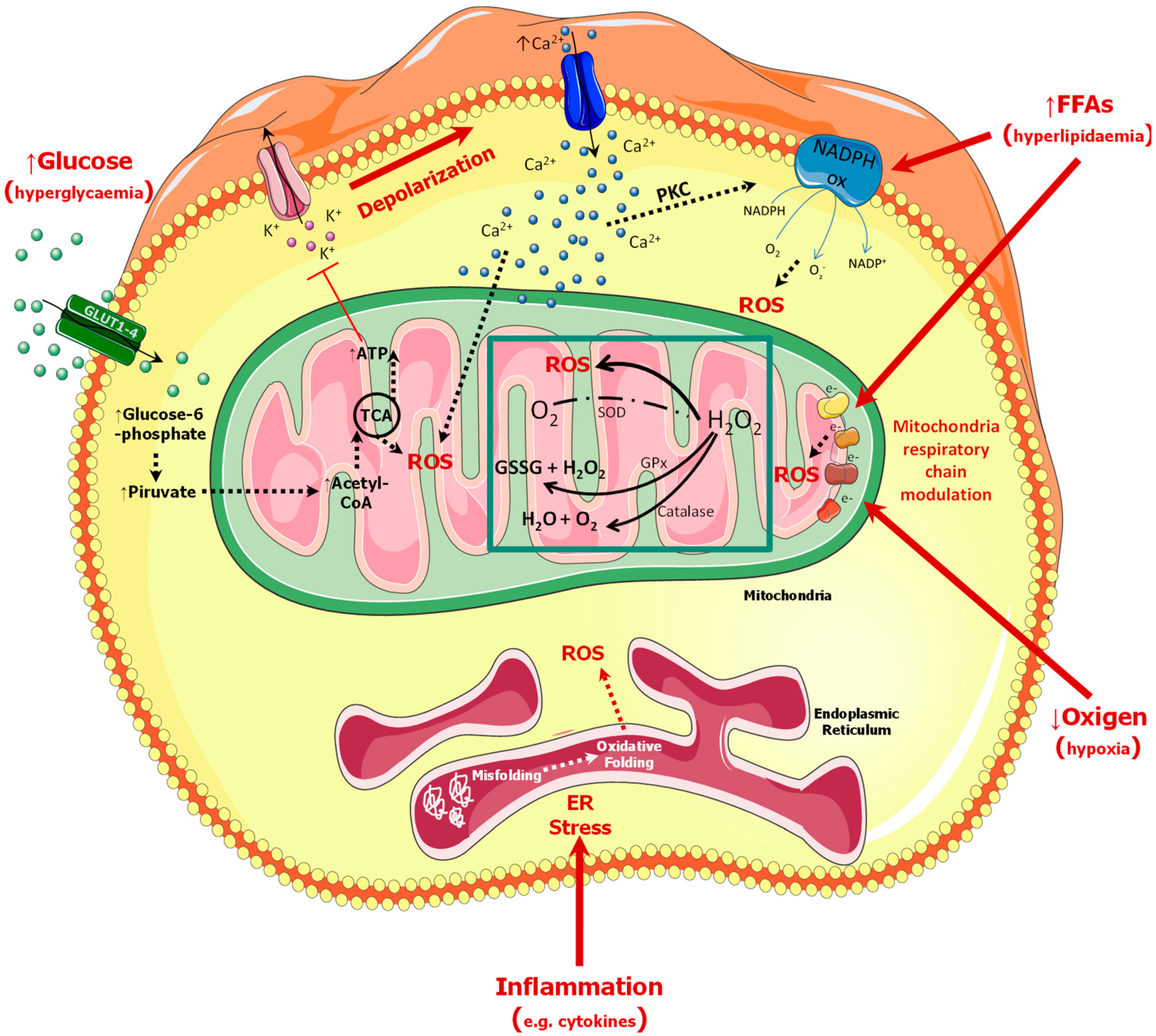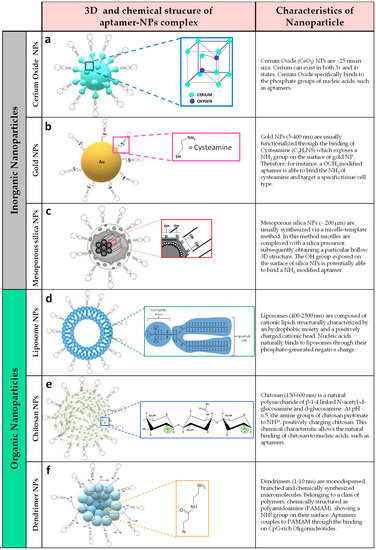 Figure 2. 3D structure and details of chemical composition of inorganic and organic Nanoparticles (NPs) conjugated to aptamers/nucleic acids. (a) Cerium oxide NP 3D structure is due to the aggregation of several cerium oxide molecules. (b) Gold NPs are modified with Cysteamine (Cys); this modification on gold NP is mainly used to stabilize its binding to the target drug. (c) The hollow 3D structure of a mesoporous silica NP is represented as well; briefly, this structure is composed by a combination of micelles complexed with a silica precursor (SiOH) on the surface of the NP (magnified in the red box). (d) 3D structure of a liposome NP and detailed chemical structure of a single phospholipid composing the membrane of liposome (green box). (e) Chitosan-composed NP is displayed, alongside with the chemical structure of a positively charged chitosan macromolecule on the NH3 group (green circle). (f) Branched chemical structure and 3D composition of a Polyamidoamine (PAMAM) dendrimer is shown; in the orange box, the typical chemical structure of a PAMAM dendrimer branch is represented.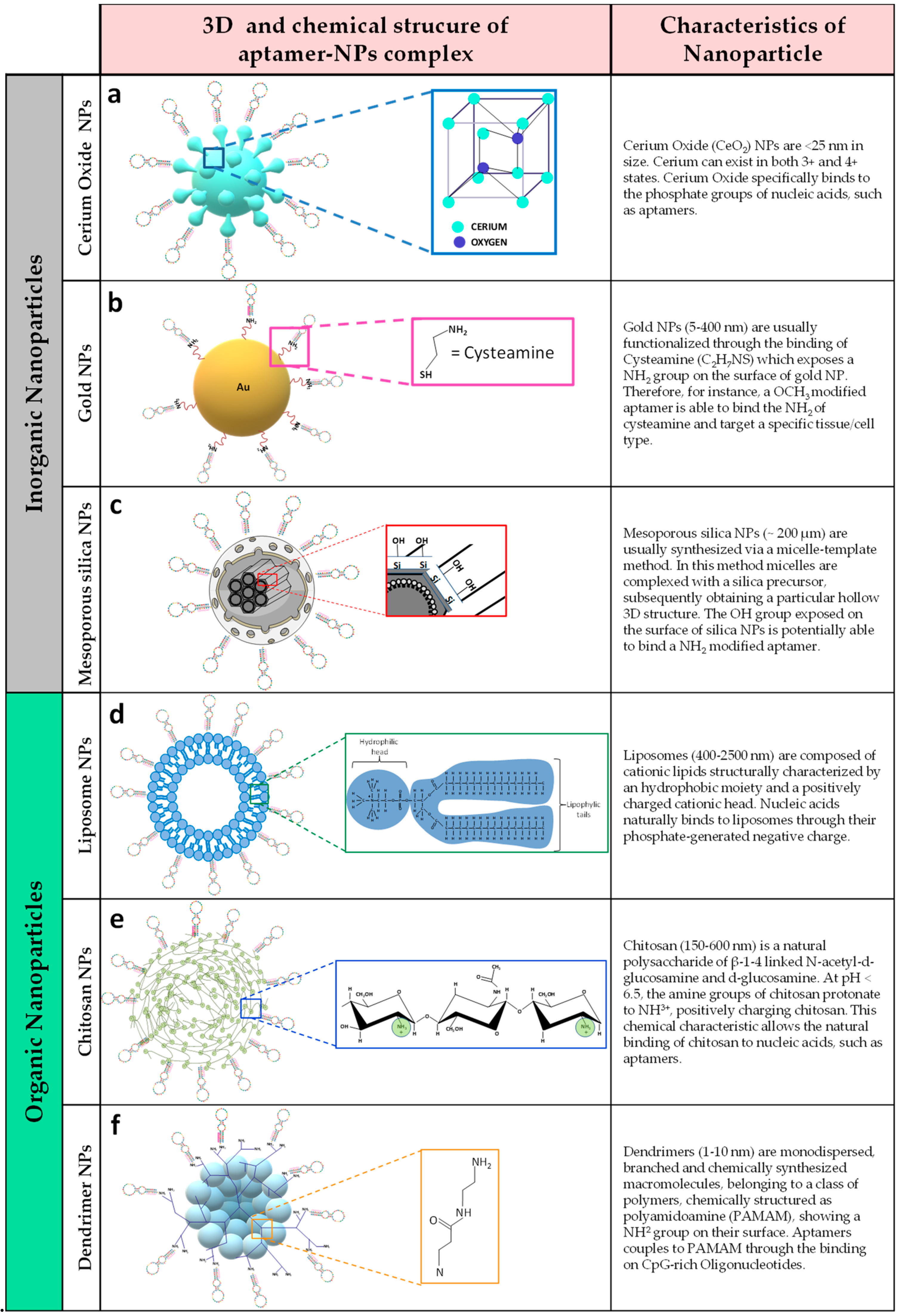 Table 1. microRNAs involved in oxidative stress mechanisms occurring in diabetes and its complications. The table reports the microRNAs up (↑) or downregulated (↓) in diabetes and its complications and involved (directly or indirectly) in oxidative stress processes. Tissue/cells involved, experimentally validated target genes, their function in oxidative stress, and disease details are reported as well. T2D, Type 2 Diabetes; DN, Diabetic Nephropathy; DV, Diabetic Vasculopathy; DC, Diabetic Cardiopathy; DR, Diabetic Retinopathy; IGT, Impaired Glucose Tolerance.
MicroRNA
Cell/Tissue
Target Gene
Target GeneFunction
Disease or Dysfunction
Ref.
miR-708 ↑
- Mouse pancreatic islets (ob/ob mice)
- Min6 β-cell line; Ins1 β-cell line
Neuronatin↓
Overexpression of Neuronatin restores β cell function under ER stress
T2D
[51,52,53]
miR-34a ↑
- Min6 β-cell line
- Islets from C57/Bl6 KsJ db/db
- Rat pancreatic islets
T2D
[9,54]
miR-146 ↑
- Min6 β-cell line
- Islets from C57/Bl6 KsJ db/db
- Rat pancreatic islets
T2D
[9,54]
miR-182-5p ↓
- Visceral and subcutaneous adipose tissue from human donors
- Ins1 β-cell line
THBS-1 ↑
Upregulation of THBS-1 protects β cells from lipotoxic damage
T2D
[55,56]
miR-370 ↓ miR-33 ↓
- Ins1 β-cell line
- C57BL/6 mice HFD
T2D
[57]
miR-200 family ↑
- db/db mice
- Min6 β-cell line
p58IPK/XIAP ↓
Physiologic expression of p58IPK/XIAP protects the β cells from oxidative stress
T2D
[58]
miR-106-b ↓
- db/db mice
- NIT-1 β-cell line
SIRT-1 ↑
SIRT-1 upregulation leads the reduction of pro-apoptotic molecules expression through FoxO1 activation
T2D
[59,60,61]
miR-25 ↓
- Diabetic rat streptozotocin-induced
NOX-4 ↑
Upregulation of NOX-4 promotes oxidative stress
DN
[62]
miR-146a ↓
- Human Umbilical Vein Endothelial Cells (HUVECs)
NOX-4 ↑
Upregulation of NOX-4 promotes oxidative stress
DV
[63,64]
miR-205 ↓
- HK-2 cell line
PHD1/EGLN2 ↑
Upregulation of PHD1/EGLN2 modulates intracellular ROS level and ER stress state
DN
[65]
miR-192miR-216a miR-217 ↑
- C57/Bl6 db/db mice
- Mouse mesangial cells
PTEN ↓
Downregulation of PTEN leads the reduction of MnSOD and its antioxidant activity
DN
[66]
miR-377 ↑
- Human MC
SOD-1/SOD-2 ↓
Physiologic expression of SOD-1-2 protects cells from ROS
DN
[67]
miR-217miR-377 ↑
- HUVEC cell line
- HEK-293 cell line
HO-1 ↓
Downregulation of HO-1 leads to impaired metabolization of excessive heme generate during hemolysis
DN
[67]
miR-185 ↑
- HUVEC cell line
GPx↓
Physiologic expression of GPx protects cell from oxidative damage
DC
[68]
miR-144 ↓
- C57BL/6 mice diabetic STZ induced
Nrf2 ↓
Upregulation of Nrf2 reduces apoptosis and improving cardiac function
DC
[69]
miR-214 ↓
- Male Sprague Dawley rats diabetic STZ induced
- Human HK-2 cell line
UCP2 ↑
UCP2 inhibition attenuates the effects of miR-214 upregulation on oxidative stress
DN
[70]
miR-21 ↑
- HUVEC cell line
KRIT1/NRF2/SOD2↓
Physiologic expression of KRIT1/NRF2/SOD2 limits ROS damage
DC
[71]
miR-21 ↑
- Human plasma
IGT/T2D
[72]
miR-22 ↑
- C57BL/6 mice diabetic STZ induced
- C57BL/6 mice HFD
- Rat H9c2 cell line
SIRT-1 ↑
SIRT-1 upregulation protects from oxidative stress
DC
[73]
miR-92a ↓
- C57BL/6 db/db mice
- HUVEC
HO-1 ↑
HO-1 upregulation normalizes ROS generation
DV
[74]
miR-15a ↑
- Human plasma
DR
[75]
miR-365 ↑
- Rat Muller cell line
- Sprague Dawley rats
TIMP-3 ↓
Overexpression of Timp-3 improves Muller cell gliosis and retinal oxidative stress
DR
[76]
miR-126 ↑
- C57BL/6 ob/ob mice
- Endothelial cells
SIRT-1 ↑/H3K56 deacetylation↓
Upregulation of SIRT-1 and reduction of H3K56 deacetylation protects cells from ROS
T2D
[77]
miR-34a ↑
- db/db mice
SIRT-1 ↓
SIRT-1 upregulation protects from oxidative stress
T2D
[78]

© 2019 by the authors. Licensee MDPI, Basel, Switzerland. This article is an open access article distributed under the terms and conditions of the Creative Commons Attribution (CC BY) license (http://creativecommons.org/licenses/by/4.0/).