Open Access This article is
freely available
re-usable
Review
The Role of Immune Cells and Cytokines in Intestinal Wound Healing
Department of Biochemistry and Molecular Biology, University of New Mexico, Albuquerque, NM 87131, USA
*
Author to whom correspondence should be addressed.
Received: 8 October 2019 / Accepted: 29 November 2019 / Published: 3 December 2019
Abstract
:
Intestinal wound healing is a complicated process that not only involves epithelial cells but also immune cells. In this brief review, we will focus on discussing the contribution and regulation of four major immune cell types (neutrophils, macrophages, regulatory T cells, and innate lymphoid cells) and four cytokines (interleukin-10, tumor necrosis factor alpha, interleukin-6, and interleukin-22) to the wound repair process in the gut. Better understanding of these immune factors will be important for developing novel targeted therapy.
Keywords:
immune cells; cytokines; wound healing; intestine; inflammatory bowel disease
Author Contributions
X.X. conceived the topic, wrote the manuscript and generated the figures. D.M.F. performed some literature review and wrote a portion of the draft. All authors approved the final version of this manuscript.
Funding
This research was funded by the National Institutes of Health (K01DK114390), a Research Scholar Grant from the American Cancer Society (RSG-18-050-01-NEC), a Research Pilot Project Grant from University of New Mexico Environmental Health Signature Program and Superfund (P42 ES025589), a Shared Resources Pilot Project Award and a Research Program Support Pilot Project Award from UNM comprehensive cancer center (P30CA118100), and a new investigator award from the Dedicated Health Research Funds at the University of New Mexico School of Medicine. The APC was funded by the National Institutes of Health (K01DK114390). D.M.F. was supported by the Academic Science Education and Research Training program at the University of New Mexico Health Sciences Center (NIGMS Institutional Research and Academic Career Development Award; K12-GM088021).
Conflicts of Interest
The authors declare no conflicts of interest.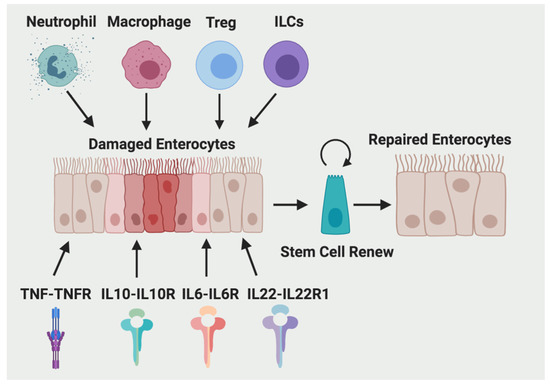 Figure 1. Immune cells and cytokines are contributing to intestinal wound repair. Four major immune cell types (neutrophils, macrophages, Treg) and ILCs), four cytokines (IL-10, TNF-α, IL-6, and IL-22) and their corresponding receptors are involved in stem cell renew and wound healing process in the intestine.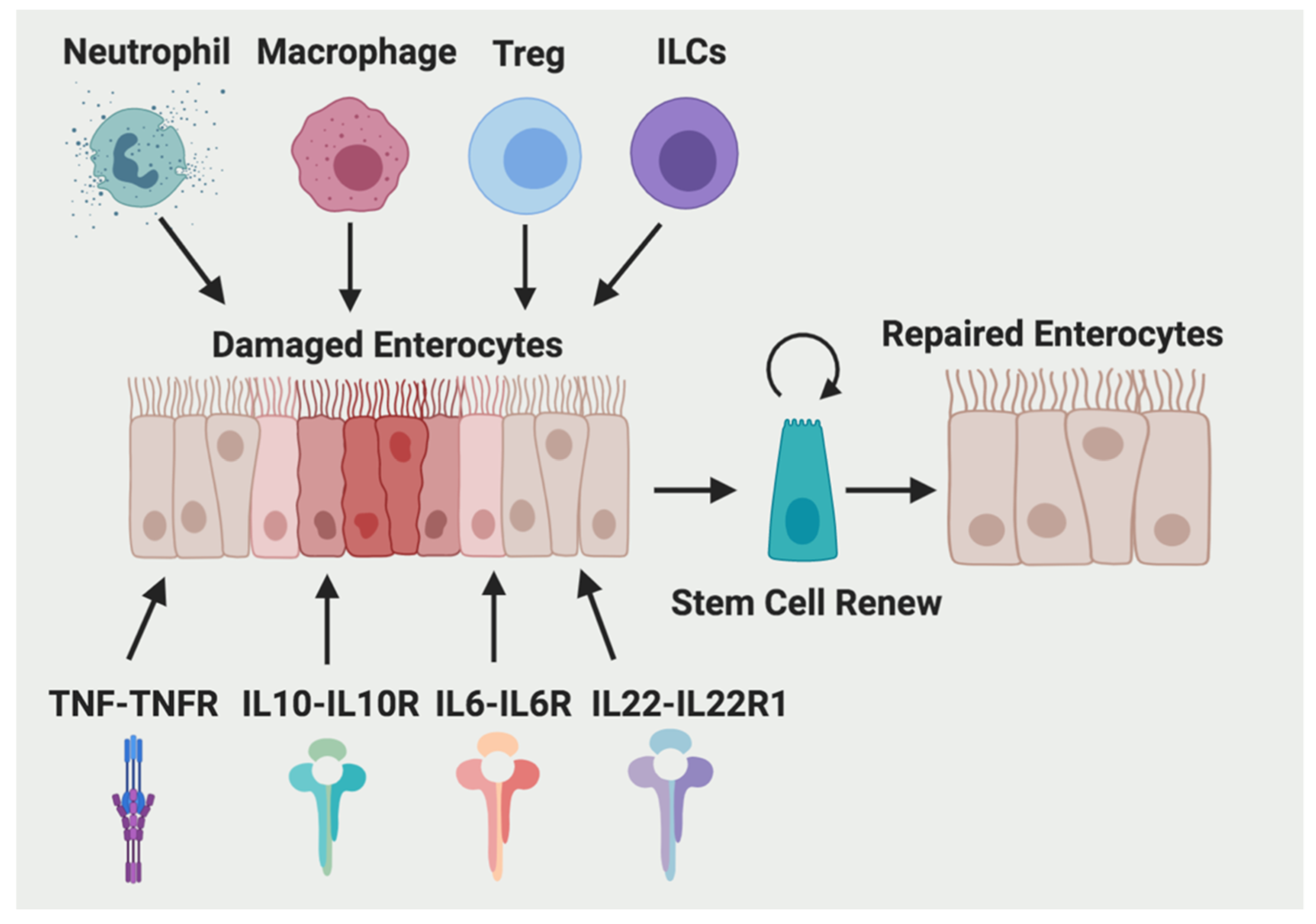 Figure 2. Neutrophils are a double edge sword in intestinal wound repair. Neutrophils damage intestinal mucosal through secreting MMP-9 and miRNA containing microparticles at acute phase of injury, but they can also promote wound repair through killing bacteria, modulating HIF-1α/ITF signaling and secreting pro-repair cytokines, chemokines, and growth factors.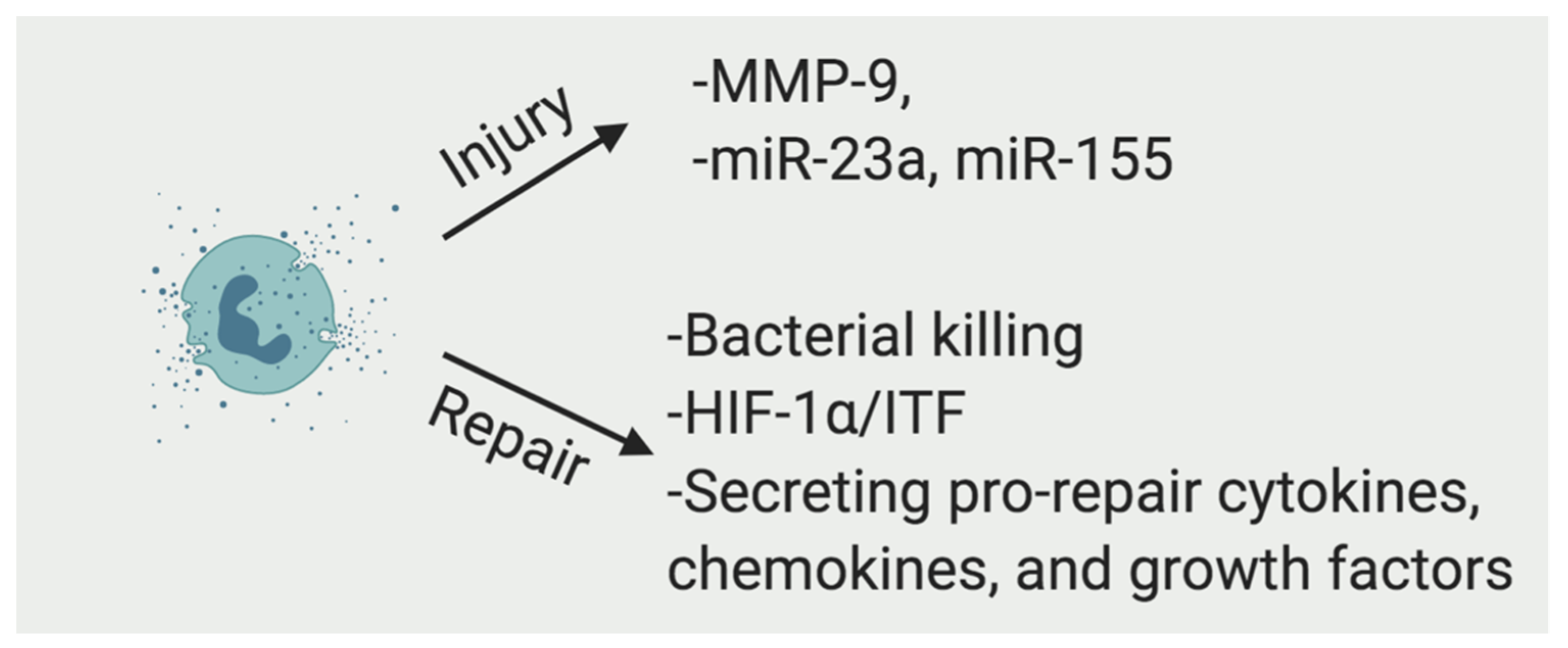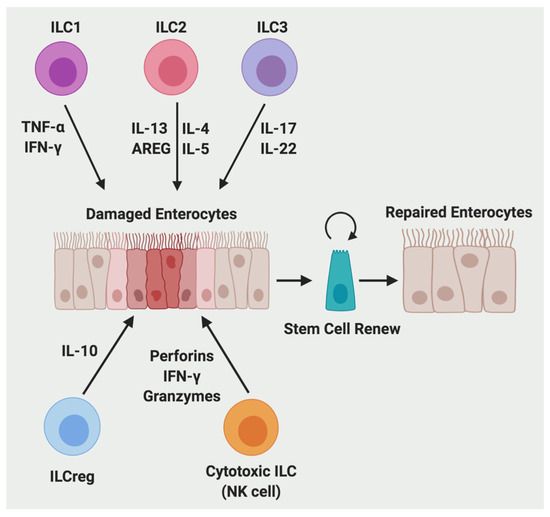 Figure 3. ILCs contribute to the process of intestinal wound repair. During wound healing, ILC1 secretes TNF-α and IFN-γ; ILC2 secretes IL-4, IL-5, IL-13, and AREG; ILC3 secretes IL-17 and IL-22; ILCreg secretes IL-10; and cytotoxic ILC (NK cell) secrete perforins, IFN-γ, and granzymes.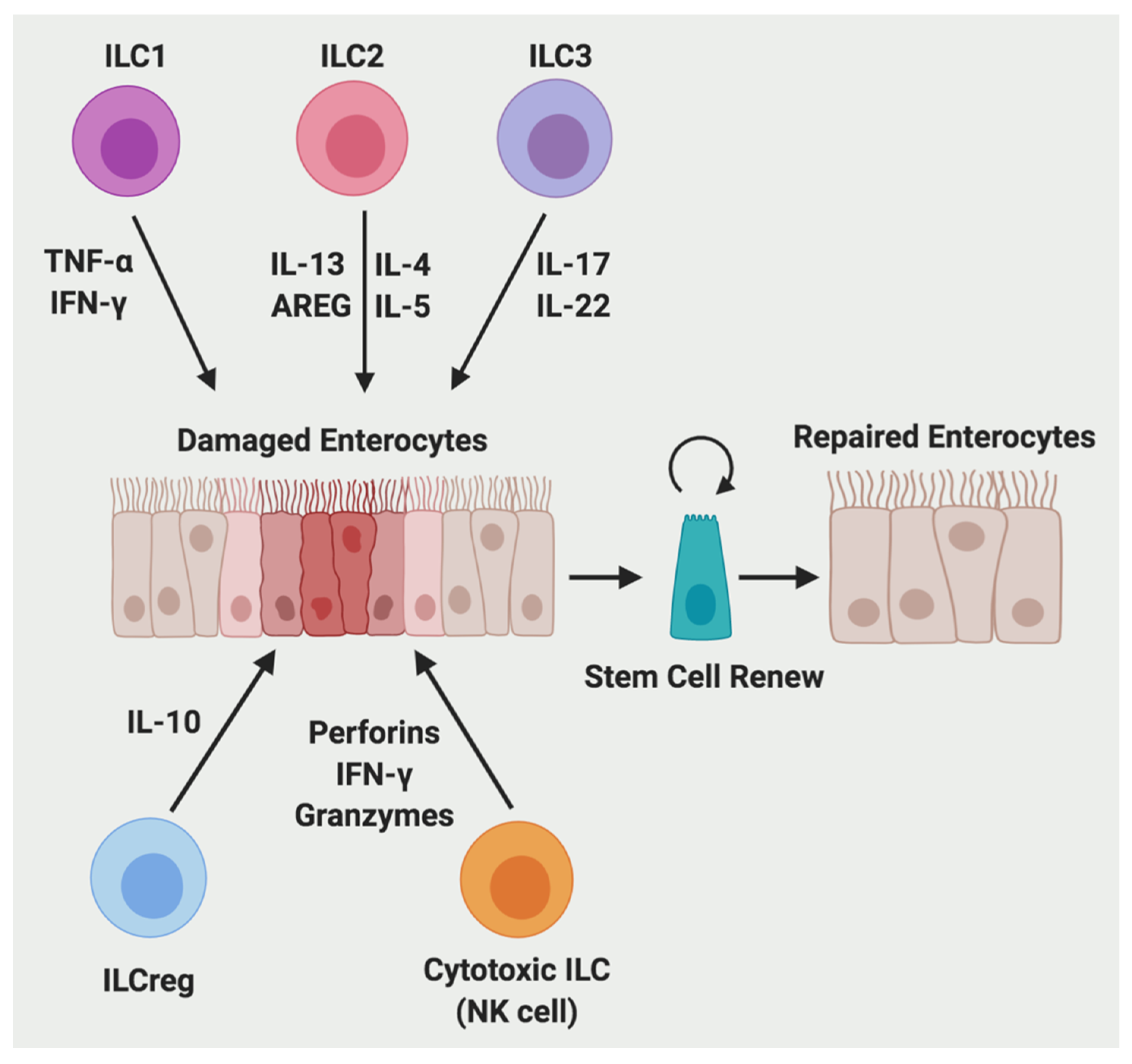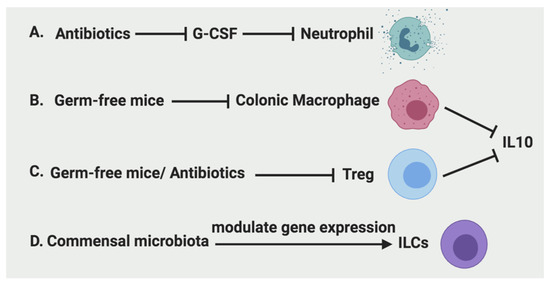 Figure 4. Regulation of immune cells by microbiota. A. Antibiotics can inhibit the recruitment of neutrophils by inhibition of G-CSF production. B. Colonic macrophages and their secretion of IL-10 are significantly reduced in germ-free mice. C. Tregs and their production of IL-10 are reduced in germ-free mice as well as antibiotics treatment. D. The gene expression of ILCs are modulated by commensal microbiota.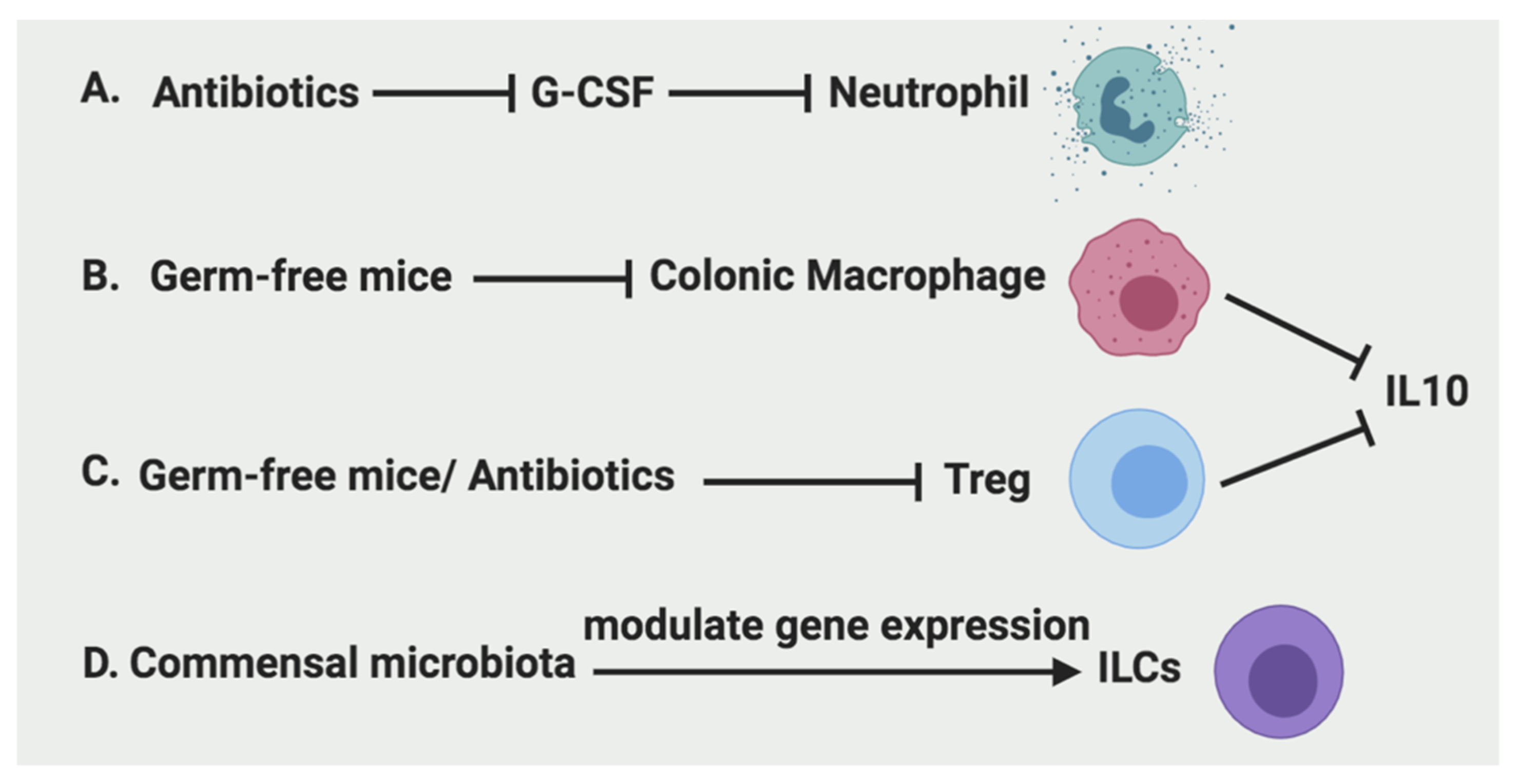 © 2019 by the authors. Licensee MDPI, Basel, Switzerland. This article is an open access article distributed under the terms and conditions of the Creative Commons Attribution (CC BY) license (http://creativecommons.org/licenses/by/4.0/).