Open Access This article is
freely available
re-usable
Review
Role of Nicotinamide in Genomic Stability and Skin Cancer Chemoprevention
1
First Dermatology Clinic, IDI-IRCCS, via dei Monti di Creta 104, 00167 Rome, Italy
2
Dermatologic Unit, University of Rome Tor Vergata, Viale Oxford 81, 00133 Rome, Italy
3
Department of Experimental Medicine, University of Rome Tor Vergata, Via Montpellier, 1, 00133 Rome, Italy
4
Biochemistry Laboratory, IDI-IRCCS, 00167 Rome, Italy
5
Clinical Epidemiology Unit, IDI-IRCCS, via dei Monti di Creta 104, 00167 Rome, Italy
6
Laboratory of Molecular and Cell Biology, IDI-IRCCS, via dei Monti di Creta 104, 00167 Rome, Italy
*
Author to whom correspondence should be addressed.
Received: 12 October 2019 / Accepted: 23 November 2019 / Published: 26 November 2019
Abstract
:
Nicotinamide (NAM) is an amide form of vitamin B3 and the precursor of nicotinamide adenine dinucleotide (NAD+), an essential co-enzyme of redox reactions for adenosine triphosphate (ATP) production and for other metabolic processes. As NAD+ status is critical in maintaining cellular energy, vitamin B3 deficiency mainly affects tissues that need high cellular energy causing pellagra and skin sun sensitivity. In animal models, NAD+ deficiency leads to UV sensitivity of the skin, impairs DNA damage response, and increases genomic instability and cancer incidence. Furthermore, NAD+ depletion is associated with human skin aging and cancer. NAM prevents the UV-induced ATP depletion boosting cellular energy and enhances DNA repair activity in vitro and in vivo. Moreover, NAM reduces skin cancer incidence and prevents the immune-suppressive effects of UV in mice. Thus, NAM is involved in the maintenance of genomic stability and may have beneficial effects against skin aging changes and tumor development. Clinical studies showed that topical use of NAM reduces cutaneous aging. Furthermore, oral NAM administration reduces the level of UV-mediated immunosuppression and lowers the rate of non-melanoma skin cancers in high-risk patients. Therefore, NAM replenishment strategy may be a promising approach for skin cancer chemoprevention.
Keywords:
keratinocytes; non-melanoma skin cancers; skin aging; nicotinamide
2. The Influence of NAD+ Status on Genomic Stability and Cell Senescence
Endogenous (e.g., oxidative metabolism, spontaneous hydrolytic reaction, DNA replication errors) and exogenous (e.g., UV and infrared radiations, chemicals) insults induce DNA damage, such as strand breaks, depurination, depyrimidination, crosslinks, and modified bases [
8
]. Genome stability is maintained by DNA repair systems (e.g., base excision repair (BER), nucleotide excision repair (NER), mismatch repair systems [
9
]. Following DNA damage, the cells undergo transient arrest to repair modifications through DNA repair systems, and then re-enter the cell-cycle [
10
]. The efficiency of mechanisms involved in genomic stability may depend on energy status. Indeed, several proteins, which contribute to repair DNA damage, such as DNA ligases (e.g., DNA ligase I, III), chromatin remodelers (e.g., CSB, Swi2/Snf2) and histone-modifying enzymes (e.g., ATM kinase, DNA-PK) are ATP-dependent enzymes [
11
]. Incomplete DNA repair leads to an accumulation of DNA damage that, in turn, leads to persistent DNA damage response, telomere attrition, and genomic instability. Persistent DNA damage has immediate effects, driving cells towards apoptosis or senescence, as well as long-term consequences resulting in aging or cancer [
8
,
10
]. Apoptosis and senescence are two tumor-suppression mechanisms that eliminate the cells at risk for oncogenic transformation. Apoptotic cells are quickly eliminated. Conversely, senescent cells remain viable in the tissue although they may undergo several changes, including growth arrest, modification of gene expression and morphology, and acquisition of a senescence-associated secretory phenotype (SASP) that is characterized by secretion of pro-inflammatory cytokines, growth factors, and proteases [
12
]. SASP allows the removal of damaged cells by recruiting immune cells, and promotes tissue renewal by mobilization of nearby progenitor cells. Thus, cell senescence protects the organism from developing cancer.
2.1. NAD+ Influences Energy Production by Acting as Co-Enzyme
NAD+ is a co-enzyme in several redox reactions which release energy from oxidized nutrients (e.g., glucose, fatty acids). The energy is transferred from NAD+ to NADH by reduction, as part of glycolysis, fatty acid β-oxidation, and the tricarboxylic acid cycle processes. NADH is oxidized to NAD+ by anaerobic glycolysis and mitochondrial oxidative phosphorylation (OXPHOS) that generates ATP. NAD+ is also a substrate for the biosynthesis of NADP+ by NAD kinase (NADK)-mediated phosphorylation. NADP+ has an analogous role for electron transfer in biosynthetic reactions such as fatty acid and cholesterol synthesis. Moreover, NADPH provides reducing equivalents to regenerate the cellular detoxifying and antioxidative defense systems. NADPH is also a substrate of NADPH oxidases (NOXs) that generate reactive oxygen species (ROS). Thus, the NAD(P)+/NAD(P)H ratio controls cellular redox status [
2
,
5
,
13
].
NAD+ level is critical in preserving genomic integrity of the cells, since DNA repair mechanisms are highly energy-dependent [
11
]. In human HaCaT keratinocytes, NAD+ depletion increased spontaneous DNA damage through up-regulation of NOX activity and subsequent increase in ROS production [
14
]. ROS increase induces DNA lesions, such as 8-oxo-2'deoxyguanosine (8-oxo-dG), that may result in GC to TA transition. This modified base is removed by the 8-oxoguanine-DNA glycosylase 1 (OGG1), an enzyme of the BER system [
9
]. NAD+ replenishment by NAM treatment completely reversed ROS accumulation and DNA damage in skin cells [
14
].
Low NAD+/NADH ratios promote cellular senescence, at least in part, by limiting glycolysis and ATP production. Indeed, senescent cells display decreased cytosolic NAD+/NADH ratio and increased AMP/ATP and ADP/ATP ratios. Lower energetic status activates the AMP-activated protein kinase (AMPK) that phosphorylates and activates p53, and, in turn, promotes senescence but suppresses the IL1R signaling arm of the SASP. AMPK also inactivates HuR, which increases the stability of transcripts of p21 and p16INK4a—two cyclin-dependent kinase inhibitors that mediate the senescence proliferative arrest through the activation of pRB tumor suppressor [
13
]. Furthermore, NAMPT inhibition induces senescence without the IL1R arm of the SASP [
15
]. Conversely, NAMPT overexpression suppresses cell senescence [
16
].
2.2. NAD+ Influences Cell Signaling by Acting as Substrate of NAD+-Consuming Enzymes
3. Genomic Instability—Hallmark of Aging and Cancer
Thus, aging is a major risk factor of skin tumor development.
4. NAD+ Status and Skin Aging
NAD+ depletion has been associated with hallmarks of aging (
Figure 2
). The maintenance of adequate NAD+ levels may be beneficial in counteracting at least some of the age-related cellular degenerative processes [
2
,
4
,
5
].
4.1. NAD+ and Chronological Skin Aging
4.2. NAD+ and Photo-Aging
4.3. NAM and Prevention of Aging Signs
5. NAD+ Status and Skin Cancer
NAD+ depletion with age and/or following UV radiation may play a major role in skin cancer initiation by impairing processes involved in genomic stability. Thus, the maintenance of adequate intracellular NAD+ levels is important for skin cancer prevention [
4
].
5.1. Cutaneous Squamous-Cell Carcinoma
5.2. NAM and Chemoprevention
6. Conclusions
NAD+ levels are critical for genomic responses to genotoxic insults [
2
,
4
]. Maintaining adequate NAD+ level is therefore essential in skin cancer patients and individuals at risk of exposure to genotoxic agents. Intracellular NAD+ levels are regulated by many cellular processes, including glycolysis, OXPHOS, mitochondrial metabolism, transcription and signaling, and are significantly influenced by diet, exercise, and other health conditions. However, NAD+ depletion is associated with aging and age-related diseases, including cancer. Recently, beneficial effects of NAD+ precursors (e.g., NR, NMN, NAM) in delaying signs of age-associated diseases have been found [
2
,
5
,
88
].
NAM prevents ATP depletion and glycolytic blockade induced by UV radiation boosting cellular energy and enhances DNA repair activity in cultured keratinocytes and animal models [
3
,
4
]. Thus, NAM is involved in the maintenance of genomic stability and may have beneficial effects against aging-related skin changes and tumor development [
1
,
4
]. NAM reduces skin cancer incidence and prevents the immune-suppressive effects of UV radiation in mice when given topically or orally [
72
,
73
]. Furthermore, clinical studies have shown that topical use of NAM reduced skin aging signs [
77
,
78
,
79
,
80
]. Oral NAM administration reduces the level of immunosuppression induced by UV radiation without altering baseline immunity and it lowers the rate of NMSCs, including AKs.
Therefore, a NAM replenishment strategy may be a promising approach for the chemoprevention of NMSC.
Author Contributions
Conceptualization, L.F. and E.D.; writing—original draft preparation, E.D.; writing—review and editing, L.F., C.M., E.C. (Elena Campione), E.C. (Eleonora Candi), D.A. and E.D.; visualization, E.D. All authors read and approved the manuscript.
Funding
This research received no external funding.
Acknowledgments
This work was supported, in part, by the "Progetto Ricerca Corrente 2019" and "RF-2016-02362541" of the Italian Ministry of Health, Rome, Italy.
Conflicts of Interest
The authors declare no conflict of interest.
Abbreviations
| | |
| --- | --- |
| NAM | nicotinamide |
| NAD+ | nicotinamide adenine dinucleotide |
| UV | ultraviolet |
| ATP | Adenosine triphosphate |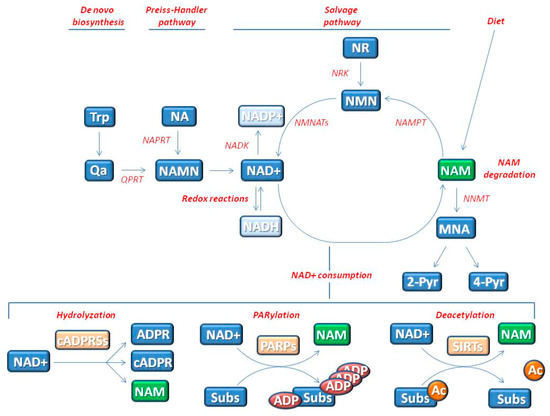 Figure 1.
Nicotinamide (NAM) and Nicotinamide Adenine Dinucleotide (NAD+) metabolism. One source of NAM is the diet, via intake of eggs, meat, fish, and mushrooms. After ingestion, NAM is readily absorbed from the gastro-intestinal tract and widely distributed in the body tissues. NAM is the precursor of nicotinamide adenine dinucleotide (NAD+) that is an essential co-enzyme of redox reactions for adenosine triphosphate (ATP) production and for several metabolic processes. NAM is converted to NAD+ through the salvage pathway that represents the major route of NAD+ biosynthesis in mammals. NAM phosphoribosyltransferase (NAMPT) is the rate-limiting enzyme that catalyzes the first step in the biosynthesis of NAM mononucleotide (NMN) from NAM. Subsequently, the NMN adenylyltransferases (NMNATs) utilize ATP for the generation of NAD+. This coenzyme may be directly converted from NADP+ by NAD kinase (NADK). NMN can be also synthetized by nicotinic acid (NA) and NAM riboside (NR). Since NAD+ acts as substrate for specific NAD+-consuming enzymes, NAM is also generated as by-product by these reactions and recycled in the salvage pathway. Specifically, the cyclic ADP-ribose synthases (cADPRSs) hydrolyze NAD+ to NAM. Poly (ADP-ribose) polymerases (PARPs), use NAD+ as a co-substrate to PARylate target proteins (Subs), generating NAM. The deacetylation of specific substrates (Subs) by Sirtuins (SIRTs), which are NAD+ dependent enzymes, generates NAM. NAM is removed from recycling by degradation that thus indirectly affects NAD+ levels. NAM is methylated to 1-methyl-NAM (MNA) by NAM-
N
-methyltransferase (NNMT) and then oxidized to l-methyl-2-pyridone-5-carboxamide (2-Pyr) and l-methyl-4-pyridone-5-carboxamide (4-Pyr).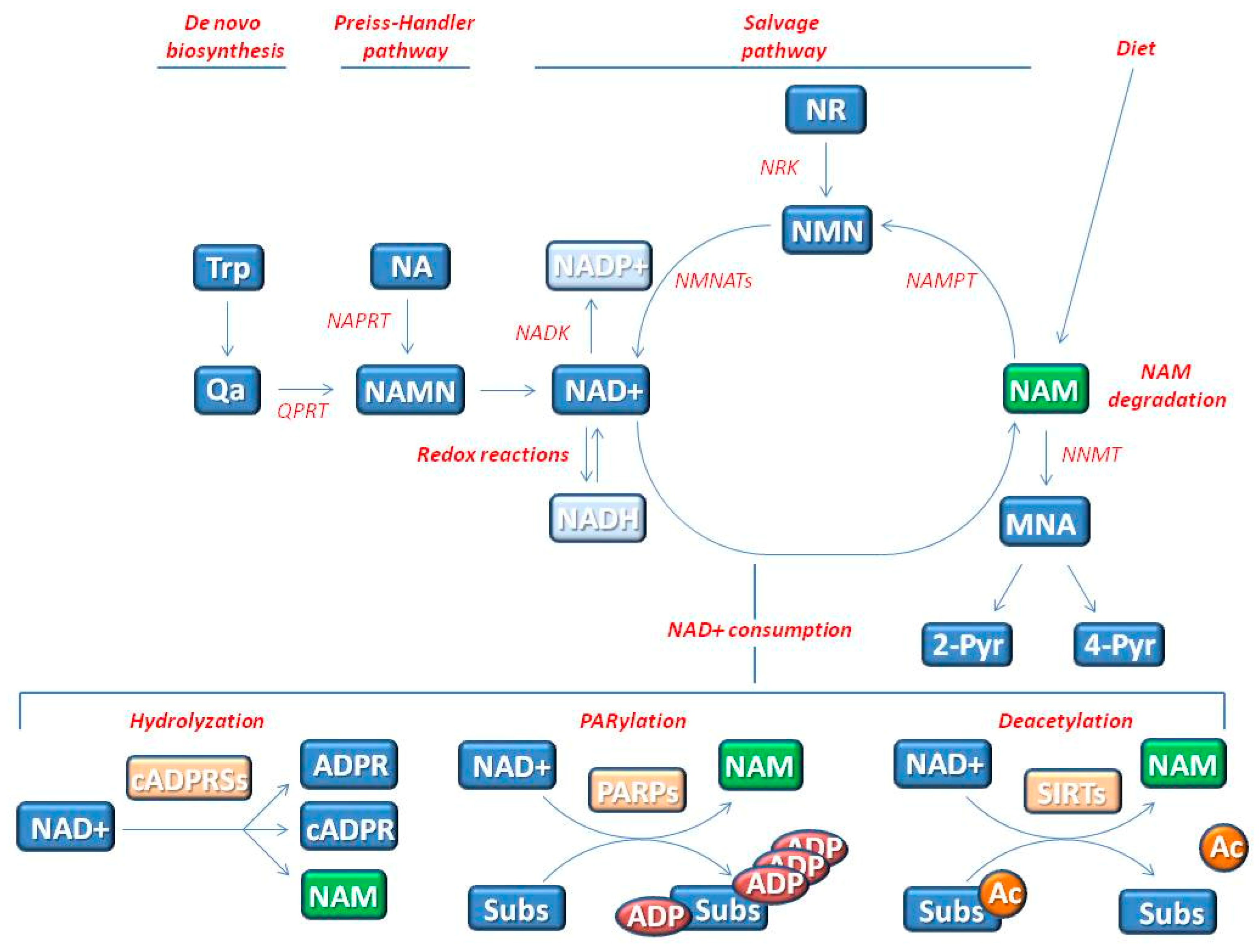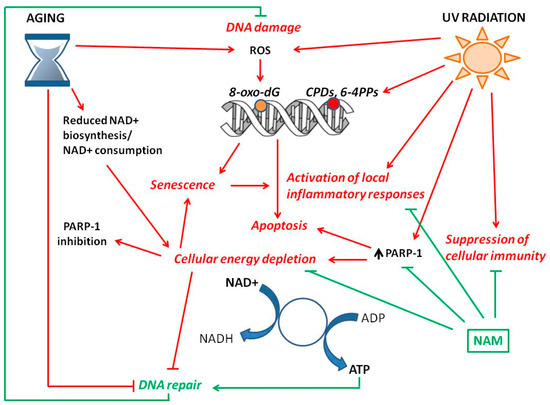 Figure 2. Nicotinamide (NAM) and genomic stability. The increase of reactive oxygen species (ROS) and the decrease of DNA repair capacity characterize skin aging and result in oxidative DNA damage with high levels of 8-oxo-dG lesions. Reduced NAD+ biosynthesis and/or NAD+ consumption induce cellular energy depletion that lead to decreased DNA repair activity and PARP-1 inhibition. Both NAD+ depletion and DNA damage can induce cell senescence or apoptosis. Senescent cell accumulation in the tissue is associated with chronic inflammation. UV radiation causes in the skin direct and indirect damages to DNA including cyclobutane pyrimidine dimers (CPDs) and pyrimidine (6–4) pyrimidine photoproducts (6–4PPs) and 8-oxo-dG lesions. UV rays also induce cellular energy depletion by increasing PARP-1 activity, activation of inflammatory responses and suppression of cellular immunity. NAM is a precursor of NAD+. Replenishment of the NAD+ pool increases adenosine triphosphate (ATP) production, counteracts the inflammatory responses and the suppression of immunity. Furthermore, the ATP increase enhances DNA repair mechanisms maintaining genomic stability. Therefore, NAM protects the skin from DNA damage and may have beneficial effects against skin aging and tumor development.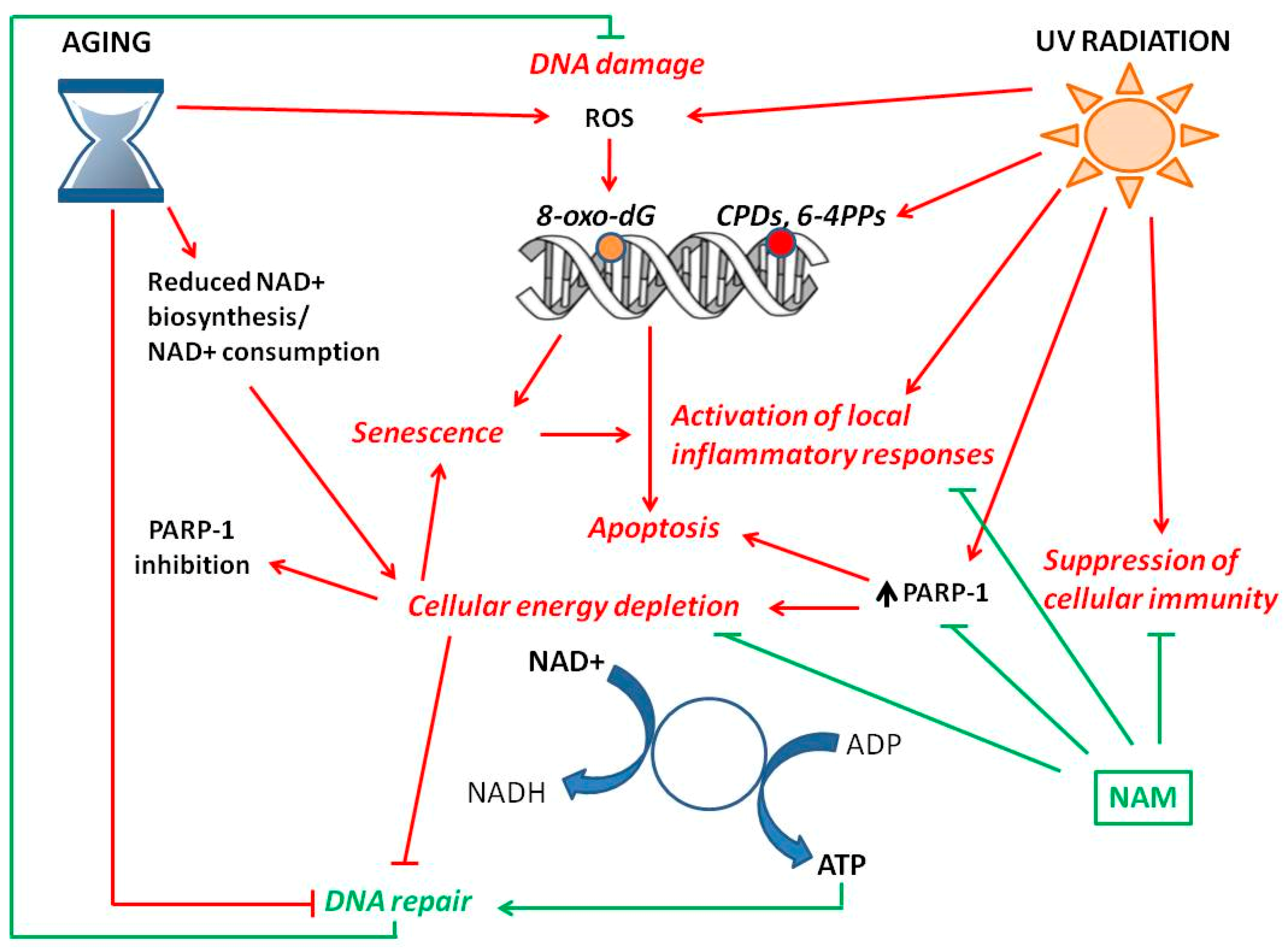 © 2019 by the authors. Licensee MDPI, Basel, Switzerland. This article is an open access article distributed under the terms and conditions of the Creative Commons Attribution (CC BY) license (http://creativecommons.org/licenses/by/4.0/).