Encapsulating Peritoneal Sclerosis: Pathophysiology and Current Treatment Options
1
Division of Nephrology and Hypertension, 1st Department of Internal Medicine, Medical School, Aristotle University of Thessaloniki, 54124 Thessaloniki, Greece
2
Center for Pediatric and Adolescent Medicine, University Hospital Heidelberg, 69120 Heidelberg, Germany
3
Department of Physiology, Faculty of Medicine, University of Thessaly, 41500 Larissa, Greece
*
Author to whom correspondence should be addressed.
†
These authors contributed equally to this work.
Received: 26 September 2019 / Revised: 31 October 2019 / Accepted: 4 November 2019 / Published: 16 November 2019
Encapsulating peritoneal sclerosis (EPS) is a life-threatening complication of long-term peritoneal dialysis (PD), which may even occur after patients have switched to hemodialysis (HD) or undergone kidney transplantation. The incidence of EPS varies across the globe and increases with PD vintage. Causative factors are the chronic exposure to bioincompatible PD solutions, which cause long-term modifications of the peritoneum, a high peritoneal transporter status involving high glucose concentrations, peritonitis episodes, and smoldering peritoneal inflammation. Additional potential causes are predisposing genetic factors and some medications. Clinical symptoms comprise signs of intestinal obstruction and a high peritoneal transporter status with incipient ultrafiltration failure. In radiological, macro-, and microscopic studies, a massively fibrotic and calcified peritoneum enclosed the intestine and parietal wall in such cases. Empirical treatments commonly used are corticosteroids and tamoxifen, which has fibrinolytic properties. Immunosuppressants like azathioprine, mycophenolate mofetil, or mTOR inhibitors may also help with reducing inflammation, fibrin deposition, and collagen synthesis and maturation. In animal studies, N-acetylcysteine, colchicine, rosiglitazone, thalidomide, and renin-angiotensin system (RAS) inhibitors yielded promising results. Surgical treatment has mainly been performed in severe cases of intestinal obstruction, with varying results. Mortality rates are still 25–55% in adults and about 14% in children. To reduce the incidence of EPS and improve the outcome of this devastating complication of chronic PD, vigorous consideration of the risk factors, early diagnosis, and timely discontinuation of PD and therapeutic interventions are mandatory, even though these are merely based on empirical evidence.
Author Contributions
Conceptualization, R.M.J., C.P.S. and V.L.; literature review, R.M.J., A.B., S.G.Z., and C.P.S.; software, S.G.Z.; validation, R.M.J.; writing—original draft preparation, A.B. and V.L.; writing—review and editing, R.M.J., S.G.Z., M.B. and C.P.S.; visualization, M.B.; supervision, V.L.; all authors approved the final version of the manuscript.
Funding
This research received no external funding.
Acknowledgments
CPS has obtained funding from European Nephrology and Dialysis Institute (ENDI). This work is part of the IMPROVE-PD project that has received funding from the European Union's Horizon 2020 Research and Innovation Programme under the Marie Sklodowska-Curie grant agreement number 812699. MB is funded by the Deutsche Forschungsgemeinschaft (DFG, German Research Foundation) – Projektnummer 419826430. SGZ acknowledges the Alexander von Humboldt Stiftung for an Experienced Researcher Fellowship.
Conflicts of Interest
CPS has obtained lecturing honoraria, travel support, and investigator-initiated research funding from Fresenius Medical care and lecturing and consulting honoraria from Baxter. The rest of the authors declare no conflict of interest.
Abbreviations
| | |
| --- | --- |
| AGEs | Advanced Glycation End-products |
| a-SMA | a-Smooth Muscle Actin |
| AZA | Azathioprine |
| CNIs | Calcineurin Inhibitors |
| EMT | Epithelial-to-Mesenchymal Transition |
| eNOS | endothelial Nitric Oxide Synthase |
| EPS | Encapsulating Peritoneal Sclerosis |
| ESRD | End Stage Renal Disease |
| H2 | Dissolved Molecular Hydrogen |
| HD | Hemodialysis |
| MCP-1 | Monocyte Chemoattractant Protein-1 |
| MCs | Mesothelial Cells |
| MMF | Mycophenolate Mofetil |
| MMP9 | Matrix MetalloProteinase-9 |
| MMT | Mesothelial-to-Mesenchymal Transition |
| mTOR | Mammalian Target of Rapamycin |
| NAC | N-Acetylcysteine |
| PD | Peritoneal Dialysis |
| PM | Peritoneal Membrane |
| PPAR | Peroxisome Proliferator-Activated Receptor |
| PTX | Pentoxifylline |
| RAAS | Renin–Angiotensin–Aldosterone System |
| TGF-β1 | Transforming Growth Factor–β1 |
| UF | UltraFiltration |
| UFF | UltraFiltration Failure |
| VEGF | Vascular Endothelial Growth Factor |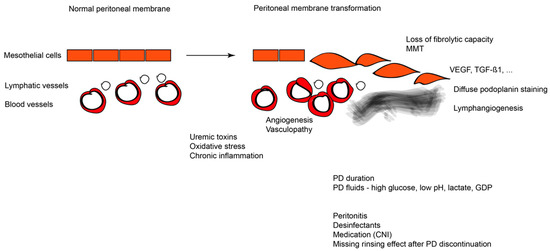 Figure 1. Overview of EPS pathogenesis depicting the normal peritoneum on the left and the changes induced during EPS along with the factors that are involved in EPS on the right. CNI: Calcineurin inhibitors; GDP: glucose degradation products; MMT: mesothelial-to-mesenchymal transition; PD: Peritoneal Dialysis; TGF-β1: Transforming Growth Factor β1; VEGF: Vascular Endothelial Growth Factor.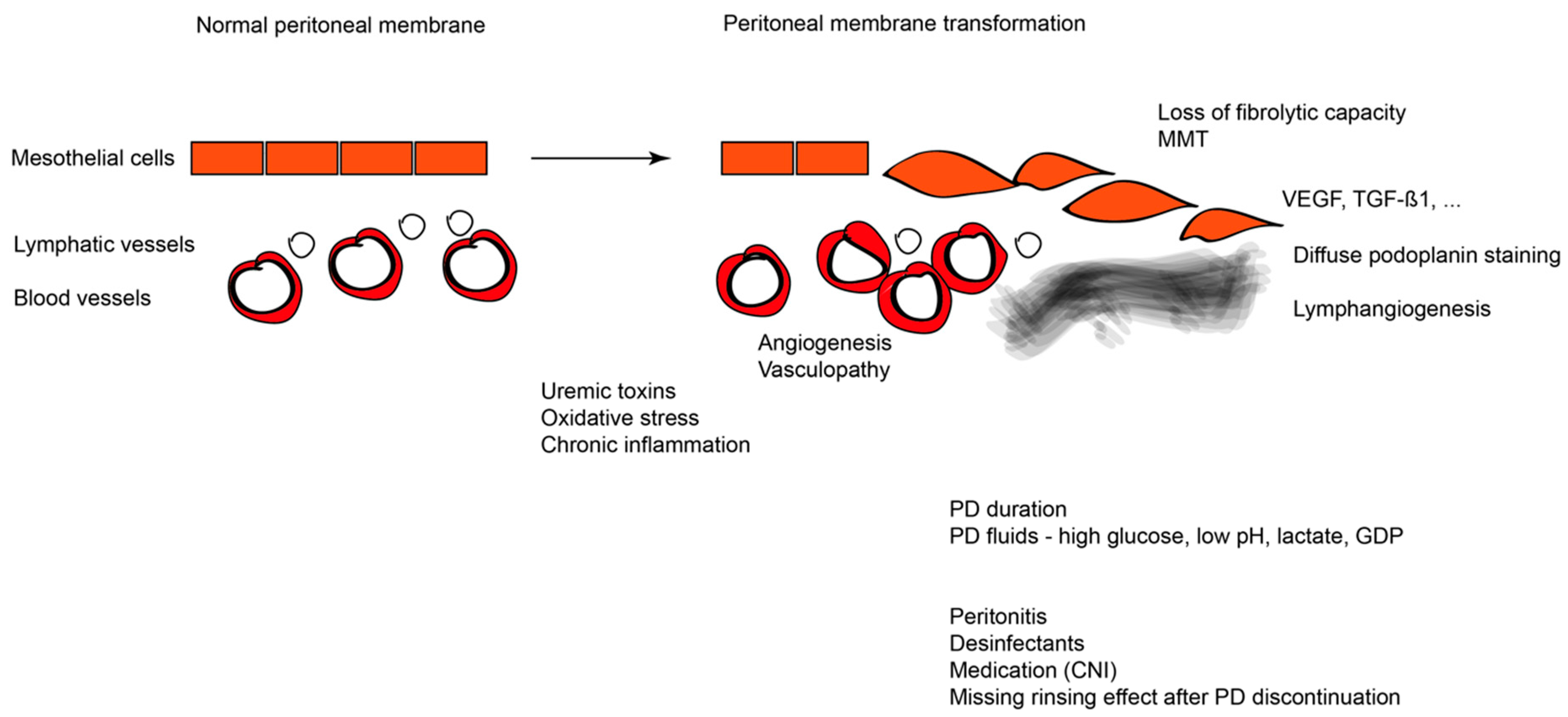 Class
Drug Name
Mode of Action
Glucocorticosteroids
Prednisone
Immunosuppressant, inhibits monocyte chemoattractant protein 1 (MCP-1) synthesis, regulates extracellular matrix (ECM) protein synthesis, ECM protein maturation
Prednisolone
Immuno-suppressants
Azathioprene
Inhibits DNA/RNA synthesis
Rapamycin/Sirolimus
Inhibits T-cell/B-cell activation
Mycophenolate mofetil
De-novo purine synthesis blockade
Cyclosporine
Lowered T-cell activity
Hormonal antagonist
Tamoxifen
Blocks transforming growth factor-β1 (TGF-β1) signaling
Angiotensin converting enzyme inhibitor (ACEi)/Angiotensin II receptor blocker (ARB)
Blocks TGF-β1 signaling
Perindopril
Blocks TGF-β1 signaling, lowered cell proliferation
Candesartan
Mucolytic
Ν-acetylcysteine (NAC)
Reactive oxygen species scavenger
alkaloid
Colchicine
Blocks TGF-β1 mRNA expression
Xanthine derivative
Pentoxifylline
Fibrinoltyic, suppressed collagen synthesis, angiogenesis
Anti-diabetic
Rosiglitazone
Peroxisome Proliferator-Activated Receptor (PPAR)-agonist, suppressed inflammation, neovasculature
Anti-fibrotic, anti-inflammatory
Pirfenidone
Reduces tissue inhibitor of metalloproteinases-1 (TIMP-1), tumor necrosis factor-α (TNF-α), and TGF-β1 expression,
Immuno-modulator
Thalidomide
Anti-angiogenic, anti-proliferative, antifibrotic
Anti-fungal
Itraconazole
Decreased TGF-β1 expression
Autologous stem cell therapy
Mesothelial/submesothelial cellular layer repair

© 2019 by the authors. Licensee MDPI, Basel, Switzerland. This article is an open access article distributed under the terms and conditions of the Creative Commons Attribution (CC BY) license (http://creativecommons.org/licenses/by/4.0/).