Open Access This article is
freely available
re-usable
Review
Current Approaches in NSCLC Targeting K-RAS and EGFR
1
Research Division, National Institute of Traumatology and Orthopedics, Av. Brasil 500, 20940-070 Rio de Janeiro, Brazil
2
School of Medicine, University of Split, Šoltanska 2, 21000 Split, Croatia
*
Author to whom correspondence should be addressed.
Received: 17 October 2019 / Accepted: 12 November 2019 / Published: 14 November 2019
Abstract
:
The research and treatment of non-small cell lung cancer (NSCLC) have achieved some important advances in recent years. Nonetheless, the overall survival rates for NSCLC remain low, indicating the importance to effectively develop new therapies and improve current approaches. The understanding of the function of different biomarkers involved in NSCLC progression, survival and response to therapy are important for the development of early detection tools and treatment options. Epidermal growth factor receptor (EGFR) and Kirsten rat sarcoma viral oncogene homolog (K-RAS) are two of the main significant biomarkers for the management of NSCLC. Mutations in these genes were associated with development and response to therapies. For example, the use of small molecule tyrosine kinase (TK) inhibitors and immunotherapy has led to benefits in some, but not all patients with altered EGFR. In contrast, there is still no effective approved drug to act upon patients harbouring K-RAS mutations. In addition, K-RAS mutations have been associated with lack of activity of TK inhibitors. However, promising approaches aimed to inhibit mutant K-RAS are currently under study. Therefore, this review will discuss these approaches and also EGFR therapies, and hopefully, it will draw attention to the need of continued research in the field in order to improve the outcomes in NSCLC patients.
Keywords:
lung cancer; NSCLC; K-RAS; EGFR; lung cancer therapy
1. Introduction
The world health organization (WHO) characterises lung cancer as the second leading cause of death in the world (one in six deaths), being tobacco use the most important risk factor. For both sexes combined, worldwide statistics indicate lung cancer remaining as the leading cause of cancer incidence and cancer mortality (18.4% of the total cancer deaths) and the most commonly diagnosed cancer type (11.6% of the total cases) [
1
]. Lung cancer arises from the cells of the respiratory epithelium and can be divided into: small cell lung cancer (SCLC), a highly malignant tumour derived from cells exhibiting neuroendocrine characteristics and accounts for 15% of lung cancer cases and non–small cell lung cancer (NSCLC), which corresponds to 85% of cases. NSCLC is further divided into three major pathologic subtypes: adenocarcinoma, squamous cell carcinoma, and large cell carcinoma [
2
]. The most common subtype of lung cancer is adenocarcinoma comprising approximately 40% of NSCLC cases, followed by squamous-cell carcinoma 25–30% and large cell (undifferentiated) carcinoma 5–10% [
3
].
The genomic profiling of tumours revolutionised medicine firstly by analysing tumour's tissues and secondly by the less invasive option, the use of plasma genotyping to detect circulating tumour DNA (ctDNA). These collectively improved the identification of different genetic alterations and also generated options for targeted therapies to support individualised treatment. The alterations frequently found in the main lung cancer subtype, NSCLC, are summarised in
Figure 1
[
3
]. The NSCLC current strategies to develop effective treatments include the study, to a great depth, of different molecular targets such as K-RAS (Kirsten Rat Sarcoma), the epidermal growth factor receptor (EGFR), phosphatidylinositol 3-kinase (PI3Ks), mechanistic target of rapamycin (mTOR), epidermal growth factor receptor 2 (ErbB2), vascular epidermal growth factor receptor (VEGFR), mesenchymal-epithelial transition factor or hepatocyte growth factor receptor (c-MET), anaplastic lymphoma kinase (ALK) and v-Raf murine sarcoma viral oncogene homolog B (BRAF) and others.
The United States Food and Drug Administration (FDA) has approved different drugs designed against the different mutant genes in NSCLC For example, erlotinib, gefitinib, afatinib and osimertinib were developed to target EGFR (discussed later in this review); crizotininb, ceritinib, alectinib and brigatinib were developed to target ALK (crizotinib also targets ROS1). Dabrafenib and trametinib, in combination, were developed to target BRAF V600E [
4
]. However, the scientific community has had difficulties in pursuing an effective drug against tumours which harbour malfunctioning RAS. In this review, we will focus on the two most affected genes in NSCLC, K-RAS and EGFR, which are also the ones who have attracted a great deal of attention regarding translational research, drug design and clinical trials.
2. K-RAS
2.1. RAS Biomarkers
The RAS family of proteins (H-, K- and N- RAS) share high sequence homology, and are important signalling molecules that regulate cell growth, survival and differentiation by coupling receptor activation to downstream effector pathways. Their structure comprises a highly conserved N-terminal domain responsible for guanine nucleotides binding, and also interaction with activators and effectors, plus a less homologous C-terminal domain responsible for RAS variability and localisation in the cell (
Figure 2
) [
5
].
The majority of cancer mutations associated with RAS, are present in the isoform K-RAS at codon 12 followed by codon 13 and 61, leading to a constitutively activated protein [
6
]. K-RAS mutations have a role in tumour development as well as in tumour progression and resistance occurring frequently in pancreatic, endometrial, colorectal, biliary tract, cervical, and lung cancers. Each different genetic alteration plays a different role in K-RAS-dependent processes. For example, in lung cancer, some mutations were associated with tobacco smoke [
7
] and, overall, the most frequent alteration occurs at codon 12, the G to T transversions being the most frequent alterations associated with tobacco smoke [
7
]. Pre-clinical models both in vitro and in vivo were developed to determine the role of K-RAS in tumour progression and response to treatment [
8
].
Over the past 30 years, no effective anti-RAS inhibitors were accomplished in routine clinical practice rendering RAS as a difficult target. This protein did not appear to present suitable pockets to which drugs could bind [
9
]. For example, the first attempt was to develop drugs that blocked RAS farnesylation, which led to the clinical development of farnesyltransferase inhibitors. However, the result of clinical trials showed minimal anti-cancer activity [
10
]. Other strategies were also undertaken but without success. On top of that, lung cancer patients harbouring K-RAS mutations have a poor prognosis due, in part, to the development of resistance to currently available therapeutic interventions. Still, nowadays no effective clinically available therapies exist that directly target the K-RAS oncogene. Furthermore, other alternatives have also attracted attention by focusing on the inhibition of downstream effectors of K-RAS signalling pathways, bypassing the need to target RAS directly. Thus, the different strategies will be discussed in this review.
2.2. Examples of Direct Inhibition of RAS
2.3. Examples of Indirect Inhibition of RAS
3. EGFR
3.1. EGFR Biomarker
Epithelial growth factor receptor (EGFR/ERBB1/HER1) has been the most studied of the four members of epithelial growth factor receptor family (ErbBs), also including ErbB2/HER2/NEU, ErbB3/HER3, and ErbB4/HER4 receptors [
41
]. They are all expressed in almost every cell in mammals and convey signals from microenvironment into the cells. Quasi every process in the cell, including proliferation, survival, migration and differentiation, cell and tissue morphogenesis engages ErbB receptor's signalling [
41
]. ErbB signalling pathway is frequently found overly active in malignancies of epithelial origin, accounting for 80–90% of all cancer cases, mainly due to gene amplification, point and deletion mutations, or gene fusion, suggesting this pathway as a very attractive target in the oncology field [
42
,
43
,
44
,
45
,
46
,
47
,
48
,
49
]. Based on these observations, tailor therapeutic strategies were highly required. Two main possibilities were developed: one was to use small tyrosine kinase inhibitor (TKI) molecules that would target the receptor's kinase and inhibit the oncogenic form of the receptor [
50
,
51
]. The other option was to use monoclonal antibodies (e.g., cetuximab, bevacizumab, nivolumab, pembrolizumab) that target specifically the extracellular ligand-binding domain of the receptor, hence, ceasing the signalling either by increasing the rate of receptor degradation or by preventing its dimerization [
52
]. Lately, drug programs strategically developed new types of inhibitors, the allosteric inhibitors, hinged on allosteric scenario proposed by Schlessinger's, Lemmon's and Kuriyan's groups, for the EGF receptor. Remarkably, tumour responsiveness and treatment resistance data, matching clinical outcomes, clearly point out the requirement for multimodal approaches to achieve an effective treatment protocol (
Figure 3
). The ongoing growth of alternative strategies will require to refine the guidelines at which clinical trials may need to shift [
53
,
54
,
55
].
3.2. The Complexity of EGF Receptor Signalling in the Cells
The EGF receptor's signalling inarguably relies on the complex biological network, which starts on the plasma membrane by binding to ligands, soluble growth factors occupying micro-environmental space. Defined by their binding affinity and avidity, ligands impart differences in arrangements of receptor's homodimer and heterodimer forms, receptor's phosphorylation, kinetics of receptor's internalization and endocytic route that cells lately use thoroughly [
56
,
57
,
58
,
59
,
60
,
61
]. Similarly, to all tyrosine kinase (TK) receptors on the plasma membrane, ErbBs are synthesized as a single-pass transmembrane proteins and have an N-terminal extracellular ligand binding module, a single transmembrane helix, a cytoplasmic juxtamembrane segment, intracellular catalytic kinase domain, and a regulatory C-terminus. When bound to a ligand molecule, the receptor's whole structure is displaced, which immediately follows with the activation of the kinase and specific downstream pathways [
61
,
62
,
63
]. Human EGF-related ligands are soluble polypeptides, made up of less than 100 amino acids. According to their binding affinity, various ligands can be subdivided into three groups; one group specifically binds to EGFR and includes EGF, transforming growth factor α (TGFα), amphiregulin (AR), and epigen (EPG); the second group binds both EGFR and HER4, and includes betacellulin (BTC), heparin binding EGFR (HB-EGF), and epiregulin (EPR); ultimately, a third group consists of all neuregulins (NRGs) 1–4, of which NRG1 and NRG2 bind to both HER3 and HER4 receptors, whereas NRG3 and NRG4 bind only to HER4 [
48
,
64
]. Moreover, ligands specify magnitude of the activated downstream signalling pathways, such as RAS/RAF/MEK/ERK mitogen-activated protein kinase (MAPK), phosphoinositide 3-kinase (PI3K)/AKT/mTOR, signal transducers and activators of transcription (STAT) pathway, and phospholipase Cγ [
65
,
66
,
67
]. Upon ligand binding, ErbB receptors go from inactive to active conformations [
68
,
69
]. Changes in structural conformation lead to the reorientation of the intracellular kinase positioning two kinases asymmetrically [
70
,
71
]. In this model, one kinase, when properly aligned, assumes a role of the 'activator kinase' and the C-lobe stabilises the contacts with the N-lobe of the second kinase, termed 'receiver kinase'. Two kinases could switch the roles, as both receptors become trans-autophosphorylated. When the kinase is activated, it phosphorylates tyrosine residues required to convey signals in the cells [
59
,
72
,
73
,
74
].
3.3. Oncogenic ErbB Variants in NSCLCs and Treatment Approaches
The concept that EGFR alterations could drive tumour growth established the hypothesis that tyrosine kinase inhibitors could have antitumor effects [
75
]. Cell culture and transgenic mouse model studies showed that oncogenic alterations in EGFR appeared to have transforming activity [
76
,
77
,
78
,
79
]. Association of EGFR kinase domain mutations with uncontrolled cell growth, proliferation, and migration have been reported in 32.9% of NSCLC and have proposed EGFR gene as the major oncogenic drug target in lung cancer [
45
,
80
,
81
,
82
]. Somatic mutations of EGFR found in NSCLC, deposited in the COSMIC database, mainly occur in the exons 18–21 of the kinase domain, the catalytic core of EGF receptor (
Figure 4
). Uneven distribution of EGFR gene mutations (in-frame, deletions, insertions, duplications and substitutions) are localised or related mostly to the ATP-binding site of EGFR kinase. The most recurrent mutations, which account for 25% of EGFR mutation-positive NSCLCs, are the five exon-19 residues deletion mutation (746ELREA750) that occur in exon19, the β3-αC loop, and the substitution mutation in exon 21 (L858R) [
83
]. Other gain-of-function EGFR mutations are substitutions at position 719 (G719S/A/C), located within the P-loop of the kinase in exon 18, deletions, insertions and point mutations in exon-19, insertions and point mutations in exon 20 (Ser768Ile, Thr790Met) and point mutations in exon 21 (Leu861Gln) [
84
,
85
,
86
,
87
,
88
]. Structural analyses of these mutants revealed that mutations happen in or near the αc-helix, the activation loop, or in the ATP-binding loop. Mutations here disrupt the interactions that detain the kinase in its inactive configuration, shifting the equilibrium towards the active state of the TK [
73
,
87
].
The knowledge in structure and biology of the EGF receptor tyrosine kinase resulted in the development of TKIs, which are classified according to their molecular mechanism of action as orthosteric. They are designed to target an active site of the kinase domain and can compete with ATP molecule for binding. When first designed they were classified as the first-generation of tyrosine kinase inhibitors [
89
] and the FDA has approved two of those in patients with NSCLC termed gefitinib (Iressa) and erlotinib (Tarceva). Clinical data supports the benefit of using tyrosine kinase inhibitors when compared conventional chemotherapy and/or radiotherapy that was conventionally adopted in clinics [
90
,
91
,
92
]. The results comparing the two treatment approaches (chemotherapy
versus
TKIs) were an increase in response rate (from ~56 to 74%) and median survival (from 10 to 14 months) [
82
,
83
,
91
,
93
,
94
,
95
]. Moreover, by analysing the crystal structures of wild-type
versus
mutant EGFRs in complex with kinase inhibitors, it was shown that TKIs preferentially bind the 'active mutant' form of the receptor. Direct binding measurement analyses show that gefitinib binds the L858R EGFR mutant form 20-fold more tightly than it binds the wild-type form of the receptor [
86
,
96
]. Besides, in vitro analyses show that gefitinib exhibited more affinity for mutant variants, Del747–753 and L858R, than for wild-type EGFR [
97
]. On the other hand, all the mutant variants were shown not to be equally susceptible to TKIs. Accordingly, heterogeneous effectiveness reflects the structural differences of each inhibitor [
98
]. For instance, Sliwkowski and his lab showed that L858D is more sensitive than in-frame deletion mutant Del (E746-A750) to erlotinib inhibition [
99
]. However, in a separate study, patients with NSCLC, harbouring EGFR point mutations (G719X, L858R, L861Q) or deletion 746ELREA750 in exon 19, benefited from either erlotinib/TarcevaTM or gefitinib/IressaTM treatment [
82
,
83
,
88
]. In contrast, several other mutations in exon 20 of the EGFR gene, frequently observed in NSCLC patients, proved to be clinically insensitive to erlotinib or gefitinib. Moreover, these mutations account for nearly 9–11% of all cancers documented with EGFR mutations in NSCLC, representing the third most common type of EGFR mutations, after L858R and exon 19 deletions. Following sequence analyses, mutations in exon 20, happen to be a combination of in-frame insertions and/or duplications of 3–21 base pairs, clustered between 767 and 774 residues, with the most common variant V769_D770insASV. It was found that these mutations reduce the size of the kinase active pocket, and hence inflict insensitivity to erlotinib and gefitinib [
100
,
101
,
102
,
103
,
104
,
105
,
106
]. In separate studies, through in silico molecular modelling, authors analysed molecular subtype mutations in exon 20 of EGFR and drown a new conclusion: for various insertions in exon 20, the authors anticipated different biological activity with erlotinib treatment [
85
]. Nonetheless, for the most common EGFR mutations, clinical experience is well established. In contrast, for less common EGFR mutations, which comprised 12.4% of all EGFR mutations, such as amino acid substitutions in E709, G719, S768, and L861 clinical data studies are ongoing. A large cohort study of lung cancer patients reported favourable EGFR TKIs responses in patients who had G719 and L861, however, patients with other rare, uncommon EGFR mutations, failed to respond to kinase inhibitors [
98
]. Additionally, a rare triple EGFR mutation EGFR-R670W in exon 17 and L833V, and H835L in exon 21, has been described and may respond well to kinase inhibitor treatment [
107
]. Overall, patients with common mutations in NSCLCs highly respond to first-generation EGFR inhibitors, such as gefitinib and erlotinib, with objective response rates of approximately 70% [
82
,
91
].
3.4. EGFR Targeting and Drug Resistant Mechanisms in NSCLC
3.5. EGFR and K-RAS Concomitant Mutations
NSCLC patients harbouring EGFR mutations might simultaneously present alterations in other genes, which could represent concomitant driver mutations. Although tumours harbouring co-occurring mutations are unusual, they exist and represent a rare molecular subtype, which might affect response to different treatments. Thus, some studies were performed in order to evaluate this. For example, Next-generation sequencing (NGS) for concomitant driver mutations was performed on
EGFR
-mutated tumour samples from erlotinib-treated patients and the result showed that most concomitant mutations (including EGFR/K-RAS) did not impact the response to first-line erlotinib-treatment [
174
]. Furthermore, a recent retrospective study testing 3774 samples from NSCLC patients (tested for EGFR, ALK, ROS1, K-RAS and BRAF) observed that only 1.7% harboured mutations in two or three genes, and among these patients, EGFR/K-RAS was the most frequent coalteration (31.7%), followed by ALK/K-RAS (17.5%) [
175
]. In addition, they concluded that patients harbouring coalterations tend to benefit more from TKI therapy than from chemotherapy [
175
]. In contrast, another report suggested that a subgroup of EGFR mutant tumours with concomitant driver mutations affected the activity of first-line EGFR TKIs [
176
]. They showed that the progression free survival (PFS) was 11.3 months
versus
7 months in patients without and with other mutations, respectively (log-rank test univariate:
p
= 0.047) [
176
]. These different findings suggest that more studies, from different populations around the world, are necessary to further confirm the real role of concomitant mutations in NSCLC.
4. Conclusions
Inarguably K-RAS and EGFR have been the focus of numerous studies which have tried to improve several aspects in lung cancer biology. The phenomenon of drug resistance observed in clinics is one of the most critical challenges that the oncologists have to deal with, and, to achieve the best benefit for NSCLC patients, a solution is still needed. Additionally, finding a specific drug to target K-RAS has not been an easy journey. That is why research scientists, structural biologists, chemists, and clinicians scrutinize successes and failures of cancer drug technology continuously, putting forward new resolutions and strategies, inciting pharmaceutical industry to design and develop drugs with new criteria, including the development of direct and indirect methods to inhibit targets. Tumour stratification has been discussed as important for the success of different therapies by precisely targeting selected patients to ensure its efficacy and decrease side effects. In addition, early diagnosis makes possible to achieve long-lasting remission and the analysis of free circulating tumour DNA is a promising tool to achieve this goal.
Funding
This research received no external funding.
Conflicts of Interest
The authors declare no conflict of interest.
Abbreviations
| | |
| --- | --- |
| K-RAS | Kirsten Rat Sarcoma |
| EGFR | Epidermal growth factor receptor |
| mTOR | mechanistic Target Of Rapamycin |
| ErbB2 | Epidermal Growth Factor Receptor 2 |
| VEGFR | Vascular Epidermal Growth Factor Receptor |
| PI3Ks | Phosphatidylinositol 3-kinase |
| ALK | Anaplastic Lymphoma Kinase |
| BRAF | v-Raf murine sarcoma viral oncogene homolog B |
| SCLC | Small Cell Lung Cancer |
| NSCLC | Non–small Cell Lung Cancer |
| WHO | World Health Organization |
| ctDNA | circulating tumour DNA |
| c-MET | Mesenchymal-epithelial transition factor |
| GDP | Guanosine diphosphate |
| GTP | Guanosine triphosphate |
| TBK1 | TANK-binding kinase 1 |
| MEK | mitogen/extracellular signal-related kinase |
| FDA | Food and Drug Administration |
| HSP90 | Heat shock protein 90 |
| GATA2 | GATA-binding factor 2 |
| BCL-XL | B-cell lymphoma extra-large |
| TKI | Tyrosine kinase inhibitor |
| TGFα | Transforming growth factor α |
| AR | Amphiregulin |
| EPG | Epigen |
| BTC | Betacellulin |
| HB-EGF | Heparin binding EGFR |
| EPR | Epiregulin |
| NRG | Neuregulins |
| N-RAS | Neuroblastoma RAS viral oncogene Homolog |
| H-RAS | Harvey RAS viral oncogene Homolog |
| PFS | Progression-free survival |
| MAPK | Mitogen-activated protein kinase |
| ICI | Immune checkpoint inhibitors |
| PD-1 | Programmed death protein 1 |
| PD-L1 | Programmed death ligand 1 |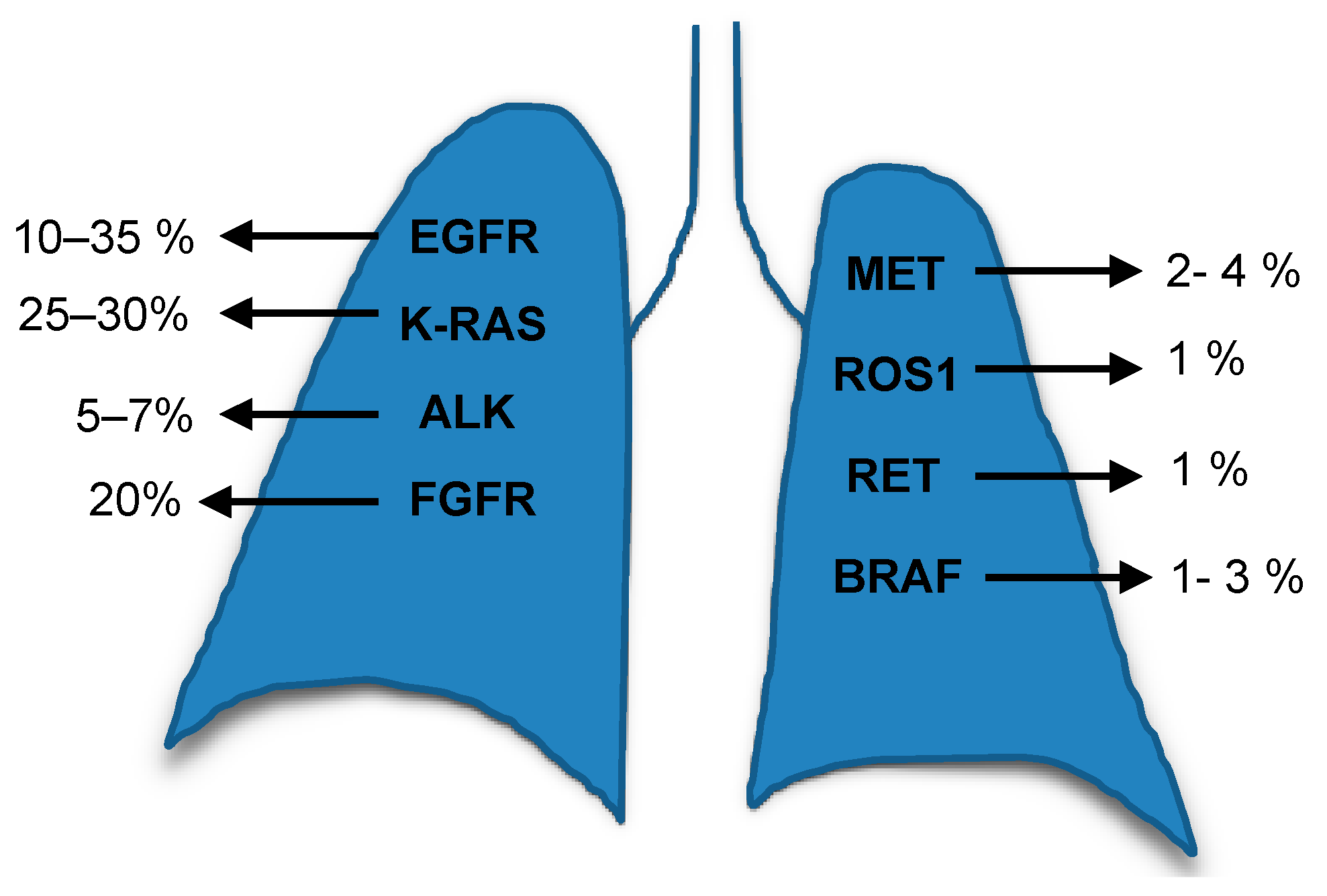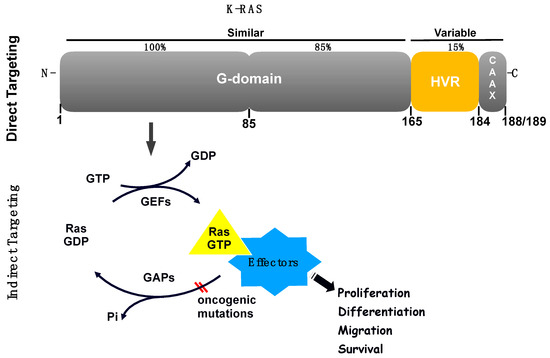 Figure 2. Schematic representation of examples of direct and indirect targeting of K-RAS based on different publications discussed in this review. The G-domain of the K-RAS protein (amino acids 1–165—a highly homologous region among RAS proteins) includes the GTP and GDP-binding pockets of RAS responsible for RAS switch "on" and "off", respectively. This region is followed by the C-terminus (amino acids 165-188/189), which includes the hypervariable region (HVR) and the CAAX box motif which undergoes posttranslational modifications and determines membrane anchoring (cell location). This region is also the most variable among RAS proteins (15% similarity). K-RAS can be targeted directly on different sites on its own protein structure, or indirectly, via targeting of proteins which interact with K-RAS such as GEFs and GAPs and also K-RAS effectors (located downstream of K-RAS protein).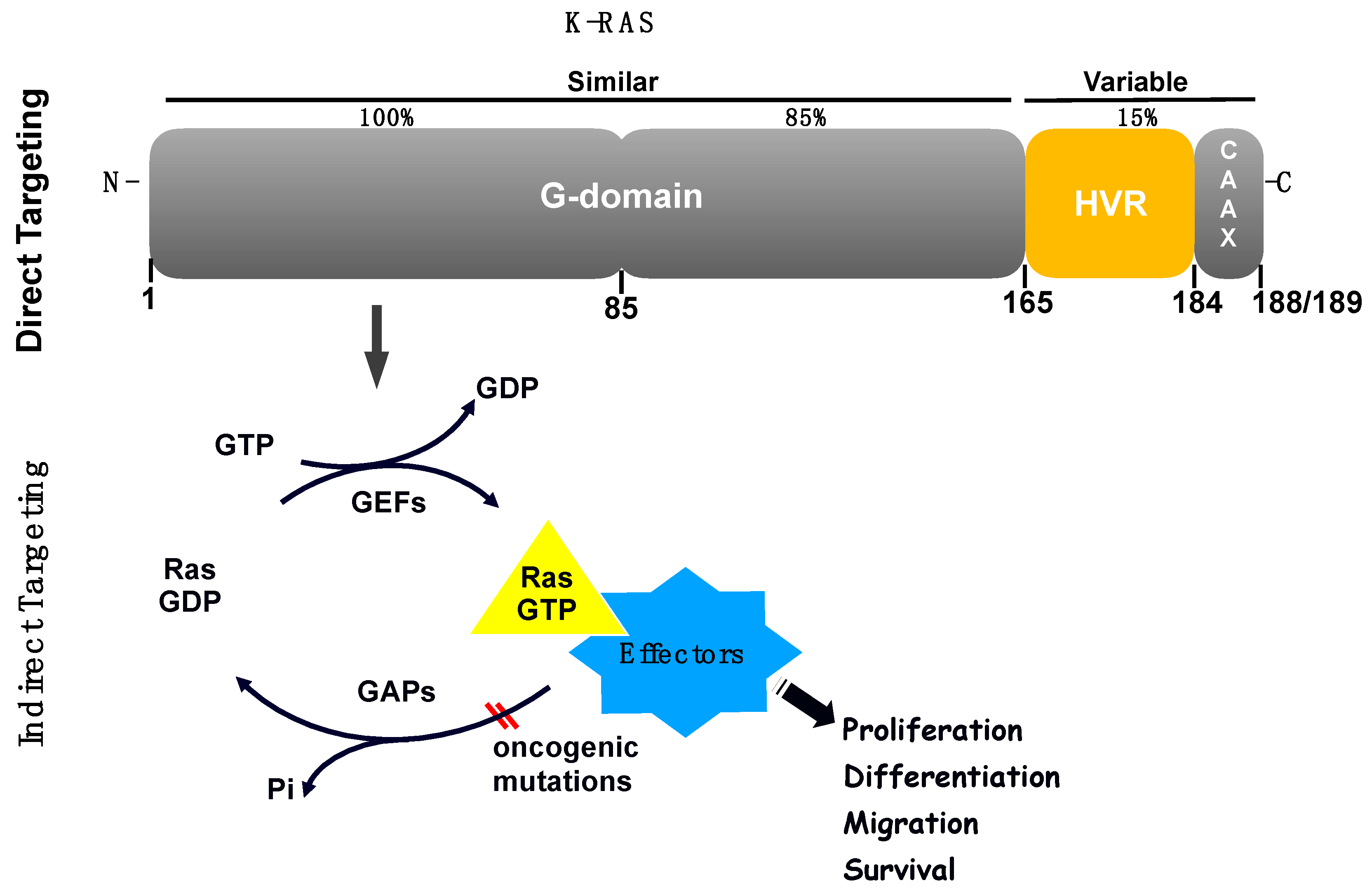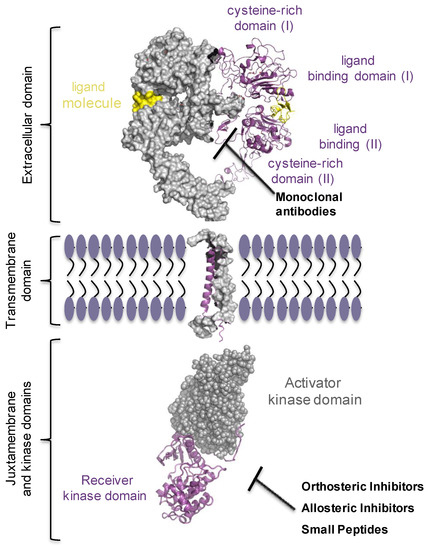 Figure 3. Multimodal approaches targeting oncogenic EGFR in NSCLC. Multiple approaches such as monoclonal antibodies (that target the extracellular ligand-binding domain), orthosteric and allosteric inhibitors, and small peptides designed to block the oncogenic kinase of the EGF receptor, are currently being evaluated in NSCLC therapy. The EGFR crystal structure was drawn using the PyMOL Molecular Graphics System based on protein Data Bank accession codes 3NJP for extracellular and transmembarne domain interfaces, 2M0B for transmembrane domain, and 3GOP for juxtamembrane and kinase domains.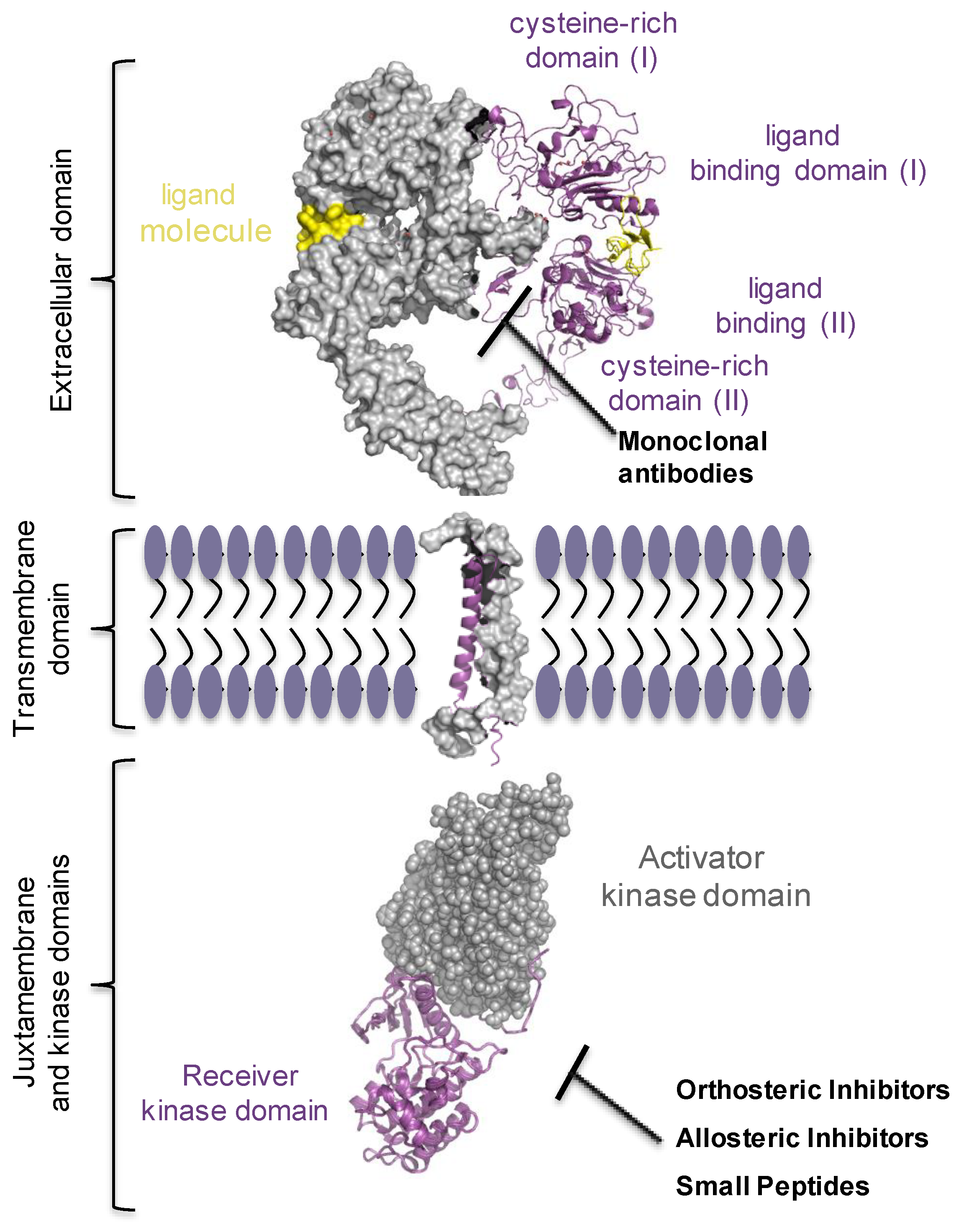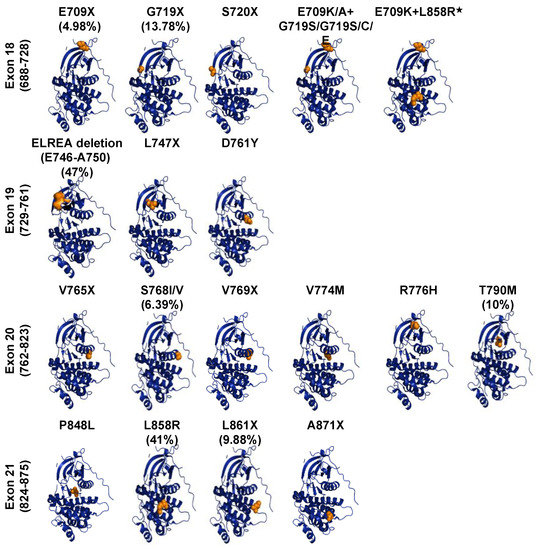 Figure 4. EGFR mutations of kinase domain in NSCLC. Crystal structures of the kinase domain of EGFR are shown. Structures were drown using the PyMole Molecular Graphics System based on the protein Data Bank accession code 4R3P. The EGFR most frequent mutations in NSCLC, highlighted in orange, were mapped on the crystal structure of the EGF receptor's kinase domain. The frequency of mutations are based on the COSMIC database of somatic mutations.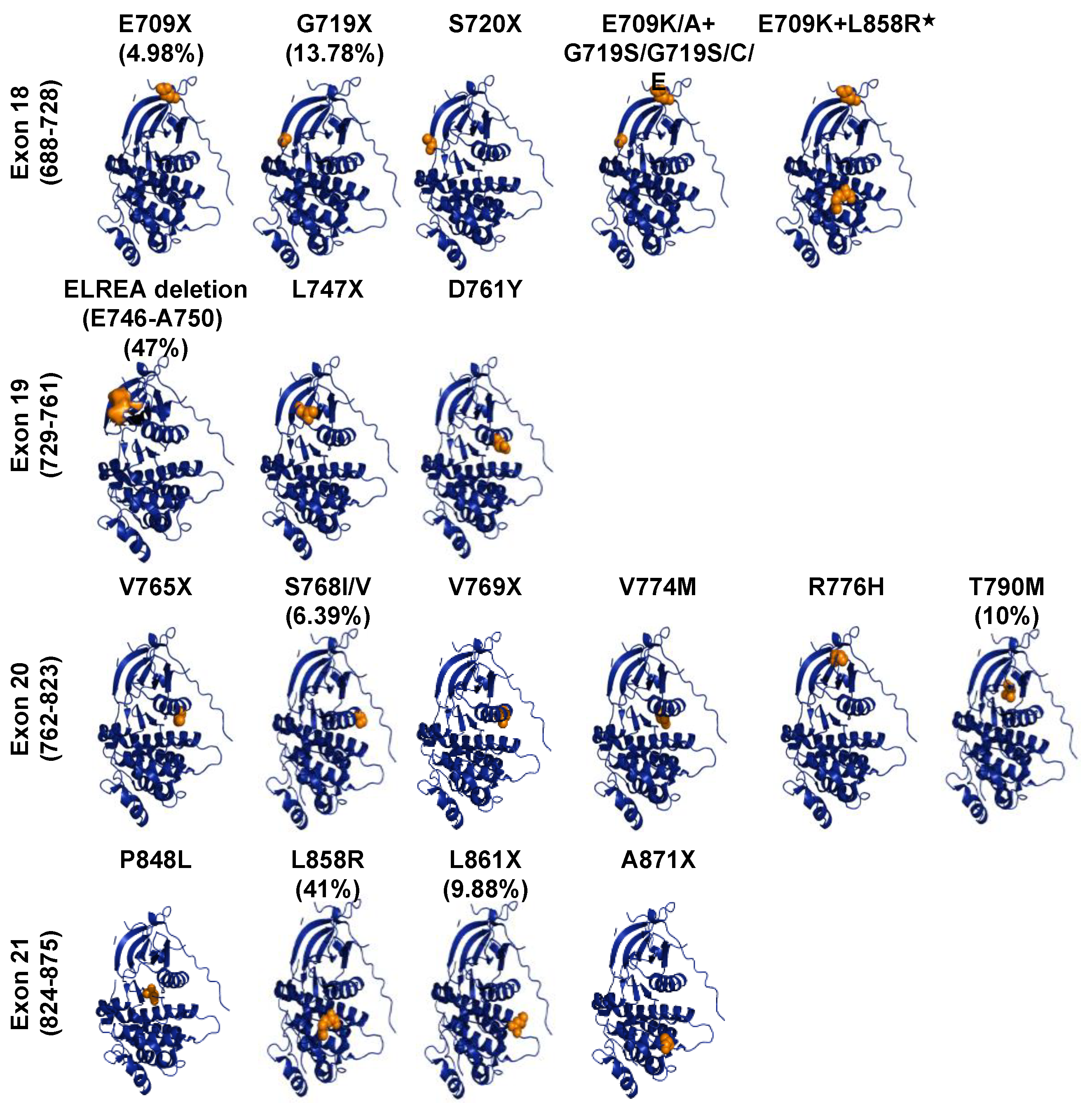 © 2019 by the authors. Licensee MDPI, Basel, Switzerland. This article is an open access article distributed under the terms and conditions of the Creative Commons Attribution (CC BY) license (http://creativecommons.org/licenses/by/4.0/).