Open Access This article is
freely available
re-usable
Review
Claudin-2: Roles beyond Permeability Functions
Keenan Research Centre for Biomedical Science of the St. Michael's Hospital and Department of Surgery, University of Toronto, Toronto, ON M5B 1W8, Canada
*
Author to whom correspondence should be addressed.
Received: 13 October 2019 / Accepted: 9 November 2019 / Published: 12 November 2019
Abstract
:
Claudin-2 is expressed in the tight junctions of leaky epithelia, where it forms cation-selective and water permeable paracellular channels. Its abundance is under fine control by a complex signaling network that affects both its synthesis and turnover in response to various environmental inputs. Claudin-2 expression is dysregulated in many pathologies including cancer, inflammation, and fibrosis. Claudin-2 has a key role in energy-efficient ion and water transport in the proximal tubules of the kidneys and in the gut. Importantly, strong evidence now also supports a role for this protein as a modulator of vital cellular events relevant to diseases. Signaling pathways that are overactivated in diseases can alter claudin-2 expression, and a good correlation exists between disease stage and claudin-2 abundance. Further, loss- and gain-of-function studies showed that primary changes in claudin-2 expression impact vital cellular processes such as proliferation, migration, and cell fate determination. These effects appear to be mediated by alterations in key signaling pathways. The specific mechanisms linking claudin-2 to these changes remain poorly understood, but adapters binding to the intracellular portion of claudin-2 may play a key role. Thus, dysregulation of claudin-2 may contribute to the generation, maintenance, and/or progression of diseases through both permeability-dependent and -independent mechanisms. The aim of this review is to provide an overview of the properties, regulation, and functions of claudin-2, with a special emphasis on its signal-modulating effects and possible role in diseases.
Keywords:
claudin-2; tight junctions; epithelium; cancer; inflammation; fibrosis; paracellular permeability; proliferation; migration
1. Introduction
Claudin-2 and the Claudin Family of Tight Junction Proteins
Epithelial cells maintain tissue homeostasis by forming a protective layer to separate the internal milieu from the outside. The epithelium mediates highly regulated directional transport and thus controls the exchange of water and solutes. Tight junctions (TJ) are found at the apical side of the junctional complexes that connect epithelial cells. Their primary role is to generate cell polarity (referred to as fence function), control paracellular transport (gate function), and provide signaling input for a wide variety of cellular events (reviewed in [
1
,
2
,
3
]). The TJs are comprised of a multitude of transmembrane and intracellular proteins. The claudin family of TJ membrane proteins consists of 26 (human) or 27 (rodents) small (20-25 kDa) tetraspan proteins expressed in a tissue-specific manner in epithelial and endothelial cells [
4
,
5
,
6
]. The number of claudins varies between species, and in some species e.g., fish there are a much higher number of claudins, probably due to a larger need for osmoregulation. In this review, we only focus on the mammalian claudin-2. Tsukita and colleagues found that the mouse and human orthologs mostly clustered together, except for claudin-13, which is absent in humans [
6
,
7
,
8
].
Claudins form the backbone of the TJ strand and determine junctional permeability. Based on permeability properties, members of the claudin family can be classified into channel forming and sealing proteins [
2
,
4
,
9
,
10
]. The composition of the TJ strand, i.e., the types and ratio of claudins expressed, determines the permeability of the TJs, which can be altered by selectively replacing specific claudins [
11
].
Claudin-2 was one of the first claudins identified by Tsukita and co-workers as a member of a new class of TJ transmembrane proteins that share tetraspan topology with occludin but have no homology with it [
12
,
13
]. Subsequent studies revealed that claudin-2 has a high degree of homology with claudins 1–10, 14, 15, 17 and 19, a group referred to as classic claudins [
10
]. The mouse and human orthologs of claudin-2 share 70% sequence homology, while their promoters possess a homology of 84% [
14
,
15
]. Claudin-2 is a cation-selective channel forming TJ protein expressed in leaky epithelia [
16
,
17
,
18
,
19
]. In this review, we will refer to paracellular channel formation by claudin-2 as its
permeability function
. Importantly, expression of claudin-2 is dynamically modulated by a variety of conditions, and compelling evidence now indicates that altered claudin-2 expression affects vital biological processes, such as proliferation, migration and cell fate decision. These effects cannot be explained by the permeability function of claudin-2, and they appear to be mediated by specific signaling pathways and transcription factors. This newly emerging, incompletely understood role of claudin-2 will be referred to as its signal-modulating function and will be the focus of this review. In fact, such a novel role is in line with the emerging non-classical functions described for several other claudins [
20
,
21
,
22
].
We will first provide an overview of the properties of claudin-2, and the key inputs regulating its expression. This will be followed by a discussion of its functions including the mounting evidence of its signal-modulating function, and its link to various diseases.
2. Properties of Claudin-2
2.1. Expression
Under physiological conditions, claudin-2 mRNA is enriched in the kidneys, where it is exclusively expressed in the proximal tubules, and in the gastrointestinal tract, where the highest expression was reported in the small intestine, liver, gall bladder, and pancreas [
23
,
24
,
25
]. It is also detectable at lower levels in the stomach and colon [
24
]. Interestingly, claudin-2 expression was also reported outside of epithelia, e.g., in endothelial cells [
26
,
27
] and macrophages (e.g., [
28
]), but it is not clear whether this represents a physiological localization. As discussed later (see
Section 5
), pathological conditions affect claudin-2 levels, and may also alter its expression pattern, therefore these observations might indicate pathological expression. Indeed, interleukins and Transforming Growth Factor β1 (TGFβ1) were shown to induce claudin-2 expression in macrophages [
28
]. Whether claudin-2 has a role in non-epithelial cells remains undetermined.
2.2. Structure and Interactions
3. Regulation of Claudin-2
3.1. Context-Dependent Regulation of Claudin-2
The TJs are continuously remodeled in response to environmental cues. In line with this, claudin-2 expression is dynamically modulated by a multitude of inputs in a context-dependent manner that affect both synthesis and turnover (
Figure 2
). Protein half-life and trafficking are fine-tuned by a variety of post-translational modifications and interactions with a large array of proteins. Many of the pathways that control claudin-2 are dysregulated in various diseases, resulting in disease-associated changes in claudin-2 expression (see
Section 5
). In general, studies to decipher the mechanisms controlling claudin-2 were performed in cell lines, and it is important to emphasize that significant context-dependent discrepancies are abundant in the literature. Specifically, some treatments were found to be stimulatory in one cell type, but inhibitory in another. Some of these differences may reflect the complex and likely organ-specific regulation of the protein. In support of this notion, the claudin-2 promoter was affected in the opposite direction by EGF in Caco2 colon cancer and in MDCK tubular epithelial cells [
51
]. However, some caution is warranted when evaluating data in the literature on claudin-2 regulation in cell lines, as the experiments are impacted not only by difference in origin, culture conditions and passage number of the cells, but also a multitude of other parameters. For example, our studies call attention to the importance of cell confluence and junction maturity as a factor in claudin-2 expression regulation. We found that in LLC-PK1 tubular cells, claudin-2 expression was low in subconfluent cultures and increased as confluence was established [
52
]. Treatment time is another important parameter that is not always taken into consideration when comparing studies. In tubular and intestinal cell lines the effect of TNFα proved to be opposite depending on the length of treatment [
53
]. Despite these discrepancies in findings, several mechanisms of claudin-2 regulation are now well established.
3.2. Signal Transduction Pathways Regulating Claudin-2 Expression
3.3. Transcription Factors controlling claudin-2 expression
The TATA-less claudin-2 promoter has binding sites for several transcription factors [
14
]. Regulation by Caudal-related homeobox (Cdx) homeodomain proteins, hepatocyte nuclear factor (HNF)-1, GATA 2 and -4, AP1, Vitamin D Receptor, TCF/LEF1 and STATs was verified experimentally [
14
,
23
,
55
,
72
,
74
,
79
]. Many of these have significant roles in pathology (see
Section 5
). HNF-1α and GATA-4 are responsible for claudin-2 expression in specific locations of the gastrointestinal tract, but not in the kidney, highlighting a key organ-specific difference [
23
,
80
]. In contrast, GATA-2 was suggested to control claudin-2 in lung and kidney cells [
70
]. Cdx proteins are intestine-specific transcription factors with significant functions in gut differentiation and carcinogenesis (reviewed in [
81
]). The claudin-2 promoter is activated by both Cdx1 and 2, which might mediate the effects of the ERK pathway in cancer cells [
14
,
55
,
82
,
83
,
84
]. Interestingly, Cdx factors can collaborate with β-catenin-T cell factor (TCF)/lymphoid enhancer factor (LEF) [
74
] and HNF-1α [
14
]. The Cdx1 binding site also contains a functional vitamin D response element, which can directly interact with the Vitamin D Receptor transcription factor [
79
]. This could be significant for intestinal Ca2+ absorption. Finally, the AP1 complex can mediate the effects of JNK and ERK on the claudin-2 promoter [
55
,
60
,
72
,
85
], while STATs are effectors of interleukins [
65
,
72
].
Many stimuli were shown to decrease claudin-2 levels. This downregulation could be due to inhibition of the above signaling pathways and transcription factors. For example, hyperosmolarity was found to reduce claudin-2 promoter activity by inhibiting PKCβ-dependent GATA-2 transcriptional activity [
70
]. In addition, transcriptional repressors might also act directly on the claudin-2 promoter. Several EMT-inducing transcription factors are known repressors of tight junction protein genes [
86
,
87
]. Accordingly, the transcription factor Snail can induce a drop in claudin-2 [
88
]. Significantly, the exact mechanisms responsible for claudin-2 downregulation remain mostly unclear. For example, we do not yet have a mechanistic understanding of claudin-2 downregulation in tubular cells (
Section 5.3
), and the reported negative effects of Src kinases remain unexplained [
68
,
69
]. Considering the emerging consequences of reduced claudin-2 expression, a better understanding of these mechanisms will be critical.
3.4. Claudin-2 Turnover, Trafficking, and Posttranslational Modifications
Importantly, many details of the complex, multilevel regulation of claudin-2 are closely linked to its pathogenic roles, and therefore an improved understanding of the molecular details will be pivotal for further insight into its dysregulation.
4. Functions of Claudin-2
4.1. Permeability Functions
Taken together, claudin-2 plays a key role as a paracellular permeability molecule. However, as discussed in the next sections, emerging evidence suggests that its functions go beyond permeability.
4.2. Role in Proliferation
4.3. Migration
Taken together, claudin-2 was shown to have both a positive and a negative effect on migration, suggesting a need for optimal claudin-2 levels for efficient migration regulation. Clearly, further mechanistic inquiries will be required to establish the context-dependent mechanisms and importance of these effects.
4.4. Signal-Modulating Effects of Claudin-2: Emerging Mechanisms Underlying Roles in Biological Processes
5. Claudin-2 in Diseases
A growing number of studies document altered claudin-2 expression, phosphorylation and/or localization in various pathological conditions. Initially, the described claudin expression alterations were considered an epiphenomenon, i.e., they were assumed to arise due to the underlying disease process but were thought not to be causally contributing to pathogenesis. Nevertheless, interest in pathological alterations in claudin-2 expression was boosted by the hope that it can be used as a diagnostic and/or prediction marker. As described in
Section 4
, in the past years, strong evidence accumulated in support of a causal link between claudin-2 dysregulation and functional alterations, the key points of which are the following. First, signaling pathways that are known to be overactivated in diseases can alter claudin-2 expression, and a good correlation exists between disease stage and claudin-2 expression. Second, loss-of-function and gain-of-function studies recapitulate some aspects of the functional changes. Thus, primary changes in claudin-2 expression can alter cell behavior. The mounting experimental evidence prompted a paradigm shift, favoring a pathogenic role for claudin-2. Although dysregulation of claudin-2 is likely not a primary cause, pathological changes in claudin-2 abundance and/or localization might play significant roles in the generation, maintenance and/or progression of diseases.
In the following sections, we will provide an overview of the evidence linking claudin-2 to cancer, and various non-malignant pathologies, such as inflammatory gastrointestinal and kidney diseases.
6. Open Questions
Claudin-2 is now established as a pathogenic factor in several diseases due to its permeability-dependent and -independent functions. The recognition that claudins have major signal modulator, permeability-independent functions reenergized claudin research, leading to an explosion in the number of studies published. Although the fact that altered claudin-2 expression affects signaling and cell behavior is firmly established, many questions remain unanswered. It is worthwhile to articulate some of these as they set the direction for future research. Importantly, our understanding of mechanisms mediating pathological dysregulation of claudin-2 is still incomplete, which precludes the design of interventions. There are also fundamental unanswered questions regarding the mechanisms that link claudin-2 to various downstream events. We do not know the role of claudin-2 localization in its signal-modulating effects. Are these effects mediated by TJ localized claudin-2? Given that claudin-2 was shown to reside in other compartments (cytosolic vesicles, nucleus), some of the non-classical effects may well be mediated by these claudin-2 sub-pools. Further, many studies revealed the importance of altered claudin-2 expression in the downstream effects, but we do not know whether these are exclusively related to the number of molecules or if further regulation (e.g., by distinct posttranslational modifications) are also involved. Extra- and intracellular binding partners of claudin-2 are likely crucial mediators of signal-modulating effects. Indeed, TJ-localized claudin-2 can interact with other membrane proteins and may act as a sensor of neighboring cells. However, it is not clear whether claudin-2 needs to be engaged for its signal-modulating effects. Further, the claudin-2 interactome is only now starting to emerge and uncovering the context-dependent regulation of interactions will be key for a better understanding. Adapters in the TJ plaque generate signaling complexes, that may change depending on the availability of claudin-2, leading to recruitment or release of signaling intermediates and alterations in the cytoskeleton organization. However, the specific role of claudin-2 in such events remains unknown. Ongoing research from many groups will likely help fill these knowledge gaps leading to a better mechanistic understanding of the signal-modulating effects of claudin-2. The emerging knowledge has already informed the design of interventions targeting claudin-2. Such future therapies have the potential to benefit many patients with a broad spectrum of diseases.
Author Contributions
Writing–Original Draft Preparation, S.V., S.A., K.S.; Review & Editing, S.V., S.A., K.S.; Visualization, S.A.; Supervision, K.S.; Funding Acquisition, K.S.
Funding
This research was funded by the KIDNEY FOUNDATION OF CANADA, the CANADIAN INSTITUTES OF HEALTH RESEARCH (CIHR), grant number: PJT-149058 and MOP-142409; and NATURAL SCIENCES AND ENGINEERING RESEARCH COUNCIL OF CANADA (NSERC) grant number: RGPIN-2017-06517. Shaista Anwer received scholarships from the Research Training Center of the St Michael's Hospital and University of Toronto through an open fellowship.
Acknowledgments
The authors would like to express their gratitude to Andras Kapus and Mirjana Jerkic for critical reading of the manuscript.
Conflicts of Interest
The authors declare no conflict of interest.
Abbreviations
| | |
| --- | --- |
| CagA | CagA: cytotoxin-associated gene |
| Cdx | Caudal-related homeobox |
| EGF | epidermal growth factor |
| EGFR | epidermal growth factor receptor |
| EMT | epithelial-mesenchymal transition |
| HNF | hepatocyte nuclear factor |
| IBD | inflammatory bowel disease |
| IL | Interleukin |
| MMP | matrix metalloprotease |
| TGFβ1 | transforming growth factor β1 |
| TNF | tumor necrosis factor |
| PDZ | postsynaptic density, disc-large, ZO-1 |
| TCF/LEF | T cell factor/lymphoid enhancer factor |
| ZONAB | Zonula occludens 1-associated nucleic acid-binding protein |
| TJ | tight junctions |
| ZO | zonula occludens |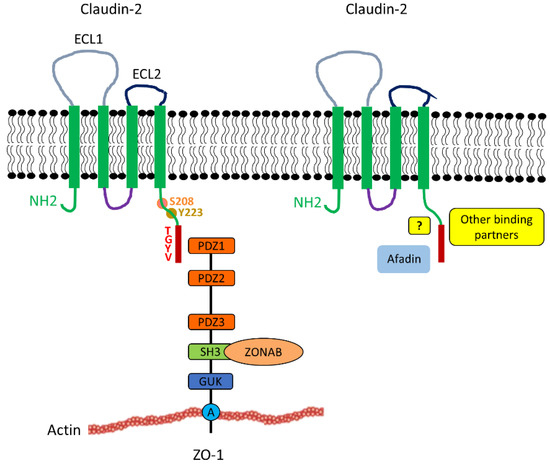 Figure 1.
Claudin-2 structure and interactions with cytosolic multidomain adapters. Claudin-2 consists of two extracellular loops, the longer ECL1 (grey) and shorter ECL2 (black). Claudin-2 also contains 4 transmembrane domains (green box), a cytoplasmic loop (purple), a short N-terminal region and a longer C-terminal region (green). Claudin-2 interacts with the ZO family of TJ plaque proteins (for clarity only ZO1 is depicted) through its PDZ-binding motif - TGYV located at the end of the C-terminus (indicated by the red box). The domains of ZO1 depicted include PDZ1, PDZ2, and SH3, mediating binding of a variety of proteins to create large multiprotein complexes; GUK and A, for actin binding segment. The SH3 domain of ZO-1 was shown to bind to the transcription factor ZONAB, which may play a role in the proliferative effects of claudin-2 (
Section 4.2
). Afadin is a recently identified claudin-2 partner. The mode of coupling (direct biding or indirect association through adapters) remains to be established. Other newly identified candidate binding partners for claudin-2 include Scrib, Arhgap21, PDLIM2/7, and Rims-2 [
34
]. The claudin-2 tail contains many potential phosphorylation sites. Among these, Y223 affects the affinity of the PDZ binding domain [
35
], and S208 appears to be a switch for membrane retention and lysosomal or nuclear localization (see
Section 3.4
and
Section 4.2
).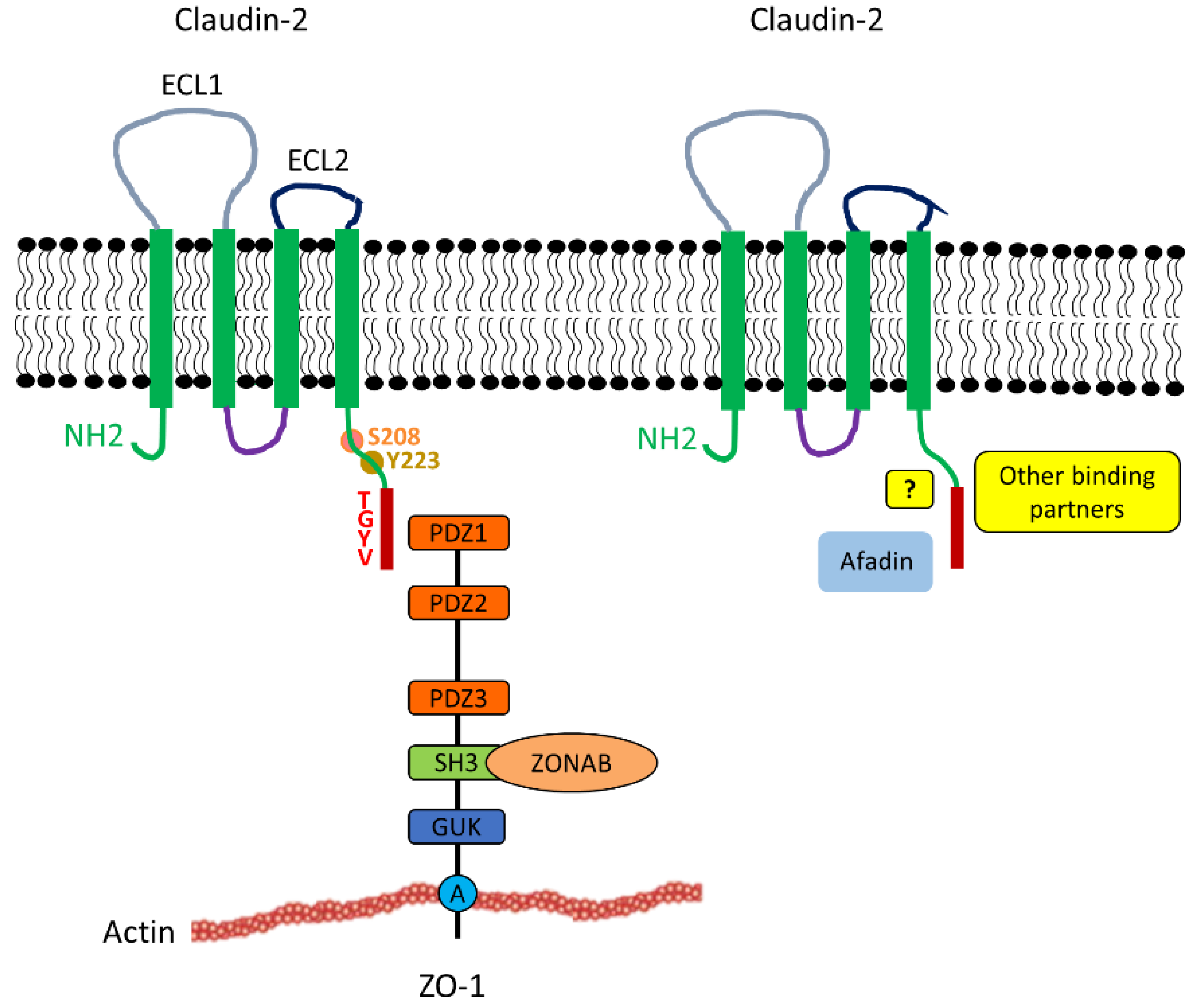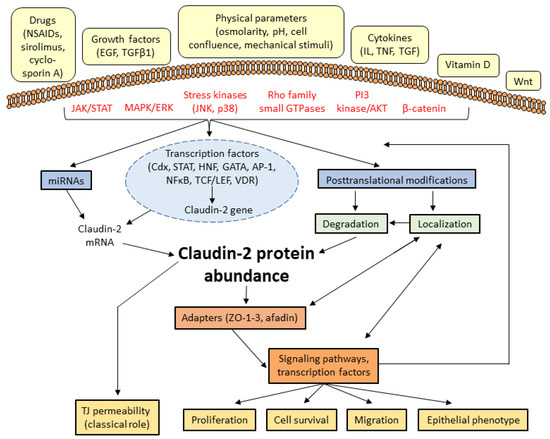 Figure 2.
Schematic overview of claudin-2 regulation and its downstream effects. Various extracellular stimuli activate signaling pathways that impact claudin-2 expression by altering its synthesis, and via post-transcriptional and post-translational modifications. In addition to its permeability effects, altered claudin-2 expression also modulates various cellular processes likely acting via a number of downstream signaling pathways and transcription factors (see
Table 1
for details on the signaling and effects downstream from claudin-2).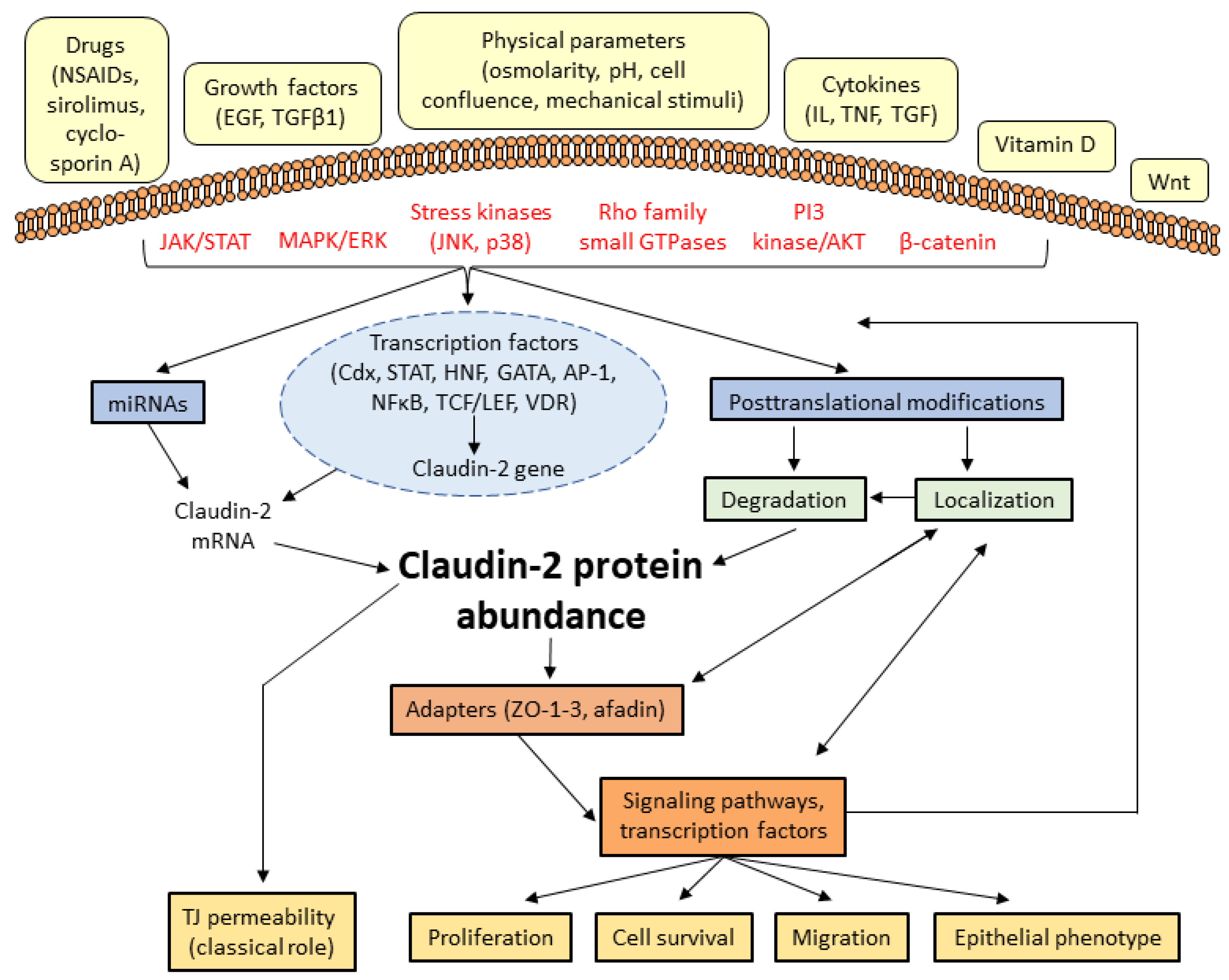 Table 1. Summary of the experimental evidence for a causal link between claudin-2 expression and functional outcomes.
Cell Line or Transgenic Mouse
Change in Claudin-2 Expression
Downstream Functional Effect
Signaling Components Downstream from Claudin-2
Ref.
Villin-claudin-2 transgenic mice
Claudin-2 overexpression
Increased colonocyte proliferation
PI-3K/Bcl-2 pathway
[116]
Caco2 human colon cancer cell
Claudin-2 silencing
Reduced EGF-induced proliferation
[51]
SW480 and HCT116 colon cancer cell lines
Claudin-2 overexpression
Increased proliferation and anchorage-independent growth
LLC-PK1 porcine kidney tubular cells
Claudin-2 silencing
Reduced proliferation
GEF-H1-mediated RhoA activation, increase in p27kip1
[67]
Pro-fibrotic epithelial shift
RhoA-mediated MRTF activation
A549 human lung adenocarcinoma cells
Claudin-2 downregulation/
knockdown
Reduced G1/S transition
Cyclin D1 and E1, ZONAB
[103]
Increased sensitivity to anti-cancer agents;
increased intracellular drug accumulation and reduced efflux
Decrease in phosho-c-Jun and nuclear Sp1;
reduced expression of multidrug resistance-associated protein/ABCC2
[119]
Reduced migration
Decreased Sp1, reduced MMP-9 expression, activity
[120]
A549 human lung adenocarcinoma cells
Flavonoid- or epigenetic inhibitor-induced claudin-2 downregulation;
Reduced proliferation; partial rescue of phenotype by claudin-2 reexpression
[64,117]
HT-29 colorectal cancer cell line
Symplekin silencing-induced claudin-2 downregulation;
Reduced anchorage-dependent growth and Zonab nuclear localization; rescue of phenotype by claudin-2 reexpression
[118]
A549 human lung adenocarcinoma cells
Endocytosis and lysosomal degradation of claudin-2 induced by a peptide mimic (DFYSP) of a conserved ECL2 region
Claudin-2 accumulation in the lysosomes, cellular injury and necrotic cell death
Cathepsin B release from lysosomes
[40]
MDCK canine tubular cells
Inducible knockdown of claudin-2
Enhanced migration in a wound-healing assay
Increased MMP-9 mRNA and activity
[120]
Human colon cancer stem-like cells (patient-derived CCP1 cells)
Claudin-2 overexpression
Self-renewal of cancer stem cells;
enhanced tumor initiation, progression, and metastasis
YAP and miRNAs (especially miR-222-3p)
[122]
Caco2 human colon cancer cell
Claudin-2 overexpression
Enhanced migration
Effect independent from MMP-2 and 9
[128]
AGS stomach carcinoma cells
Claudin-2 overexpression
Enhanced migration
Likely via increased MMP-1, -2 and 9 expression
[125]
T-84 colonic adenocarcinoma, AGS and KATO-III stomach carcinoma cells; A549 lung adenocarcinoma cell lines
Claudin-2 silencing
Reduced migration
[125]
Claudin-2 overexpression
Augmented migration
Non-steroidal anti-inflammatory drugs (NSAIDs)-induced claudin-2 downregulation
Reduced migration;
claudin-2 reexpression counteracted the effect
U2OS osteosarcoma cell line
Claudin-2 overexpression
Reduced migration and invasion
Afadin-mediated ERK inhibition
[130]
Fetal osteoblast cell line hFOB.1.19
Claudin-2 silencing
Augmented migration and invasion
ERK activation, afadin reduction
Claudin-2 KO mice
Claudin-2 KO
Augmented TNFα-induced colorectal inflammation
NFκB, myosin light chain kinase
[135]
Claudin-2 KO mice
Claudin-2 KO
Augmented energy demand of transport processes;
increased ischemia-reperfusion kidney injury
[110]

© 2019 by the authors. Licensee MDPI, Basel, Switzerland. This article is an open access article distributed under the terms and conditions of the Creative Commons Attribution (CC BY) license (http://creativecommons.org/licenses/by/4.0/).