Open Access This article is
freely available
re-usable
Review
MicroRNA-Based Therapeutic Perspectives in Myotonic Dystrophy
1
Translational Genomics Group, Incliva Health Research Institute, Burjassot, 46100 Valencia, Spain
2
Interdisciplinary Research Structure for Biotechnology and Biomedicine (Eri Biotecmed), University of Valencia, Burjassot, 46100 Valencia, Spain
*
Authors to whom correspondence should be addressed.
Received: 16 September 2019 / Accepted: 30 October 2019 / Published: 9 November 2019
Abstract
:
Myotonic dystrophy involves two types of chronically debilitating rare neuromuscular diseases: type 1 (DM1) and type 2 (DM2). Both share similarities in molecular cause, clinical signs, and symptoms with DM2 patients usually displaying milder phenotypes. It is well documented that key clinical symptoms in DM are associated with a strong mis-regulation of RNA metabolism observed in patient's cells. This mis-regulation is triggered by two leading DM-linked events: the sequestration of Muscleblind-like proteins (MBNL) and the mis-regulation of the CUGBP RNA-Binding Protein Elav-Like Family Member 1 (CELF1) that cause significant alterations to their important functions in RNA processing. It has been suggested that DM1 may be treatable through endogenous modulation of the expression of MBNL and CELF1 proteins. In this study, we analyzed the recent identification of the involvement of microRNA (miRNA) molecules in DM and focus on the modulation of these miRNAs to therapeutically restore normal MBNL or CELF1 function. We also discuss additional prospective miRNA targets, the use of miRNAs as disease biomarkers, and additional promising miRNA-based and miRNA-targeting drug development strategies. This review provides a unifying overview of the dispersed data on miRNA available in the context of DM.
Keywords:
myotonic dystrophy; microRNA; MBNL proteins; CELF1; miRNA-based drug; miRNA-targeting drug; antisense oligonucleotides; alternative splicing
2. Micro-RNAs and Myotonic Dystrophy
As mentioned above, miRNA dysregulation is growing in relevance in various human diseases including systems and tissues severely affected in DM. Micro-RNA evaluation was recently addressed in DM in order to decipher whether they are contributing to its complex pathogenesis. In this section, we summarize the first studies performed and results already published, introducing promising pieces of data for developing miRNA-based therapeutic approaches, and highlighting current miRNA dysregulation in DM (
Table 1
).
2.1. Therapeutic Intervention of miRNAs in DM
2.2. Picture of miRNAs Dysregulation in DM: Potential as a Disease Biomarker
3. Future Prospects for miRNA-Based Therapeutics in DM
The successful achievement of a valid miRNA-based therapeutic approach for DM patients, still in very premature phases, will need further research and progression from two different avenues. One is in connection with typical challenges faced in every drug development process. The second will require new and innovative approaches to combat the disease. In this case, we define them in more depth.
3.1. MiRNA-Based and miRNA-Targeting Drug Development Challenges
Despite its potential, development of miRNA-based and miRNA-targeting drugs still needs time and technical breakthroughs, especially with regard to stability and delivery issues that complicate the development of miRNA therapeutics and arrival of validated drugs in the market. For this reason, most of the technologies are still in preclinical phases, with only a few molecules undergoing clinical evaluation in fields like cancer or hepatitis with a strong knowledge about the disease [
40
]. Regarding DM, miRNA-based and miRNA-targeting drug development is even farther behind when compared with these other diseases. This situation may be linked to DM´s rare disease status, where the development of therapeutics was neglected for a long time, as well as other issues such as the high level of disease complexity, with no clear endpoints for drug evaluation. Another issue is the recent understanding of the genetic causes of the disease as well as the identification of a highly novel pathogenic mechanism with potential disease targets linked to sequestration by a toxic RNA. However, the first proof-of-concept results described in the previous sections are the real starting point for achieving a safe and effective treatment for DM patients. Even so, the final use of miRNA-based drugs will pass through the challenge of identifying the most efficacious therapeutic candidates and the evaluation of new antisense oligonucleotide technologies with different chemistry and delivery options.
Currently, examples of the most developed approaches in other disease fields include antagomiRs [
88
] and miRNA mimics [
89
], for which there is also proof-of-concept in DM [
49
,
51
,
61
,
62
,
63
,
64
,
65
,
66
]. However, the use of blockmiRs (or miRNA masking approach) (
Figure 1
) may be a very interesting alternative therapeutic option for target upregulation. Since each miRNA is able to regulate hundreds of genes, the action of antagomiRs is recognized as "sequence-specific," which is a feature that causes off-target side effects and unwanted toxicity. However, a blockmiR is a "gene-specific" option to achieve specific mRNA target upregulation with exquisite specificity and low undesirable off-target effects. One promising example is in connection with myomiRs miR-1 and miR-133, which are found altered in DM. BlockmiRs complementary to cardiac pacemaker channel encoding genes, HCN2, and HCN4, where miR-1 and miR-133 bind, prevented the repressive actions of both miRNAs on protein expression of these genes and caused a positive acceleration of the heart rate in a rat model [
90
].
The initial in vivo studies with miRNA-targeting products frequently resulted in little success, which displays weak therapeutic outcomes [
37
]. These studies require repeated administration to achieve persistent miRNA inhibition, have high production costs, and/or show low efficiency in some tissues and cell types. These effects may be a consequence of high levels of molecule degradation in the bloodstream and/or poor delivery to the final target site [
37
]. Therefore, the correct delivery of the oligonucleotide product to the targeted organs in order to maintain adequate treatment specificity can require passive or active strategies. Targeting of organs like the liver, spleen, and lymph nodes take advantage of their tendency to internalize accumulated particles (nanoparticles or liposome-like particles) that incorporate the oligonucleotide molecule. However, different organs or systems, such as skeletal muscle heavily affected in DM, will need the use of specific binding molecules to activate the endocytosis in the cells of interest. One of the major issues for all RNA-based therapeutics is that these molecules are very unstable and prone to degradation by RNases because of their 2′-OH chemical group. Recent strategies for increasing stability of antimiRs, as well as improving cell intake and tissue distribution, have introduced different types of chemical modifications previously developed for ASOs, such as 2′-O-methoxyethyl (2′-MOE), 2′-fluoro, phosphorothioate (PS), or locked nucleic acid (LNA), among others. Modified antimiRs currently under evaluation display, in some cases, improved target modulation compared with unmodified antimiRs with promising results in in vivo models of cancer, cardiac disease, and diabetes, and in non-human primates [
37
]. Similarly, different chemical modifications could provide interesting improvement opportunities for the already promising miRNA-based and miRNA-targeting anti-DM molecules identified for the therapeutic intervention of miR-1, miR-206, miR-23b, or miR-218 levels [
49
,
51
,
61
]. Otherwise, beyond the practice of basic in vitro transfection methodology options for the development of "miRNA-gain-of function," in vivo treatments include the use of viral transduction of pri-, pre-, or mature miRNAs. Different studies have demonstrated the in vivo validity of this strategy by reintroducing specific miRNAs that achieve a fine-tune miRNA product expression to block lung and liver cancer processes [
91
,
92
]. Depending on the viral vector type and the proliferation status of the target cells, DNA-encoded approaches may be continuously expressed, facilitating a prolonged miRNA increase, as well as a suppressive response [
91
,
92
,
93
]. However, safety issues still need to be resolved for this technology [
93
]. This last limitation has led to the development of encapsulating nanoparticle approaches following the knowledge gained from the development of siRNA delivery methods (very similar in structure and functions) to increase the efficacy of in vivo delivery of miRNA-based drugs [
37
]. Thus, the use of poly(lactide-co-glycolide) (PLGA), TargomiRs, N-acetyl-D-galactosamine (GalNac), or synthetic polyethyleneimine polymer particles, some already in clinical trial evaluation for cancer or diabetes disease, is also suggested for anti-DM miRNA-based and miRNA-targeting drug developments.
3.2. DM Drug Development Opportunities for miRNA-Based and miRNA-Targeting Products
4. Conclusions
This overview of the recent connection between miRNA and myotonic dystrophy offers two important messages. First, there is a more than probable pathological role of miRNA dysregulation in muscular issues displayed by DM patients. Second, because no conventional therapy exists for DM, a better understanding of the miRNA machinery and miRNA functions will help develop new treatment strategies for preventing or delaying the muscular degenerative process underlying DM. Proof of concept miRNA-based therapeutic formulations have shown promise, with in vivo approaches exhibiting a low toxicity profile and successful delivery to the muscle site. As the demand for a valid treatment grows, future prospects in the field must connect the current surge in genomic and proteomic data in human biology with the identification of key solid miRNA targets for drug development. The confirmation of these targets, coupled with the comprehensive use of novel delivery platforms and improved molecules, should enable miRNA therapeutics to become a viable clinical reality for DM patients.
Author Contributions
A.L.C wrote the manuscript and provided data for
Table 1
. S.J.O. provided Figures. All authors provide content and writing feedback and reviewed the final manuscript.
Funding
We thank the support of "La Caixa" Banking Foundation under the project code HR17-00268. S.J.O. was the recipient of a Santiago Grisolía scholarship from Generalitat Valenciana.
Conflicts of Interest
The authors declare no conflict of interest.
Abbreviations
| | |
| --- | --- |
| AAV | Adeno-associated virus |
| ASO | Antisense oligonucleotide |
| CNS | Central nervous system |
| CELF1 | CUGBP Elav-Like Family Member 1 |
| CRISPR | Clustered regularly interspaced short palindromic repeat |
| DM | Myotonic dystrophy |
| DM1 | Myotonic dystrophy type1 |
| DM2 | Myotonic dystrophy type 2 |
| DMD | Duchenne muscular dystrophy |
| FXS | Fragile X syndrome |
| GalNac | N-acetyl-D-galactosamine |
| HD | Huntington disease |
| KO | Knockout |
| LNA | Locked nucleic acid |
| MBNL | Muscle blind-like proteins |
| miRNA | MicroRNA |
| 2′-MOE | 2′-O-methoxyethyl |
| mRNA | Messenger RNA |
| nPTB | Polypyrimidine tract-binding protein |
| PLGA | poly(lactide-co-glycolide) |
| PS | Phosphorothioate |
| RISC | RNA-induced silencing complex |
| RNAi | RNA interference |
| SCAs | Spinocerebellar ataxias |
| SCA8 | Spinocerebellar ataxia type 8 |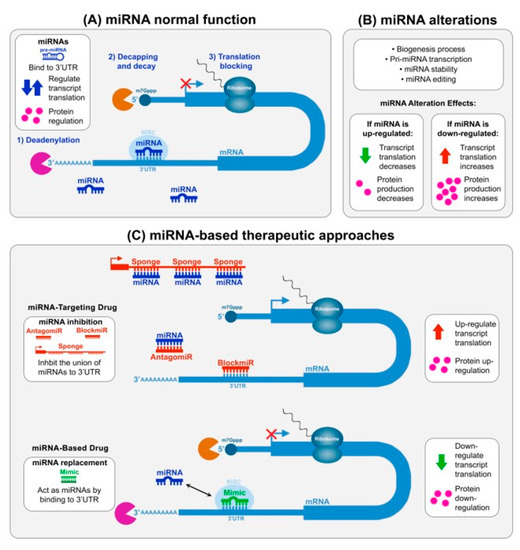 Figure 1.
Micro RNA (miRNA) mechanisms for mRNA translation, regulation, and therapeutic intervention. (
A
) miRNA normal function. In mammals, the interaction between miRNA (in blue) and mRNA targets trigger different mechanisms for transcript regulation through the RISC complex in order to achieve normal cellular protein levels (pink circles) [
36
,
37
]. (
B
) Causes of miRNA dysregulation. Alterations in miRNA biogenesis, editing, or in its biological stability may cause pathological upregulation or downregulation, which leads to decreased (green arrow) or increased (red arrow) target transcript translation regulation and final protein levels (pink circles), respectively [
36
]. (
C
) Illustration of miRNA-based technologies [
36
,
37
,
59
]. There are two main strategies of miRNA intervention depending on what is needed with regard to miRNA level correction. (Upper panel in
C
) When a miRNA is upregulated, inhibition is conducted by using antimiR products (in red) after miRNA-targeting drug development. Different types of antimiR products exist based on their mechanism of action. AntagomiR synthetic molecules are antisense oligonucleotides (ASOs) perfectly complementary to the specific miRNA target. A second strategy is the use of blockmiRs, which are designed to have a sequence that is complementary to one of the mRNA sequences that serve as a binding site for a microRNA. Upon binding, blockmiRs sterically block the microRNA from binding to the same site, which prevents degradation or transcription inhibition of the target. A third approach for direct miRNA binding and enhanced levels of inhibition involves the use of miRNA sponges. Sponges contain several tandemly arranged miRNA target sequences (same or different ones) usually embedded in the 3'UTR of a reporter gene for assessing the activity [
60
]. (Lower panel in
C
) miRNA replacement is conducted to restore its function by introducing a miRNA mimic product (in green) and, thus, following miRNA-based drug development. Micro-RNA mimics are synthetic double-stranded biomolecules that contain one strand with the same sequence and chemistry of the lacking miRNA and a second complementary strand that contains chemical modifications used for the delivery and protection of the mimic.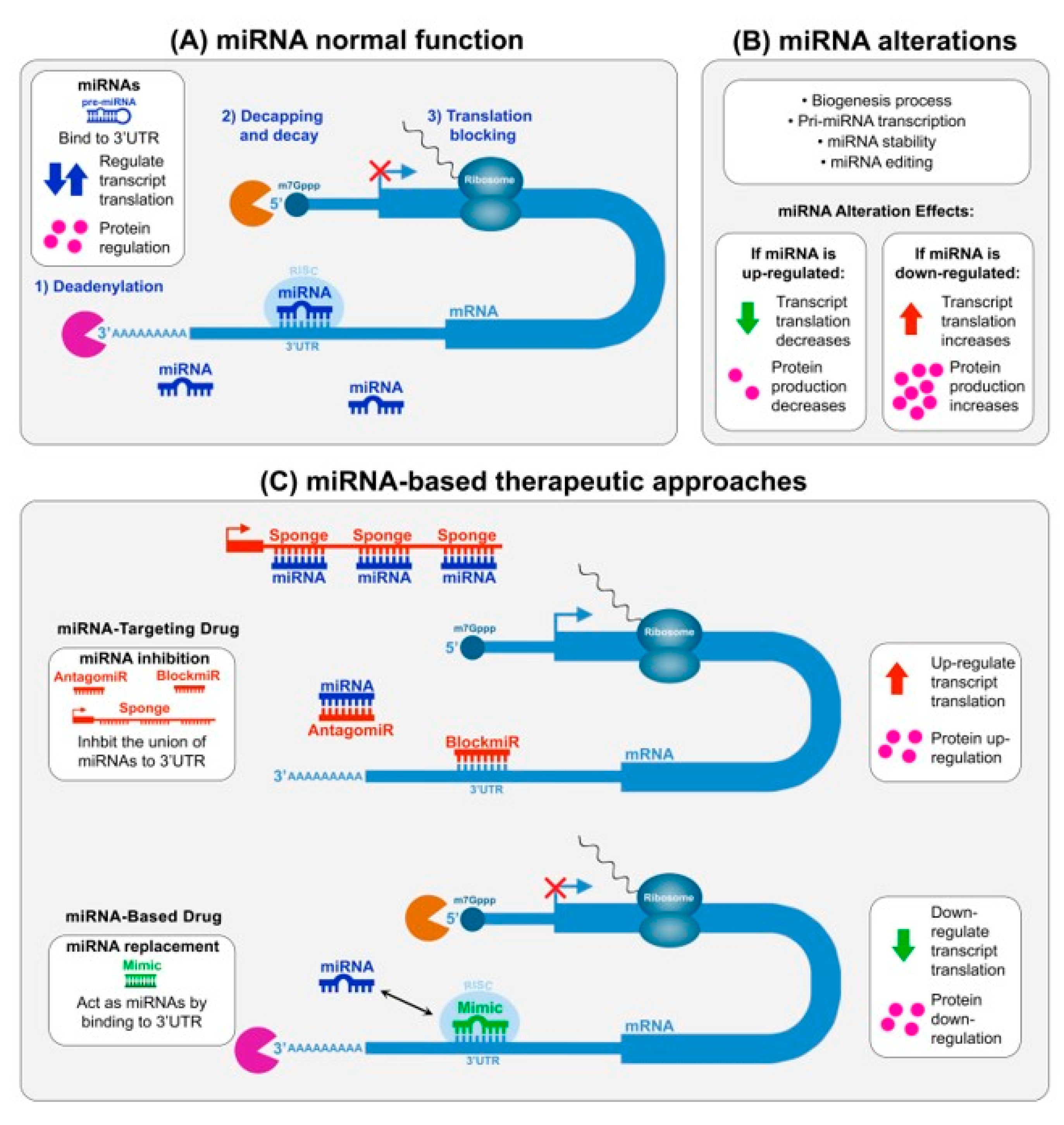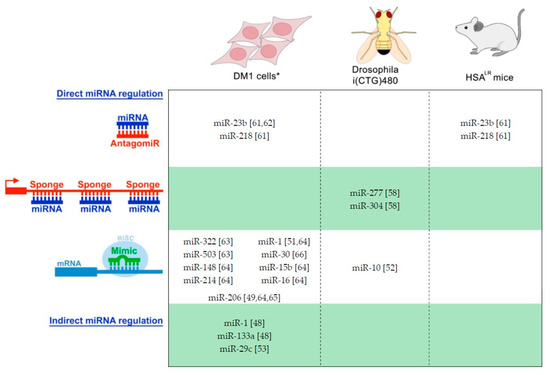 Figure 2.
Therapeutic proof-of-concept approaches for DM based on the modulation of miRNA levels. Currently, three different model systems have been used for evaluation: cells* (human and murine lines), flies, and mice. In vivo miRNA interventions were performed in disease backgrounds to directly assess the therapeutic potential in DM. * Cell approaches used DM and non-disease lines indistinctly for therapeutic evaluation and for conceptual modulation of DM-related targets, respectively. As direct miRNA intervention technologies, antagomiRs, sponges, and miRNA mimic products, able to directly bind to miRNA targets, have been used [
49
,
51
,
61
,
62
,
63
,
64
,
65
,
66
]. But miRNA modulation has been achieved by indirect approaches such as the recovering of MEF2C levels in DM1 [
48
] or removal of the expanded CTG by CRISPR technology [
53
].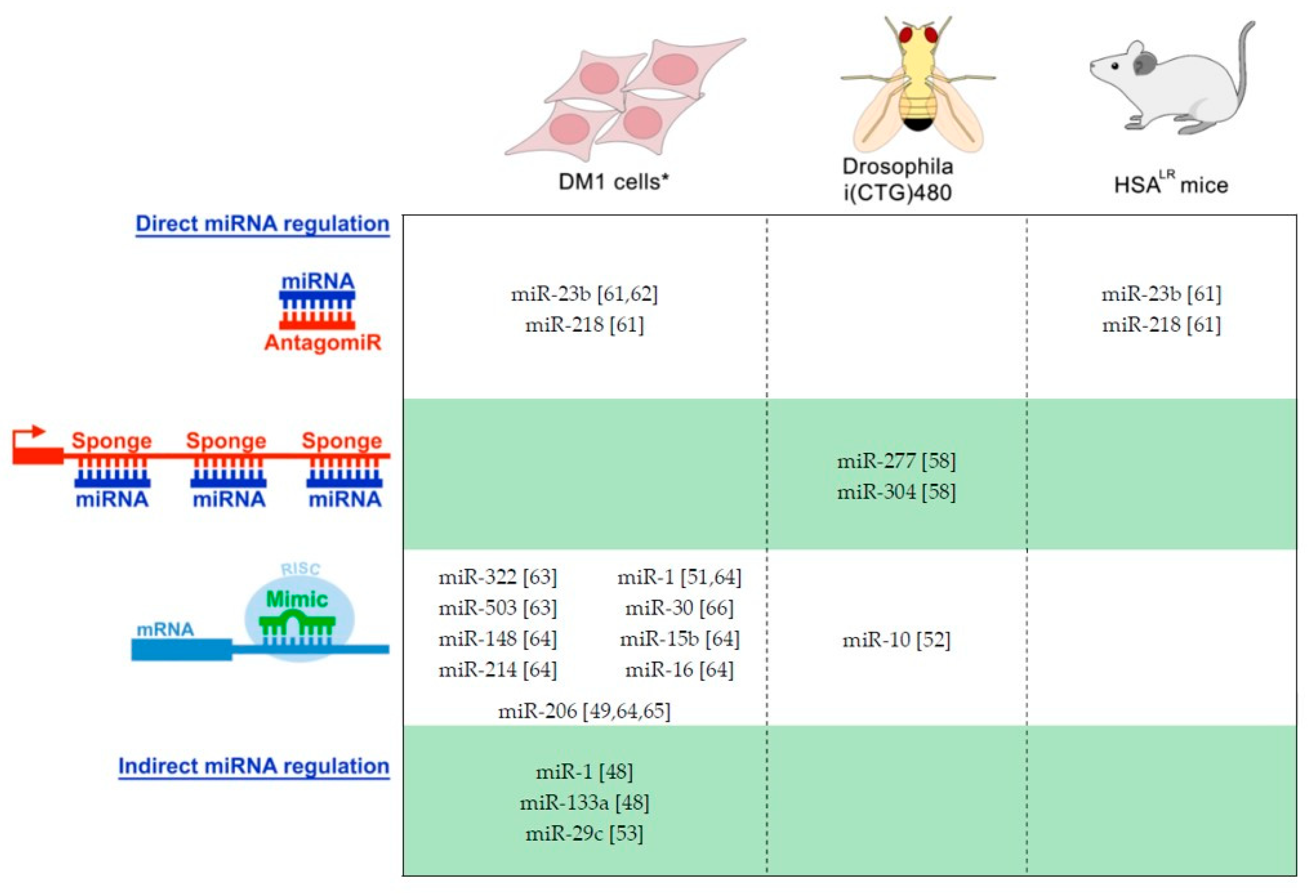 miRNA
Alteration
Mechanism
Target
Disease Role Suggested
Refs.

DM1

miR-206
↑ (sk)
Muscle atrophy
[42]
≠cd (sk)
[43]
↑ (sk)
[44]
↑ (pl)
Muscle strength
[45]
↑ (se)
Progressive wasting
[46,47]
↓ (

m

h, h)
MEF2
Arrhythmias/Fibrosis
[48]
↓ (sk)
MYOD
↑ TWIST-1
Muscle differences
[49]
miR-1
↑/≠ cd(sk)
Muscle development
[43]
↓ (sk)
↑ several transcripts
[44]
↓ (sk)
[50]
↓ (

m

h, h)
MBNL1/LIN28
↑ GJA1a/↑CACNA1C
Cardiac dysfunction
[51]
↑ (pl)
Muscle strength
[45]
↑ (se)
Progressive wasting
[46,47]
↓ (

m

h, h)
MEF2
Arrhythmias/Fibrosis
[48]
↓ (

d

m, sk)
Mbl
[52]
miR-335
↑ (sk)
[43]
miR-29b,c
↓ (sk)
↑ several transcripts
Atrophy
[43]
mirR-29c
↓ (sk)
[50]
mirR-29b
↑ (bl)
[50]
miR-29c
↓ (sk)
↑ ASB2 (and others)
Muscle fibrosis/mass
[53]
miR-33
↓ (sk)
[43]
mir-33a
↑ (bl)
[50]
miR-133b
≠ cd (sk)
[43]
miR-133a/b
↓ (sk)
[44]
miR-133a
↓ (sk)/↑ (bl)
[50]
miR-133a
↑ (pl)
[54]
miR-133a/b
↑ (pl)
Muscle strength
[45]
miR-133a/b
↑ (se)
Progressive wasting
[46,47]
miR-133a
↓ (

m

h, h)
MEF2
Arrhythmias/Fibrosis
[48]
miR-193b
↑ (pl)
[54]
miR-191
↑ (pl)
[54]
miR-140-3p
↑ (pl)
[54]
miR-454
↑ (pl)
[54]
miR-574
↑ (pl)
[54]
miR-885-5p
↑ (pl)
[54]
miR-886-3p
↑ (pl)
[54]
miR-27b
↓ (pl)
[54]
miR-23a/b
↓ (

m

h, h)
MEF2
↑ CELF1
Arrhythmias/Fibrosis
[48]
miR-208a
↑ (sk)
↓ several transcripts
Myofiber atrophy and hypertrophy
[55]
miR-381
↑ (sk)
↓ several transcripts
Myofiber atrophy and hypertrophy
[56]
miR-193b-3p
↓ (sk)
↑ several transcripts
Myofiber atrophy and hypertrophy
[55]
miR-7
↓ (

d

m, sk)
[52]
miR-10
↓ (

d

m, sk)
[52]
miR-15a
↓ (sk)
↑↓ several transcripts
[53]
miR-22
↓ (sk)
ERBB3
[53]
miR-155
↑ (sk)
↑↓ several transcripts
[53]
miR-222
↑ (sk)
↑↓ several transcripts
[53]
miR-381
↑ (sk)
↑↓ several transcripts
[53]
miR-411
↑ (sk)
↑↓ several transcripts
[53]
miR-200
↓ (bl)
Cancer
[57]
miR-241
↓ (bl)
Cancer
[57]

DM2

miR-34a-5p; -34b-3p; -34c-5p
↑ (sk)
↓ several transcripts
Myofiber atrophy and hypertrophy
[55]
miR-146b-5p
↑ (sk)
↓ several transcripts
Myofiber atrophy and hypertrophy
[55]
miR-208a
↑ (sk)
↓ several transcripts
Myofiber atrophy and hypertrophy
[55]
miR-221-3p;
↑ (sk)
↓ several transcripts
Myofiber atrophy and hypertrophy
[55]
miR-381
↑ (sk)
↓ several transcripts
Myofiber atrophy and hypertrophy
[55]
miR-125-5p
↓ (sk)
↑ several transcripts
Myofiber atrophy and hypertrophy
[55]
miR-193a-3p; -193b-3p
↓ (sk)
↑ several transcripts
Myofiber atrophy and hypertrophy
[55]
miR-387a-3p
↓ (sk)
↑ several transcripts
Myofiber atrophy and hypertrophy
[55]
miR-1
↓ (

m

h, h)
[51]
DM1 and DM2 studies have been performed on several different disease models and samples: (sk) human skeletal muscle, (pl) human plasma, (se) human serum, (bl) human blood, (

m

h) mouse heart, (h) human heart, (

d

m)

Drosophila

muscle. miRNAs or transcripts/protein factors were found: (↑) upregulated, (↓) downregulated, (≠ cd) altered cellular distribution.

© 2019 by the authors. Licensee MDPI, Basel, Switzerland. This article is an open access article distributed under the terms and conditions of the Creative Commons Attribution (CC BY) license (http://creativecommons.org/licenses/by/4.0/).