Open Access This article is
freely available
re-usable
Review
Predicting Gonadal Germ Cell Cancer in People with Disorders of Sex Development; Insights from Developmental Biology
1
Professor Translational Patho-Oncology, Department of Pathology, Lab. for Experimental Patho-Oncology, Erasmus MC-University Medical Center Rotterdam, and Group Looijenga, Princess Máxima Center for Pediatric Oncology, 3584 CS Utrecht, The Netherlands
2
Department of Pathology, Stanford University School of Medicine, Stanford, CA 94305, USA
3
Department of Pathology, Indiana University School of Medicine, Indianapolis, IN 46202, USA
†
Shared last authorship.

Received: 19 August 2019 / Accepted: 5 October 2019 / Published: 10 October 2019
Abstract
:
The risk of gonadal germ cell cancer (GGCC) is increased in selective subgroups, amongst others, defined patients with disorders of sex development (DSD). The increased risk is due to the presence of part of the Y chromosome, i.e., GonadoBlastoma on Y chromosome GBY region, as well as anatomical localization and degree of testicularization and maturation of the gonad. The latter specifically relates to the germ cells present being at risk when blocked in an embryonic stage of development. GGCC originates from either germ cell neoplasia in situ (testicular environment) or gonadoblastoma (ovarian-like environment). These precursors are characterized by presence of the markers OCT3/4 (POU5F1), SOX17, NANOG, as well as TSPY, and cKIT and its ligand KITLG. One of the aims is to stratify individuals with an increased risk based on other parameters than histological investigation of a gonadal biopsy. These might include evaluation of defined susceptibility alleles, as identified by Genome Wide Association Studies, and detailed evaluation of the molecular mechanism underlying the DSD in the individual patient, combined with DNA, mRNA, and microRNA profiling of liquid biopsies. This review will discuss the current opportunities as well as limitations of available knowledge in the context of predicting the risk of GGCC in individual patients.
Keywords:
germ cell cancer; developmental pathogenesis; individual risk assessment; prediction; disorders of sex development
Author Contributions
L.H.J.L. wrote the first versions, approved and adjusted by C.-S.K. and M.T.I.
Funding
L.H.J.L. is funded by the Princes Máxima Center for Pediatric Oncology through financial support by KiKa (Stichting Kinderen Kankervrij).
Acknowledgments
The authors would like to thanks all patients, clinicians, and scientists for their contributions to the work presented.
Conflicts of Interest
The authors declare no conflict of interest. The funders had no role in the design of the study; in the collection, analyses, or interpretation of data; in the writing of the manuscript, or in the decision to publish the results.
Abbreviations
| | |
| --- | --- |
| AFP | Alpha Fetoprotein |
| CIS | Carcinoma In Situ |
| CNV | copy number variations |
| DSD | Disorders of Sex Development |
| EC | embryonal carcinoma |
| (F)ISH | (Fluorescent) In Situ Hybridization |
| GB | Gonadoblastoma |
| GBY | Gonadoblastoma on the Y chromosome |
| GCNIS | Germ cell neoplasia in situ |
| GCTs | Germ Cell Tumors |
| GGCC | gonadal germ cell cancer |
| GWAS | Genome wide association studies |
| hCG | human ChorioGonadotropin |
| IGCNU | Intratubular Germ Cell Neoplasia, Unclassified |
| PLAP | Placental like alkaline phosphatase |
| SE | seminoma |
| SNP | Single Nucleotide Polymorphism |
| TE | teratoma |
| TSPY | Testis specific protein on the Y chromosome |
| TIN | Testicular Intratubular Neoplasia |
| YST | yolk sac tumor |
| WHO | World Health Organization |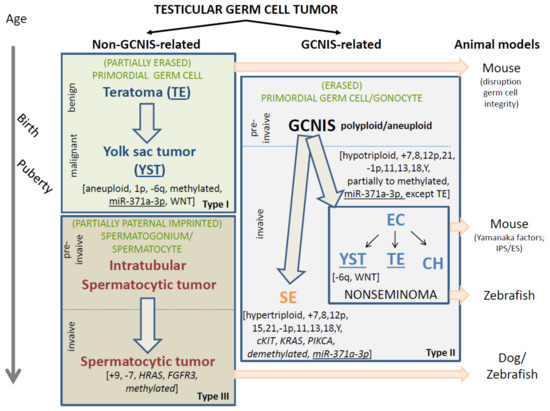 Figure 1.
Schematic representation of the various entities of testicular germ cell tumors (GCTs). The time line is indicated on the left side and the proposed animal models on the right. The GCTs include the non-GCNIS (germ cell neoplasia in situ) related GCTs (left panel) and GCNIS-related GCTs (right panel). The non-GCNIS related GCTs are subcategorized into the prepubertal teratomas (TE) and yolk sac tumors (YST) as well as the spermatocytic tumors. These are also referred to as Type I and III, respectively. The GCNIS-related GCTs are histologically (and clinically) subdivided into the seminomas (SE) and the various elements of nonseminomatous GCTs, being embryonal carcinoma (EC), YST, choriocarcinoma, and TE. Note the overlapping histology between the prepubertal TE/YST and the TE and YST elements in the GCNIS-related nonseminomas. However, they have a separate (and independent) pathogenesis (see text for further details). The presumed cells of origin are indicated in green, reflecting a (partially and fully erased) primordial germ cell (Type I and II), to partially paternal imprinted spermatogonium/spermatocyte (Type III). The precursors are indicated when known (preinvasive), while specifically the benign and malignant behavior of the pediatric TE and YST is highlighted. In addition, the most prominent and recurrent molecular genetic changes are indicated, of putative interest to be used for molecular pathological approaches. These include total genomic anomalies, like polyploid/aneuploid, specific chromosomal imbalances like losses (-) and gains (+), as well as recurrent mutations (
italics
). In addition, the methylation status is indicated as well as the possible use of miR-371a-3p as a liquid biopsy molecular biomarker (
underlined
). All malignant histological elements, independent of age, are identified by this biomarker (except TE). The WNT pathway is specifically involved in the YST components, independent of age and also of pathogenesis.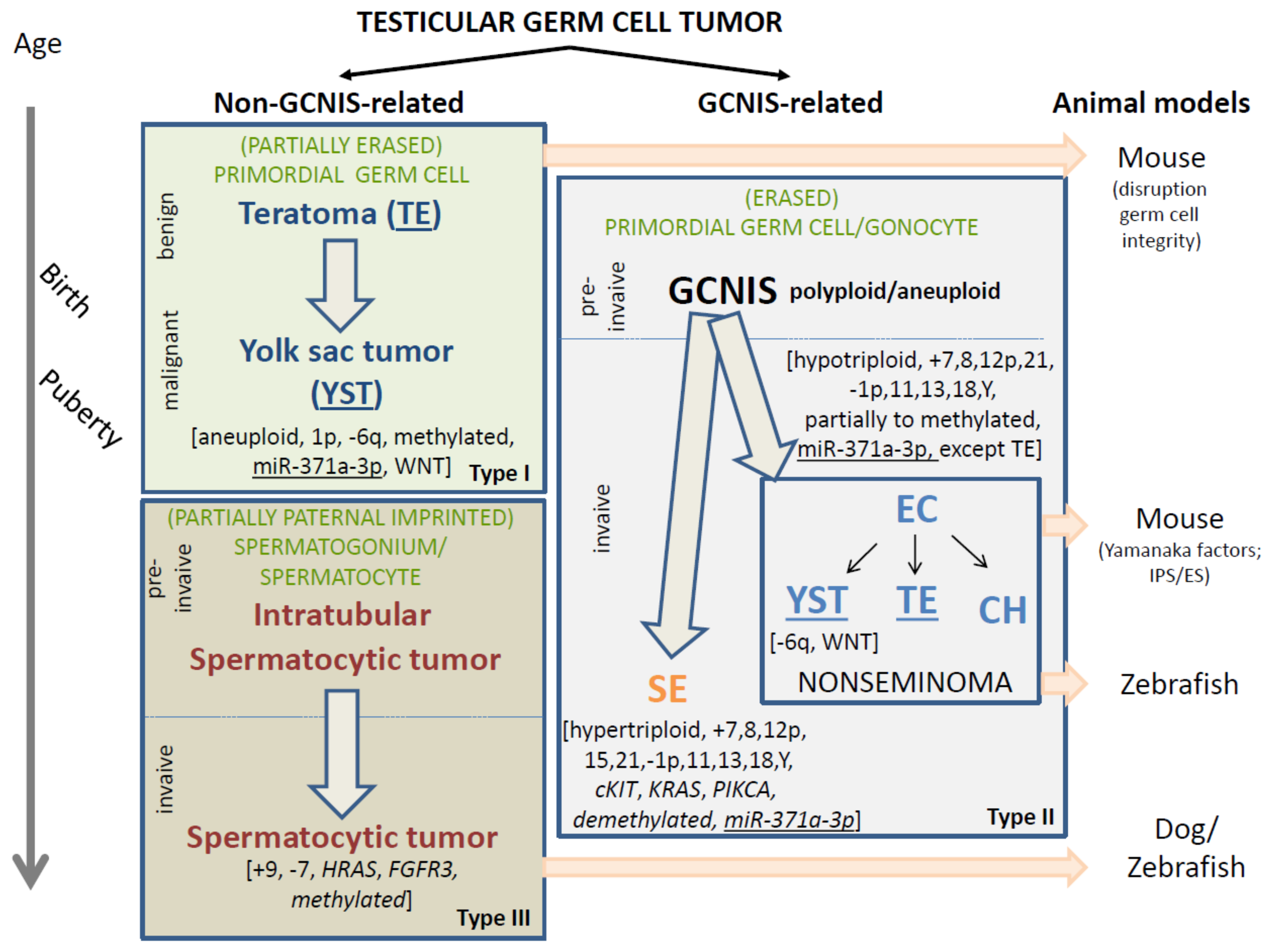 Figure 2. Representative examples of germ cell neoplasia in situ (GCNIS) (top two rows) (patient 30 years of age with a pure seminoma and GCNIS) stained using Hematoxylin & Eosin (H&E) (A) and immunohistochemistry for OCT3/4 (B), TSPY(C), KITLG (D), SOX9 (Sertoli cell marker) (E), as well as direct alkaline phosphatase (dAP) (F). In addition, the lower row shows a prepubertal testis with delayed maturation (H&E (G) and OCT3/4 positive (H)), as well as the "false" positive staining for KIT in normal spermatogonia (being OCT3/4 negative) (I). Multiplication 200×, except for G,H 100×.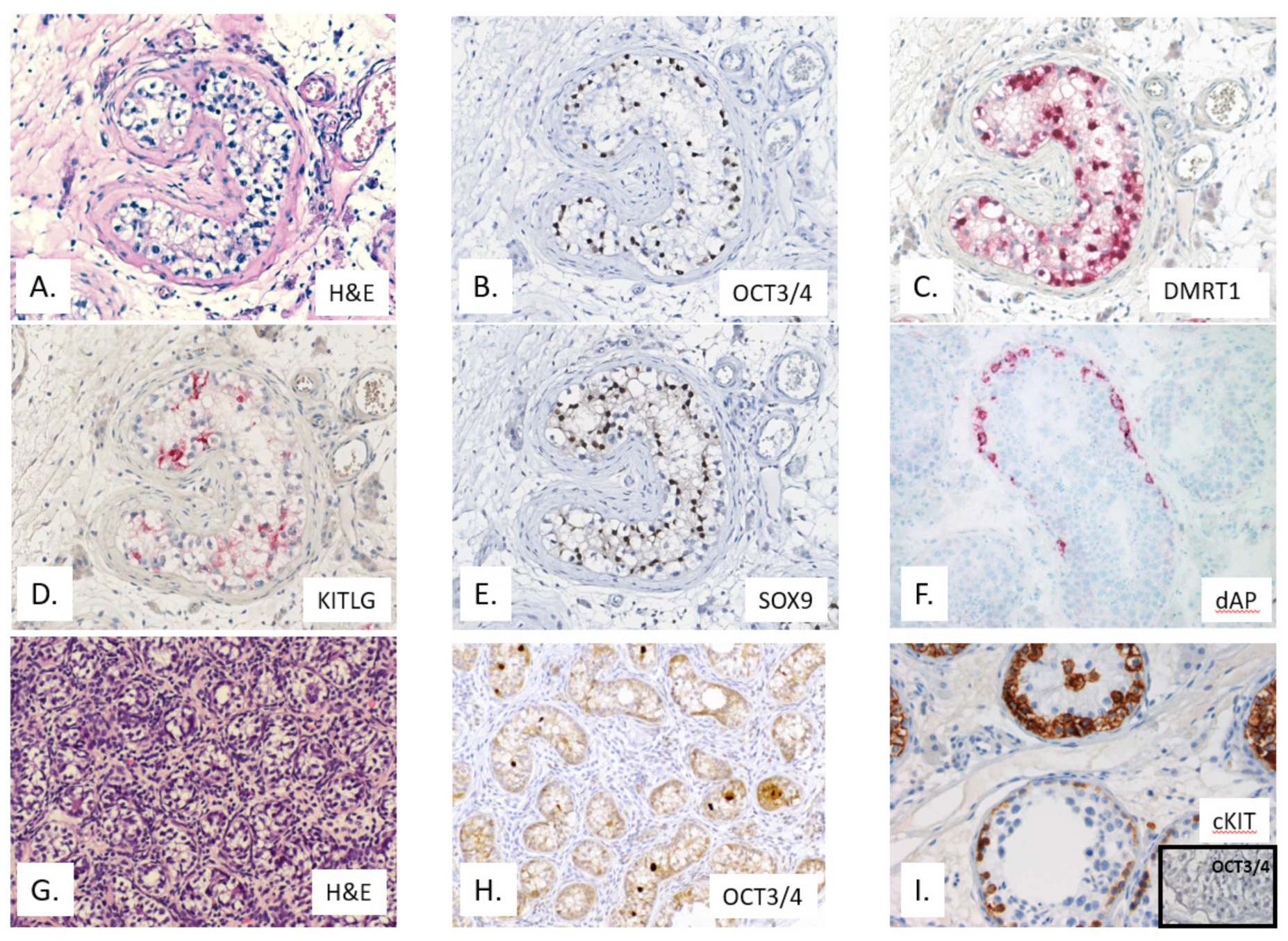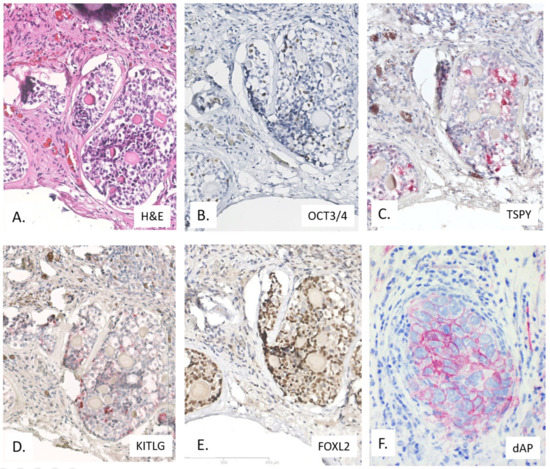 Figure 3. Representative examples of gonadoblastoma (GB) stained using Hematoxylin & Eosin (H&E) (A) and immunohistochemistry for OCT3/4 (B), TSPY (C), KITLG (D), FOXL2 (granulosa cell marker) (E), as well as direct alkaline phosphatase (dAP) (F). Multiplication 200×.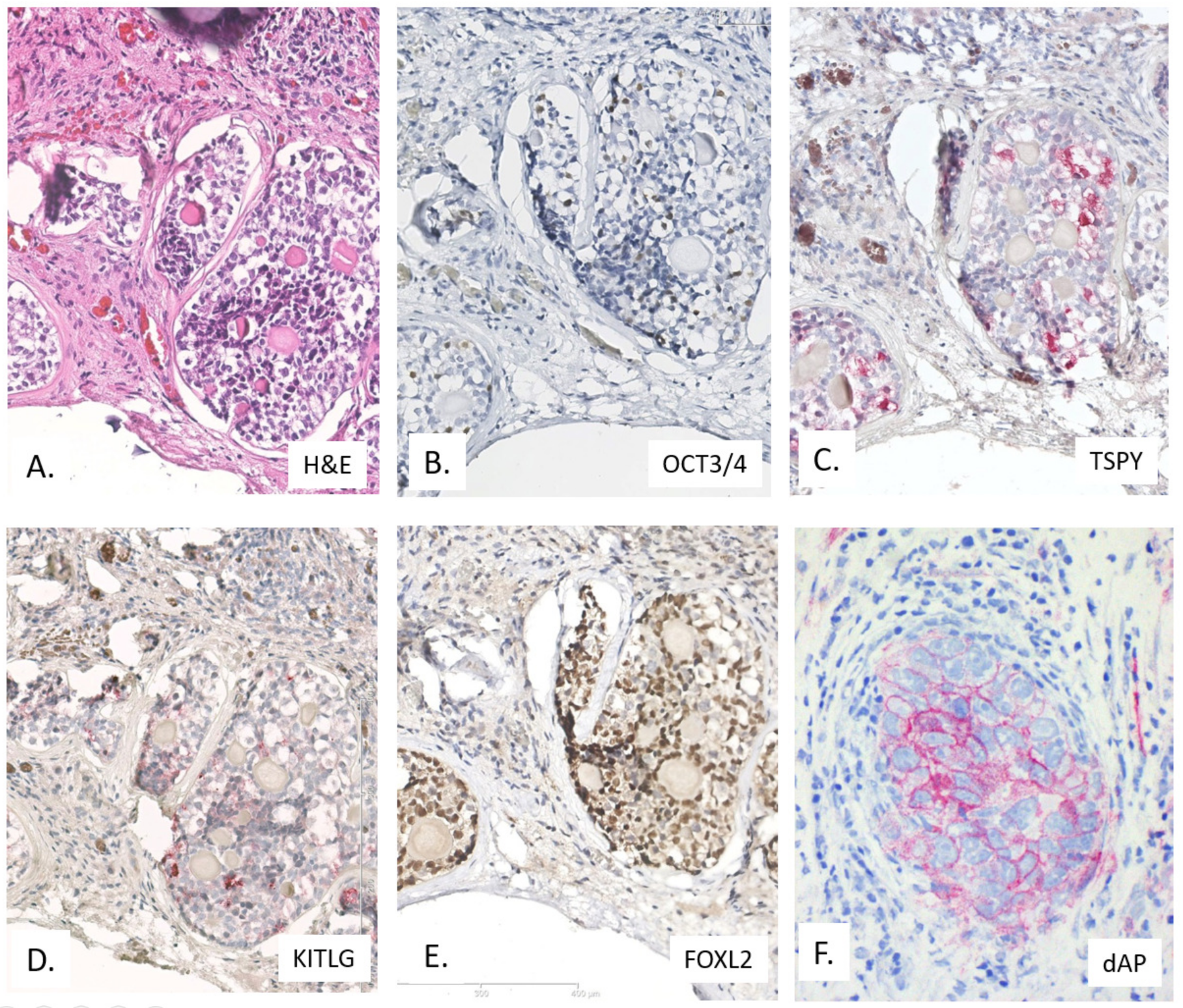 © 2019 by the authors. Licensee MDPI, Basel, Switzerland. This article is an open access article distributed under the terms and conditions of the Creative Commons Attribution (CC BY) license (http://creativecommons.org/licenses/by/4.0/).