Open Access This article is
freely available
re-usable
Review
Human Oral Stem Cells, Biomaterials and Extracellular Vesicles: A Promising Tool in Bone Tissue Repair
1
Department of Medical, Oral and Biotechnological Sciences, University "G. d'Annunzio" Chieti-Pescara, 66100 Chieti, Italy
2
ASL02 Lanciano-Vasto-Chieti, Ss. Annunziata Hospital, 66100 Chieti, Italy
†
These authors contributed equally to this work.

Received: 26 July 2019 / Accepted: 4 October 2019 / Published: 9 October 2019
Abstract
:
Tissue engineering and/or regenerative medicine are fields of life science exploiting both engineering and biological fundamentals to originate new tissues and organs and to induce the regeneration of damaged or diseased tissues and organs. In particular, de novo bone tissue regeneration requires a mechanically competent osteo-conductive/inductive 3D biomaterial scaffold that guarantees the cell adhesion, proliferation, angiogenesis and differentiation into osteogenic lineage. Cellular components represent a key factor in tissue engineering and bone growth strategies take advantage from employment of mesenchymal stem cells (MSCs), an ideal cell source for tissue repair. Recently, the application of extracellular vesicles (EVs), isolated from stem cells, as cell-free therapy has emerged as a promising therapeutic strategy. This review aims at summarizing the recent and representative research on the bone tissue engineering field using a 3D scaffold enriched with human oral stem cells and their derivatives, EVs, as a promising therapeutic potential in the reconstructing of bone tissue defects.
Keywords:
bone regeneration; biomaterials; extracellular vesicles; oral stem cells; regenerative medicine
2. Morphological Features and Phenotypic Characterization of Human Oral Stem Cells
Our study was focused on hPDLSCs and autologous and easily obtainable cell populations showing the essential features for human clinical use.
They are collected by scraping of the alveolar crest and/or the horizontal fibers of the periodontal ligament tissue without morbidity for patients. The xeno-free culture maintained the characteristic immunophenotype as well as the cells grown in mediums that contain animal sera, usually foetal bovine serum (FBS), and cells also maintained the multipotent ability and their ex vivo expansive potential. They also were capable of differentiating into adipogenic, osteogenic and chondrogenic lineages. The proliferation rate of hPDLSCs, expanded under animal-serum free conditions, was significantly increased when compared to the hPDLSCs cultured with standard a medium containing FBS. The morphological features were similar to the typical MSCs shape, showing a fibroblastoid morphology with evident nuclei and nucleoli.
3. Biogenesis and Characterization of EVs
4. Clinical Potential and Current Progress of Biomaterials and Human Oral Stem Cells in Bone Tissue Regeneration
Biomaterial remains a fundamental actor of this process, influencing the cell/tissue interactions, and its application still remains a promising strategy in bone tissue regeneration.
The full treatment promotes the replacement of the damaged or non-functional tissues and the reconstruction of bone large skeletal defects caused by anomalies due to the effect of both soft and hard tissues by trauma and by bone recessions from tumors and cysts, or even by congenital disorders; the development of biomaterials functionalized with molecules or cell derivatives represents a socioeconomic need and a promising novel approach.
Biomaterials enriched with MSCs are capable of inducing bone regeneration. In particular, oral-derived stem cells, an alternative source of MSCs, represent a novel application in regenerative medicine, not only in dental restoration but also in other diseases. In fact, MSCs from oral tissues, presenting stem cell-associated cell surface markers, can be considered an interesting accessible autologous platform of stem cells. Moreover, dental MSCs, originating from neural crests, express embryonic stemness markers, which influence their multilineage differentiation potentials in vitro.
Oral-derived MSCs cultured in serum-free conditions do not interfere with their self-renewal and differentiation processes. They also present several advantages, such as large clinical-scale production of numerous competent stem cells without showing in vitro senescence for the passage from basic to translational research in transplantation, immune-therapy and regenerative medicine. In particular, the use of cell derivatives, as EVs or functionalized EVs, as PEI-EVs, played a key role in the activation of the osteogenic regenerative process, avoiding the direct use of stem cells with all their concerns. PEI-EVs improved the mineralization process and induced an extensive vascular network, suggesting an osseointegration process. These data encouraged a deep investigation of PEI-EV or MSC derivatives in order to use them in bone tissue regeneration in combination with different types of scaffolds and MSCs aimed at reaching a stem cell-free therapy approach.
Safety aspects must be highlighted from various perspectives (e.g., donor, recipient, product, manufacturing, clinical application). EVs will be considered biological medicinal products; it is anticipated that new rules explicitly regulating EV-based therapies are not needed. Existing European guidance on biological active substances covers the manufacturing and clinical evaluation of novel EV-based therapeutics. The demonstration of the safety and efficacy of novel drugs is a challenge for developers and clinical investigators.
5. Conclusions
The treatment for serious fractures and critical size bone defects requires the assistance of the tissue engineering field. For this reason, the identification of novel therapeutic strategies, which will lead to improved patient outcomes, are urgently needed. Hence, tissue engineering employs a combination of stem cells and their derivatives (EVs), biomaterials/scaffolds, to repair damaged bone and to enhance bone regrowth. This review aims at summarizing the recent and representative research in the bone tissue engineering field using different biomaterials such as 3D-PLA and EVO membrane alone and/or enriched with oral mesenchymal stem cells and their derivatives that can be used as a promising therapeutic approach in the reconstructing of bone tissue defects.
Funding
"This research was funded by OT ex60% Research Funds of University "G. d'Annunzio", Chieti-Pescara (OT60/2017).
Conflicts of Interest
The authors declare no conflict of interest.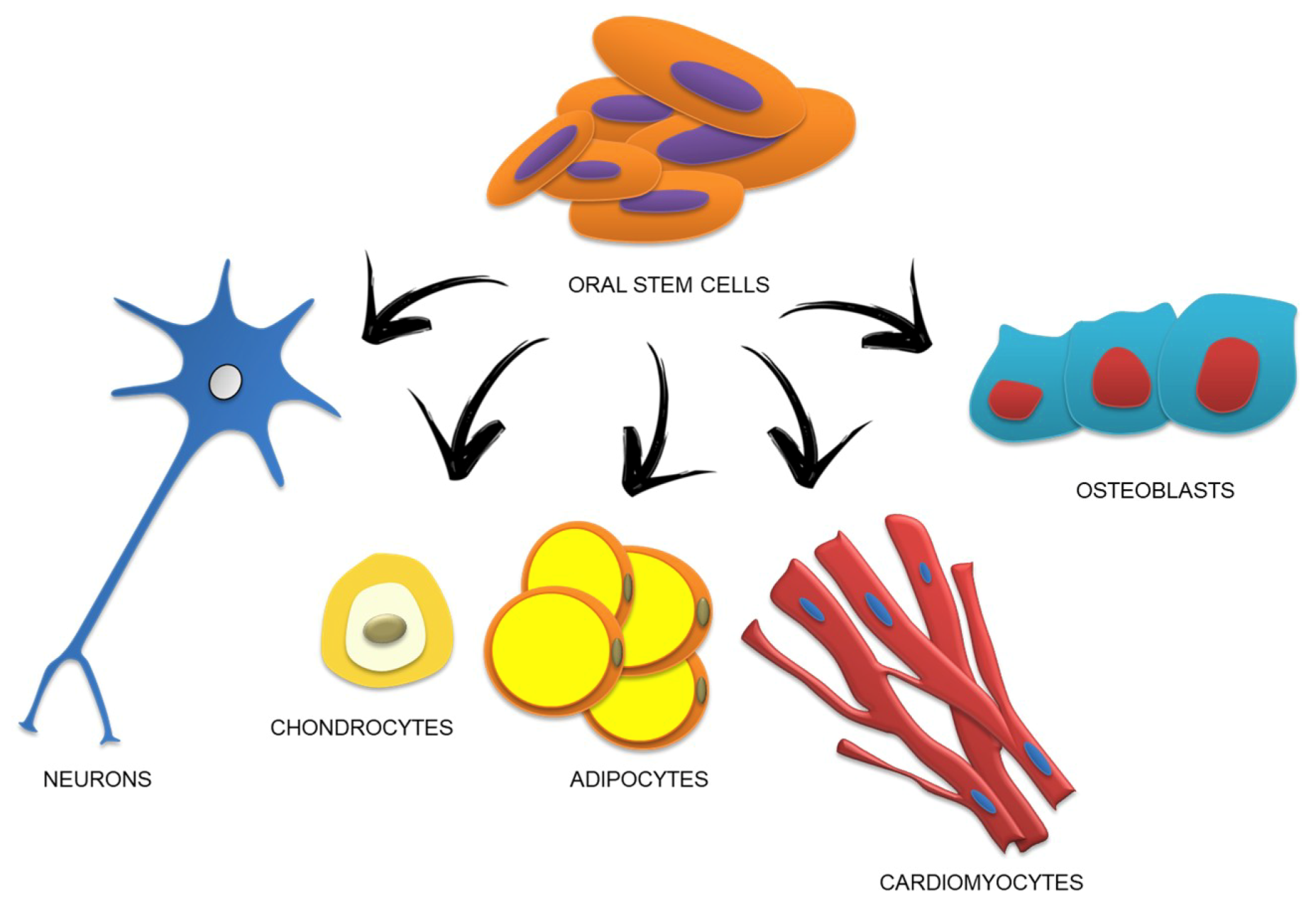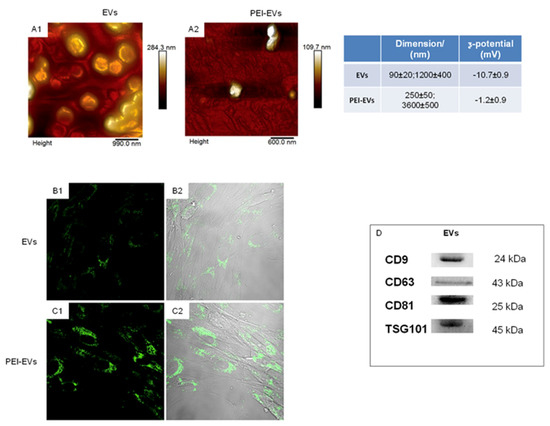 Figure 2.
Extracellular vesicle (EV) and polyethyleneimine (PEI)-engineered EV (PEI-EV) characterization. (
A1
,
A2
) Atomic force microscopy pictures of EVs and PEI-EVs. (
Table
) Average size and ζ-potential of EVs and PEI-EVs. (
B1
,
B2
) Confocal laser scanning microscopy observations of fluorescent stained EVs cultured with GMSCs. (
C1
,
C2
) Confocal laser scanning microscopy observations of fluorescent stained PEI-EVs cultured with GMSCs. (
D
) Western blot showing the positivity for CD9, CD63, CD81 and TSG101. figure published in reference [
9
].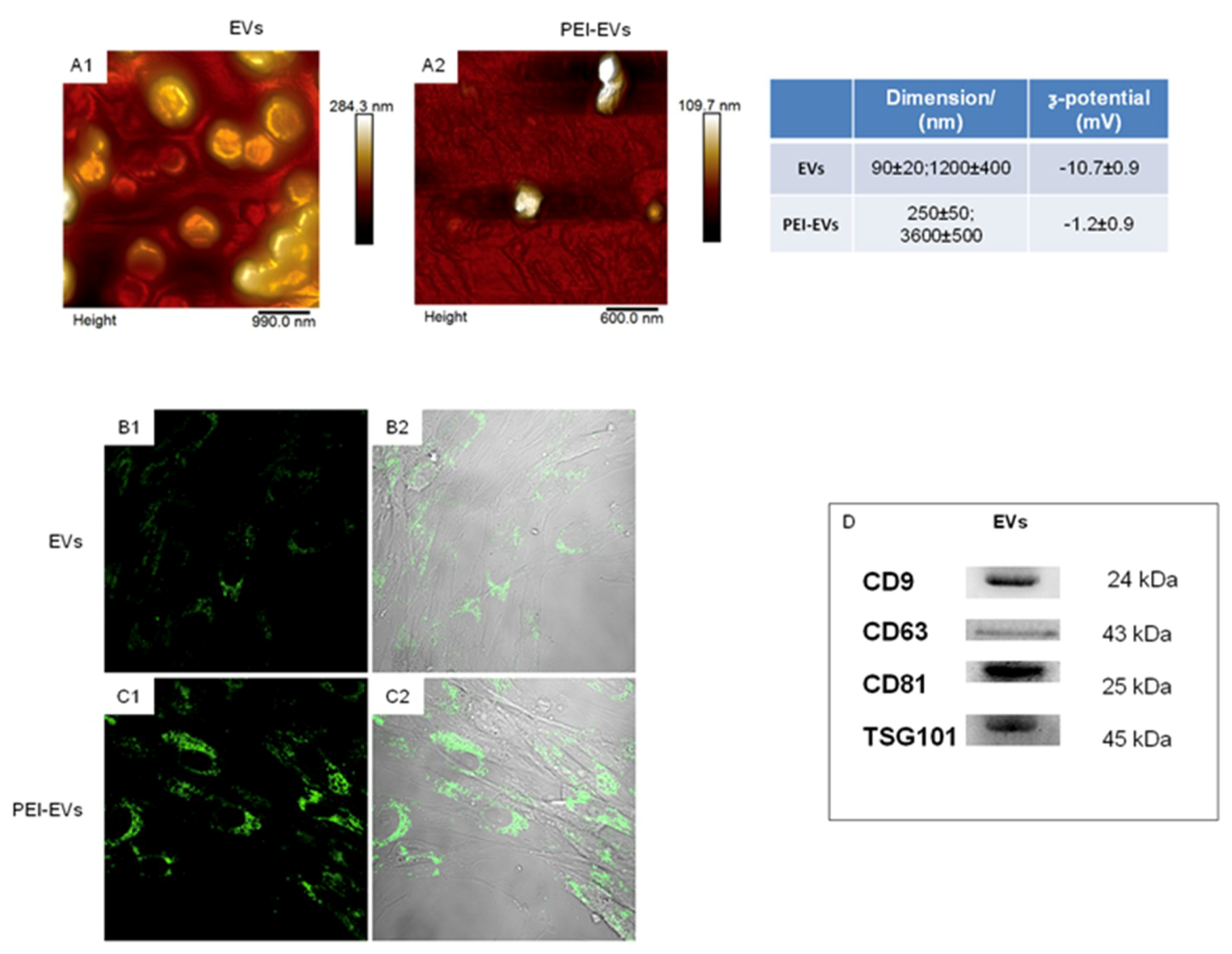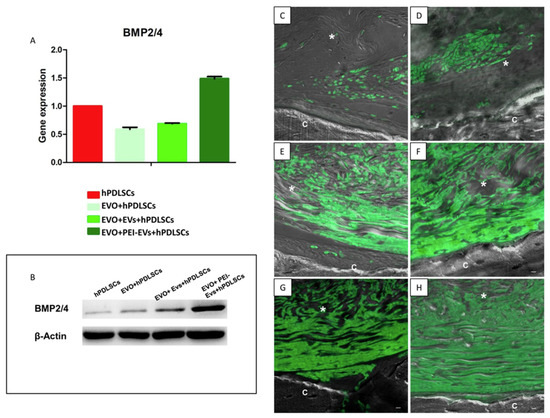 Figure 3.
Collagen-based membrane in vivo functional evaluation. (
A
) Real time-PCR graph of BMP2/4 expression in different experimental groups after six weeks of in vitro culture (
n
= 3). (
B
) Western blot analysis of BMP2/4. Immunofluorescence staining of BMP2/4 showed the presence of the protein in semithin section samples obtained after six weeks of grafting in rat calvaria in (
C
) EVO, (
D
) EVO + hPDLSCs, (
E
) EVO + EVs, (
F
) EVO + EVs + hPDLSCs, (
G
) EVO + PEI-EVs and (
H
) EVO + PEI-EVs + hPDLSCs. Magnification: ×20; C, mouse calvarium; *, EVO. figure published in reference [
48
].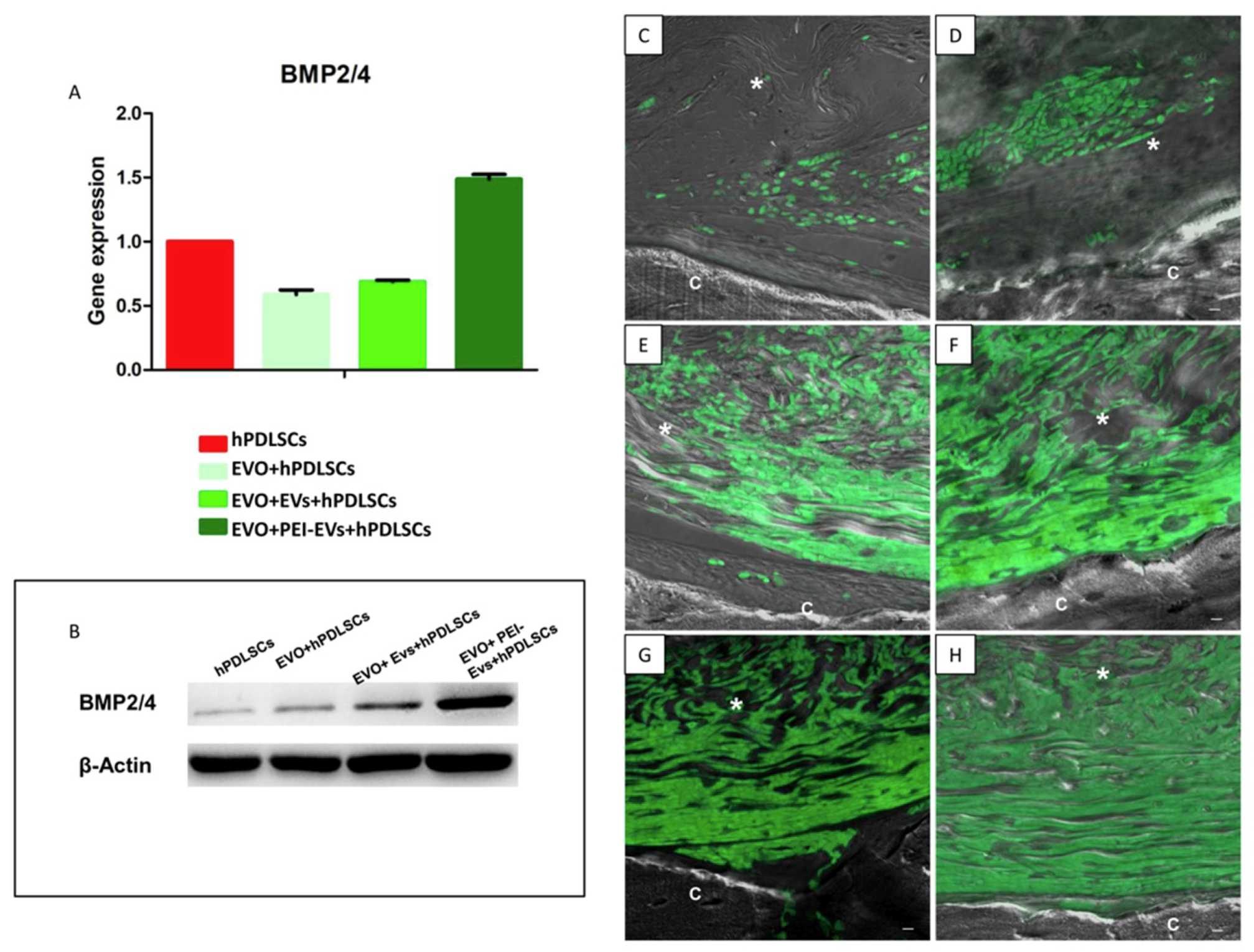 © 2019 by the authors. Licensee MDPI, Basel, Switzerland. This article is an open access article distributed under the terms and conditions of the Creative Commons Attribution (CC BY) license (http://creativecommons.org/licenses/by/4.0/).