Obstructive Sleep Apnea Activates HIF-1 in a Hypoxia Dose-Dependent Manner in HCT116 Colorectal Carcinoma Cells
1
Charles Perkins Centre, Faculty of Medicine and Health, Northern Clinical School, The University of Sydney, Sydney NSW 2006, Australia
2
Department of Respiratory and Sleep Medicine, Royal North Shore Hospital, Sydney 2065, Australia
*
Author to whom correspondence should be addressed.
Received: 20 December 2018 / Revised: 17 January 2019 / Accepted: 18 January 2019 / Published: 21 January 2019
Abstract
Obstructive sleep apnea (OSA) affects a significant proportion of the population and is linked to increased rates of cancer development and a worse cancer outcome. OSA is characterized by nocturnal intermittent hypoxia and animal models of OSA-like intermittent hypoxia show increased tumor growth and metastasis. Advanced tumors typically have regions of chronic hypoxia, activating the transcription factor, HIF-1, which controls the expression of genes involved in cancer progression. Rapid intermittent hypoxia from OSA has been proposed to increase HIF-1 activity and this may occur in tumors. The effect of exposing a developing tumor to OSA-like intermittent hypoxia is largely unknown. We have built a cell-based model of physiological OSA tissue oxygenation in order to study the effects of intermittent hypoxia in HCT116 colorectal cancer cells. We found that HIF-1α increases following intermittent hypoxia and that the expression of HIF-target genes increases, including those involved in glycolysis, the hypoxic pathway and extracellular matrix remodeling. Expression of these genes acts as a 'hypoxic' signature which is associated with a worse prognosis. The total dose of hypoxia determined the magnitude of change in the hypoxic signature rather than the frequency or duration of hypoxia-reoxygenation cycles per se. Finally, transcription of
HIF1A
mRNA differs in response to chronic and intermittent hypoxia suggesting that HIF-1α may be regulated at the transcriptional level in intermittent hypoxia and not just by the post-translational oxygen-dependent degradation pathway seen in chronic hypoxia.
View Full-Text
►

▼

Figures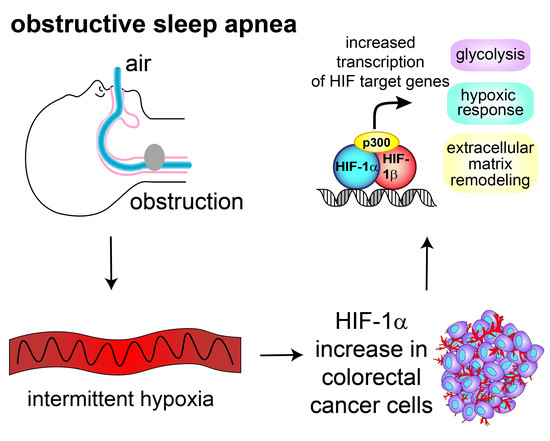 Graphical abstract
This is an open access article distributed under the
Creative Commons Attribution License
which permits unrestricted use, distribution, and reproduction in any medium, provided the original work is properly cited (CC BY 4.0).

Share & Cite This Article
MDPI and ACS Style
Martinez, C.-A.; Kerr, B.; Jin, C.; Cistulli, P.A.; Cook, K.M. Obstructive Sleep Apnea Activates HIF-1 in a Hypoxia Dose-Dependent Manner in HCT116 Colorectal Carcinoma Cells. Int. J. Mol. Sci. 2019, 20, 445.
Note that from the first issue of 2016, MDPI journals use article numbers instead of page numbers. See further details here.
Related Articles
Comments
[Return to top]