Open Access This article is
freely available
re-usable
Review
Calcium Deregulation and Mitochondrial Bioenergetics in GDAP1-Related CMT Disease
1
Departamento de Biología Molecular, Centro de Biología Molecular Severo Ochoa, Consejo Superior de Investigaciones Científicas-Universidad Autónoma de Madrid (CSIC-UAM), 28049 Madrid, Spain
2
Centro de Investigación Biomédica en Red de Enfermedades Raras (CIBERER), 28029 Madrid, Spain
3
Instituto de Investigación Sanitaria Fundación Jiménez Díaz (IIS-FJD), 28006 Madrid, Spain
4
Instituto de Recerca Sant Joan de Déu and Hospital Sant Joan de Déu, 08950 Barcelona, Spain
5
Division of Pediatrics, University of Barcelona School of Medicine, 08036 Barcelona, Spain
6
Facultad de Ciencias Ambientales y Bioquímica, Centro Regional de Investigaciones Biomédicas, Universidad de Castilla la Mancha, 45600 Toledo, Spain
*
Authors to whom correspondence should be addressed.
Received: 18 December 2018 / Accepted: 12 January 2019 / Published: 18 January 2019
Abstract
:
The pathology of Charcot-Marie-Tooth (CMT), a disease arising from mutations in different genes, has been associated with an impairment of mitochondrial dynamics and axonal biology of mitochondria. Mutations in
ganglioside-induced differentiation-associated protein 1
(
GDAP1
) cause several forms of CMT neuropathy, but the pathogenic mechanisms involved remain unclear. GDAP1 is an outer mitochondrial membrane protein highly expressed in neurons. It has been proposed to play a role in different aspects of mitochondrial physiology, including mitochondrial dynamics, oxidative stress processes, and mitochondrial transport along the axons. Disruption of the mitochondrial network in a neuroblastoma model of
GDAP1
-related CMT has been shown to decrease Ca
2+
entry through the store-operated calcium entry (SOCE), which caused a failure in stimulation of mitochondrial respiration. In this review, we summarize the different functions proposed for GDAP1 and focus on the consequences for Ca
2+
homeostasis and mitochondrial energy production linked to CMT disease caused by different
GDAP1
mutations.
Keywords:
GDAP1; recessive mutations; store operated calcium entry; mitochondrial location; calcium regulated cell respiration
2. Proposed Roles of Ganglioside-Induced Differentiation-Associated Protein 1 (GDAP1) in Mitochondrial Physiology
3. Role of Mitochondrial Traffic and Location in Charcot-Marie-Tooth (CMT) Disease
Mitochondria carry out many essential functions in the cell; they are the major cellular source of ATP, obtained via oxidative phosphorylation, but also host several metabolic pathways, such as the citric acid cycle, β-oxidation of fatty acids, and pyrimidine metabolism, among others [
38
]. Mitochondria are the main site where reactive oxygen species (ROS) are generated [
39
], and they are also a key component of Ca
2+
homeostasis in the cell, being able to modulate the dynamic of cytosolic calcium signals by buffering Ca
2+
flux from the ER or the plasma membrane [
40
,
41
,
42
]. Ca
2+
flux between the ER and mitochondria depends on the correct formation of MAMs [
33
]. Consequently, mitochondria are fundamental for several biological processes, such as cell proliferation and necrosis or apoptotic cell death [
38
].
Mitochondrial structure and localization are associated with their functionality. These two aspects become more important in cells with high energy requirements such as neurons, particularly those with long axons, in which mitochondrial positioning and turnover are more relevant due to the greater energy demand that occurs in axonal terminals. Specifically, synaptic transmission [
43
] and vesicle recycling [
44
] require larger amounts of energy. In sensory and motor neurons of the peripheral nervous system (which are the cells affected by CMT disease), the regions with the highest energy demands, and thus where mitochondria are concentrated, are: the distal region of the initial segment of the axon; the nodes of Ranvier; and the neuromuscular junctions (in motor neurons) or sensory end terminals (in sensory neurons) [
45
]. Interestingly, mitochondrial shape and localization are highly regulated and depend on mitochondrial dynamics, motility, and tethering, all processes that have been shown to be disrupted in
GDAP1
-related CMT models.
Defects in axonal transport or abnormal mitochondrial distribution in axons have been described in CMT arising from mutations in other genes, and other peripheral neuropathies involving mutations in mitochondrial proteins or in proteins with roles in mitochondrial transport [
46
,
47
]. For example, mutations in
Mitofusin 2
(
MFN2
), which encodes an outer mitochondrial membrane protein involved in mitochondrial fusion [
48
], are the primary cause of CMT2A, the most common form of the autosomal dominant axonal CMT disease [
22
]. Dorsal root ganglion (DRG) neurons expressing clinical
MFN2
mutations showed impairment in transport of mitochondria along the axons [
49
]. An abnormal mitochondrial distribution was observed in a different mouse model of CMT2A, which presented significant mitochondrial accumulation specifically in the distal axons [
50
]. Interestingly, the accumulation of axonal mitochondria in the distal part of the sural nerve has also been observed in CMT2A2 patients [
51
]. These results, together with a study that shows evidence for a role of MFN2 in mitochondrial transport through a direct interaction with the Miro/Milton complex [
52
], reinforce the hypothesis that a failure in mitochondrial transport along the axons is the main pathological mechanism involved in CMT2A2. Deficits in mitochondrial transport have been linked to other forms of CMT disease. Mutations in
HSPB1
and
HSPB8
cause CMT2F and CMT2L respectively, and in both situations a disruption of the cytoskeletal and axonal architecture, preventing mitochondrial movement along the axons, has been found [
53
,
54
,
55
,
56
]. Taking all this together, axonal transport as a therapeutic target in mitochondria-related CMT diseases has been proposed and it has been already addressed in different models of CMT2 associated with
HSPB1
mutations. Inhibition of histone deacetylase 6 (HDAC6), the major deacetylating enzyme of α-tubulin [
57
] has been tested in order to increase the acetylation of α-tubulin and so facilitate the binding of molecular motor proteins (dynein and kinesin family) to the microtubules [
58
]. Results obtained in several studies showed that the use of different selective inhibitors of HDAC6 reverted mitochondrial transport defects in both motoneurons obtained by induced pluripotent stem cells (iPSCs) differentiation from two patients with different
HPSB1
mutations [
59
] and in cultured DRG neurons expressing
HSPB1
mutations [
60
,
61
]. Remarkably, the restored motor and sensory problems have been observed in mutant
HSPB1
mice in vivo [
61
].
4. Ca2+ Deregulation in
GDAP1

-Related CMT Disease
5. Neuronal Store-Operated Calcium Entry (SOCE) and Its Role in Neurodegenerative Diseases
Ca
2+
is a major second messenger in cells [
83
,
84
] of critical importance in neurons since it is a key component of neurotransmission, synaptic plasticity, and gene transcription. Deregulation of Ca
2+
homeostasis has been shown to be a common underlying mechanism of several major neurological disorders including PD [
85
], HD [
86
], AD [
87
,
88
], or ALS [
89
]. Therefore, control of Ca
2+
homeostasis is essential for proper function of neurons. Neurons possess many different specialized Ca
2+
channels and a collection of Ca
2+
handling proteins, several of them specific to neurons [
90
,
91
]. SOCE is the main Ca
2+
entry pathway in non-excitable cells [
92
], but its existence in neurons has been classically debated due to the presence of other major Ca
2+
influx pathways [
93
,
94
]. However, SOCE activity has been found in different types of neurons both in the central [
78
,
95
,
96
,
97
,
98
,
99
] and peripheral nervous system [
100
]. Neuronal SOCE has been shown to perform different functions in resting neurons: refilling of Ca
2+
stores [
97
]; control of spine morphology [
101
,
102
]; and regulation of neuronal gene expression [
103
]. Moreover, an increasing number of studies have also proposed a role of SOCE in neuronal synaptic activity by controlling Ca
2+
dynamics [
78
,
104
,
105
,
106
] and different forms of synaptic plasticity [
75
,
107
,
108
,
109
], including long term depression [
95
].
Considering all these functions, it is not surprising that disruption of neuronal SOCE has been linked to major neurological disorders [
110
]. Different studies of familial AD caused by mutations in
presenilin
genes reported general alterations in Ca
2+
homeostasis, and specifically an impairment in SOCE activity [
101
,
111
,
112
,
113
,
114
]. Additional evidence suggests that the molecular players of SOCE may also be involved in the pathogenesis of AD. Changes in STIM1 and STIM2, the sensors of intraluminal Ca
2+
levels that transport information about Ca
2+
load of the stores to channel proteins at the plasma membrane [
67
], have been found in cases of sporadic [
101
] and familial AD [
115
]. Decreased STIM2 levels caused an impaired neuronal SOCE in two different mouse models of familial AD, presenilin [
101
] and amyloid precursor protein knock-in (APPKI) mouse models [
116
], leading to a disruption of SOCE-Ca
2+
/calmodulin-dependent protein kinase II (CaMKII) pathway and finally, to mature spine loss. Importantly, overexpression of STIM2 in hippocampal neurons rescued the downstream signaling cascade and dendritic spine morphology in both presenilin [
101
] and APPKI mouse models [
116
]. The lack of STIM1 in differentiated neuroblastoma cells triggered a pathological increase in Ca
2+
entry through L-type voltage-operated Ca
2+
channels in response to depolarization [
115
], in agreement with the modulating role of STIM1 on these channels [
117
,
118
].
Similarly, a failure in SOCE activation may also play a role in the pathogenesis of PD. The loss of TRPC1 or STIM1, molecules involved in SOCE, has been linked to death of dopaminergic neurons due to an increase in L-type Ca
2+
currents [
119
,
120
]. Moreover, skin fibroblasts from idiopathic and familial PD patients have been shown to have an impairment of SOCE activation not associated with reduction in Orai1, TRPC1, STIM1 or STIM2 expression, and depleted ER-Ca
2+
stores [
121
].
On the contrary, hyperactive SOCE has been linked to HD. Studies using the transgenic YAC128 HD mouse model found an enhanced SOCE in striatal medium spiny neurons (MSNs) [
122
,
123
,
124
], which seems to compensate for an increase in Ca
2+
leakage from the ER [
122
]. This abnormal activation of SOCE may underlie the striatal synaptic loss found in YAC128 mice [
122
]. In this HD mouse model, an increase in expression of the ER protein STIM2 has also recently been reported in cultured MSNs and the striatum. Accordingly, downregulation of STIM2 rescued the loss of dendritic spines [
122
]. Modulation of all molecular players of SOCE may have a neuroprotective role not only in HD [
125
], but also in other disorders where altered expression of these molecules has been found, such as epilepsy and traumatic brain injury (TBI). STIM1 and STIM2 are upregulated in the hippocampus of chronic epileptic mice and were found to be strongly expressed in hippocampal samples from a patient suffering from medial temporal lobe epilepsy [
126
]. This highlights a role for SOCE in somehow controlling neuronal network excitability, as proposed for dorsal horn neurons [
127
]. Expression of these two ER proteins was also found to be upregulated after induction of TBI in two different studies. Upregulation of STIM2, both in vitro and in vivo, triggered an increased SOCE, mitochondrial Ca
2+
overload and deregulation of mitochondrial functions, such as ROS production. Interestingly, all these functions were recovered upon downregulation of STIM2 [
128
]. A different group showed STIM1 upregulation in response to neuronal injury, finding that
Stim1
knockdown improved neuronal survival and reduced neuronal apoptosis after TBI [
105
].
All these studies suggest that SOCE may be a common mechanism involved in Ca2+ deregulation in many neurological disorders, which may include CMT. However, the role and relevance of Ca2+ influx by SOCs in the neurons that are affected by CMT, i.e., the sensory and motor neurons of the peripheral nervous system, is yet to be determined.
6. Impact of Ca2+ Deregulation on Mitochondrial Bioenergetics in GDAP1-CMT Model
7. Concluding Remarks
An impairment of axonal mitochondrial transport has been proposed to underlie the pathology of CMT due to mutations in different genes, as CMT2A2 [
49
], CMT2F [
55
,
56
], and CMT2L [
53
]. Studies of the effect of different CMT mutations in
GDAP1
showed changes in mitochondrial dynamics and distribution within the cell and may be across the axon, leading to a general disruption of the mitochondrial network [
12
,
15
,
16
,
20
,
21
]. As alteration of a mitochondrial process can also affect other cellular functions, it can be challenging to identify the true cause of the pathology. A failure in Ca
2+
homeostasis as a consequence of mitochondrial mislocalization has been found in cells carrying dominant
GDAP1
mutations and recessive mutations located inside the α-loop domain (
Figure 1
), with an associated augmentation or decrease of SOCE activity, respectively [
21
]. Interestingly, no Ca
2+
alterations have been found in recessive mutations located outside the α-loop domain of GDAP1, which may act by a completely different mechanism. Recessive
GDAP1
mutations inside the α-loop domain cause a failure in stimulation of mitochondrial respiration associated with an impairment in SOCE activity (
Figure 1
) [
21
], but this may also take place in other GDAP1-related CMT diseases. For example, the prolonged elevated ROS production described in dominant mutations [
15
] may trigger permanent damage to mitochondria, leading to an impairment in bioenergetics [
166
].
These results suggest that a failure in mitochondrial control of Ca
2+
entry by SOCs could be a possible mechanism underlying the pathology of
GDAP1
-related CMT, although additional defects in other Ca
2+
entry mechanisms, such as voltage gated Ca
2+
channels, cannot be excluded, particularly those in neuromuscular junctions [
167
,
168
,
169
,
170
]. More studies are necessary to identify which Ca
2+
mechanisms are altered in the affected neurons of
GDAP1
-related CMT patients and
Gdap1
mouse models in comparison with other mouse models of CMT.
Author Contributions
All authors contributed to the preparation of this review. Writing—original draft P.G.-S. and J.S.; Writing—review and editing P.G.-S., J.S., F.P. and A.d.A.
Funding
This work has been funded by grants from the Spanish Ministry of Science, Innovation and Universities SAF2014-56929-R (to JS), SAF2017-82560-R (to AdelA) and SAF2015–66625-R (FP). By the Collaborative Joint Project awarded by IRDiRC and funded by the Instituto de Salud Carlos III (ISCIII) IR11/TREAT-CMT (JS, FP), and grants from Fundación Ramón Areces (to JS) and the Generalitat de Catalunya 2015 FEDER/S-21 (FP). This work has also been funded by the CIBERER, an initiative from the ISCIII, and by an institutional grant from the Fundación Ramón Areces to the Centro de Biología Molecular Severo Ochoa. P G-S is the recipient of a postdoctoral research contract from Comunidad de Madrid.
Conflicts of Interest
The authors declare no conflict of interest.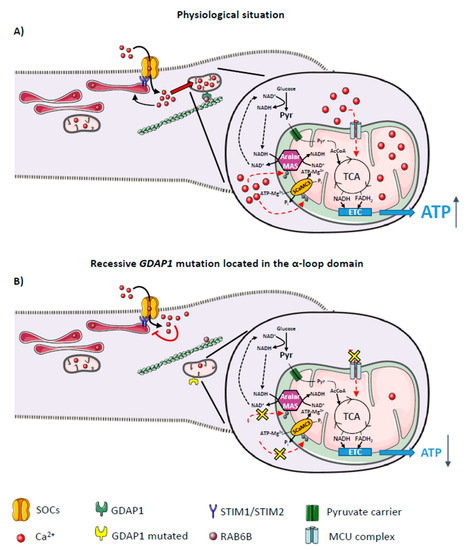 Figure 1. Effects of ganglioside-induced differentiation-associated protein 1 (GDAP1) on mitochondrial bioenergetic functions. (A) Interaction between GDAP1 and the trafficking proteins allows mitochondria to be located close to the plasma membrane after store-operated calcium entry (SOCE) activation, preventing its Ca2+-dependent inactivation. Ca2+ uptake by mitochondria facilitates SOCE but also regulates ATP production by oxidative phosphorylation. Ca2+-dependent regulation of OXPHOS involves two main mechanisms (dotted red arrows); (i) Ca2+ entry through the mitochondrial Ca2+ uniporter complex (MCUc) and the activation of dehydrogenases of the tricarboxylic acid cycle (TCA), and (ii) activation of the neuronal Ca2+-dependent mitochondrial transporters of aspartate/glutamate (Aralar) or ATP-Mg/Pi (SCaMC-3). Aralar activation increases Malate/Aspartate shuttle (MAS) activity, transferring reducing equivalents from NADH to mitochondria and thereby increasing pyruvate (Pyr) supply to mitochondria to enhance mitochondrial respiration. SCaMC-3 activation increases mitochondrial adenine nucleotide pool (solid and dotted black arrows); (B) Mitochondrial movement might be affected by recessive mutations located in the α-loop of GDAP1 causing the loss of interaction with trafficking proteins RAB6B and caytaxin which might affect the proper mitochondrial localization at the subplasmalemmal microdomains and disturb SOCE activity (red T bar). Subsequently, this will also impair mitochondrial bioenergetic functions by either decreasing Ca2+ uptake by MCUc and activation of matrix dehydrogenases, and/or by decreasing the activation of Ca2+-dependent mitochondrial transporters.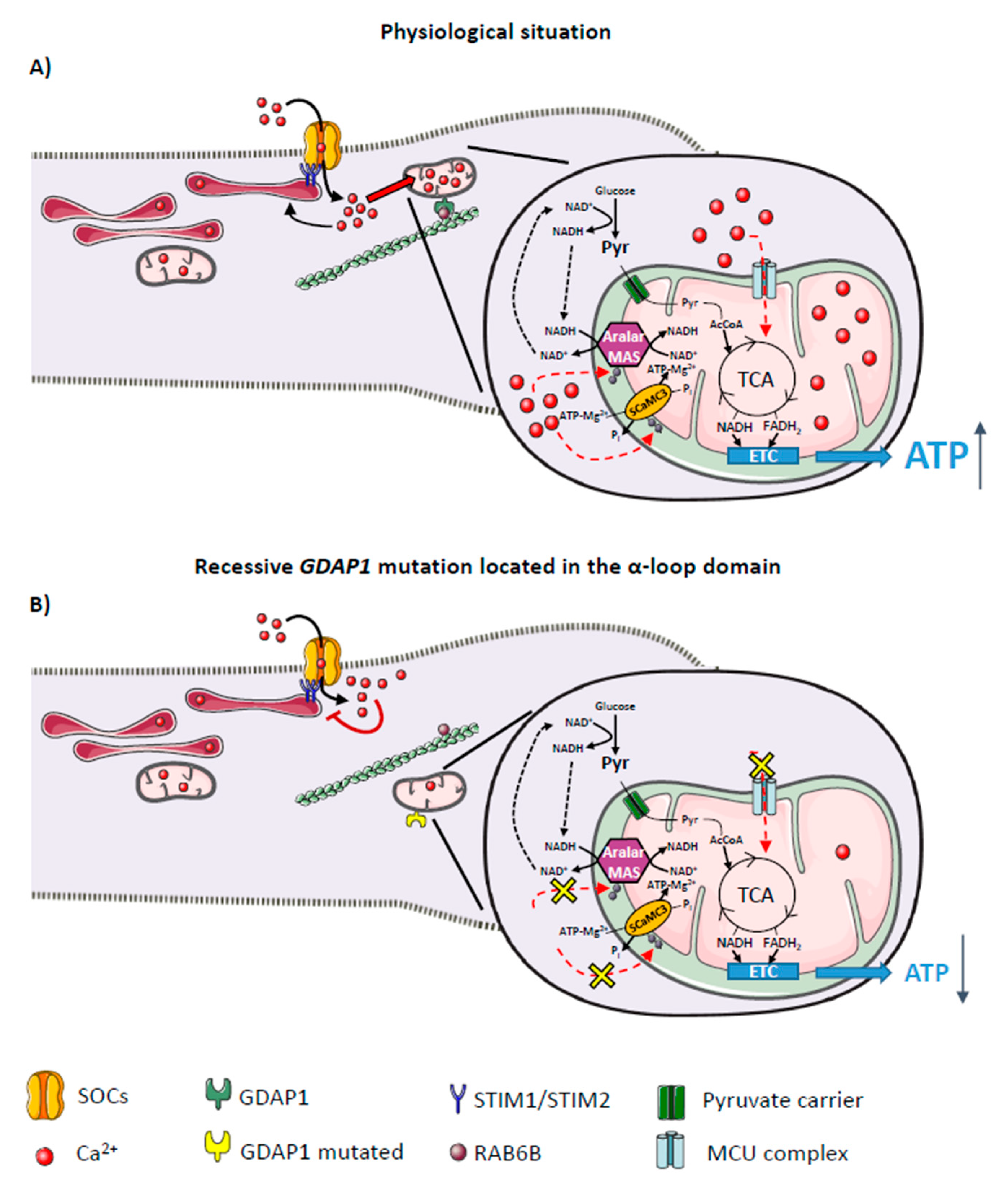 © 2019 by the authors. Licensee MDPI, Basel, Switzerland. This article is an open access article distributed under the terms and conditions of the Creative Commons Attribution (CC BY) license (http://creativecommons.org/licenses/by/4.0/).