Neuromuscular Junction Changes in a Mouse Model of Charcot-Marie-Tooth Disease Type 4C
1
John Walton Muscular Dystrophy Research Centre, Newcastle University, Newcastle upon Tyne NE1 3BZ, UK
2
INSPE-Institute of Experimental Neurology, San Raffaele Scientific Institute, 20132 Milan, Italy
3
Division of Neuroscience, San Raffaele Scientific Institute, 20132 Milan, Italy
4
Leibniz-Institut für Analytische Wissenschaften -ISAS- e.V.; Otto-Hahn-Strasse 6b, 44227 Dortmund, Germany
5
Department of Neuroscience, Karolinska Institutet, 171 65 Stockholm, Sweden
6
Department of Clinical Neuroscience, Karolinska Institutet, 171 65 Stockholm, Sweden
7
Department of Clinical Neurosciences, University of Cambridge, John Van Geest Cambridge Centre for Brain Repair, Forvie, Robinson way, Cambridge Biomedical Campus, Cambridge CB2 0PY, UK
8
Department of Neuropediatrics and Muscle Disorders, Medical Center-University of Freiburg, Mathildenstrasse 1, 79106 Freiburg, Germany
9
Centro Nacional de Análisis Genómico, Center for Genomic Regulation, Barcelona Institute of Science and Technology, Baldri I reixac 4, 08028 Barcelona, Spain
10
Children's Hospital of Eastern Ontario Research Institute, University of Ottawa, Ottawa, ON K1H 8L1, Canada
11
Division of Neurology, Department of Medicine, The Ottawa Hospital, Riverside Drive, Ottawa, ON K1H 7X5, Canada
12
Department of Neuropediatrics, Developmental Neurology and Social Pediatrics, Centre for Neuromuscular Disorders in Children, University Children's Hospital Essen, University of Duisburg-Essen, 45122 Essen, Germany
*
Author to whom correspondence should be addressed.
†
These authors contributed equally to this work.
Received: 24 October 2018 / Revised: 6 December 2018 / Accepted: 14 December 2018 / Published: 17 December 2018
Abstract
The neuromuscular junction (NMJ) appears to be a site of pathology in a number of peripheral nerve diseases. Charcot-Marie-Tooth (CMT) 4C is an autosomal recessive, early onset, demyelinating neuropathy. Numerous mutations in the
SH3TC2
gene have been shown to underlie the condition often associated with scoliosis, foot deformities, and reduced nerve conduction velocities. Mice with exon 1 of the
Sh3tc2
gene knocked out demonstrate many of the features seen in patients. To determine if NMJ pathology is contributory to the pathomechanisms of CMT4C we examined NMJs in the gastrocnemius muscle of SH3TC2-deficient mice. In addition, we performed proteomic assessment of the sciatic nerve to identify protein factors contributing to the NMJ alterations and the survival of demyelinated axons. Morphological and gene expression analysis of NMJs revealed a lack of continuity between the pre- and post-synaptic apparatus, increases in post-synaptic fragmentation and dispersal, and an increase in expression of the gamma subunit of the acetylcholine receptor. There were no changes in axonal width or the number of axonal inputs to the NMJ. Proteome investigations of the sciatic nerve revealed altered expression of extracellular matrix proteins important for NMJ integrity. Together these observations suggest that CMT4C pathology includes a compromised NMJ even in the absence of changes to the innervating axon.
View Full-Text
►

▼

Figures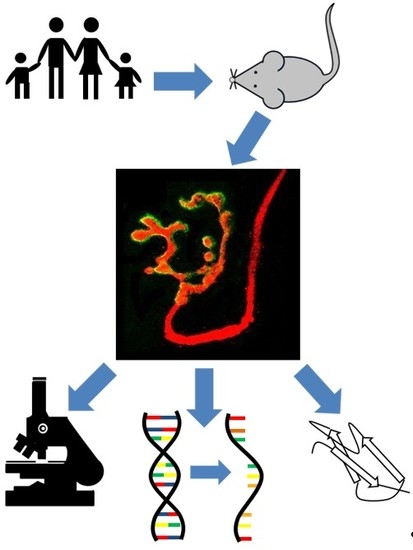 Graphical abstract
This is an open access article distributed under the
Creative Commons Attribution License
which permits unrestricted use, distribution, and reproduction in any medium, provided the original work is properly cited (CC BY 4.0).

Share & Cite This Article
MDPI and ACS Style
Cipriani, S.; Phan, V.; Médard, J.-J.; Horvath, R.; Lochmüller, H.; Chrast, R.; Roos, A.; Spendiff, S. Neuromuscular Junction Changes in a Mouse Model of Charcot-Marie-Tooth Disease Type 4C. Int. J. Mol. Sci. 2018, 19, 4072.
Note that from the first issue of 2016, MDPI journals use article numbers instead of page numbers. See further details here.
Related Articles
Comments
[Return to top]