Exogenous Melatonin Counteracts NaCl-Induced Damage by Regulating the Antioxidant System, Proline and Carbohydrates Metabolism in Tomato Seedlings
1
Department of Botany and Microbiology, College of Science, King Saud University, Riyadh 2455, Saudi Arabia
2
Department of Biology, Faculty of Science, University of Tabuk, Tabuk 71491, Saudi Arabia
*
Author to whom correspondence should be addressed.
Received: 18 December 2018 / Revised: 3 January 2019 / Accepted: 10 January 2019 / Published: 16 January 2019
Abstract
Melatonin, a natural agent, has multiple functions in animals as well as in plants. However, its possible roles in plants under abiotic stress are not clear. Nowadays, soil salinity is a major threat to global agriculture because a high soil salt content causes multiple stresses (hyperosmotic, ionic, and oxidative). Therefore, the aim of the present study was to explore: (1) the involvement of melatonin in biosynthesis of photosynthetic pigments and in regulation of photosynthetic enzymes, such as carbonic anhydrase (CA) and ribulose-1,5-bisphosphate carboxylase/oxygenase (Rubisco); (2) the role of melatonin in osmoregulation by proline and carbohydrate metabolism; and (3) the function of melatonin in the antioxidant defense system under salinity. Outcomes of the study reveal that under non-saline conditions, application of melatonin (20 and 50 µM) improved plant growth, viz. shoot length, root length, shoot fresh weight (FW), root FW, shoot dry weight (DW), root DW and leaf area and physio-biochemical parameters [chlorophyll (Chl)
a
and
b
, proline (Pro) and total soluble carbohydrates (TSC) content, and increased the activity of CA and Rubisco]. However, tomato seedlings treated with NaCl exhibited enhanced Chl degradation, electrolyte leakage (EL), malondialdehyde (MDA) and reactive oxygen species (ROS; superoxide and hydrogen peroxide). ROS were detected in leaf and root. Interestingly, application of melatonin improved plant growth and reduced EL, MDA and ROS levels through upregulation of photosynthesis enzymes (CA, Rubisco), antioxidant enzymes (superoxide dismutase, catalase, glutathione reductase and ascorbate reductase) and levels of non-enzymatic antioxidants [ascorbate (ASC) and reduced glutathione (GSH)], as well as by affecting the ASC—GSH cycle. Additionally, exogenous melatonin also improved osmoregulation by increasing the content of TSC, Pro and Δ
1
-pyrroline-5-carboxylate synthetase activity. These results suggest that melatonin has beneficial effects on tomato seedlings growth under both stress and non-stress conditions. Melatonin's role in tolerance to salt stress may be associated with the regulation of enzymes involved in photosynthesis, the antioxidant system, metabolism of proline and carbohydrate, and the ASC—GSH cycle. Also, melatonin could be responsible for maintaining the high ratios of GSH/GSSG and ASC/DHA.
View Full-Text
►

▼

Figures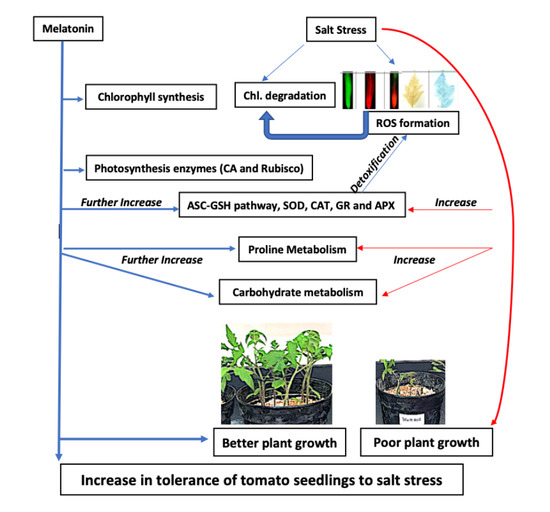 Graphical abstract
This is an open access article distributed under the
Creative Commons Attribution License
which permits unrestricted use, distribution, and reproduction in any medium, provided the original work is properly cited (CC BY 4.0).

Share & Cite This Article
MDPI and ACS Style
Siddiqui, M.H.; Alamri, S.; Al-Khaishany, M.Y.; Khan, M.N.; Al-Amri, A.; Ali, H.M.; Alaraidh, I.A.; Alsahli, A.A. Exogenous Melatonin Counteracts NaCl-Induced Damage by Regulating the Antioxidant System, Proline and Carbohydrates Metabolism in Tomato Seedlings. Int. J. Mol. Sci. 2019, 20, 353.
Note that from the first issue of 2016, MDPI journals use article numbers instead of page numbers. See further details here.
Related Articles
Comments
[Return to top]