A Novel Dipeptidyl Peptidase IV Inhibitory Tea Peptide Improves Pancreatic β-Cell Function and Reduces α-Cell Proliferation in Streptozotocin-Induced Diabetic Mice
1
Tea Research Institute, College of Agriculture and Biotechnology, Zhejiang University, 866 Yuhangtang Road, Hangzhou 310058, China
2
Department of Applied Biological Chemistry, Graduate School of Agricultural and Life Sciences, The University of Tokyo, 1-1-1 Yayoi, Bunkyo-ku, Tokyo 113-8657, Japan
3
Guangzhou Chinese Medicine Science Technology Co., Ltd., Guangzhou 510000, China
4
Huzhou Jiasheng Tea Co., Ltd., Huzhou 313000, China
*
Author to whom correspondence should be addressed.
Received: 4 December 2018 / Revised: 28 December 2018 / Accepted: 11 January 2019 / Published: 14 January 2019
Abstract
Dipeptidyl peptidase IV (DPP-IV) inhibitors occupy a growing place in the drugs used for the management of type 2 diabetes. Recently, food components, including food-derived bioactive peptides, have been suggested as sources of DPP-IV inhibitors without side effects. Chinese black tea is a traditional health beverage, and it was used for finding DPP-IV inhibitory peptides in this study. The ultra-filtrated fractions isolated from the aqueous extracts of black tea revealed DPP-IV inhibitory activity in vitro. Four peptides under 1 kDa were identified by SDS-PAGE and LC-MS/MS (Liquid Chromatography-Mass Spectrometry-Mass Spectrometry) from the ultra-filtrate. The peptide II (sequence: AGFAGDDAPR), with a molecular mass of 976 Da, showed the greatest DPP-IV inhibitory activity (in vitro) among the four peptides. After administration of peptide II (400 mg/day) for 57 days to streptozotocin (STZ)-induced hyperglycemic mice, the concentration of glucagon-like peptide-1 (GLP-1) in the blood increased from 9.85 ± 1.96 pmol/L to 19.22 ± 6.79 pmol/L, and the insulin level was increased 4.3-fold compared to that in STZ control mice. Immunohistochemistry revealed the improved function of pancreatic beta-cells and suppressed proliferation of pancreatic alpha-cells. This study provides new insight into the use of black tea as a potential resource of food-derived DPP-IV inhibitory peptides for the management of type 2 diabetes.
View Full-Text
►

▼

Figures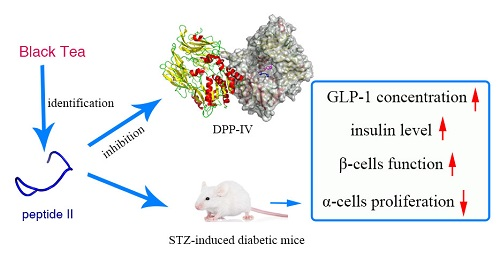 Graphical abstract
This is an open access article distributed under the
Creative Commons Attribution License
which permits unrestricted use, distribution, and reproduction in any medium, provided the original work is properly cited (CC BY 4.0).

Share & Cite This Article
MDPI and ACS Style
Lu, Y.; Lu, P.; Wang, Y.; Fang, X.; Wu, J.; Wang, X. A Novel Dipeptidyl Peptidase IV Inhibitory Tea Peptide Improves Pancreatic β-Cell Function and Reduces α-Cell Proliferation in Streptozotocin-Induced Diabetic Mice. Int. J. Mol. Sci. 2019, 20, 322.
Note that from the first issue of 2016, MDPI journals use article numbers instead of page numbers. See further details here.
Related Articles
Comments
[Return to top]