Open Access This article is
freely available
re-usable
Review
Bone Metastasis Pain, from the Bench to the Bedside
Department of Biotechnological and Applied Clinical Sciences, University of L'Aquila, 67100 L'Aquila, Italy
*
Author to whom correspondence should be addressed.
Received: 7 December 2018 / Accepted: 7 January 2019 / Published: 11 January 2019
Abstract
:
Bone is the most frequent site of metastasis of the most common cancers in men and women. Bone metastasis incidence has been steadily increasing over the years, mainly because of higher life expectancy in oncologic patients. Although bone metastases are sometimes asymptomatic, their consequences are most often devastating, impairing both life quality and expectancy, due to the occurrence of the skeletal-related events, including bone fractures, hypercalcemia and spinal cord compression. Up to 75% of patients endure crippling cancer-induced bone pain (CIBP), against which we have very few weapons. This review's purpose is to discuss the molecular and cellular mechanisms that lead to CIBP, including how cancer cells convert the bone "virtuous cycle" into a cancer-fuelling "vicious cycle", and how this leads to the release of molecular mediators of pain, including protons, neurotrophins, interleukins, chemokines and ATP. Preclinical tests and assays to evaluate CIBP, including the incapacitance tester (in vivo), and neuron/glial activation in the dorsal root ganglia/spinal cord (ex vivo) will also be presented. Furthermore, current therapeutic options for CIBP are quite limited and nonspecific and they will also be discussed, along with up-and-coming options that may render CIBP easier to treat and let patients forget they are patients.
Keywords:
bone pain; osteoclasts; osteoblasts; bone metastasis; skeletal-related events
1. The Healthy Bone Tissue
The Virtuous Cycle in the Physiology of Bone
Proper bone mass is the result of a correct balance between bone degradation, accomplished by osteoclasts, and the subsequent deposition of new bone matrix by osteoblasts, thus accomplishing the bone remodelling process, known as the "virtuous circle". The first stage requires the activation, by means of different stimuli (i.e., systemic/paracrine factors, mechanical loading changes and microfractures) of the lining cells, which usually cover the bone surface under resting conditions. These cells in turn secrete factors attracting osteoclast precursors in the site that need to be resorbed, stimulating osteoclast differentiation [
30
]. Once activated, the osteoclasts degrade the bone matrix, with a consequent release of calcium (Ca
2+
) ions as well as of factors usually stored in the bone, which are chemoattractant for osteoblasts in the reabsorbed area [
31
]. This is the fastest phase of the bone remodelling process, ending with osteoclast apoptosis. At this point, macrophage-like cells, called reverse cells, incorporate the debris produced during bone degradation and contribute to the recruitment of osteoblasts, which refill the resorbed lacunae with new bone.
In normal conditions all these phases are strictly regulated by hormones as well as by a tight cross-regulation between osteoclasts and osteoblasts. As will be stated in the next paragraphs, any deregulation of this "virtuous circle" is the leading cause of many bone-related pathologies, including bone metastases, in which the conversion of the virtuous cycle in a "vicious" one represents a point of no return [
32
].
2. Molecular Mechanisms of Bone Metastases
Bone metastasis prevalence is increasing more and more over the years. This is likely a consequence of an improvement of life expectancy in oncologic patients [
33
]. Indeed, although bone still represents the preferential site of metastasis for breast and prostate cancers, with an incidence up to 70 and 90%, respectively, other cancers are prone to colonise this tissue, such as lung, kidney and thyroid [
33
,
34
]. Usually, the axial skeleton, especially the vertebral column, is preferred by cancer cells as a site of metastases. The consequences are devastating, impairing both life quality and expectancy, due to the occurrence of the skeletal-related events (SREs). These are characterised by bone fractures, hypercalcemia, frequently the leading cause of death, spinal cord compression due to infiltrating vertebral metastases and severe bone pain [
35
]. Of note, several clinical trials demonstrated that bone pain and use of analgesic significantly increase within the six months preceding the onset of SREs [
36
,
37
].
From a clinical point of view, bone metastasis can be classified as osteosclerotic or osteolytic, according to X-ray features [
38
]. The former appears as radiopaque spots, because of an exacerbated bone deposition by osteoblasts. However, this new bone is of poor quality because of the disorganised disposition of collagen I fibrils ("woven" bone). Almost all bone metastases induced by prostate cancers show osteosclerotic features. In contrast, breast cancer-induced bone metastases are preferentially osteolytic, as a result of exacerbated osteoclast-mediated bone erosion. There is however a third class, where osteolytic and osteosclerotic bone metastases coexist in the same district (i.e., mixed bone metastases) which can be induced by both breast and prostate cancers [
38
,
39
]. Regardless this classification, the development of bone metastases is always the result of a dramatic disruption of the bone remodelling process, fuelled by tumour cells colonisation of the bone/bone marrow once egresse from the bloodstream. Although it has been over 100 years, the "seed and soil theory" of Steven Paget still represents a milestone in the bone metastases field [
40
]. Like the seed needs proper soil to implant and grow, tumour cells need biochemically and physiologically favourable conditions in the host tissue to survive and colonise it.
The "Vicious Cycle"
Importantly, both the osteosclerotic and the osteolytic vicious cycles result in the release of many molecular mediators of pain, as described in the following paragraphs.
3. Molecular Determinants of Cancer-Induced Bone Pain (CIBP)
4. In Vivo Models of Bone Pain
While it is relatively easy to assess pain in humans, since we can answer questions about how, how much and where we are hurting, the same cannot be said about preclinical models, such as mice and rats. These models are practical, usually have good linearity with humans, but are quite difficult to assess objectively, because of the lack of molecular markers of pain. However, over the years, investigators developed several tests of hyperalgesia and allodynia, which are easily performed on mice and rats, and can give reliable indications when done properly.
5. Current Treatments for CIBP
Although metastatic bone disease could be asymptomatic in some cases, it has been calculated that at least 75% of cancer patients carrying bone metastases present with bone pain [
130
]. Several options are available to contrast CIBP; however, there is still the need to improve this treatment also because, fortunately, bone metastases have a more favourable prognosis compared to lung, liver or brain metastases, on an overall survival standpoint [
131
]. However, as they say, "surviving is not the same as living", and very often bone metastases are extremely painful, and significantly degrade the quality of life of oncologic patients [
132
]. In the next paragraphs the current options for treating CIBP are reported.
5.1. Surgical Intervention
This procedure has a double advantage, since it allows patients to regain motor activity as well as to relieve pain. Surgical intervention is strongly indicated in case of vertebral metastases, where tumour mass or fractures induce vertebral compression. According to the severity of the disease, different options are implemented. When prognosis is poor, for example, usually a palliative spinal decompression followed by radiation therapy is advisable, while for patients with longer survival probability more drastic surgery may be undertaken, to achieve longer-term benefits [
133
]. Surgical intervention is usually performed along with a palliative treatment with corticosteroids. Less complex intervention is performed in case of pathological fractures, by applying an internal fixation followed by radiation therapy [
133
]. However, when patients are highly debilitated, an external fixation may be performed, which could be able to counteract bone pain [
134
].
Among surgical procedures, neurodestruction should be also mentioned [
135
]. This is mainly used for patients resistant to palliative pharmaceutical treatment and can be performed in different districts. Spinal cordotomy severs the spinothalamic tract, which results in complete lack of pain signalling from the innervated portion. However, since this procedure results in complete loss of pain sensation, there could be complications such as ulcerations or accidental burns because the patient does not perceive the stimulus as noxious [
135
,
136
]. Two other options are thalamotomy and cingulotomy, the former disrupting the somatosensory area of the thalamus and the latter involving the limbic system. These are all very invasive options that should be used only when treatments with major opiates (e.g., morphine) have proven inadequate.
5.2. Radiotherapy
Radiotherapy is an option that may prove efficacious for both tumour mass reduction and pain relief. In case of bone metastases, this therapy can promote ossification of osteolytic lesions, which stabilizes the affected bone [
137
]. A desensitisation of nerve terminals has also been documented, and usually treated patients show pain relief within two weeks from the start of treatment [
137
,
138
]. Three radiotherapy options can be usually applied: external-beam radiation therapy (EBRT), stereotactic body irradiation therapy (SBRT) and radionuclide treatment [
135
]. As reported in McQuay et al., and Ahmad et al., EBRT induces a complete pain relief in 24% patients and 50% relief in 41% patients [
135
,
139
]. Similar results were reported by Nomiya and colleagues [
140
].
Radioisotopes are particularly indicated for osteosclerotic bone metastases and they include
89
Strontium (Sr),
153
Samarium (Sm) and
223
Radium (Ra) [
141
,
142
]. The latter proved to be very efficacious, likely due to its high affinity for the bone, thus minimizing side effects in other organs. This radionuclide emits short-range high-energy α-particles, which are very low-penetrating, thus causing strong, but very well-localised cell damage. Moreover, in Phase II clinical studies it proved to significantly improve overall survival as well as pain relief [
143
].
5.3. Drug Treatment
Treatment options change according to the intensity of the pain, since usually for mild pain an anti-inflammatory therapy is applied, while for severe pain opioid treatment is necessary, according to the WHO 3-step pain ladder.
Author Contributions
F.A., M.P. and N.R. wrote the manuscript; F.A. and N.R. revised the manuscript.
Funding
This review was supported by the grant # IG 2015 Id.16826 of the "Associazione Italiana per la Ricerca sul Cancro" to NR.
Conflicts of Interest
The authors declare no conflict of interest.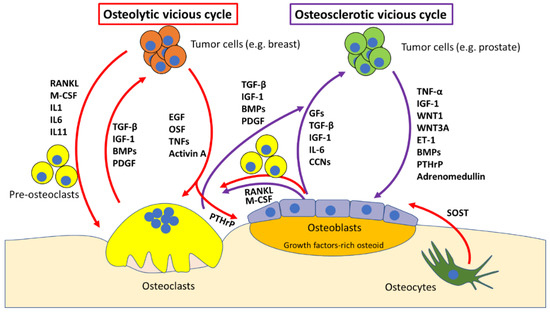 Figure 1. Cartoon representing the osteolytic and osteosclerotic vicious cycles. Osteolytic cycle: osteolysis-generating cancer cells (e.g., breast) migrate to the bone marrow and start secreting osteoclast-stimulating factors such as epithelial growth factor (EGF), osteoclast stimulating factor (OSF), tumour necrosis factors (TNFs) and Activin A. In parallel, cancer cells also secrete osteoclast-differentiating factors, such as receptor activator of nuclear factor kB ligand (RANKL), macrophage-colony stimulating factor (M-CSF) and Interleukin (IL)-1, 6 and 11, which promote differentiation of pre-osteoclasts into osteoclasts. The bone matrix is rich in growth factors (GFs), transforming growth factor (TGF)-β, insulin-like growth factor (IGF)-1, bone morphogenic proteins (BMPs) and platelet-derived growth factor (PDGF). These factors get released when osteoclasts resorb bone, and they promote tumour growth, which closes the osteolytic vicious cycle. Osteocytes also take a crucial part in the process, secreting sclerostin (SOST) in response to osteolytic cancers (especially multiple myeloma), which inhibits osteoblast activity and the Wnt- β-catenin pathway Osteosclerotic cycle: osteosclerosis-generating cancer cells (e.g., prostate) migrate to the bone marrow and start secreting osteoblast-stimulating factors such as TNF-α, IGF-1, Wingless-type MMTV integration site (WNT)1, WNT3A, Endothelin (ET)-1, BMPs, parathyroid hormone-related peptide (PTHrP) and adrenomedullin. This stimulates osteoblast differentiation and activity. On one hand this leads to osteoblast-mediated osteoclastogenesis by increasing osteoblastic expression of RANKL and M-CSF, which causes the release of growth factors as discussed for the osteolytic cycle. On the other hand, osteoblasts themselves release a plethora of factors including GFs, TGF-β, IGF-1, IL-6 and chemokines (CCNs), which stimulate tumour growth, closing the osteosclerotic (which most of the times has an osteolytic component as well) vicious cycle.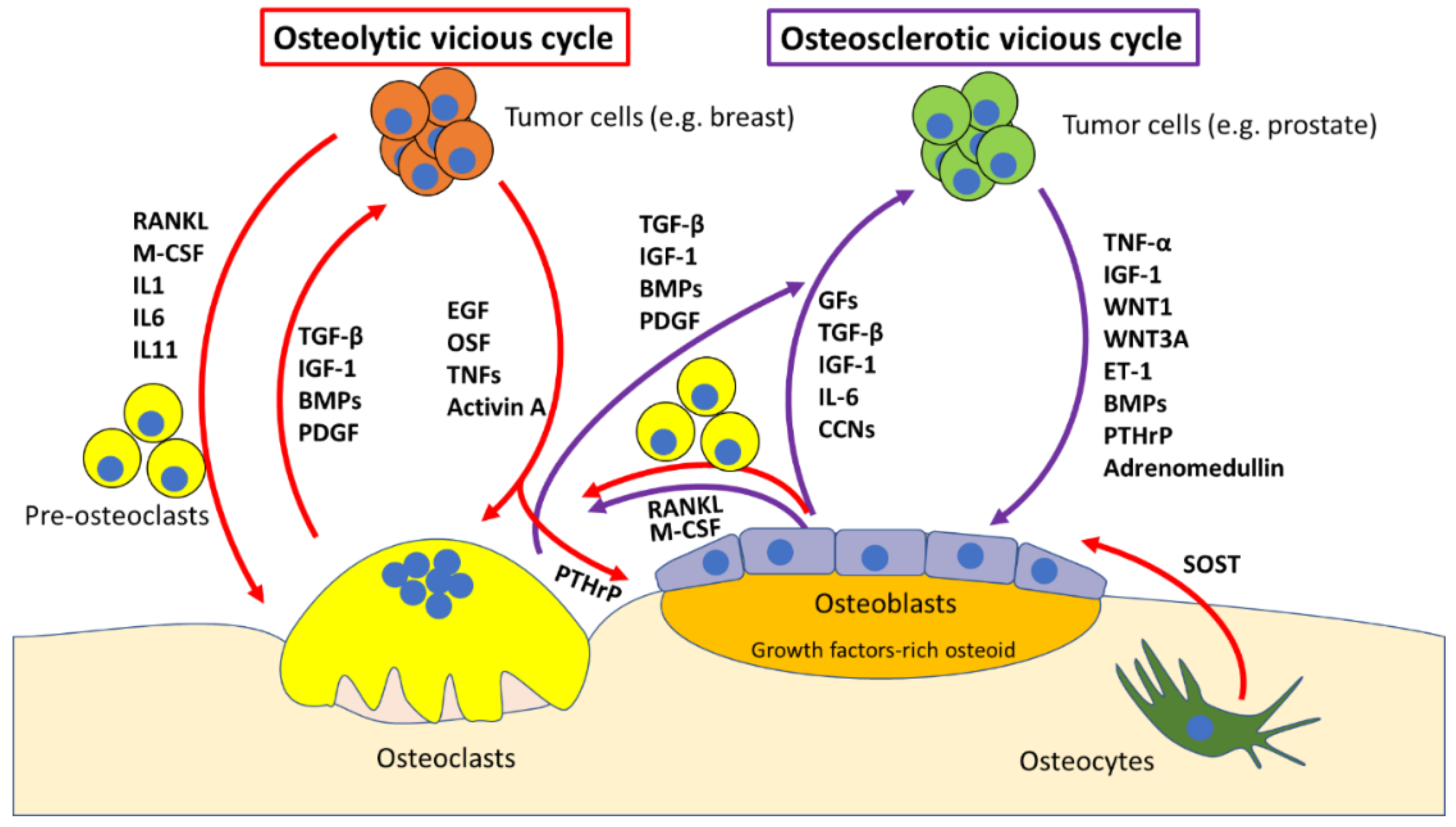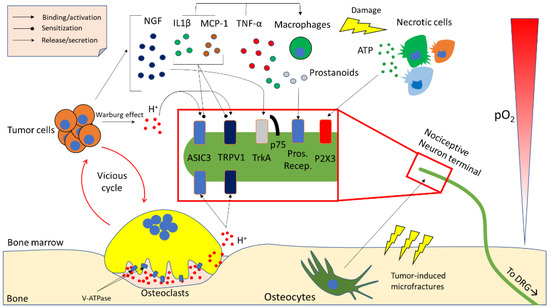 Figure 2. Cartoon representing the main cellular and molecular players in cancer-induced bone pain (CIBP). Partial pressure of O2 (pO2) decreases to approximately 50 mmHg moving from bone marrow sinusoids towards bone. When tumour cells are present in the bone marrow microenvironment, the low pO2, along with other factors, causes the switch from a mostly oxidative to a mostly glycolytic glucose metabolism, which results in the production of lactate and protons (H+) that are released in the microenvironment to keep intracellular pH stable (Warburg effect). Cancer cells also promote osteoclast formation and activity. Osteoclasts release protons into the resorption lacuna through the vacuolar-ATPase (V-ATPase). Protons may then leak towards the bone marrow microenvironment due to improper seal or apoptosis of the osteoclast. Protons are subsequently able to activate acid sensing ion channels (ASIC)-3, and transient receptor potential channel-vanilloid subfamily members (TRPV)-1, on nociceptive neuron terminals arising from dorsal root ganglia (DRGs), which causes the activation of pain pathways. Osteocytes can activate nociceptive neurons in different ways in response to tumour-induced microfractures, but they are mainly thought to release protons as signalling molecule, although other molecules such as neurotrophins have been proposed as osteocyte-derived pain-mediating factors. Tumour cells also secrete many factors that are able to activate or sensitise pain-mediating receptors, such as nerve growth factor (NGF), which binds the tropomyosin-related kinase (Trk)A-p75 receptor complex. Also, tumour-derived interleukin (IL)-1β, along with macrophage chemoattractant protein (MCP)-1 can sensitise ASIC3 and TRPV1 and activate and chemoattract macrophages. These latter cells further secrete IL-1β, MCP-1 and tumour necrosis factor (TNF)-α, which act as autocrine factors as well as induce cell death in the tissue. Macrophages also produce prostanoids, which activate nociception through prostanoid receptors. Because of the strong immune response, reactive oxygen species (ROS) generation, cancer-induced cytotoxicity and many other factors, cells in the bone marrow microenvironment undergo necrosis, which leads to the release of ATP. ATP can then act as a pain mediator by activating the purinergic P2X3 receptor on nociceptive neuron terminal.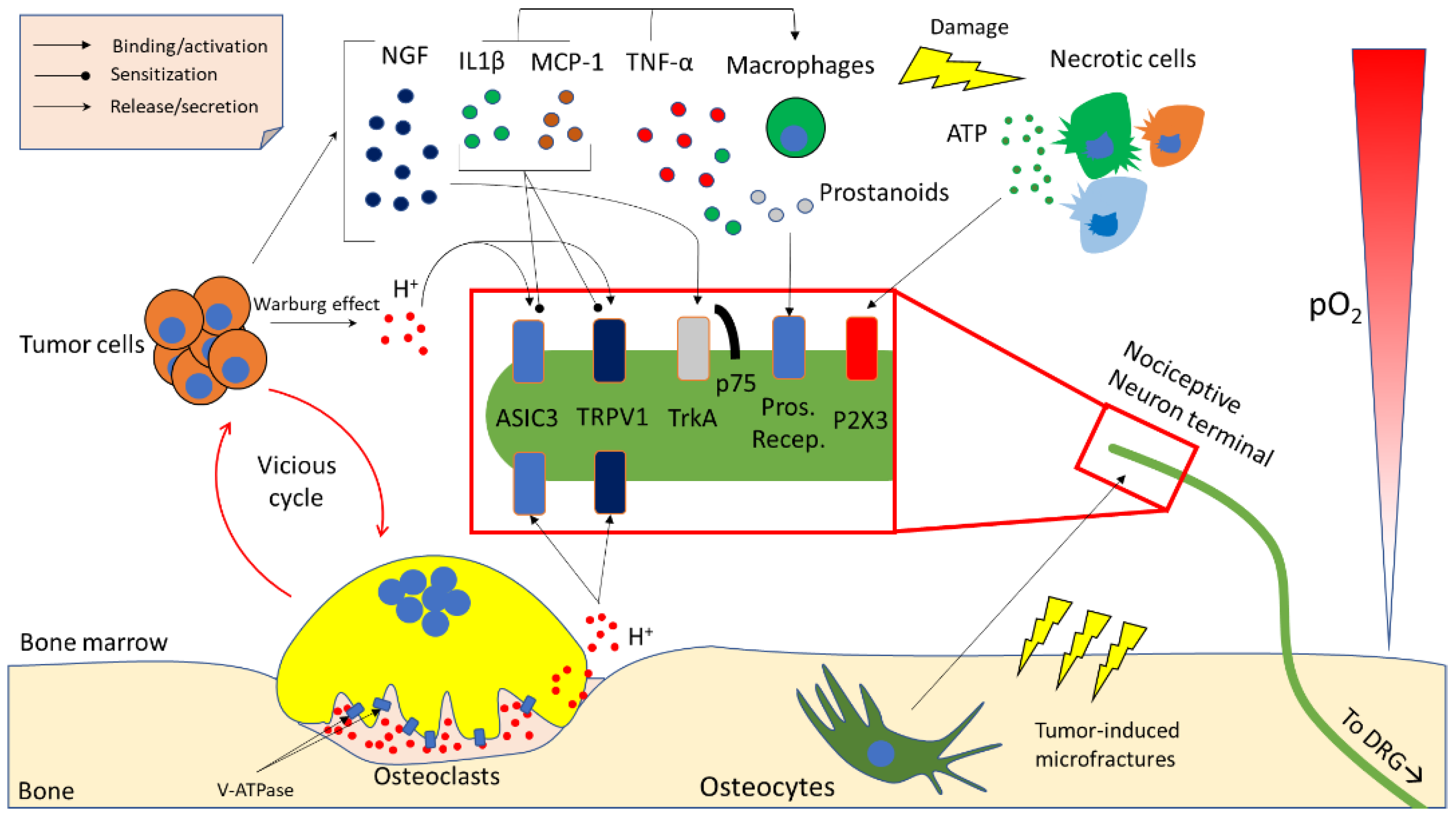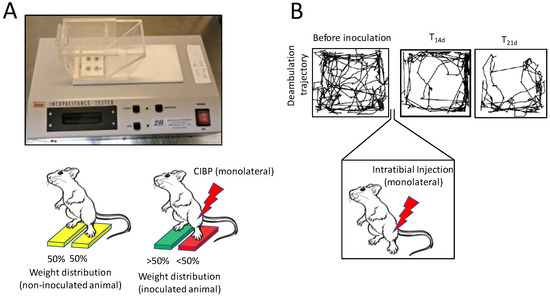 Figure 3. In vivo, noninvasive methods to evaluate cancer-induced bone pain (CIBP). (A) Incapacitance tester: cancer cells are intratibially injected monolaterally, and after an experiment-specific timeframe the animal is placed on an incapacitance tester. This is a device which features 2 scales, that are able to discriminate weight distribution between the 2 hindlimbs, when the animal is stood up at an incline (as visible from A, upper panel). In normal conditions, rodents will tend to distribute the weight evenly between the 2 limbs, but when one of them experiences CIBP, mice will relieve them from some of their body weight, reducing the % of weight bore by that limb. (B) Spontaneous deambulation test: mice are acclimated in a 45 × 45 × 45 cm arena 3 times the week before the cancer cells inoculation to establish a baseline. On the third test, the trajectory of the mouse is recorded and quantified over a specific timeframe (e.g., 10 min), to assess the distance the mouse is willing to walk voluntarily, without external stimulation. Cancer cells are then injected monolaterally (e.g., intratibially) and after an appropriate time (e.g., T14 and T21 days), mice will start showing a decrease in spontaneous ambulation, which is mostly due to CIBP. It is also possible to review the mouse behaviour to assess rearing behaviour and limb usage if a video recording device is used for the test.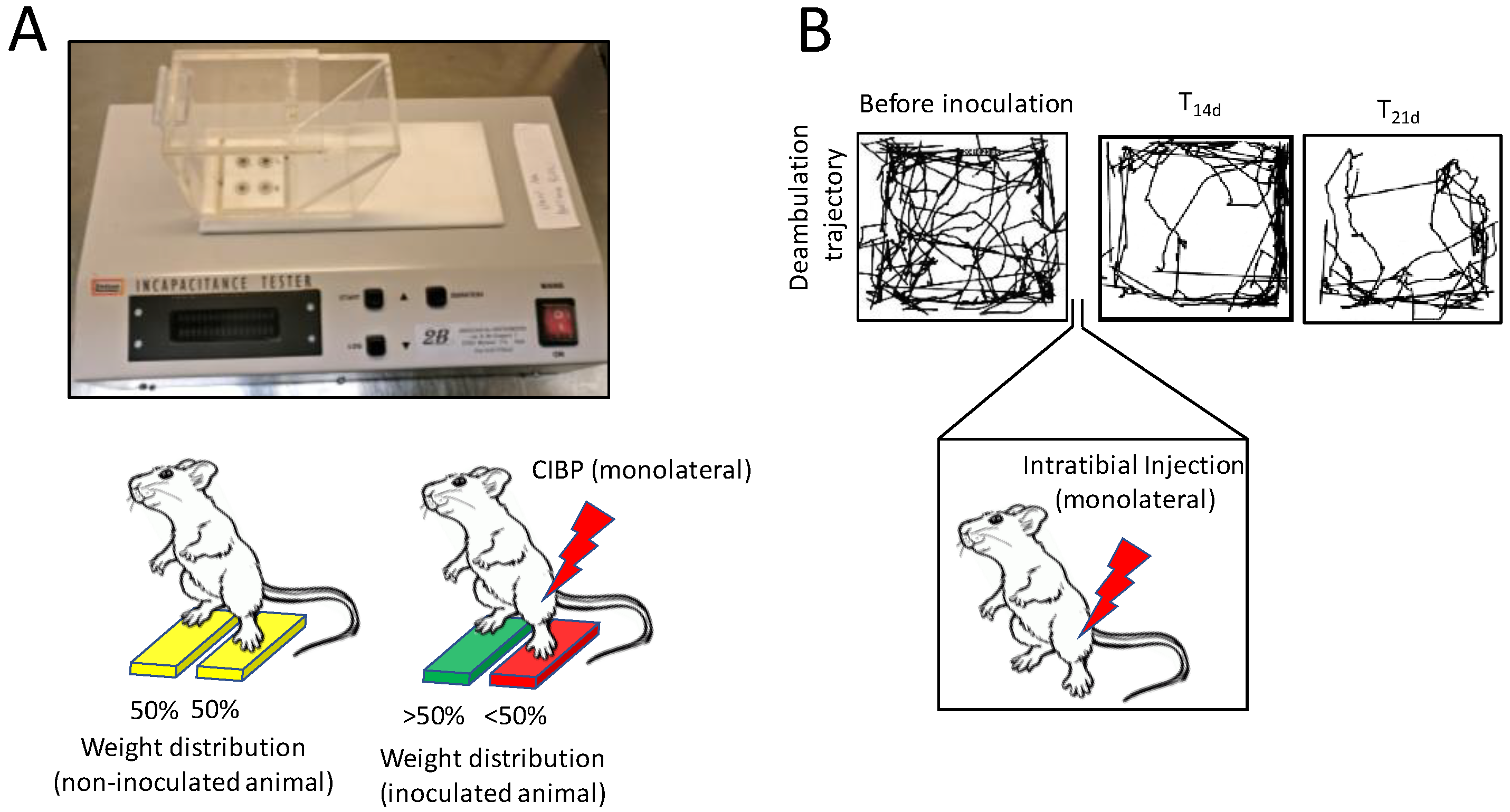 © 2019 by the authors. Licensee MDPI, Basel, Switzerland. This article is an open access article distributed under the terms and conditions of the Creative Commons Attribution (CC BY) license (http://creativecommons.org/licenses/by/4.0/).