Open Access This article is
freely available
re-usable
Article
Myosin Cross-Bridge Behaviour in Contracting Muscle—The T1 Curve of Huxley and Simmons (1971) Revisited
1
School of Optometry and Vision Sciences, Cardiff University, Cardiff CF10 3NB, UK
2
Muscle Contraction Group, School of Physiology, Pharmacology & Neuroscience, University of Bristol, Bristol BS8 1TD, UK
3
Faculty of Medicine, Imperial College, London SW7 2BZ, UK
*
Author to whom correspondence should be addressed.
Received: 4 June 2019 / Accepted: 29 September 2019 / Published: 2 October 2019
Abstract
:
The stiffness of the myosin cross-bridges is a key factor in analysing possible scenarios to explain myosin head changes during force generation in active muscles. The seminal study of Huxley and Simmons (1971:
Nature
233
: 533) suggested that most of the observed half-sarcomere instantaneous compliance (=1/stiffness) resides in the myosin heads. They showed with a so-called T
1
plot that, after a very fast release, the half-sarcomere tension reduced to zero after a step size of about 60Å (later with improved experiments reduced to 40Å). However, later X-ray diffraction studies showed that myosin and actin filaments themselves stretch slightly under tension, which means that most (at least two-thirds) of the half sarcomere compliance comes from the filaments and not from cross-bridges. Here we have used a different approach, namely to model the compliances in a virtual half sarcomere structure in silico. We confirm that the T
1
curve comes almost entirely from length changes in the myosin and actin filaments, because the calculated cross-bridge stiffness (probably greater than 0.4 pN/Å) is higher than previous studies have suggested. Our model demonstrates that the formulations produced by previous authors give very similar results to our model if the same starting parameters are used. However, we find that it is necessary to model the X-ray diffraction data as well as mechanics data to get a reliable estimate of the cross-bridge stiffness. In the light of the high cross-bridge stiffness found in the present study, we present a plausible modified scenario to describe aspects of the myosin cross-bridge cycle in active muscle. In particular, we suggest that, apart from the filament compliances, most of the cross-bridge contribution to the instantaneous T
1
response may come from weakly-bound myosin heads, not myosin heads in strongly attached states. The strongly attached heads would still contribute to the T
1
curve, but only in a very minor way, with a stiffness that we postulate could be around 0.1 pN/Å, a value which would generate a working stroke close to 100 Å from the hydrolysis of one ATP molecule. The new model can serve as a tool to calculate sarcomere elastic properties for any vertebrate striated muscle once various parameters have been determined (e.g., tension, T
1
intercept, temperature, X-ray diffraction spacing results).
Keywords:
myosin filament stiffness; actin filament stiffness; myosin cross-bridge stiffness; muscle transients; weak binding heads; contractile mechanism; cross-bridge cycle; rigor muscle
Author Contributions
Conceptualization, C.K. and J.M.S.; Project administration, J.M.S.; Software, C.K.; Supervision, J.M.S.; Writing—original draft, J.M.S.; Writing—review & editing, C.K. and J.M.S.
Funding
This research received no specific external funding.
Acknowledgments
We are very much indebted to K.W. Ranatunga and the late Gerald Offer for many stimulating discussions and for their comments on the manuscript. J.M.S. was supported by the European MYORES network and the British Heart Foundation during the initial stages of this work and is currently funded on BHF Fellowship grant to Dr. Danielle Paul (FS/14/18/3071).
Conflicts of Interest
The authors declare no conflict of interest.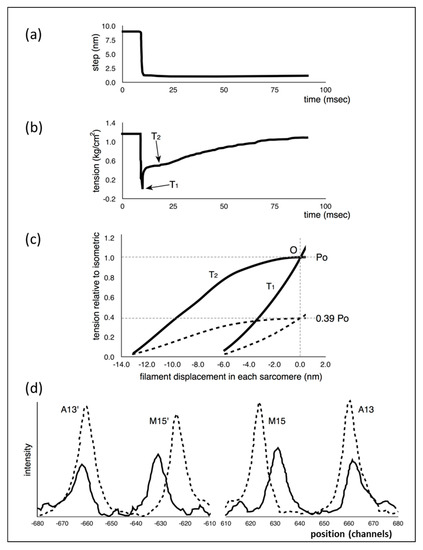 Figure 1.
Previous observations: (
a
,
b
) representation of the observations of Huxley and Simmons [
2
] (as improved by [
3
,
4
]) showing the tension transient (
b
) in an active frog muscle fibre after a rapid shortening step (
a
) of about 6 nm (60 Å) per half sarcomere and the point where the T
1
tension was recorded (
b
). (
c
) The T
1
and T
2
plots from experiments as in (
a
), but for different shortening steps (filament displacement per half sarcomere) and shown at two different sarcomere lengths—solid lines full overlap, dashed lines 3.1 µm. P
o
is the isometric tension at the tension plateau. (
d
) Representation of the results from Huxley et al. [
5
] showing the change in positions of the M15 (M15′ on the opposite side) and A13 (A13′) meridional X-ray diffraction peaks from myosin and actin filaments respectively at rest (solid lines) and full activation (dashed lines). The peaks shift towards the middle (longer spacings) and increase in intensity in X-ray patterns from active muscle. Wakabayashi et al. [
6
] obtained similar results. Figures redrawn from (
a
,
b
,
c
) [
2
] and (
d
) [
6
]. For details, see text.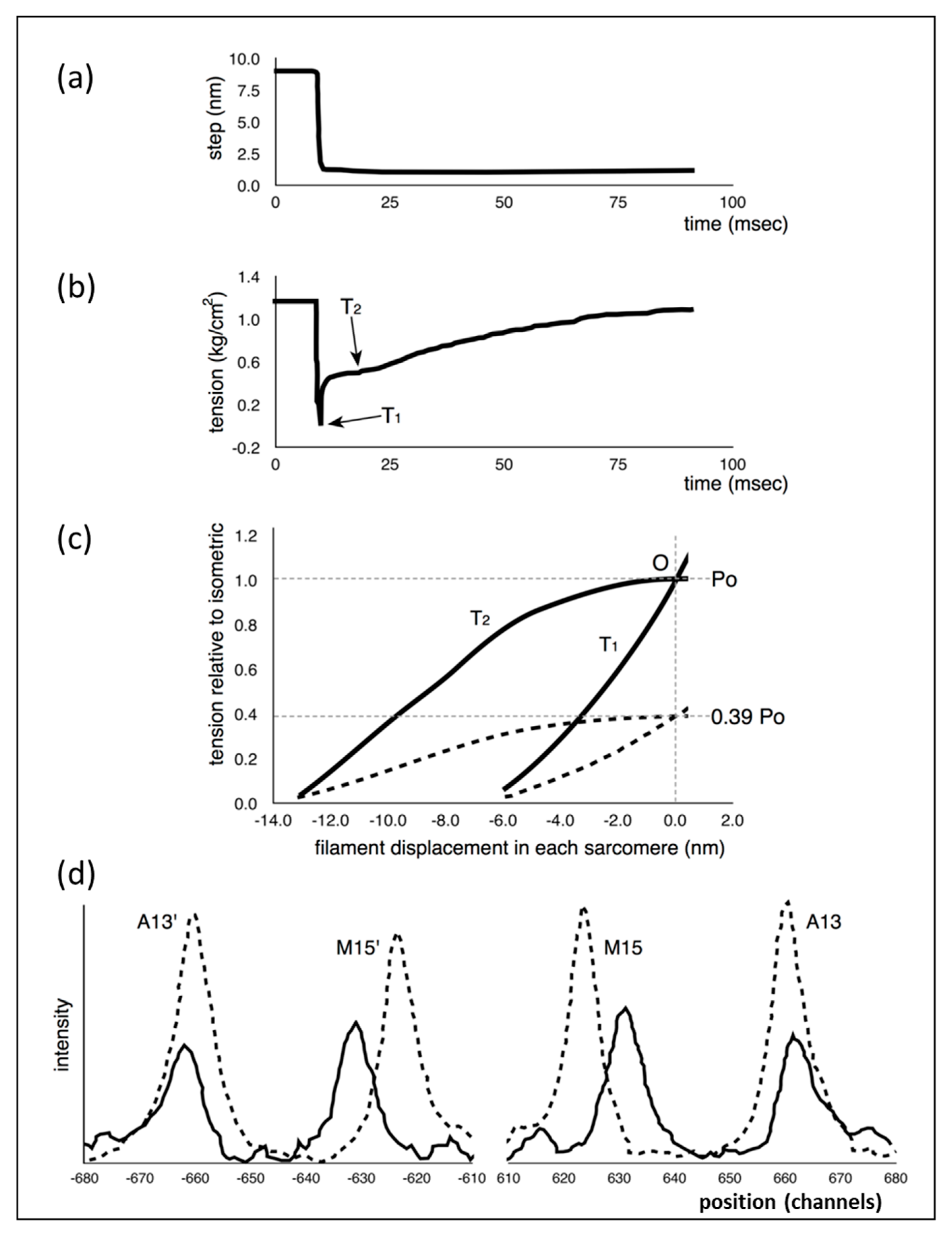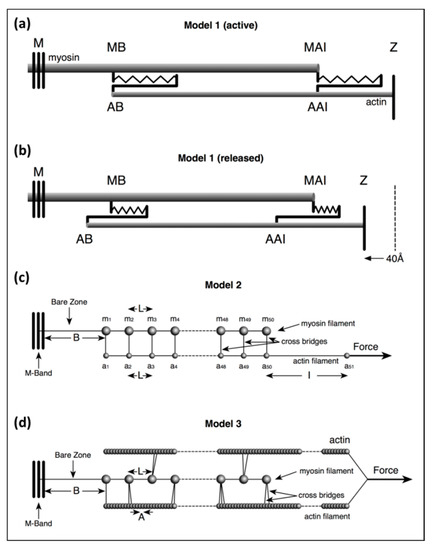 Figure 2.
Illustrations of the three different models of increasing complexity used in the calculations in this paper. (
a
,
b
) Model 1 allows a simple and approximate evaluation of filament and cross-bridge stiffnesses to show roughly what they must be: (
a
) at the isometric force plateau P
o
before release, and (
b
) after release to zero tension. In (
a
): MB: edge of the myosin filament bare zone; MAI: the end of the myosin filament at the A-I junction; AB: the tip of the actin filament away from the Z-band; AAI: the actin filament position at the A-I junction. (
c
) Model 2 mimics cross-bridges at levels m1, m2 etc., attaching to actin positions a1, a2 etc., at 144.9 Å intervals with appropriate weighting to allow for binding to actin by only a fraction of the available heads at any one time. (
d
) Model 3 represents, in a simplified way, the kind of result from assessing myosin head labelling realistically in three dimensions (3D) using the program MusLABEL [
16
]. For details see text.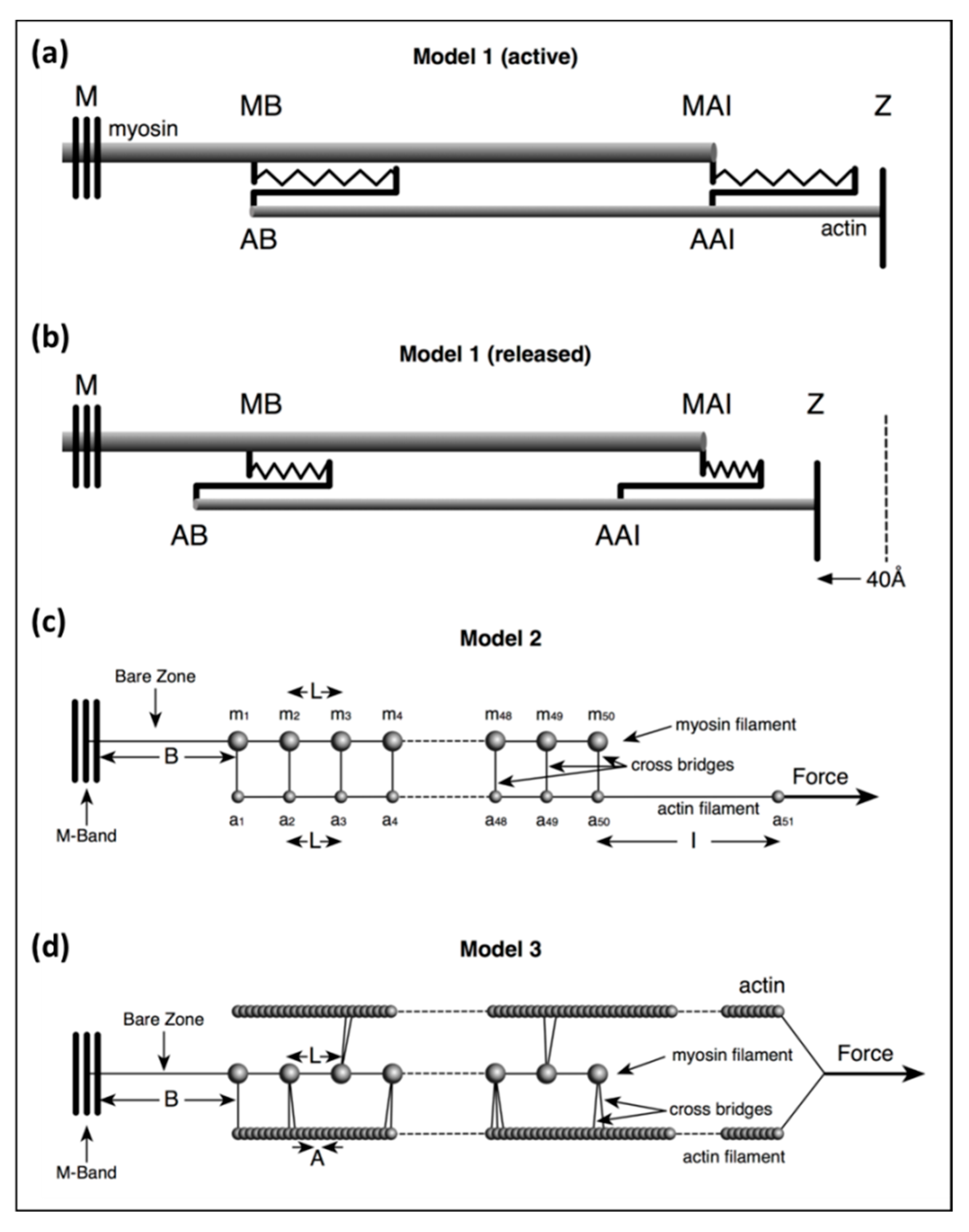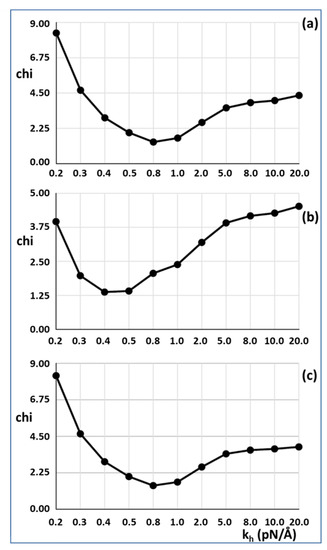 Figure 3. Results from Model 2 using optimised searching for good fits as measured by a goodness of fit factor Chi. The lower Chi is the better the fit. The best results were obtained with a cross-bridge stiffness kh around 0.45 to 0.8 pN/Å. (a) 30% attachment, (b) 50% attachment, (c) 30% attachment, with the T1 intercept unconstrained. In (a) and (b) the T1 intercept was constrained to be 40 Å. In (c) the value of the T1 intercept was unconstrained, but it still came out at around 40 Å. Note the non-linear scale for kh.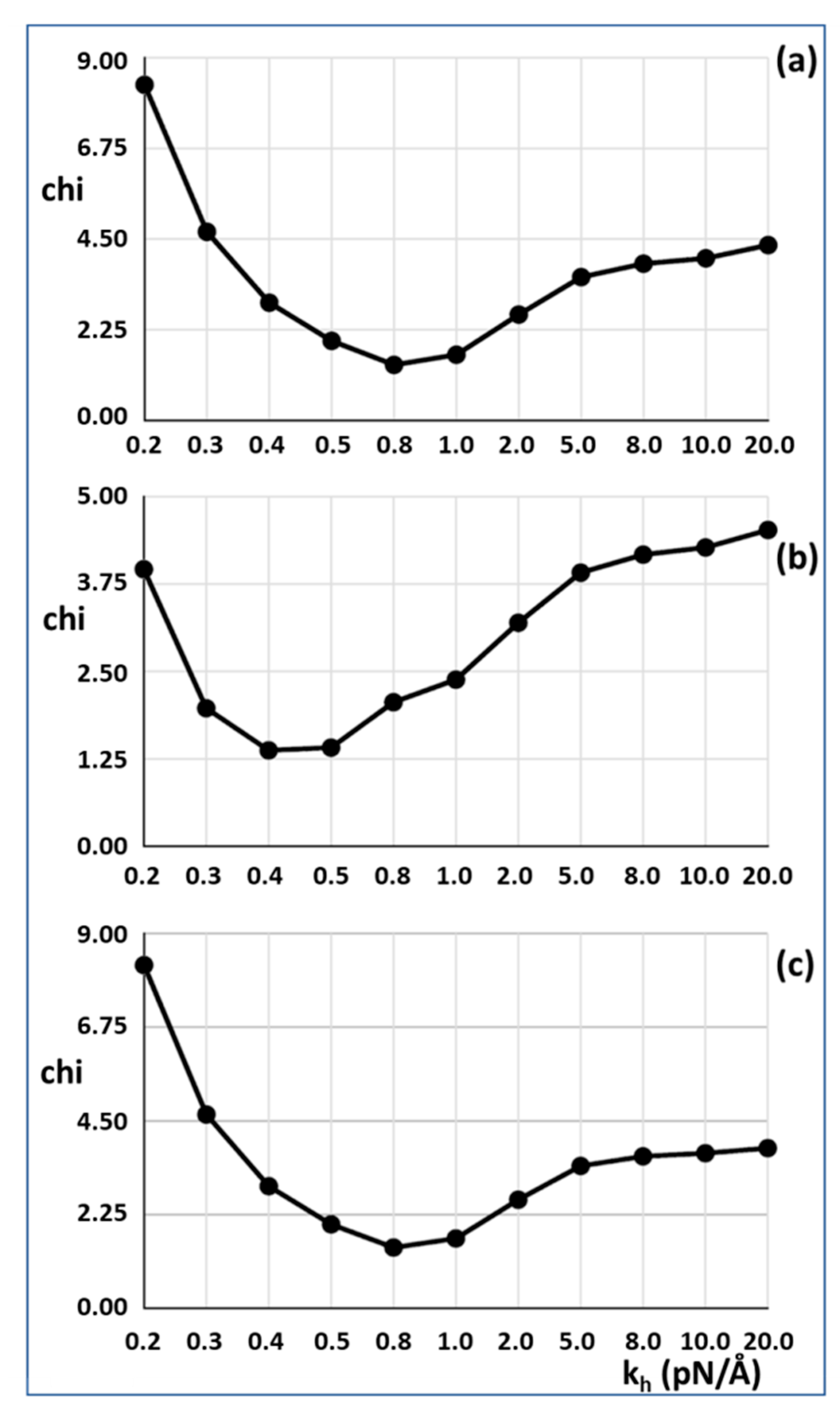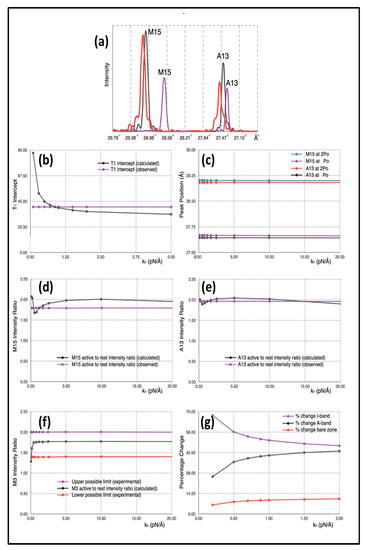 Figure 4.
(
a
) Example of the computed X-ray profiles from calculations using Model 3. The purple curve is calculated from a resting muscle, the black curve from a muscle subject to a P
o
= 480 pN external force and the red curve from a muscle subjected to a 2P
o
external force. (
b
) Black curve: Changes of the T
1
intercept as a function of the head stiffness
kh
, with the filament stiffnesses held constant. Purple curve: observed value of the
Table 1
intercept (taken as 40Å). (
c
) M15 and A13 peak Positions as a function of head stiffness as calculated from the simulated X-ray diffraction from Model 3 after subjecting them to a P
o
and 2P
o
external force. (
d
) Black: M15 active to rest intensity ratio as a function of stiffness as calculated from Model 3; Purple-experimental measurement. (
e
) Black: A13 active to rest intensity ratio as a function of stiffness as calculated from Model 3; Purple-experimental measurement. (
f
) Black: M3 active to rest intensity ratio as a function of stiffness as calculated from Model 3; Purple: upper limit as found experimentally; Red: lower experimental limit. (
g
) Variation of the positions of various half sarcomere features as a function of head stiffness: Purple: I-band percentage change; Black: A-band percentage change and Red: bare zone percentage change. Note the different horizontal scales in the graphs.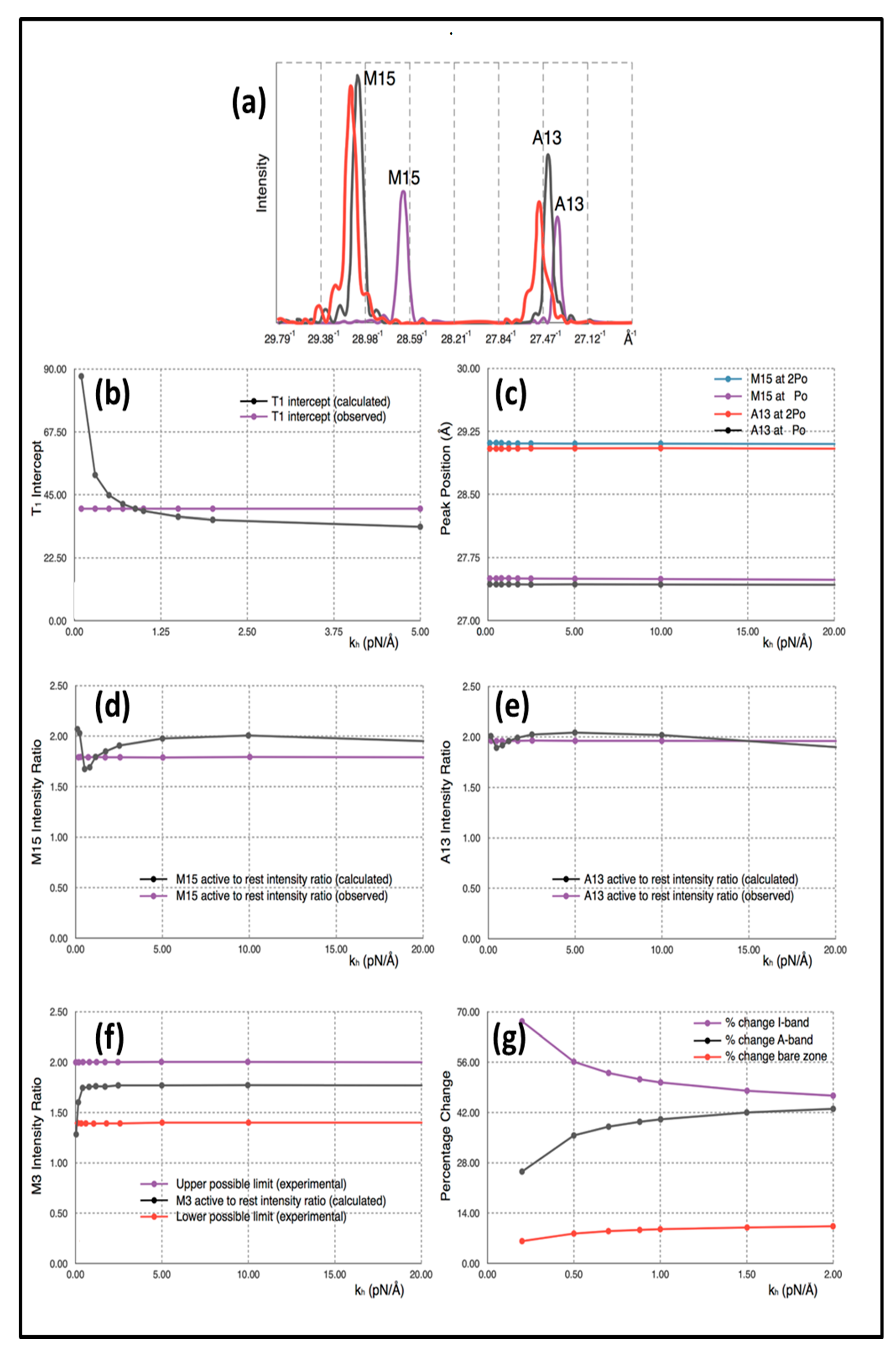 Figure 5.
(
a
) T
1
plots showing the position of the T
1
intercept on the x axis for zero tension as a function of the myosin head stiffness in Model 3 for a muscle at full overlap
.
(
b
) Similar to (
a
) but here for different percentage cross-bridge attachments to actin at full overlap and also what happens at 3.1 µm sarcomere length (tension 0.39 P
o
) using Model 3. (
c
) The observations of Ford et al. [
4
] plotted here assuming purely linear elasticities and assuming that tension varies linearly with overlap, shown for comparison with (
a
) and (
b
).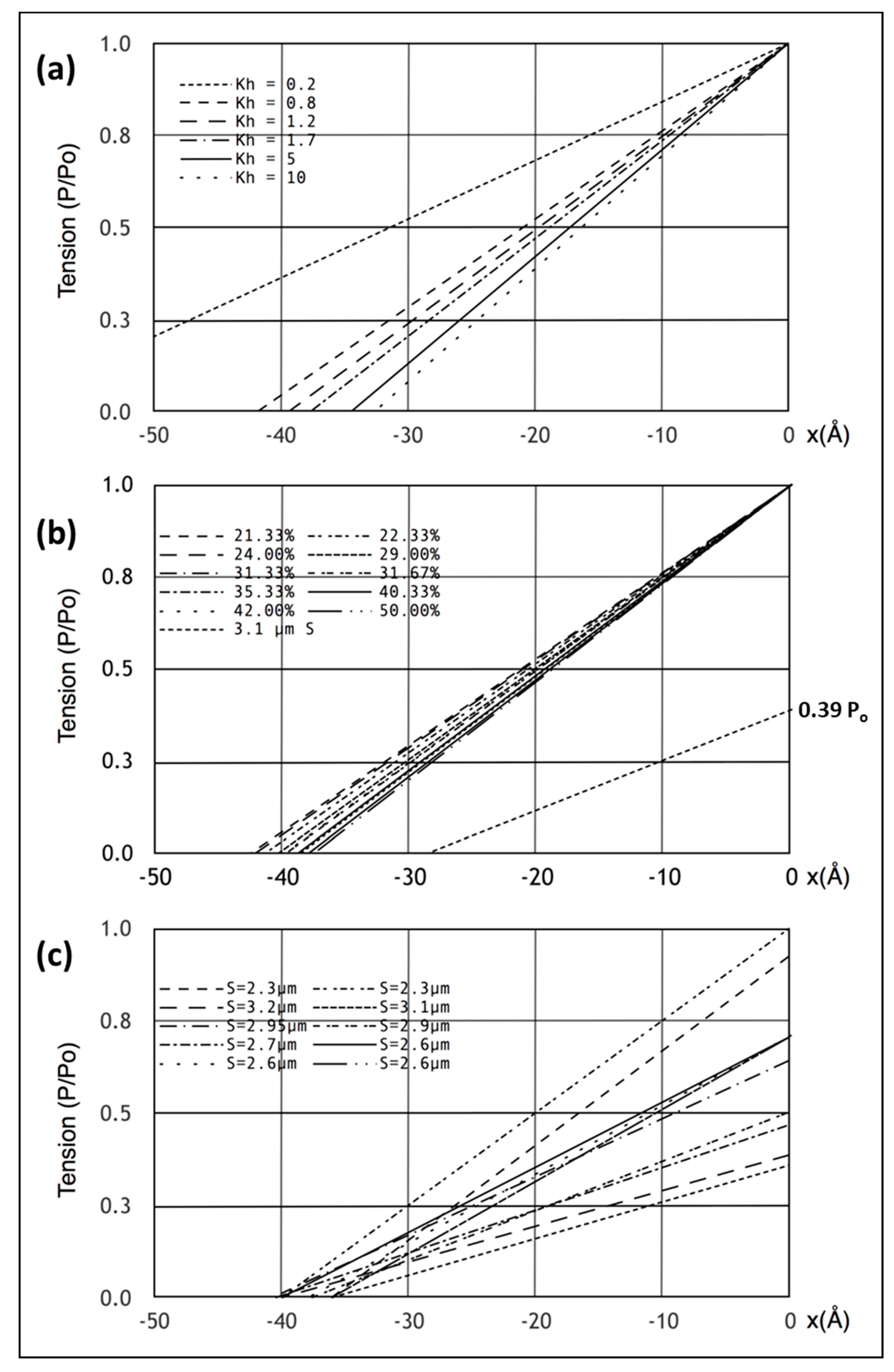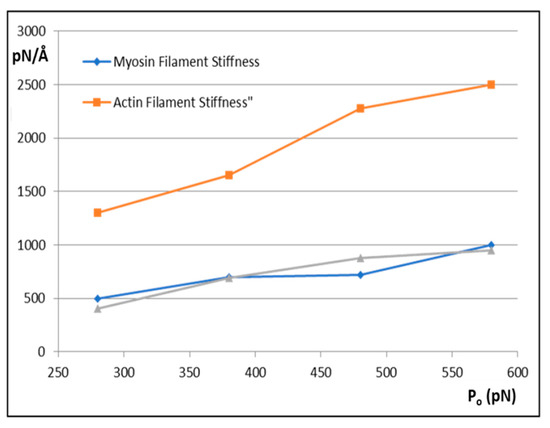 Figure 6.
The variation of myosin filament stiffness (k
m
; blue) and actin filament stiffness (k
a
; orange) with tension P
o
assuming that the X-ray spacing changes in the M15 and A13 peaks are as observed by Huxley et al. [
5
] and Wakabayashi et al. [
6
]. The grey curve shows the myosin filament stiffness if the same attachment number is achieved with a different set of labelling parameters in MusLABEL.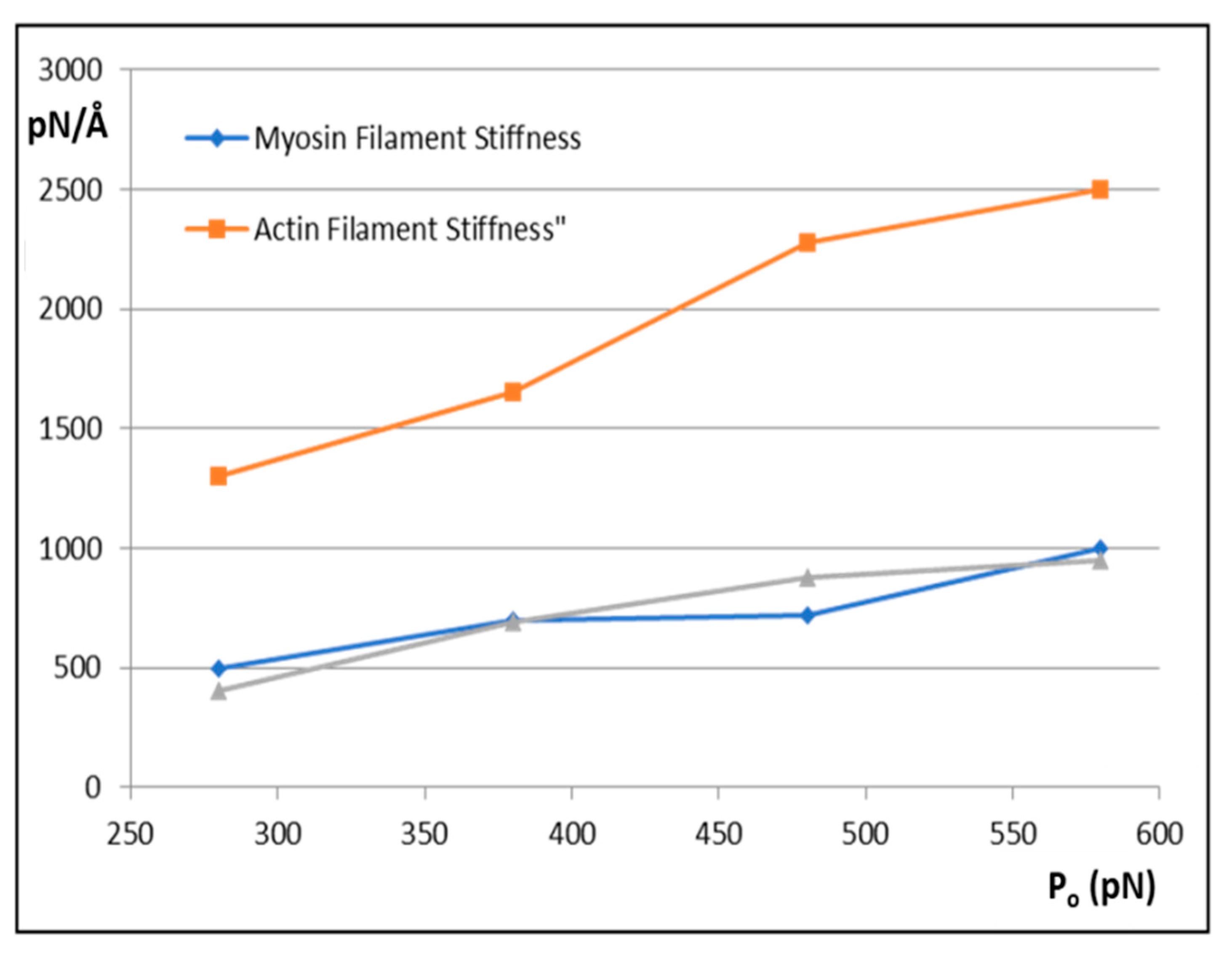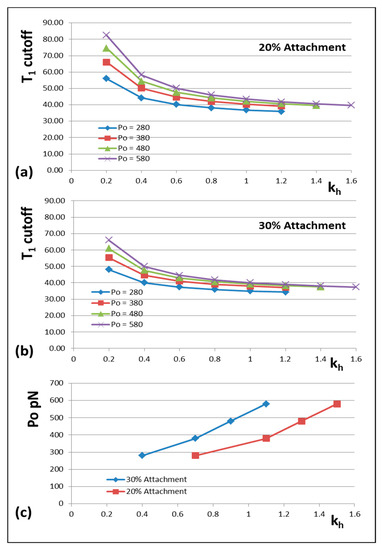 Figure 7.
The variation of the T
1
intercept at zero force plotted against head stiffness (
kh
) for different percentages of heads attached to actin (
a
) 20% and (
b
) 30% and at different P
o
values (pN). (
c
) A plot of P
o
against k
h
for a T
1
cut-off at 40 Å and different percentage attachments. Throughout, it is assumed that the changes in X-ray spacings shown in
Figure 1
d
apply.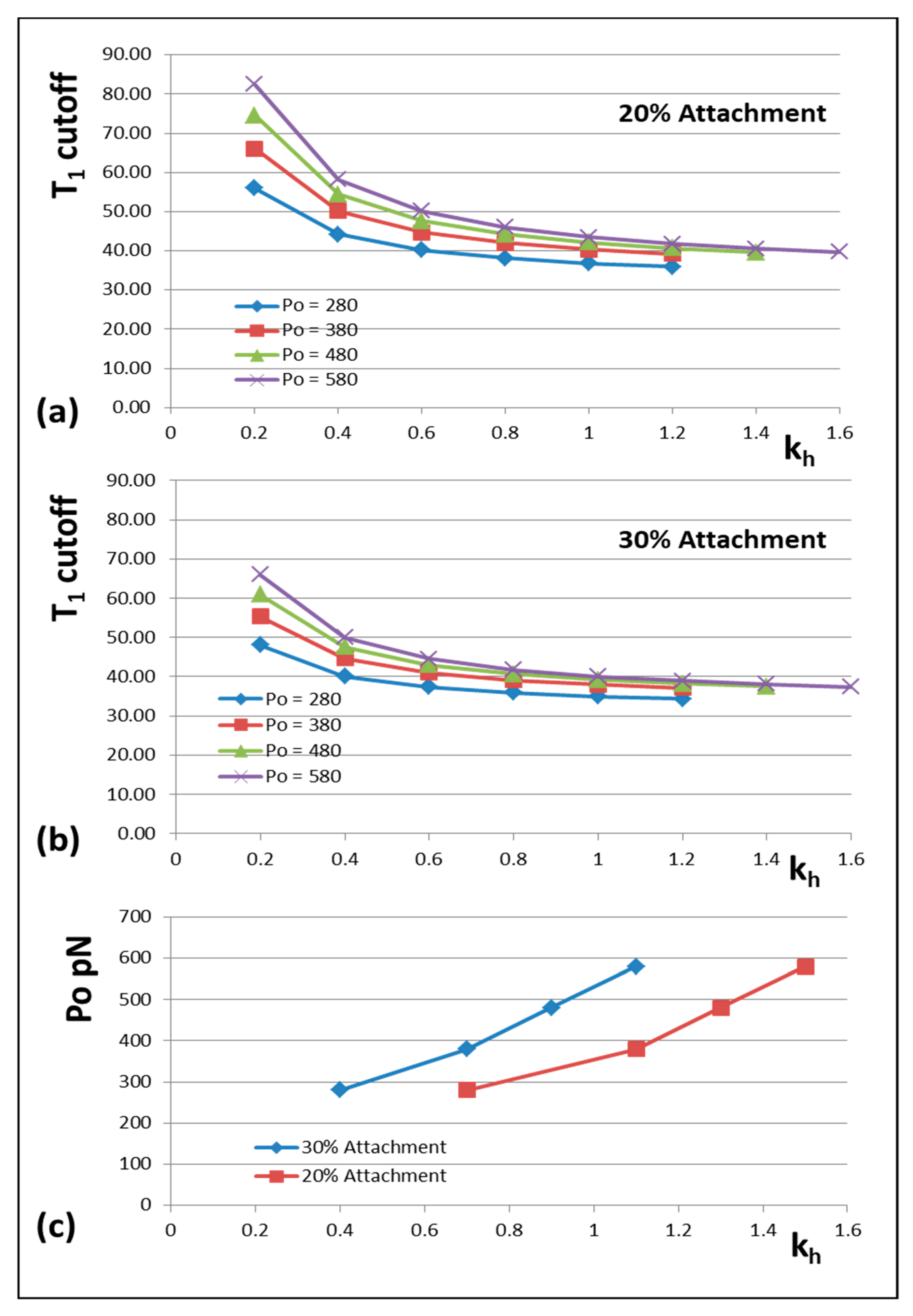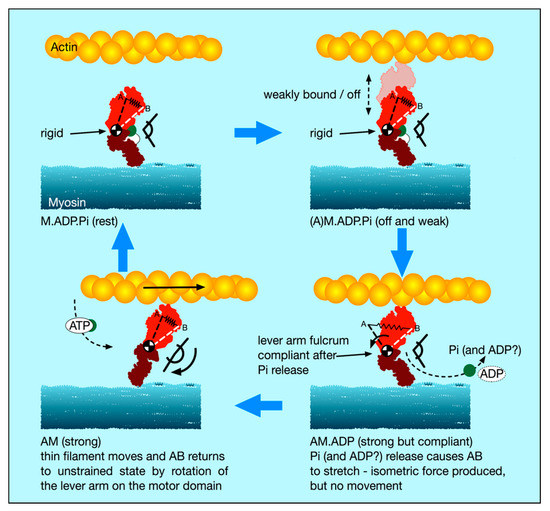 Figure 8. The new cross-bridge scenario: The spring AB represents the elastic state of the head. Top left: relaxed muscle with hydrolysis products ADP and Pi on myosin (M.ADP.Pi) has relatively rigid, but bent, myosin heads, with the fulcrum (converter domain) between the motor domain and lever arm relatively stiff. On activation (top right; (A)M.ADP.Pi), the heads go into a very rapid equilibrium weak binding state on actin in which the heads are still relatively rigid and these would provide high stiffness if the sarcomere is stretched or released fast enough. Strong binding to AM.ADP.Pi and release of Pi (bottom right) causes an associated release of the converter/ lever arm to a relatively elastic, lower stiffness, state. The new head shape wants to be relatively straight as in the bottom left panel (rigor-like), but the lever arm cannot move if the myosin and actin filaments cannot move (e.g., under a high load or isometric). The lever arm remains in its original position, but it now exerts force (indicated here by the stretched spring, AB). If the filaments are free to move, then the lever arm swings on the actin-attached motor domain (bottom left) until at the end of its stroke it exerts zero force; AB is back to its original shorter length and the head is relatively straight. Rapid binding of another ATP to give AM.ATP (flexible) releases the head from actin. Hydrolysis of ATP to ADP and Pi then occurs, and the heads revert to the rigid, but bent, M.ADP.Pi state (top left).
30% Attachment
Observed
Calculated
A13 Position at rest (Å)
27.36 ± 0.01
27.36
A13 Position at Po (Å)
27.44 ± 0.01
27.42
A13 Position at 2Po (Å)
27.49 ± 0.01
27.50
M15 Position at rest (Å)
28.64 ± 0.01
28.64
M15 Position at Po (Å)
29.04 ± 0.01
29.05
M15 Position at 2Po (Å)
29.10 ±0.01
29.11
Intensity M15rest / A13rest
1.22 ± 0.06
1.25
Intensity M15active Po / M15rest
1.79 ± 0.06
1.63
Intensity A13active Po / A13rest
1.96 ± 0.06
1.91
Intensity M3active Po / M3rest
1.4 to 2.0
1.96
T1 x cutoff for zero tension
−40Å
−40.01Å

© 2019 by the authors. Licensee MDPI, Basel, Switzerland. This article is an open access article distributed under the terms and conditions of the Creative Commons Attribution (CC BY) license (http://creativecommons.org/licenses/by/4.0/).