Open Access This article is
freely available
re-usable
Review
Heat Shock Proteins Are Essential Components in Transformation and Tumor Progression: Cancer Cell Intrinsic Pathways and Beyond
1
Department of Radiation Oncology, Beth Israel Deaconess Medical Center, Harvard Medical School, Boston, MA 02215, USA
2
Laboratory of Oncology, Institute of Medicine and Experimental Biology of Cuyo (IMBECU), National Scientific and Technical Research Council (CONICET), Mendoza 5500, Argentina
3
Department of Functional Genomics, Geisinger Medical Center, Danville, PA 17822, USA
4
Departamento de Ciências Básicas da Saúde, Universidade Federal de Ciências da Saúde de Porto Alegre, Porto Alegre 90010, Brazil
5
Department of Surgery, School of Medicine, University of California, San Diego, La Jolla, CA 92093, USA
*
Author to whom correspondence should be addressed.
Received: 12 August 2019 / Accepted: 7 September 2019 / Published: 11 September 2019
Abstract
:
Heat shock protein (HSP) synthesis is switched on in a remarkably wide range of tumor cells, in both experimental animal systems and in human cancer, in which these proteins accumulate in high levels. In each case, elevated HSP concentrations bode ill for the patient, and are associated with a poor outlook in terms of survival in most cancer types. The significance of elevated HSPs is underpinned by their essential roles in mediating tumor cell intrinsic traits such as unscheduled cell division, escape from programmed cell death and senescence, de novo angiogenesis, and increased invasion and metastasis. An increased HSP expression thus seems essential for tumorigenesis. Perhaps of equal significance is the pronounced interplay between cancer cells and the tumor milieu, with essential roles for intracellular HSPs in the properties of the stromal cells, and their roles in programming malignant cells and in the release of HSPs from cancer cells to influence the behavior of the adjacent tumor and infiltrating the normal cells. These findings of a triple role for elevated HSP expression in tumorigenesis strongly support the targeting of HSPs in cancer, especially given the role of such stress proteins in resistance to conventional therapies.
Keywords:
heat shock proteins; cancer; chaperome; molecular chaperones; tumor signaling; extracellular HSPs; proteotoxic stress; stress proteins in cancer; Hsp70; Hsp90
1. Introduction: Molecular Chaperones, Protein Folding, and the Health of the Proteome
Heat shock proteins (HSP) are the products of a class of genes that become induced at an unprecedented amplitude during proteotoxic stresses, most notably, heat shock itself [
1
,
2
]. They belong to a handful of gene families that encode molecular chaperones, proteins that function to maintain the structural integrity of the proteome and thereby promote cell viability [
2
]. Molecular chaperone genes can be either synthesized constitutively or in the case of the inducible HSP genes, are either silent or weakly expressed in unstressed cells, but turn on at dramatic rates after stress, to cope with the crisis in the protein folding that ensues [
3
]. Inducible HSP genes each contain, within their promoters, binding sites for heat shock transcription factor 1 (HSF1), a protein that senses exposure to stress almost instantaneously, changes from a monomer to a trimer form, and powerfully induces HSP genes [
4
,
5
,
6
]. Here, we will discuss a subset of HSPs known to be significant in cancer, including Hsp27, Hsp70, and Hsp90, each regulated by HSF1 (
Figure 1
) [
7
]. Although roles for other chaperones and chaperonins are emerging, most studies have concentrated on these protein families, and thus our account is mostly focused on these three chaperones. It is still unclear to what degree the mechanisms of induction of HSP expression in cancer resemble the changes undergone during the heat shock response, and that question will be a point of discussion here.
1.1. HSF1 and the Heat Shock Response
Upon exposure of mammalian cells to heat shock, HSF1 monomers become activated, form trimers, and rapidly migrate to
HSP
gene promoters, leading to the transcription of the cohort of
HSP
genes (
Figure 1
) [
6
]. It is by far the most rapidly activated inducible transcriptional program in mammalian genomes, and HSF1 arrives upon the chromatin within 30 s of heat shock, as compared with the requirement of 10–15 min in rapidly-inducible "immediate early genes" such as c-fos, c-jun, and egr-1 after growth factor stimulation [
8
]. The trigger mechanisms involved in HSF1 activation by stress are still debated, although processes such as the direct sensing of heat shock by a HSF1 tertiary structure, the reversal of HSF1 repression exerted by HSPs in a feedback response, and multiple posttranslational modifications (PTMs) appear to play active roles [
9
,
10
,
11
,
12
,
13
,
14
]. The profile of the heat shock response program is similar in most cells, with the rapid activation of
HSP
transcription, stabilized high level expression of
HSP
mRNAs, and the persistent expression of HSPs, which may last for up to 100 h as the proteotoxic stress is resolved [
2
,
3
,
15
].
While the mechanisms of stress-induced HSF1 activation are yet to be fully defined, the activation of HSF1 in cancer is even less well understood in many malignant tissues, and nuclear HSF1 is observed in the absence of any external stress, a phenomenon that may account for the constitutive HSP expression observed in many cancer cells [
16
,
17
]. HSF1 activation has been shown to occur downstream of the growth factor stimulation and was, for instance, induced in mammary cancer by the cytokine heregulin, which activates Her2 signaling [
18
]. As the heat shock response is characteristically triggered by proteotoxic stresses, there has been much speculation that similar mechanisms may underlie
HSP
transcription in cancer cells [
19
,
20
]. Cancer cells often express mutated oncogenes that require a high-level chaperone expression to maintain stability and function, have undergone polyploidy, and have enhanced rates of protein synthesis, and thus may be under a net "folding pressure" [
20
]. While this would be a difficult hypothesis to test, Sherman and co-workers have indicated that protein unfolding is not increased in cancer [
21
]. At the moment, however, this "addicted to chaperones" theory is perhaps the most acceptable hypothesis available—implying that the heat shock response gradually increases in activity in many cancer cells, so as to counter the demand for folding exacted by the processes of transformation and tumor progression. HSF1 and HSPs, thus induced, may function mostly in oncogenic protein folding cascades, or may be free to take on new roles in tumorigenesis [
21
,
22
]. Indeed, the chromatin precipitation coupled with next generation sequencing (CHIP-Seq) analysis of HSF1 binding to chromatin in human cancer cells has revealed multiple transcriptional targets over and above the classical
HSP
genes themselves [
23
].
1.2. Mechanisms of Protein Folding and Chaperone Performance
1.3. Chaperones Work in a Coordinated Manner to Brace Cancer Cell Survival—The Chaperome in Cancer
2. HSPs and the Cell-Intrinsic Properties of Malignant Cells
2.1. The Acquired Properties of Malignant Cells
Malignant transformation involves profound changes in the cellular phenotype that occur in the change from a differentiated cell protected by multiple tumor suppressing mechanisms that prevent reversion, to the properties that lead to cancer [
65
]. In the case of carcinomas, the epithelial cells that form the basis of tissues need to acquire the unfamiliar properties of proliferation in the absence of growth stimuli; resistance to oncogene-induced apoptosis and senescence; de novo angiogenesis, mobility and invasion of surrounding tissues; and most sinister of all, the metastasis and colonization of distant organs [
65
]. These properties are prohibited for differentiated cells, and therefore, malignant transformation may require multiple changes in regulatory molecules, by mutation and over-expression, in order to break the normal phenotypic controls and attain the full malignant phenotype [
66
,
67
]. However, in addition to such mutations and changes in cell intrinsic regulation, there is increasing evidence for a major role for stromal cells in the tumor milieu in programming the epithelial cells towards the malignant phenotype and protecting them from attack by the immune system [
68
,
69
,
70
,
71
]. Our task here is to analyze the mechanisms by which HSPs facilitate the long multistep process of tumorigenesis.
2.2. HSPs Shore Up the Shared Pro-Malignant Properties of Malignant Cells
3. HSPs and Tumor cell Extrinsic Properties of Tumors
3.1. Influence of the Extracellular Milieu and the Tumor Stroma on the Malignant Phenotype
Tumorigenesis and malignant progression may involve processes in addition to cancer cell intrinsic mechanisms, dependent on the sequential transforming mutations that overcome homeostatic regulation discussed above [
69
,
125
]. Increasing evidence suggests a key role for the tumor extracellular milieu, and infiltrating normal cells in further programming the tumor cells to grow and metastasize [
126
]. It was shown recently that Hsp70 ablation or the chemical inhibition of Hsp70 in host mice reduced tumorigenicity, and this was related to the reduced infiltration of macrophages into tumors [
127
]. The reduced tumorigenicity was related to the reduced mobility of the macrophages and the inhibition of the expression of MAP3K8, CXCR4, and FOXM1 [
127
]. There is also strong evidence to indicate the HSF1/heat shock system has an important role in modulating the transcriptional responses stimulated by the stromal–tumor interplay [
128
]. For example, HSF1 was shown to regulate transcription within tumor cells upon co-culture with fibroblasts, and within fibroblasts upon co-culture with tumor cells. Interestingly the cohort of HSF1-regulated genes was found to be distinct between the two cell types, yet each to have general pro-tumorigenic features. Specifically, Hsf1 bound the
Sdf1/Cxcl12
gene promoter and regulated its gene expression. The expression of
TGFB
genes was also found to be dependent on HSF1, although this seemed to be independent of the direct transcriptional regulation by HSF1 [
128
]. TGF-β and CXCL12 are key factors in the regulation of the tumor milieu, and can lead to the expression of extracellular matrix proteins such as fibrillar collagens known to be involved in invasion and metastasis [
71
]. The first indication of a role for HSPs in ECM assembly was in the study of Hsp47 encoded by the
SERPINH1
gene, an unusual HSP with a key role in collagen assembly and maturation [
129
,
130
]. Hsp47 has a versatile role in ECM assembly, and was shown to participate in the deployment of type I and II collagens, molecules that, when expressed to a high level, can lead to tumor desmoplasia and increased metastasis [
108
,
126
]. Indeed, Hsp47 has thus been shown to drive tumor growth and invasion through these interactions [
131
].
The more conventional HSP family members also play roles in collagen synthesis and secretion in a range of cell types, including Hsp70 [
132
] and Hsp90 [
133
,
134
]. Hsp27 can be induced by TGF-beta, and is needed for type 1 collagen synthesis by myofibroblast, and plays a role in fibrosis [
135
]. Clearly, through these interactions, HSPs may play key roles in tumor growth and metastasis, beyond the conventional tumor intrinsic mechanisms (
Figure 5
).
3.2. Tumor Immunity
HSPs play powerful, although often ambiguous, roles in tumor immunity [
136
]. Because of their abilities to bind to a wide spectrum of peptide sequences, they have been used to prepare effective anti-cancer vaccines, in which tumor antigens are bound to HSPs, which can then direct them for processing by antigen processing cells, such as dendritic cells [
137
,
138
]. However, it is not clear whether tumor cell intrinsic HSPs are characteristically immunogenic or immunosuppressive. TGF-β and CXCL12 appear to modulate the relative populations of tumor infiltrating lymphocytes and their respective activities; this has been demonstrated by studies showing the blockade of TGF-β or CXCL12 to potentiate tumor responses to immune checkpoint blockades across multiple tumor models [
71
,
139
,
140
,
141
]. Thus, activation of the HSF1 > TGF-beta and CXCL12 mechanism might be predicted to suppress anti-tumor immunity, and may represent a beneficial feature of targeting HSF1 in cancer. In addition, it is known that HSPs can be released from tumor cells and can influence the behavior of the adjacent cells in this way [
142
]. Much of the Hsp70 or Hsp90 released by the tumor cells is contained in exosomal particles [
143
], and it has been shown that Hsp72- containing exosomes can lead to immunosuppression [
144
,
145
]. Most evidence therefore points to an immunoregulatory role for HSPs released from tumors and stromal cells under basal conditions. However, in the context of cytotoxic therapy, overexpressing Hsp70 in the treated tissue leads to profound, tumor specific immunity through the induced expression of IL-6 [
146
,
147
]. The effects of extracellular HSPs on immunity are therefore likely to be highly context dependent.
4. Extracellular HSPs
The established role of HSPs is, of course, as intracellular molecular chaperones, and we have listed an array of oncogenic molecules dependent on HSP overexpression, both in tumor and stromal cells. However, it is increasingly clear that HSPs do escape the cell in free form and in exosomes to interact with the receptors on self, on adjacent cells of the same lineage, or on different cell types (
Figure 6
). Similar to many intracellular HSPs, the extracellular production levels of several HSPs are increased by cancer cells of various origins, and in some cases, have been linked to greater degrees of disease burden [
148
,
149
,
150
,
151
,
152
]. A key further question in understanding the roles of HSPs in cancer then is the relative importance of intracellular and extracellular HSPs [
153
,
154
]. Each of the
HSP
gene families contains multiple paralogs, some of which could be specialized for an extracellular function. In the case of Hsp90, which exists as two different paralogs expressed in the cytosol, Hsp90-alpha and Hsp90-beta, the former seems specialized for extracellular secretion, while the latter is generally retained in cells and seems more important in the "housekeeping folding" of clients within the confines of the cell [
154
]. Secreted Hsp90 plays a powerful role in cancer cell invasiveness through both binding to the surface receptors such as LRP1/CD91, and interacting with matrix metalloprotease 2 on the cell surface to mediate invasiveness, EMT, and a TIC phenotype [
155
,
156
,
157
,
158
,
159
]. Interestingly, cell impermeant Hsp90 inhibitors can block these processes [
160
].
The HSP70 family is more extensive, and several HSP70 family members have been reported to be secreted by tumor cells [
142
,
161
]. The current evidence indicates that extracellular Hsp70 can either promote tumorigenic processes or have tumor-limiting activities, and can be targeted or utilized to potentiate tumor responses to treatment [
148
,
162
]. The tumor-limiting activities of the Hsp70 species described to date have primarily involved various methods of stimulating tumor immunity. For example, Hsp70-positive tumor derived exosomes promoted cytolytic natural killer (NK) cell activity towards tumor cells in a Hsp70-dependent manner [
163
]. Similarly, Xie et al. linked Hsp70-enriched exosomes to an increased NK cell activity, where they found exosomes isolated from J558 myeloma cells transgenically overexpressing Hsp70 stimulated dendritic cell (DC) maturation, and protection from J558 tumor cell challenge, an effect dependent on CD8 + T cell and NK cell activity [
164
]. Extracellular HSPs may also promote tumor immunity by facilitating DC functions through the stabilization of tumor antigens, and by enhancing tumor antigen processing by DCs. The tumorigenic properties of extracellular Hsp70 members have also involved immunomodulation. For example, exosomal Hsp72 was found to promote MDSC activation via binding toll like receptor-2 (TLR2), activating downstream IL-6 release, and subsequent STAT3 activation [
144
]. Hsp27 was shown to be present at high levels in the interstitial fluid of human breast tumors, and the differentiation of human monocytes to macrophages in the presence of soluble Hsp27 was demonstrated to induce tolerogenic and pro-angiogenic TAM properties in the cultured macrophages [
165
]. Hsp27 may also play powerful roles in programming the extracellular environment through triggering the release of IL1-beta, TNF-alpha, IL-10, PGE2, and VEGF-A [
99
,
165
,
166
]. Secreted Hsp27 may thus influence tumor immunity and angiogenesis, as well as the roles in metastasis mentioned above.
5. Interactions between Tumor Cells and HSPs in Treatment of Cancer: Targeting Molecular Chaperone Functions in Cell Survival and Tumor Cell Evolution
6. Conclusions
(1) The heat shock response appears to be switched on in a wide variety of cancer cells, although the mechanisms involved in triggering HSP induction in tumors remains unclear. The activated HSF1 and increased levels of HSPs observed in tumors are each associated with a poor prognosis for patients. In certain cancers, the major HSPs and co-chaperones appear to bind tightly into large multiprotein chaperoning complexes, which comprise the epichaperome and may be essential in enhancing the malignant phenotype. The current studies indicate a systemic change in chaperome function in transformed contexts. Thus, both altered HSP expression levels and a greater functional and physical integration between individual chaperome entities are a feature of many human tumor cells.
(2) Members of the small HSP family, the Hsp70 family, and Hsp90 proteins each play key individual roles in mediating the cancer cell intrinsic traits that contribute to tumorigenesis, such as unscheduled cell division, escape from programmed cell death and senescence, de novo angiogenesis, and increased invasion and metastasis. Increased HSP expression thus seems a powerful governor of a cancer cell's autonomous capacity to promote tumorigenesis.
(3) There also appears to be key roles for HSF1 and its products in cancer cell extrinsic mechanisms of tumorigenesis, and HSPs may permit essential pathways of pro-malignant cell programming by cells in the tumor milieu, to provide a fostering environment for tumor growth.
(4) Through a reciprocal mechanism, tumor cells can also program their own environments by the release of HSPs into the extracellular spaces. Such HSPs can then bind to the receptors on adjacent cells and promote EMT and metastasis in tumor cells, as well as triggering effects on the cells of the immune system.
(5) Increased levels of extracellular HSPs may participate in establishing the immunosuppressive tumor milieu, and thus further support the establishment of tumors and metastases.
(6) As stress proteins, HSPs protect tumor cells from cytotoxic therapy, and as molecular chaperones, they can also permit the evolution of resistant traits by permitting the accumulation of quasi-stable variant proteins. These disparate mechanisms combine to make HSPs important factors in transformation and tumor progression, and key targets for enhancing cancer therapy.
(7) Controlling the expression and activity of HSPs is critical to preventing their enabling of oncogenesis and further malignant growth. However, targeting individual HSPs with small molecules has not proven to be highly effective in the clinic because of feedback loops within the heat shock response and alternative mechanisms to maintain proteostasis. Combining multiple proteostasis disruptors with other targeted therapies might be indicated.
Funding
This research was funded by the National Institutes of Health, grant number RO1 CA176326.
Acknowledgments
We thank the Department of Radiation Oncology, BIDMC, Harvard Medical School for their support and encouragement. Support (S.K.C. and B.J.L.) was provided by NIH grant RO1 CA176326 and a Harvard JCRT Foundation Grant, respectively.
Figure 1
,
Figure 4
,
Figure 5
, and
Figure 6
were created with
BioRender.com
.
Conflicts of Interest
The authors declare no conflict of interest.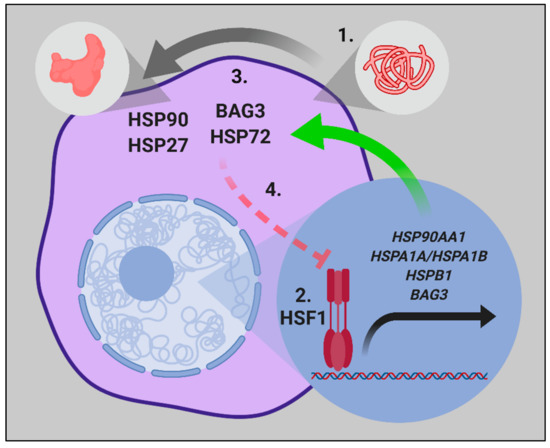 Figure 1. The central dogma of the heat shock proteins-1 (HSP1) mediated proteotoxic stress response. (1) Cellular stressors such as heat shock, oxidative stress, exposure to heavy metals, or proteasome inhibition, which induce increased levels of non-native protein conformations (proteotoxic stress) leads to the activation of HSF1. (2) HSF1 translocates to the nucleus, and HSF1 trimers rapidly bind to heat shock elements (HSE) in the promoter region of stress-inducible genes and transactivates mRNA expression. (3) Increased cytosolic HSP levels promote the refolding of proteins in non-native conformations to achieve the native functional protein structure. (4) As proteostasis is restored, a negative feedback loop exists, where HSP72 then inhibits the HSF1 activity further.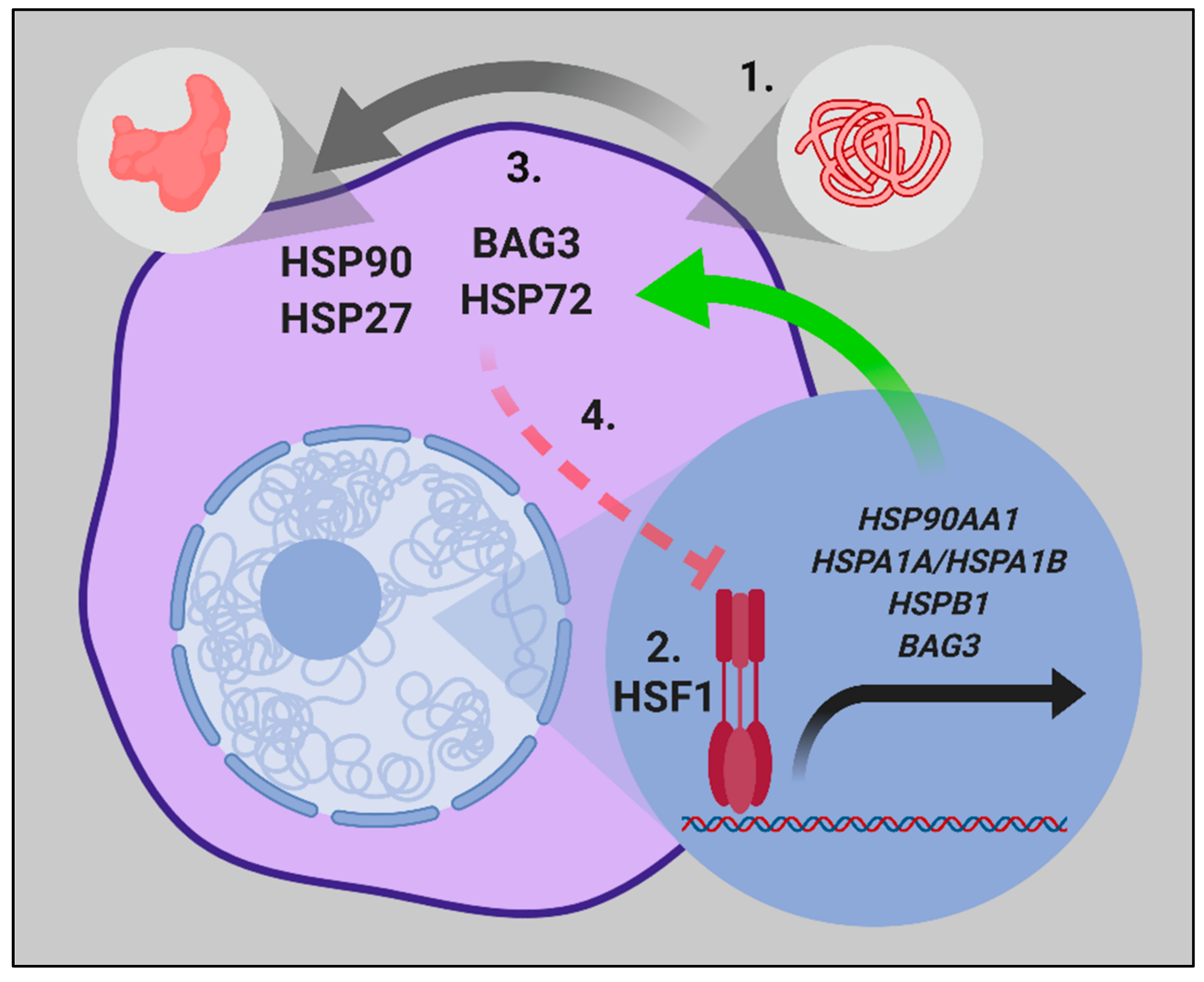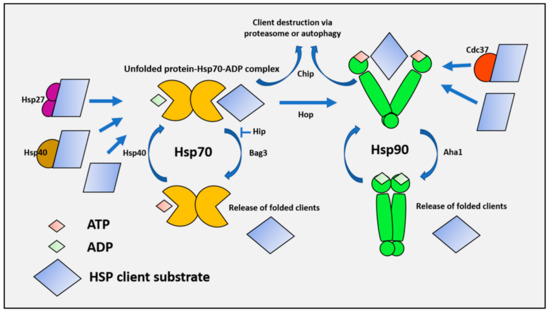 Figure 2.
Integrated Hsp27, Hsp70, and Hsp90 functions promote proteostasis. There are multiple entry points into the cytosolic chaperone network, where substrates can be recruited by Hsp27, Hsp70 co chaperones (e.g., Hsp40 family members), and Hsp90 co chaperones (e.g., Cdc37), or are bound directly by Hsp70 or Hsp90. Unfolded client proteins are relayed from Hsp27 or Hsp40 to the ATP-bound Hsp70 complex under the direction of J domain co-chaperone DNAJ. Binding of the unfolded client triggers the innate ATPase activity of Hsp70 through allosteric interactions, leading to a high affinity complex containing Hsp70, client, and ADP. The complex then undergoes nucleotide exchange facilitated by binding the co-chaperone Bag3. ADP is exchanged for ATP, which lowers the affinity of Hsp70 for the bound client that is released. Alternative destinations for Hsp70 substrates include proteasomal degradation via
STUB1
/CHIP, or transfer via HOP for further folding by the Hsp90 complex.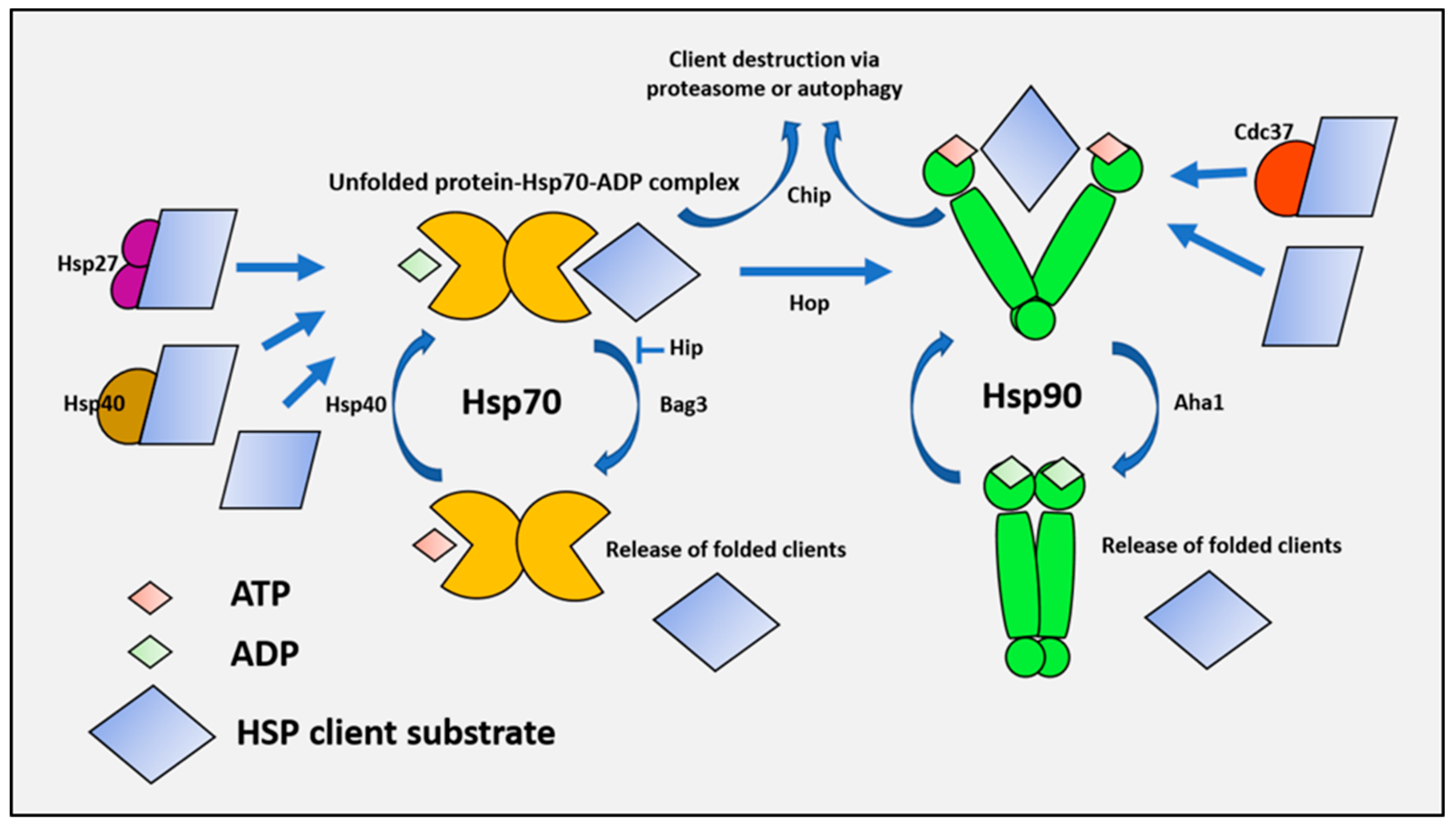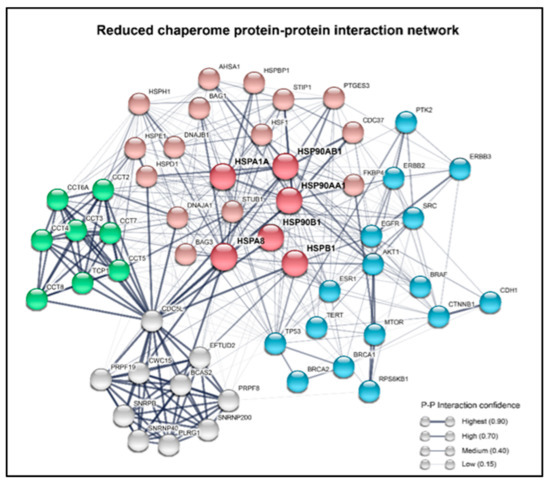 Figure 3.
A reduced chaperome network is shown with the representation of the physical connections between the chaperome and the various proteins that can powerfully influence tumorigenesis. A summary of the protein–protein interaction network of the major HSPs. In the network, the nodes represent the most important constituents of the chaperome, which are connected with other proteins by edges of varying width. Red nodes are code for the main HSPs and co-chaperones, blue are well known cancer-related genes, the TRiC complex genes are shown in green, and the Prp19/CDC5L complex genes are in grey. The line thickness of the edges indicates the strength of the experimental data supporting a protein–protein interaction. The network was built using the STRING database (
https://string-db.org
) from the Swiss Institute of Bioinformatics and the European Molecular Biology Laboratory (EMBL).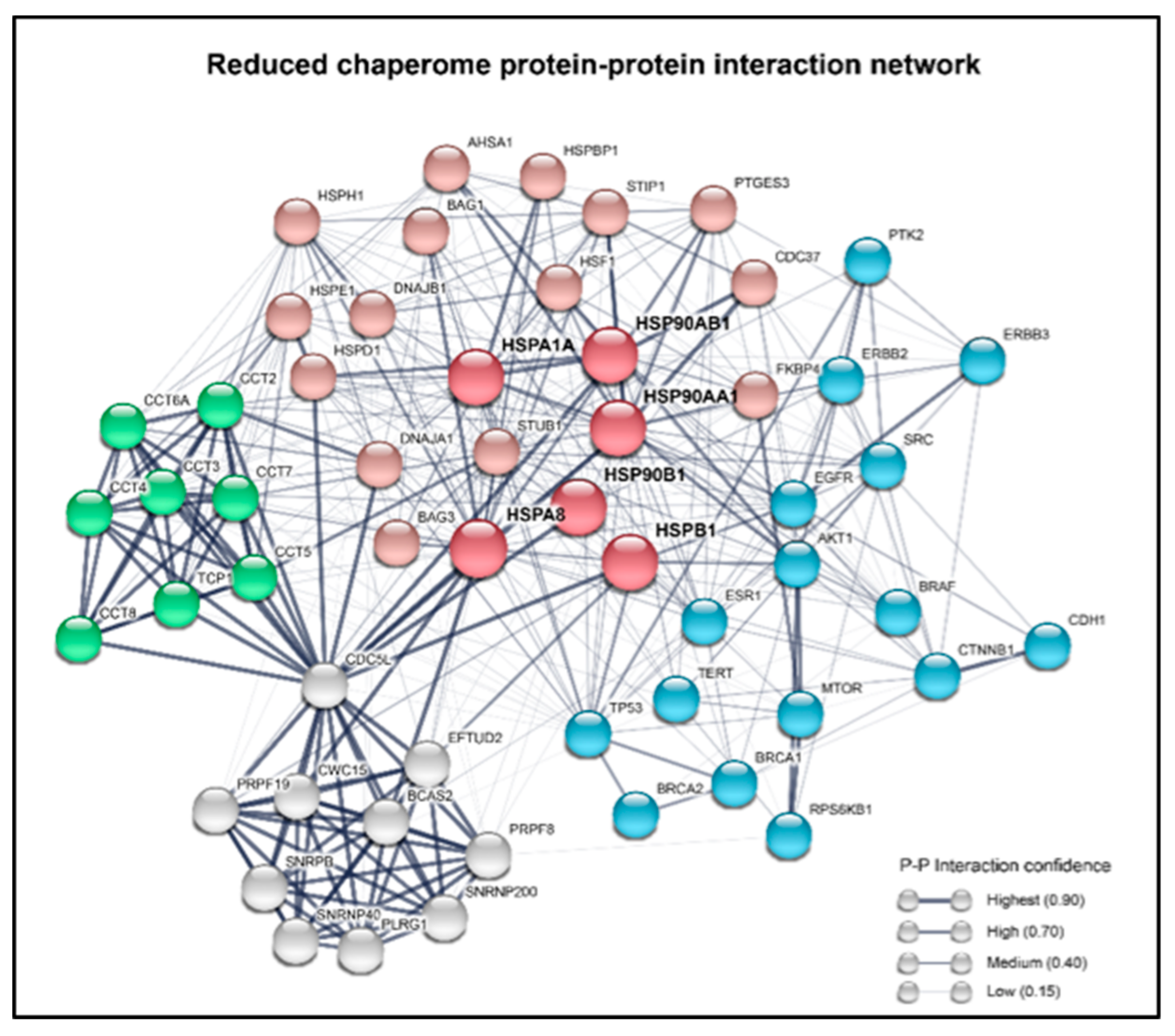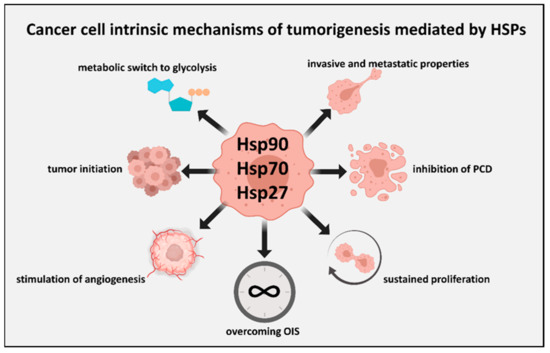 Figure 4. An overview of cancer cell-autonomous processes mediated by Hsp27, Hsp70, and Hsp90 that promote tumorigenesis. The transforming potential of cancer cell-autonomous events such as oncogenic mutations is commonly dependent on support from intracellular Hsp27, Hsp70, and Hsp90. The activities of key intracellular mitogenic signal transducers are also dependent on intracellular HSPs for sustained pathway activation, and thus HSPs mediate how cancer cells respond to the growth signals emanating from the tumor microenvironment. Similarly, signals from the tumor microenvironment can promote tumor-initiating properties within the carcinoma cells, the molecular features of which have also been closely linked with subpopulations enriched for Hsp72 and Hsf1. Such transforming events require the ability of tumor cells to overcome senescence (oncogene induced senescence—OIS), and the Hsp72 expression is required to overcome this hurdle to tumorigenesis. We also represent here other key tumorigenic processes supported by intracellular HSPs, including the inhibition of programmed cell death (PCD), altered cellular metabolism to favor glycolysis, stimulation of angiogenesis by cancer cells, and invasive and metastatic properties.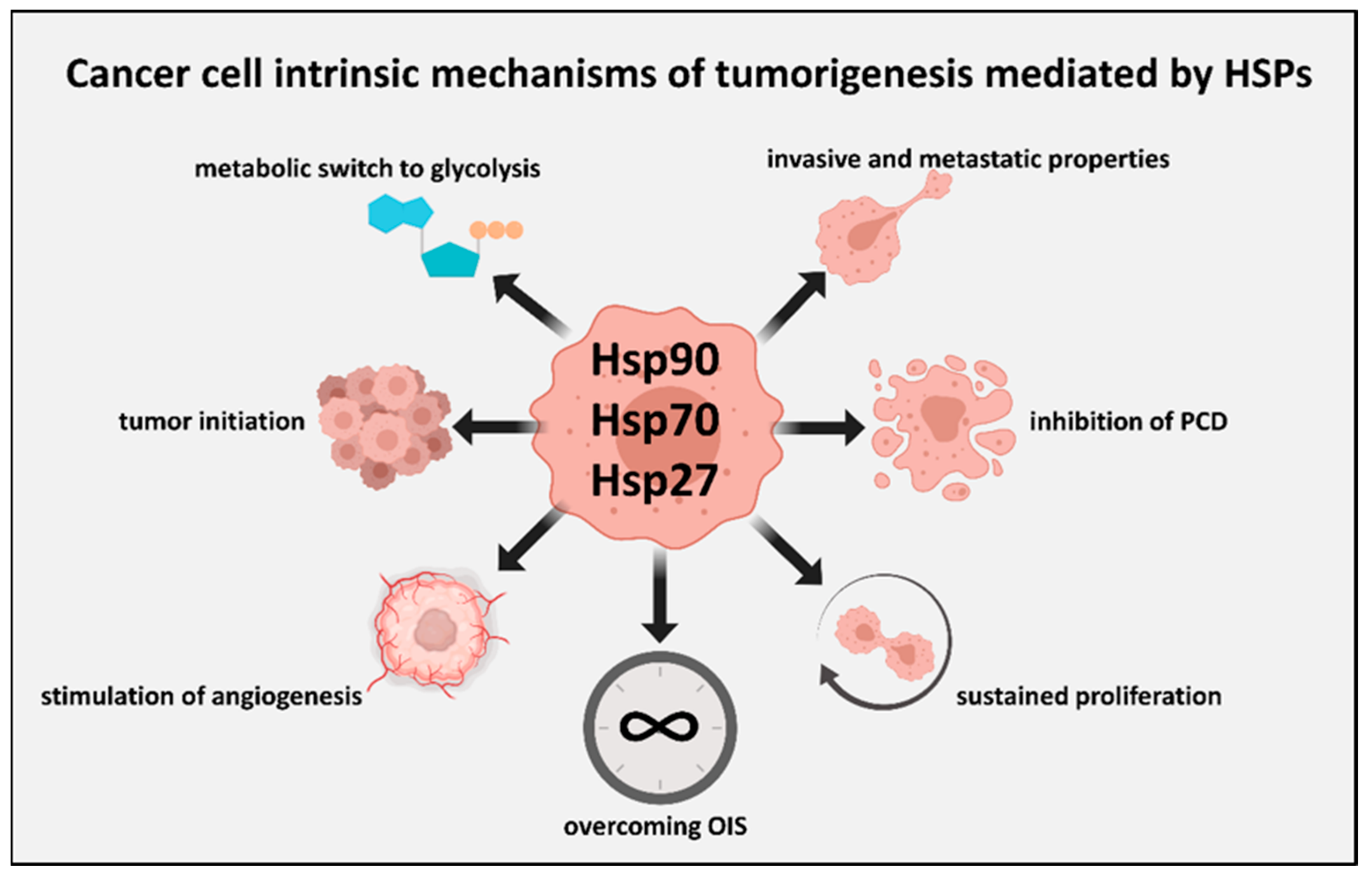 Figure 5. The activities of HSPs can promote a tumorigenic stroma. We represent cancer cells (at the top) within an extracellular stroma containing infiltrating cancer associated fibroblasts (CAFs) and tumor associated macrophages (TAMs) that affect the tumor microenvironment in an HSF1/HSP-dependent manner. The interplay between CAF and carcinoma cells is affected by the HSF1 expression in each of these cell types, and the HSF1 activity promotes the secretion of the TGF-β and CXCL12 factors, which lead to the secretion of ECM molecules, such as collagens, that can modulate tumor cell behavior by affecting the structure of the tumor milieu and binding to integrins on the cancer cell surface. TGF-β and CXCL12 can also influence the properties of the cancer cells and the reactivity of tumor infiltrating lymphocytes. Hsp72 has also been shown to be important for the recruitment of TAM, which can secrete growth promoting factors in an HSP-dependent manner.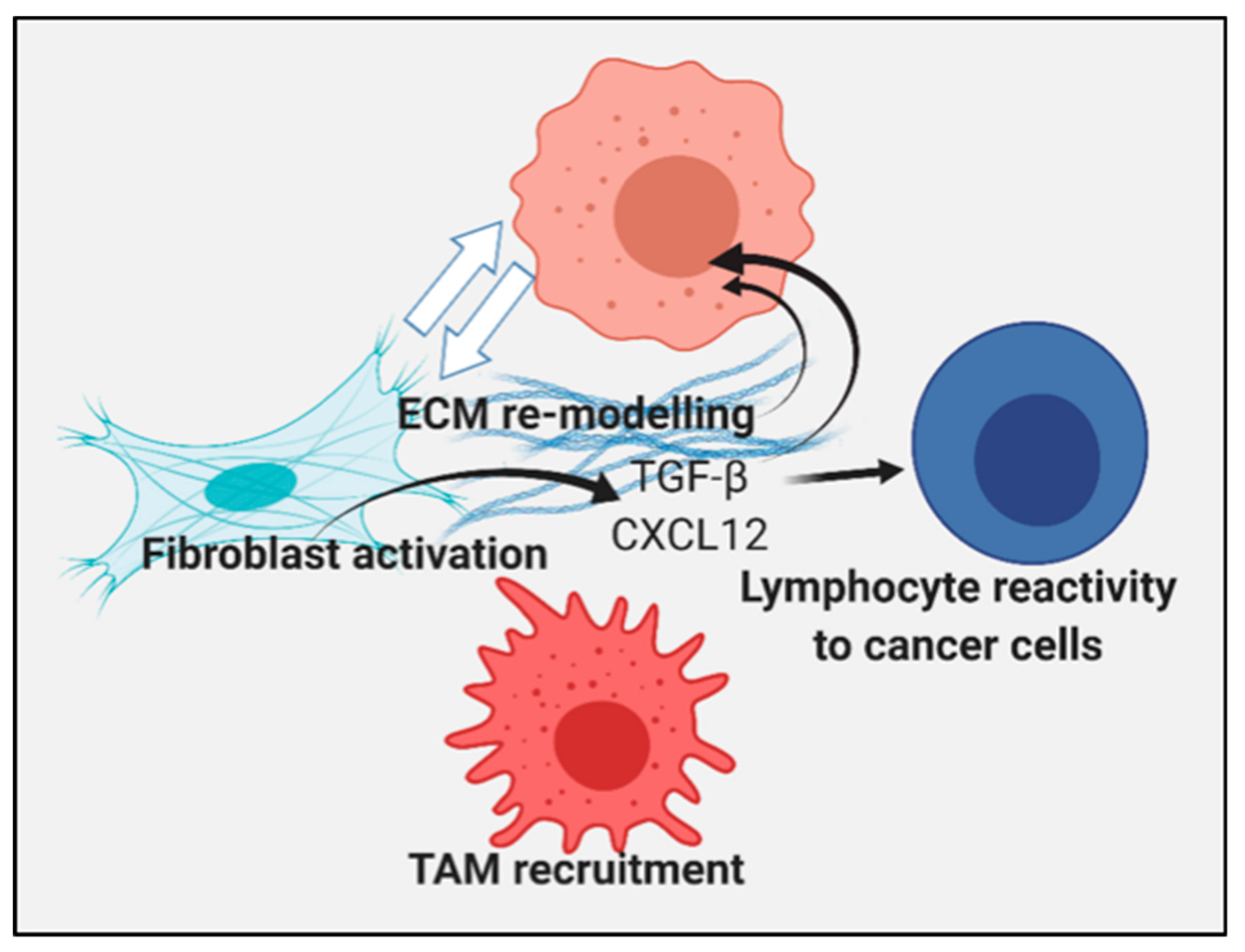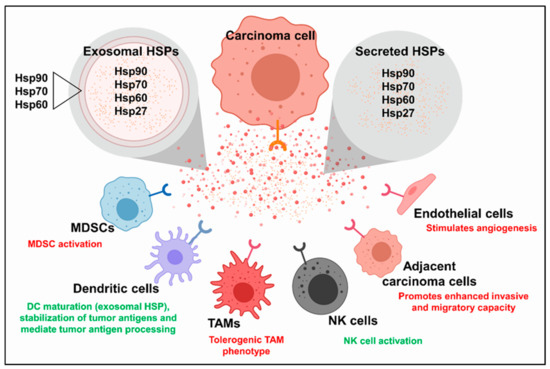 Figure 6. Tumor cells can modulate the tumor microenvironment by secreting HSPs. Carcinoma cells derived from several tissues have been identified to secrete HSPs into the extracellular space in soluble form or within exosomes. HSP species, including those listed above, are often abundant within the lumen of tumor cell-derived exosomes or within the exosomal membrane. HSPs secreted from carcinoma cells in soluble form or within exosomes can modulate the biology and functions of other cells in the tumor microenvironment. Specifically, secreted HSPs have been shown to modulate the activities of myeloid-derived suppressor cells (MDSCs), dendritic cells, TAMs, natural killer (NK) cells, other/neighboring carcinoma cells, and endothelial cells. Extracellular HSPs can promote tumorigenic processes (listed in red text), including immunosuppressive MDSC activity, carcinoma cell invasion and migration, and angiogenesis. Alternatively, extracellular HSPs can also promote tumor immunity (listed in green text) by stabilizing tumor antigens, stimulating TAMs to secrete inflammatory cytokines, and by mediating antigen processing by antigen presenting cells (APCs).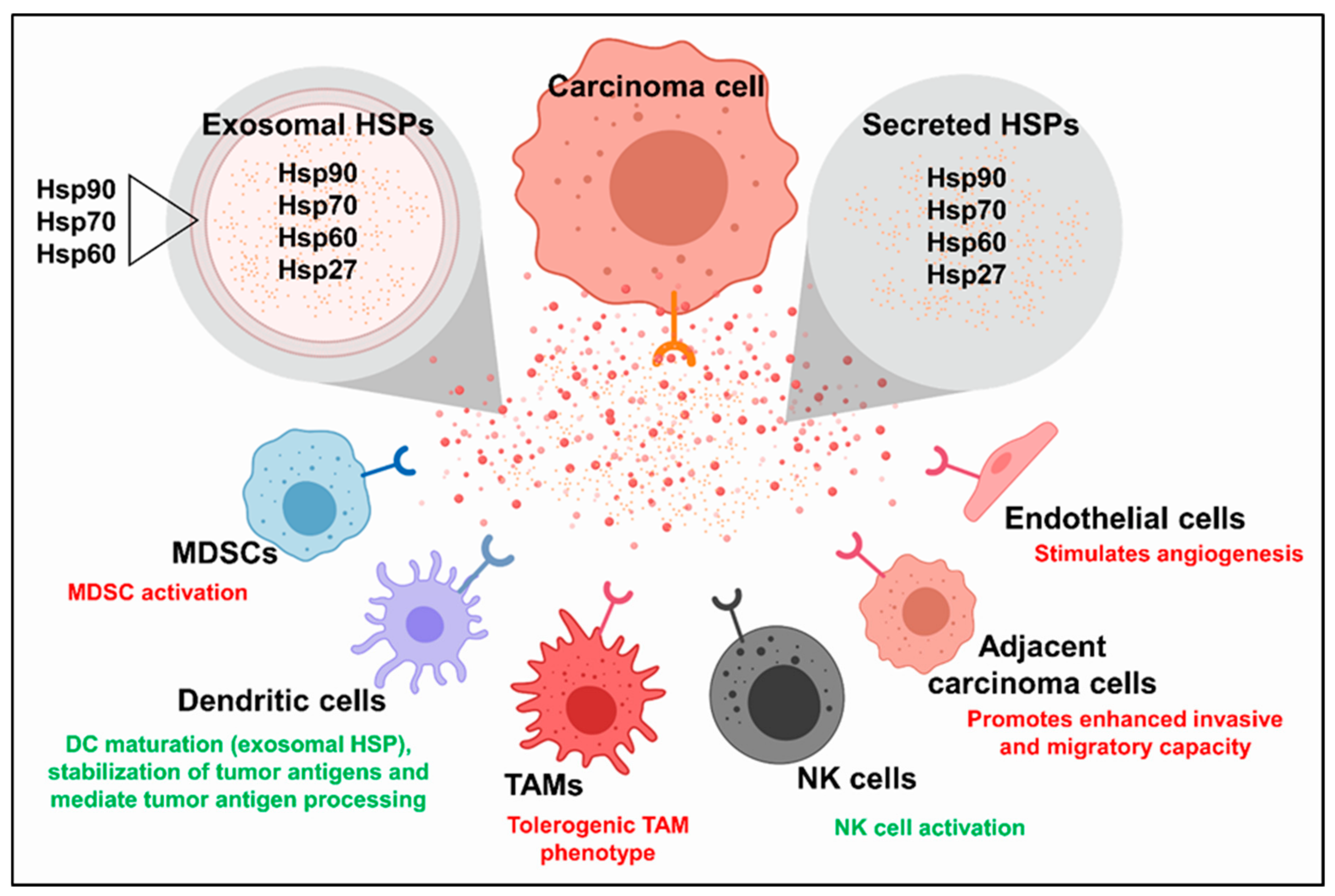 © 2019 by the authors. Licensee MDPI, Basel, Switzerland. This article is an open access article distributed under the terms and conditions of the Creative Commons Attribution (CC BY) license (http://creativecommons.org/licenses/by/4.0/).