Paraoxonase-1 as a Regulator of Glucose and Lipid Homeostasis: Impact on the Onset and Progression of Metabolic Disorders
1
CEDOC—Chronic Diseases Research Center, NOVA Medical School/Faculdade de Ciências Médicas, Universidade NOVA de Lisboa, 1150-082 Lisbon, Portugal
2
ProRegeM PhD Programme, NOVA Medical School/Faculdade de Ciências Médicas, Universidade NOVA de Lisboa, 1150-082 Lisbon, Portugal
3
Faculdade de Ciências e Tecnologias, Universidade NOVA de Lisboa, 2829-516 Caparica, Portugal
4
APDP Diabetes Portugal–Education and Research Center (APDP-ERC), 1250-203 Lisbon, Portugal
5
Medical Sciences Department and iBiMED, University of Aveiro, 3810-193 Aveiro, Portugal
*
Author to whom correspondence should be addressed.
Received: 29 July 2019 / Revised: 14 August 2019 / Accepted: 16 August 2019 / Published: 19 August 2019
Metabolic disorders are characterized by an overall state of inflammation and oxidative stress, which highlight the importance of a functional antioxidant system and normal activity of some endogenous enzymes, namely paraoxonase-1 (PON1). PON1 is an antioxidant and anti-inflammatory glycoprotein from the paraoxonases family. It is mainly expressed in the liver and secreted to the bloodstream, where it binds to HDL. Although it was first discovered due to its ability to hydrolyze paraoxon, it is now known to have an antiatherogenic role. Recent studies have shown that PON1 plays a protective role in other diseases that are associated with inflammation and oxidative stress, such as Type 1 and Type 2 Diabetes Mellitus and Non-Alcoholic Fatty Liver Disease. The aim of this review is to elucidate the physiological role of PON1, as well as the impact of altered PON1 levels in metabolic disorders.
1. Introduction
Metabolic disorders, including Obesity, Type 2 Diabetes
Mellitus
(T2DM), and Non-Alcoholic Fatty Liver Disease (NAFLD), have high prevalence rates worldwide, which makes them primordial concerns for health policy makers [
1
,
2
,
3
]. The last decades have seen a marked increase in overnutrition alongside physical inactivity and sedentarism, which correlates with the growing number of individuals diagnosed with metabolic disorders. When considering that these disorders are characterized by an overall proinflammatory and prooxidant milieu [
4
,
5
], the study of endogenous antioxidants and whether they can act as potential biomarkers or therapeutic targets in the management of these disorders is of uttermost importance. The paraoxonase (PON) family is composed by three proteins: PON1, PON2, and PON3. These proteins are differentially expressed and present different functions [
6
]. PON1, the most studied member of the family, binds to high-density lipoproteins (HDL) and potentiates its antioxidant properties towards low-density lipoproteins (LDL), thus having antiatherogenic effects [
7
]. This review aims at summarizing the role of PON1 in whole-body lipid and glucose homeostasis, as well as its importance in metabolic disorders, such as atherosclerosis, Diabetes
Mellitus
(DM), and NAFLD.
2. Hallmarks of Metabolic Disorders
Cellular homeostasis and an overall balanced metabolic system are crucial requirements for health. Any dysregulation in this balance may lead to the onset and progression of metabolic disorders. These, namely obesity and prediabetes/T2DM are characterized by a proinflammatory and prooxidant state that can contribute to insulin resistance (IR). In fact, all of these conditions will then interfere with several molecular pathways creating a vicious cycle of metabolic impairment.
3. Paraoxonase Family
The paraoxonase enzyme family is constituted by three members: PON1, PON2, and PON3. Human PONs are encoded by three adjacent but distinct genes that are located on chromosome 7 [
31
]. In mammals, these genes have 81–95% homology and the resultant proteins share 79–95% of their sequence at the amino acid level [
32
]. Based on the structural homology and from an evolutionary point of view, PON2 is the oldest member of this family, with PON1 and PON3 probably being a result of gene duplication [
31
]. Despite that, the family was named, due to early studies where PON1 was found to hydrolyze paraoxon, the toxic metabolite of the insecticide parathion [
6
,
33
]. However, PON2 and PON3 do not have this ability to degrade xenobiotics [
34
]. Besides paraoxonase activity, PON1 has lactonase and ester hydrolase activities, being able to hydrolyze thiolactones, unsaturated aliphatic esters, aromatic carboxylic esters, and carbamates [
35
]. All of the PON family members degrade lipid peroxides in HDL and LDL [
34
]. In humans, PON1 and PON3 are mainly expressed in the liver being secreted into the bloodstream, where the enzymes are mainly found bound to HDL [
36
]. Besides the liver, PON3 is also expressed in the kidney [
37
]. In contrast, PON2 is expressed in several organs, such as liver, lungs, placenta, testis, and heart, but it is not found in circulation [
38
]. Within the cell, PON2 is located in the nuclear envelope, endoplasmic reticulum, and in the inner mitochondrial membrane [
38
]. Here, PON2 is found associated with respiratory complex III being essential for the correct function of the electron transport chain [
39
]. When considering the marked hepatic expression of PON1 in the liver, it is now accepted that this enzyme has a primordial role as an antioxidant enzyme and promoter of lipid homeostasis.
4. Conclusions
Metabolic disorders are considered to be one of the most worrying public health issues worldwide, posing a number of socio-economical limitations and representing a burden for national health systems [
196
]. Oxidative stress and inflammation, which are hallmarks of metabolic disorders, have a profound impact on PON1 levels and activity. The vast majority of circulating PON1 is associated with HDL, contributing to its antiatherogenic properties. Moreover, PON1 levels and activity are significantly impaired in individuals with cardiovascular and liver diseases, as well as in DM and obesity. Taking this in consideration, PON1 might pose as a biomarker for the detection of these diseases. However, the enormous interindividual variability of PON1 makes its use as a biomarker challenging. Furthermore, we also must take in account that different polymorphisms lead increased susceptibility to different disorders. For now, PON1 activity can be increased through lifestyle modifications, as is the case of a Mediterranean diet. In summary, more studies are needed to decipher the mechanisms and functions of PON1, in health and disease. These will also help in discovering new regulators of PON1 levels and activity, in order to avoid metabolic disorders progression into more serious pathophysiological states.
Author Contributions
Conceptualization: M.J.M. and M.P.M.; Original Draft Preparation: M.J.M. and R.S.; Review and Editing: M.J.M., I.S.-L. and M.P.M. All authors critically approved the final version of the paper.
Funding
This work was funded by the "Fundação para a Ciência e a Tecnologia"—FCT to Maria J. Meneses (PD/BD/114256/2016); M. Paula Macedo (PTDC/DTP-EPI/0207/2012, PTDC/BIM-MET/2115/2014 and PTDC/BIM-MET/4265/2014); and iNOVA4Health (UID/Multi/04462/2013); by the European Commission Marie Skłodowska-Curie Actions H2020 (grant agreements no. 722619 and no. 734719), and by the Sociedade Portuguesa de Diabetologia GIFT 2018.
Conflicts of Interest
The authors declare no conflict of interest. The funders had no role in the design of the study; in the collection, analyses, or interpretation of data; in the writing of the manuscript, or in the decision to publish the results.
Abbreviations
AD
Alzheimer's Disease
ApoA-I
Apolipoprotein A - I
ApoJ
Apolipoprotein
BMI
Body Mass Index
CVD
Cardiovascular Disease
DM
Diabetes

mellitus

DK
Double Knockout
FLI
Fatty Liver Index
FFA
Free Fatty Acids
GLUTs
Glucose Transporters
HDL
High Density Lipoproteins
IR
Insulin Resistance
LDL
Low Density Lipoproteins
MCP-1
Monocyte Chemoattractant Protein-1
MUFA
Monounsaturated Fatty Acids
NAFLD
Non-Alcoholic Fatty Liver Disease
NASH
Non-Alcoholic Steatohepatitis
PON1
Paraoxonase 1
PPAR
Peroxisome Proliferator Activated Receptors
PUFA
Polyunsaturated Fatty Acids
ROS
Reactive Oxygen Species
SNP
Single Nucleotide Polymorphisms
Sp1
Specificity protein 1
SREBP2
Sterol Regulatory Element-binding Protein 2
T1DM
Type 1 diabetes

mellitus

T2DM
Type 2 diabetes

mellitus

TNFα
Tumor Necrosis Factor α
VLDL
Very Low Density Lipoprotein
WHO
World Health Organization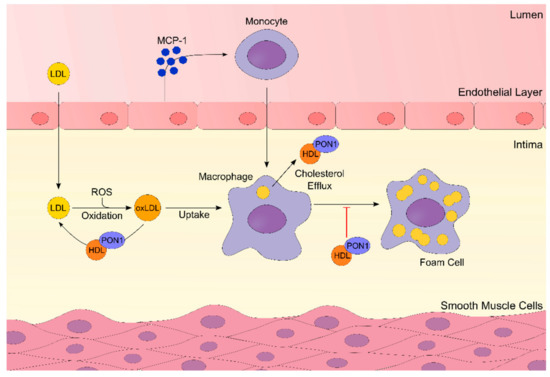 Figure 1. The role of Paraoxonase-1 (PON1) in the pathophysiology of atherosclerosis. Inflammation and oxidative stress lead to the oxidation of low-density lipoproteins (LDL). The release of monocyte chemoattractant protein-1 (MCP-1) from endothelial cells will lead to the recruitment of monocytes. These will differentiate into macrophages, that will internalize the oxidized LDL (oxLDL), becoming foam cells. PON1 hydrolyzes the oxLDL, reverting it to LDL, and promotes cholesterol efflux from macrophages, inhibiting the progression of atherosclerosis. ⊣—inhibition.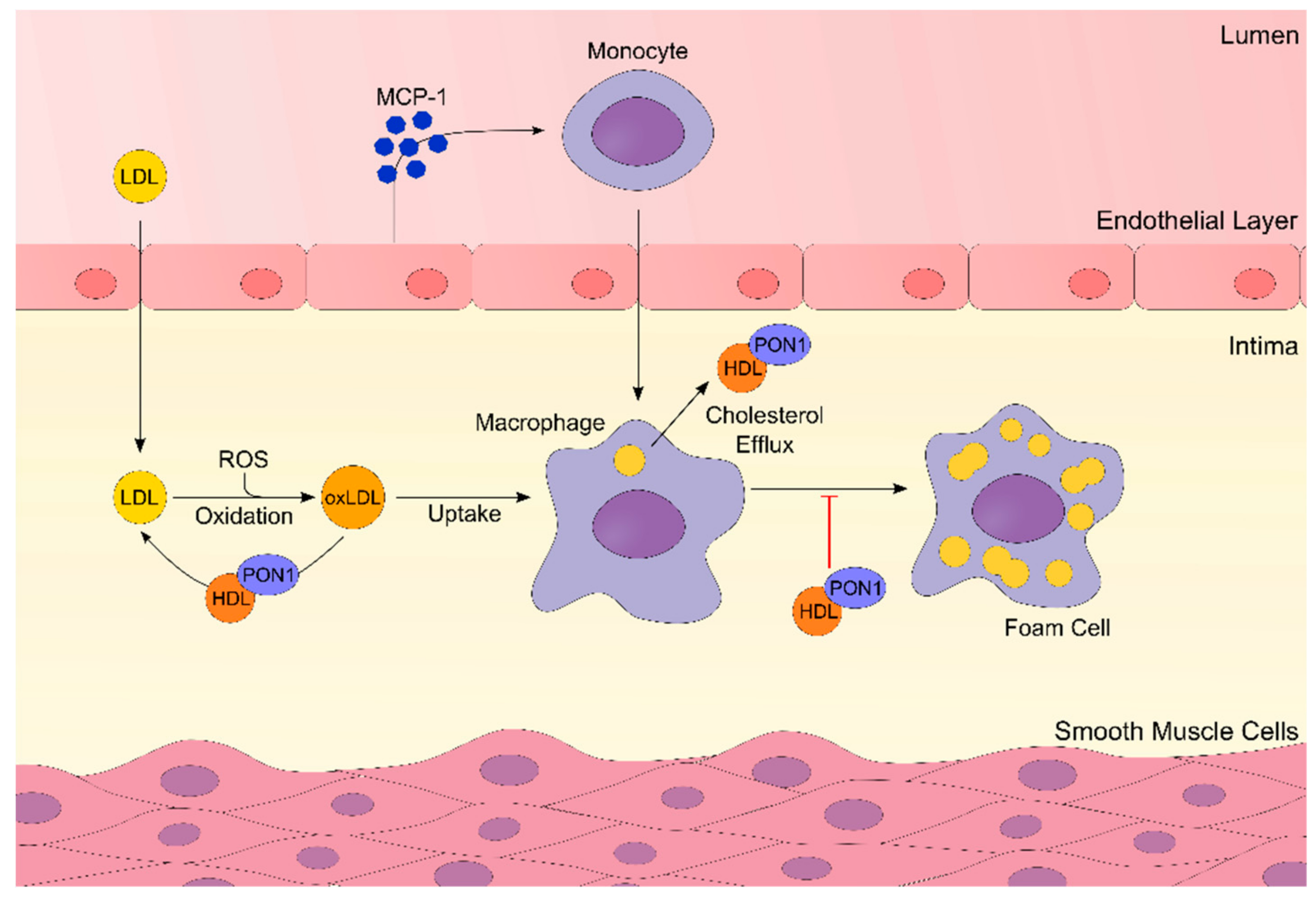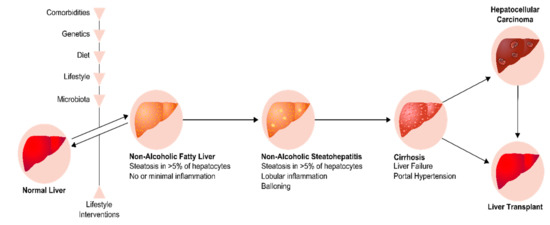 Figure 2. Progression of Non-Alcoholic Fatty Liver Disease. The liver begins to accumulate fat due to erratic lifestyle habits, genetics, microbiota and comorbidities leading to Non-Alcoholic fatty liver. It can then progress to Non-Alcoholic Steatohepatitis (NASH) or be reverted through lifestyle interventions. NASH is characterized by lobular inflammation and ballooning. In some cases, it can progress to cirrhosis. This is a severe stage than can lead to the development of hepatocellular carcinoma (HCC), ending up in the need of liver transplant.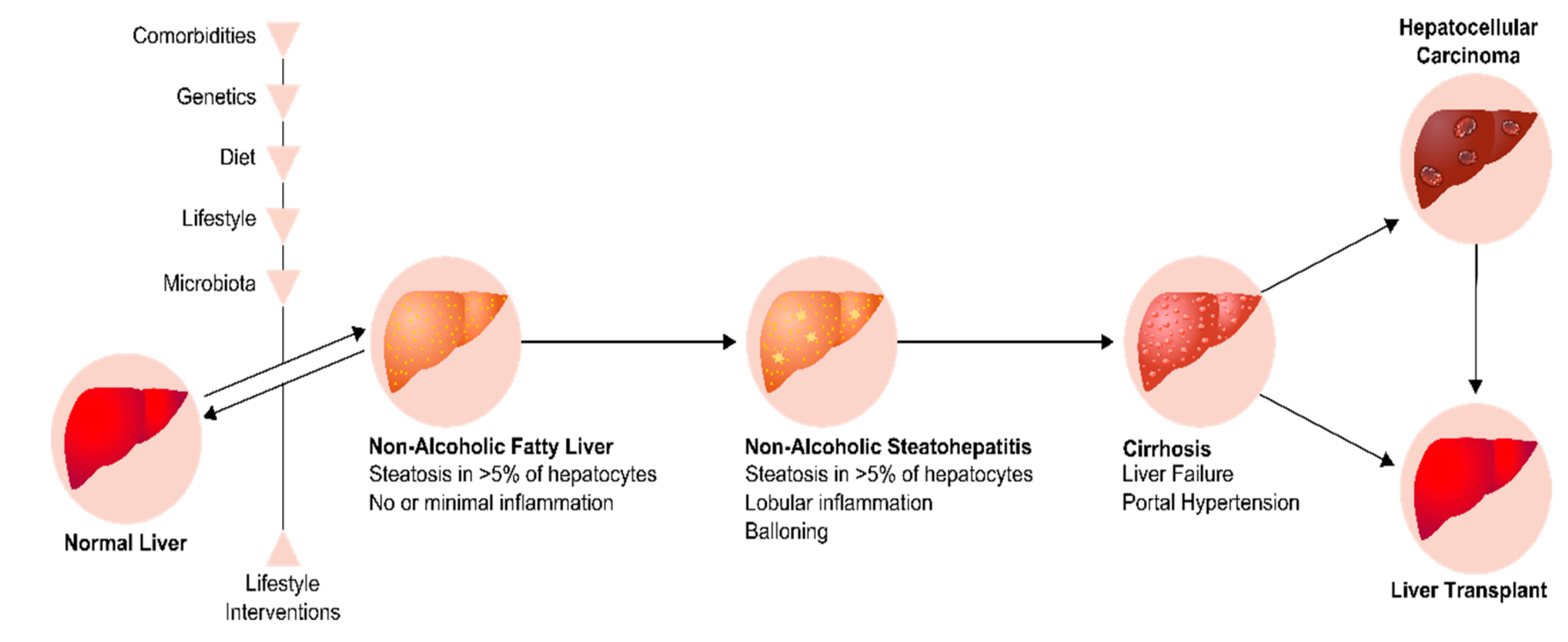 © 2019 by the authors. Licensee MDPI, Basel, Switzerland. This article is an open access article distributed under the terms and conditions of the Creative Commons Attribution (CC BY) license (http://creativecommons.org/licenses/by/4.0/).