Antioxidant and Cytoprotective Effects of (−)-Epigallocatechin-3-(3″-
O

-methyl) Gallate

1

Department of Integrative Biotechnology, Sungkyunkwan University, Suwon 16419, Korea

2

Daewoong Pharmaceutical Co., Yongin 17028, Korea

3

Basic Research & Innovation vision, R&D Center, AmorePacific Corporation, Yongin 17074, Korea

4

College of Veterinary Medicine, Chonbuk National University, Iksan 54596, Korea

*

Authors to whom correspondence should be addressed.

†

These authors contributed equally to this work.

Received: 11 July 2019 / Revised: 12 August 2019 / Accepted: 14 August 2019 / Published: 16 August 2019
Abstract
Reactive oxygen species (ROS) are generated from diverse cellular processes or external sources such as chemicals, pollutants, or ultraviolet (UV) irradiation. Accumulation of radicals causes cell damage that can result in degenerative diseases. Antioxidants remove radicals by eliminating unpaired electrons from other molecules. In skin health, antioxidants are essential to protect cells from the environment and prevent skin aging. (−)-Epigallocatechin-3-(3″-
O
-methyl) gallate (3″Me-EGCG) has been found in limited oolong teas or green teas with distinctive methylated form, but its precise activities have not been fully elucidated. In this study, we examined the antioxidant roles of 3″Me-EGCG in keratinocytes (HaCaT cells). 3″Me-EGCG showed scavenging effects in cell and cell-free systems. Under H
2
O
2
exposure, 3″Me-EGCG recovered cell viability and increased the expression of heme oxygenase 1 (HO-1). Under ultraviolet B (UVB) and sodium nitroprusside (SNP) exposure, 3″Me-EGCG protected keratinocytes and regulated the survival protein AKT1. By regulating the AKT1/NF-κB pathway, 3″Me-EGCG augmented cell survival and proliferation in HaCaT cells. These results indicate that 3″Me-EGCG exhibits antioxidant properties, resulting in cytoprotection against various external stimuli. In conclusion, our findings suggest that 3″Me-EGCG can be used as an ingredient of cosmetic products or health supplements.
View Full-Text
►

▼

Figures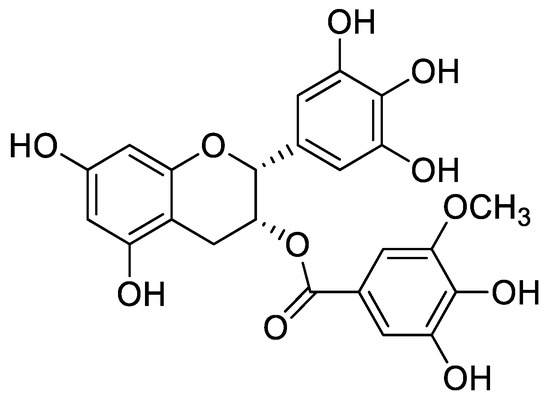 Figure 1
This is an open access article distributed under the
Creative Commons Attribution License
which permits unrestricted use, distribution, and reproduction in any medium, provided the original work is properly cited (CC BY 4.0).

Share & Cite This Article
MDPI and ACS Style
Kim, E.; Han, S.Y.; Hwang, K.; Kim, D.; Kim, E.-M.; Hossain, M.A.; Kim, J.-H.; Cho, J.Y. Antioxidant and Cytoprotective Effects of (−)-Epigallocatechin-3-(3″-O-methyl) Gallate. Int. J. Mol. Sci. 2019, 20, 3993.
Note that from the first issue of 2016, MDPI journals use article numbers instead of page numbers. See further details here.
Related Articles
Comments
[Return to top]